Event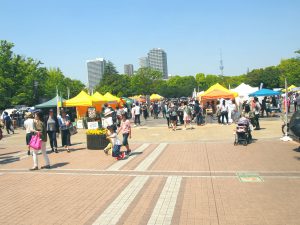 Visited Vegan Gourmet Festival Tokyo which is held on 22th April.
Vegan or vegetarian event is not so many here in Japan.
And it was not like very big festival.
Still I could see many people enjoy the event.
I'll introduce the atmosphere of Vegan Gourmet Festival here.
Review
Vegan Gourmet Festival was held in Kiba park.
It is not the center of the Tokyo, rather close to the sea area.
But I could see Tokyo Sky tree in Asakusa in the back there.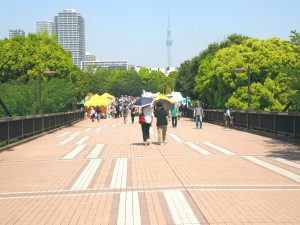 Here I am!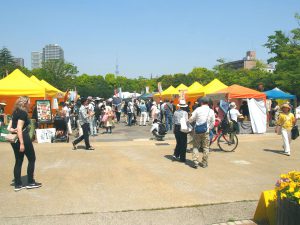 I also bought a map of the event for 10 yen (10 cent).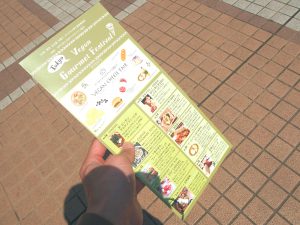 What I could see first was T's Tantan.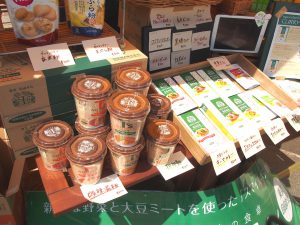 It is a popular veggie noodle shop in Tokyo.
I myself visited T's Tantan several times and its noodle was really tasty.
I wrote review here, too.
I bought cup noodles of T's Tantan.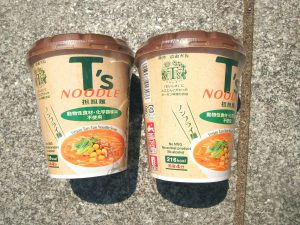 Kale Chips?
That's very rare!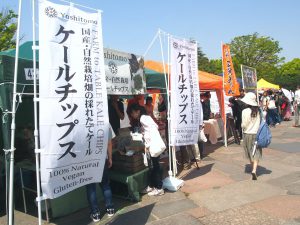 They use Kale organically grown in their farm.
No additives are used.
I bought it!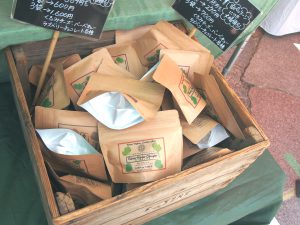 Nanairo Koubou.
Rice flour doughnuts and organic muffins had been displayed.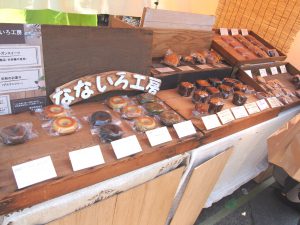 The Nature Shop Karuna.
I could see many people gather and buy foods here.
They were selling veggie cutlet sandwiches, veggie burger, organic drinks, etc.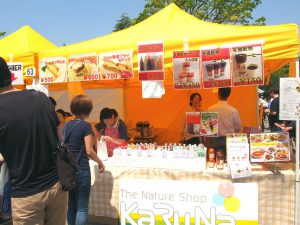 As it is very hot, organic drinks look good!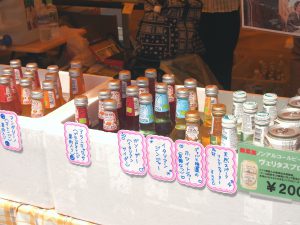 I think Loving Hut is popular vegan chain restaurants worldwide.
It is also popular here in Japan among vegetarian and vegan.
There was a line of people in front of the shop.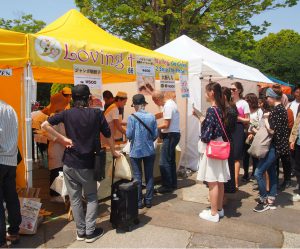 Vegan Hotcake!
Looks good!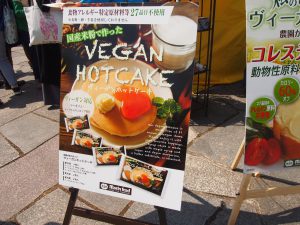 It is made of domestic rice flour and free of 27 known allergen items.
There were food samples, too.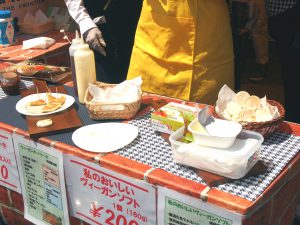 This is marin food Corp.
They were also selling vegan margarine called vegan soft.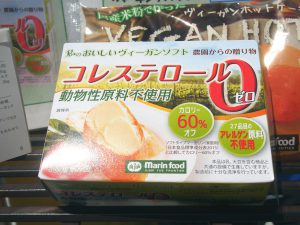 Parfait!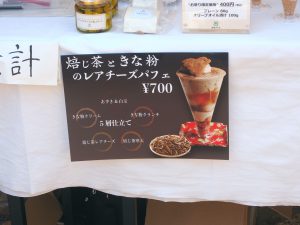 Unbaked cheese parfait of Houji tea and Kinako.
Houji tea (roasted green tea), Kinako (roasted soybean flour), Azuki (red beans paste), Shiratama (rice cake ball), unbaked cheese cake, etc. are used.
This looked popular.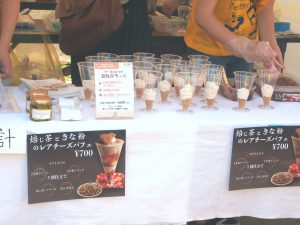 CHIEN-FU is also famous vegetarian restaurant.
This is a Taiwanese restaurant.
A staff of the shop gave me a sample of sweet potato and it was very sweet.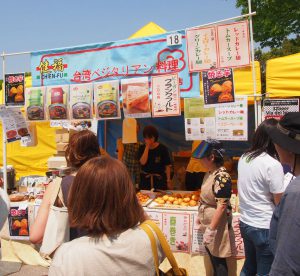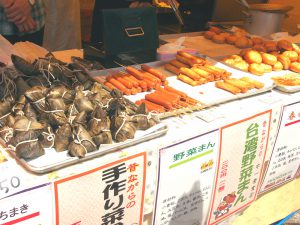 But I had no appetite so I bought an instant noodles.
Looks like I keep buying noodles somehow, haha.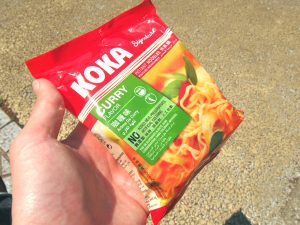 Gumodoki Burger?
First time to hear!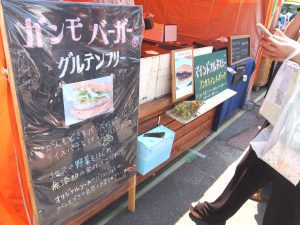 Gunmodoki is fried Tofu mixed with vegetables.
It is a traditional food in Japan but I've never heard of burger of Gunmodoki!
They were making Gunmodoki Burger.
Looks like Gunmodoki is used instead of bans of bread.
This is a gluten-free burger.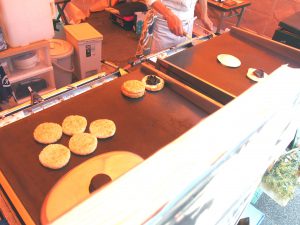 Organic dried fruits!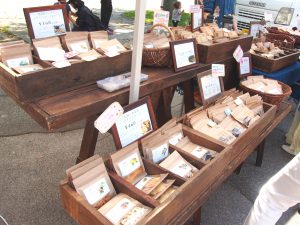 What is this truck?
They were selling vegan cake.
It is made of Indian millet, soy meat, cabbage, lettuce, etc.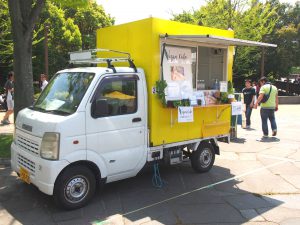 Cute station wagon!
They were selling soy meat rice bowl.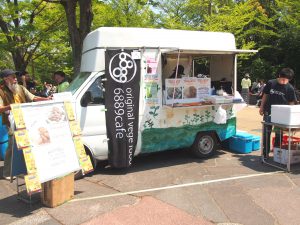 Not only foods but you can see clothes, too.
I think they are made from organic cotton.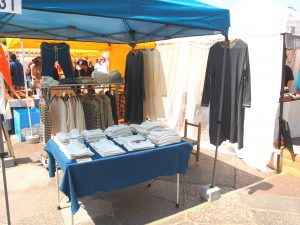 Looks like popular shop.
What are they selling?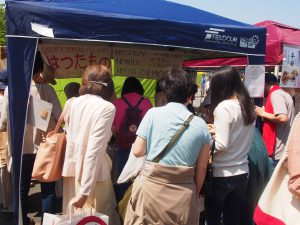 I see, bread of natural yeast.
No egg, sugar, milk, chemicals are used.
I know most organic or vegetarian restaurants or shops use brown sugar or maple syrup instead of white sugar but this shop doesn't use any sugar.
That's rare.
This shop is Hatsutamono, it is a small shop located in Tokyo.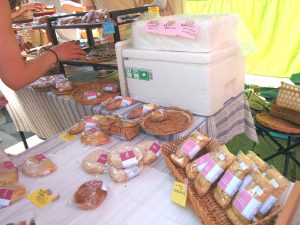 Macrobiotic Bento!
Organic brown rice, vegetables are used.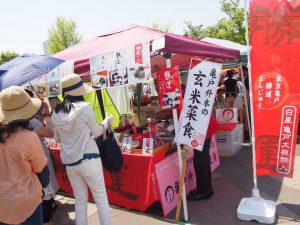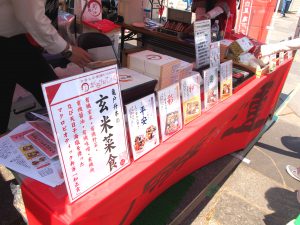 LIMA is a famous cooking school of macrobiotic in Japan.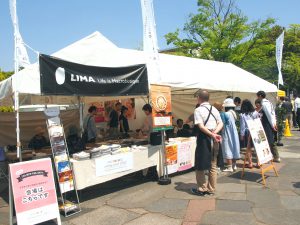 Shop of brown rice soft.
No sugar is used.
No sugar is becoming trend now?
I wonder what they use for the sweetness
Anyway looks good!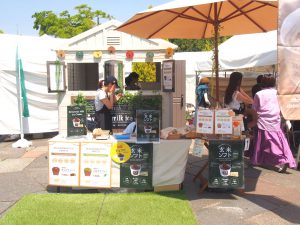 MOR Happiness.
I know this shop only by the name.
You can buy organic raw sweets and breads here.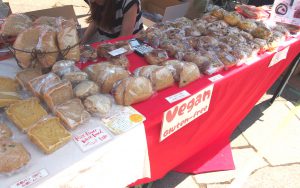 I bought rice flower bread.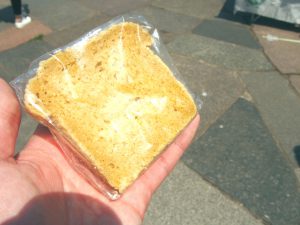 Takoyaki?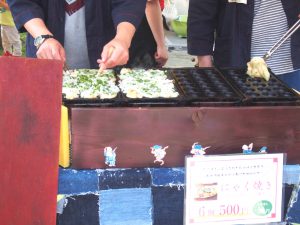 I never imagined to see Takoyaki here.
By the way, Takoyaki is octopus ball.
But, yes, what they sell is vegan Takoyaki.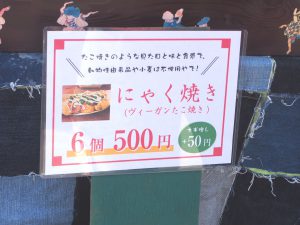 I couldn't find what they use for the ingredients but I think they used Konyaku.
Because they sell their Takoyaki as Nyaku-yaki.
This Nyaku must be Nyaku of Konyaku, I think.
Hemp beer, that's rare.
They were also selling fried soybeans, soybeans ice cream.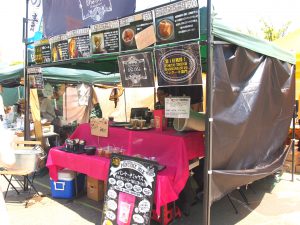 Samurai Ramen?
Cool name!
No animal, fish, MSG are used.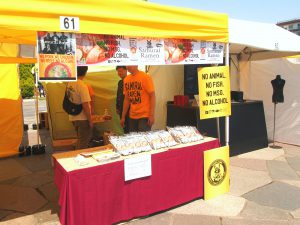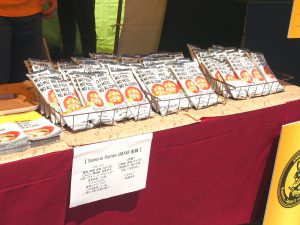 Found rice.
It says Amaizumi.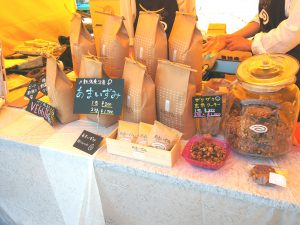 I've not heard of this breed of rice.
It is from Niigata Prefecture, which is famous place for quality rice.
I found that this Amizumi is a specially cultivated rice.
Brown rice cookies also looked good.
It is also made from Amaizumi.
Bio-land is a shop of German breads and sweets.
They sell their breads and sweets only online.
Looks good.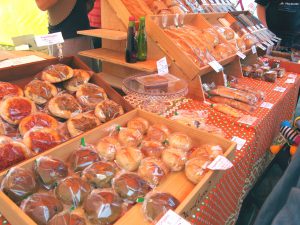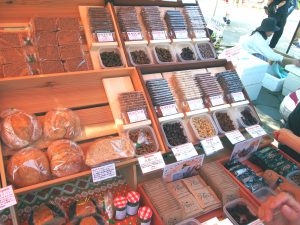 Oh, so long line!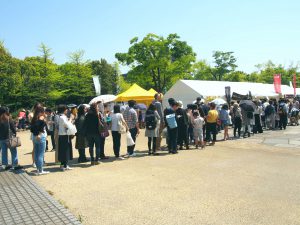 I checked it and found that this was a gelato shop.
Premarché Gelateria is the name of the shop.
It is located in Kyoto and selling gelato over 20 years.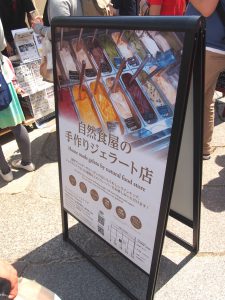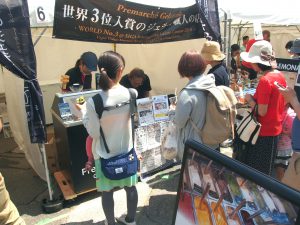 I see, it must be popular shop, that's why this long line!
I also wanted to join the line, but I gave up as it was so long.
Actually I have not had anything as the heat beat me and removed my appetite.
I wanted to try many things if I had a appetite but no appetite sadly.
Still very thirsty.
And came to this shop, SLOW COFFEE.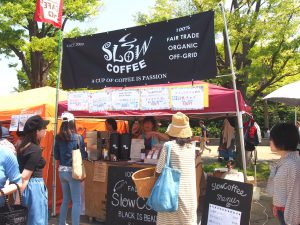 I know I should try coffee but what I want now is fresh drink.
So bought ginger juice.
I enjoyed the taste of ginger.
I could find that they used fresh real ginger from the taste.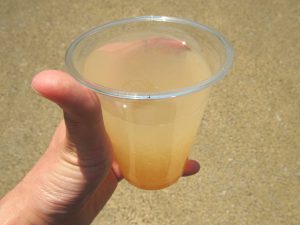 La Vie En Rose.
Fancy cake!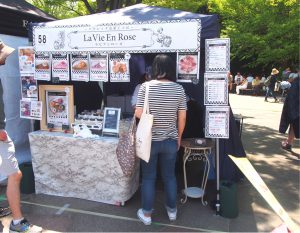 Flour, white sugar, egg, preservative are not used.
I could see cakes of chocolate, mango, strawberry, acai, etc.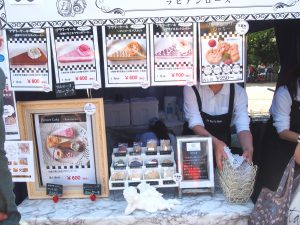 BROWN'S FIELD is famous and I myself visited the cafe in Chiba Prefecture long time ago.
It has also farm and you can even stay here.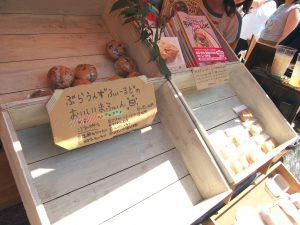 I enjoyed a lot!
If you want to enjoy healthy and tasty food, I recommend you this Vegan Gourmet Festa.
It is held in Tokyo, Nagoya, Kyoto every year.
I also recommend you other vegan and vegetarian events if you have a chance to come visit Tokyo.
Tokyo Vegefood Festa
GREEN FOOD FESTIVAL in Ueno