Vegan Menu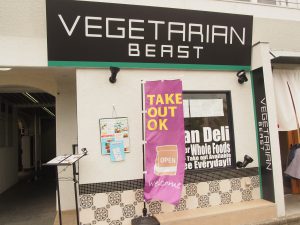 Address 
3-14-18 Mejiro, Toshima-ku, Tokyo
Google Map: https://goo.gl/maps/Q3BzM8EhAVT2
Access
Mejiro Station (JR Yamanote Iine)
Tel
03-5988-7160 (+81-3-5988-7160)
Seats
15 Seats (10 Seats for Table, 5 Seats for counter bar)
Opening Hours
11:00 – 21:00 (Last Order : 20:30)
Shop Holidays
Monday and Tuesday
Website  
https://vegebeast.shopinfo.jp/
Here at VEGETARIAN BREAST, you can enjoy vegan dishes.
They use organic vegetables as best they can.
Their motto is to offer dishes which even Non-Vegetarian feel tasty.
I myself visited this restaurant and felt even Non-vegetarian can enjoy the dishes here.
It was a few-minutes walk from Mejiro station.
I arrived just before noon.
I went inside and could see dishes on display in a glass case next to the cashier.
I decided to order Combo menu.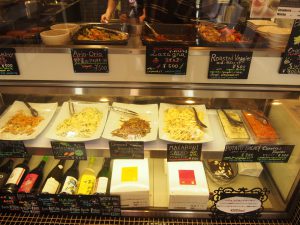 2 Dish Combo is 1000 yen (About $9.5) and 3 Dish Combo is 1500 yen (About $14).
You can choose either from bread or brown rice for this Combo menu.
I went for brown rice this time.
For the dish of Combo, you can choose from the dishes displayed in a glass case.
As I ordered 2 Dish Combo, I could choose 2 dishes.
I was torn but decided to order vegan meat sauce Lasagna and vegetable Ario-Orio.
Vegan Hamburger also looked good.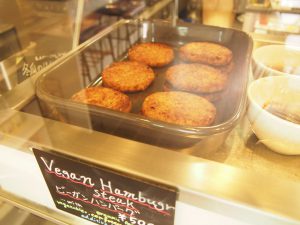 Drink is not included in Combo menu so if you want something to drink, you need to order drink.
But water is, as you know, free here in Japan.
I ordered Red fruit & Aronia Berry Tea for 300 yen (about $2.8).
It was caffeine free tea and actually most of the tea or coffee were caffeine free here.
Looks like I was the first customer today.
I think this restaurant can hold about 15 people inside.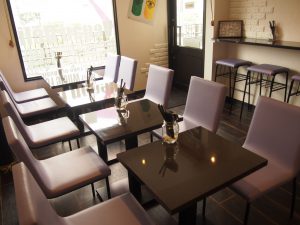 I took counter bar seat.
As I was the only one now, the dish came really fast.
Maybe in 2 minutes.
Looks good!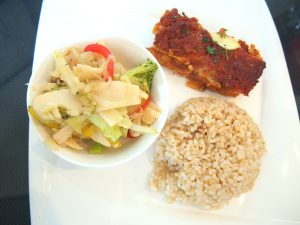 Itadakimasu!!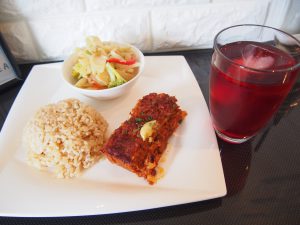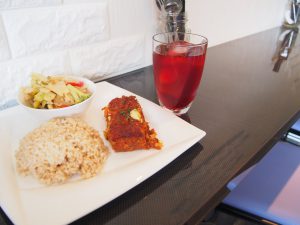 All the vegetables (onion, mushroom, bamboo shoot, paprika, broccoli, etc.) in Ario-Orio were fresh and seasoned with salt and black pepper.
I like the taste very much!
Lasagna was also good taste!
I could enjoy tomato taste.
And it was a substantial meal.
You might imagine vegetarian dishes are usually light and plain but here I could enjoy rich flavor.
Their motto is to offer dish even Non-vegetarian can enjoy and after I had the dish I thought that was true.
VEGETARIAN BEAST is not a big restaurant but you can enjoy tasty dishes here.
I recommend you to visit here if you have a chance to come to Ikebukuro station (Mejiro station is just 1 stop from Ikebukuro station).
Google Map of VEGETARIAN BREAST