Vegan Menu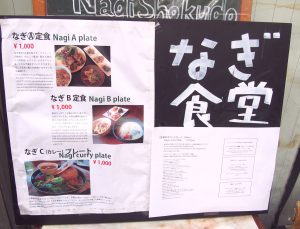 Address 
15-10 Uguisudani-cho, Shibuya-ku, Tokyo
Google Map: https://goo.gl/ve2JAG
Access
Shibuya Station (JR Yamanote line)
Tel
03-3461-3280 (+81-3-3461-3280)
Seats
20 Seats
Opening Hours
12:00 – 16:00 (Last Order : 15:00) (Lunch Time of Monday to Saturday)
18:00 – 23:00 (Last Order : 22:30) (Dinner Time of Monday to Saturday)
11:00 – 16:00 (Last Order : 15:00) (Sunday)
Shop Holidays
Please check website for irregular holidays
Website (Japanese)  
http://nagishokudo.com/
Nagi Shokudo has a reputation for its foods.
It is famous and popular restaurant among not only Japanese people but among people from overseas.
The dishes are vegan and some foods are organic but not all the menus are organic.
Wheat are not used for most of the foods but not like 100% wheat free.
The owner takes the taste seriously that it might get good reputation from both Japanese and people from overseas.
Since its opening in 2007, it became one of the popular cafes among people now.
I visited this Nagi Shokudo a couple times before.
Here I introduce when I visited the restaurant in 2019.
Lunch at Nagi Shokudo
This restaurant might be a bit far from Shiubya station (About 10 minutes on foot) and a little bit difficult to get to.
So every time I visit the restaurant, I get lost on the way.
Anyway here I am!
It's been a while to come for me but looks nothing different for the appearance.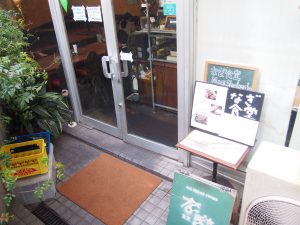 It is located underground and does not stand out from the street.
Menu of Nagi Shokudo
You can choose menu in front of the shop!
Nagi Set Plate A, Nagi Set Plate B, Nagi Curry Plate.
I see, these are the regular lunch menu, don't they!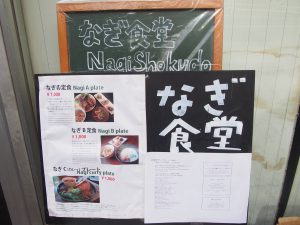 Nagi Set Plate A is fried soy meat, rice, miso soup and 3 types of vege side dishes.
It's Japanese style dish, isn't it.
Nagi Set Plate B is Kasujiru, rice and vege side dishes.
Kasujiru is traditional Japanese soup.
Kasu jiru means Kasu soup.
Kasu means Sake Lees so this is miso soup of Sake lees.
It has a unique taste but I like it very much!
Especially in winter, it makes you warm!!
Nagi Curry Plate is vegetable coconut curry of South India.
It comes with rice, croquette of soy beans and salad.
This curry also looks good!!
All the rices of the set plate are brown rices.
I'm interested in all the lunch plate set but let's go inside anyway!
Order Nagi Set Plate A of fried soy meat
There is a table seat in front of entrance.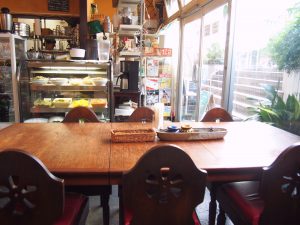 I also found Japanese style table seat in the back as well in which you need to take your shoes off.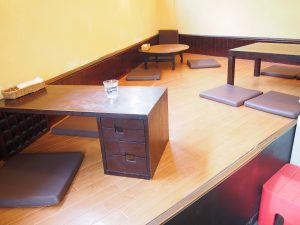 I felt like the atmosphere inside restaurant changed a lot.
It became much brighter than before.
Looks like very comfortable to spend time.
Japanese style table seat looks great so I decide to take a seat here!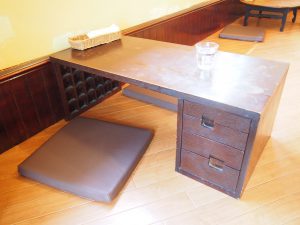 I decide to have a meal here.
This traditional table with drawers relaxes me.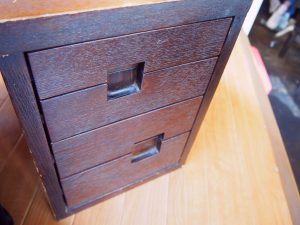 Table seat at the corner also looks great!
What should I order for the menu.
In particular, I'm curious about Kasujiru of Nagi Set Menu B privately.
But Nagi Set Plate A said it was a regular meal, well, ok I go for regular one, Nagi Set Plate A this time!
Price is 1000 yen (About &9).
I was checking menu while waiting and found a menu of Nagi Lunch Plate.
It says it is recommended lunch plate in which I can choose 3 types of vegetable side dishes from daily side dishes.
Maybe I can choose from the side dishes displayed in the glass showcase which I found in front of cashier.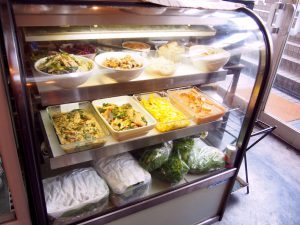 Wait for a moment and here Nagi Set Plate A, that is, soy meat Set Plate came!
Large fried soy meats are beyond my imagination!!Σ(゚Д゚)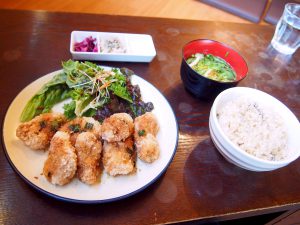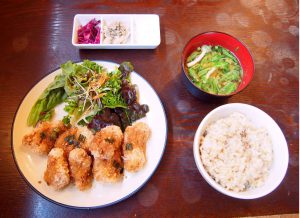 It's been a while to eat soy meat.
Anyway Itadakimasu!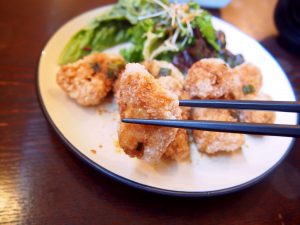 Yes, it is crispy!
It is of course not like real meat one but tasty!
Soy sauced-based dressing is used so it is strong taste.
But I felt like it was a bit too strong so it became much better if they seasoned it with lighter flavor.
There are many vegan or vegetarian restaurants with lighter taste but here is different, that is, strong taste!
I think some who got accustomed to the light flavors feel a bit salty but if you like strong taste, yes, the dish is for you.
Side dishes were pickled Japanese radish, pickled red cabbage and marine of Enoki mushroom.
Sorry for adjusting white balance of camera wrongly that radish became same white color as the dish.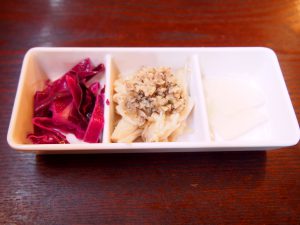 Privately marine of Enoki mushroom ware great!
The dish of marine of Enoki mushroom itself is rare.
Brown rice was sticky and sesami and salt sprinkled on the top gave accent to the taste.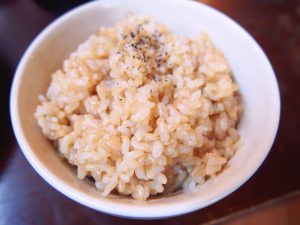 I'm really satisfied!!
By the way, what's this character who stands beside me?
Mascot character of Nagi Shokudo?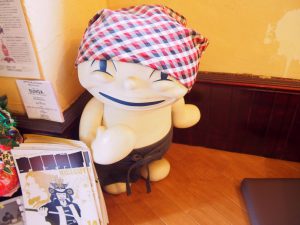 Ordered vegan cookie, too!
I'm interested in sweets displayed inside restaurant.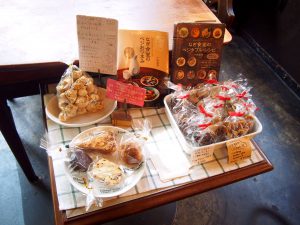 I could find recipe book of owner of Nagi Shokudo behind sweets.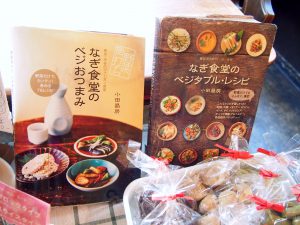 After all, I ordered vegan cookie, rather I could order it while eating!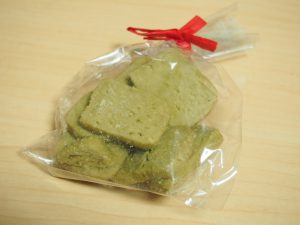 Coffee, Matcha and almond, there were 3 types of flavors and the price is 450 yen (About $4).
What I ordered this time is Matcha flavor.
Waitress brought me the cookie during lunch so I could try it while eating but I had it to-go this time.
And tried several days after went home.
It was really tasty!!
The moment I ate, the flavor of Matcha spread in my mouth.
I could also taste flavor of wheat itself.
Summary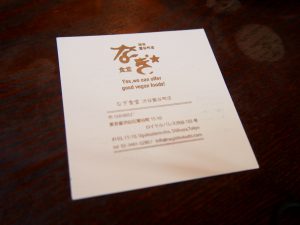 When I entered the restaurant, there were just a few customers there but became full when I left.
Both Japanese and people from oversea were there.
Bit far from station and hard to find still it is popular even now.
By the way, they also opened their shop in Musashi Koyama Street in Meguro-ward.
I did not know that.
I want to visit this restaurant, too one of these days.
Google Map of Nagi Shokudo