Vegan Ramen Vegan Menu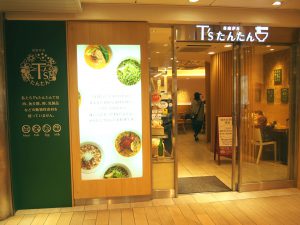 Address 
Tokyo Station, 1F, Keiyo Street, 1-9-1 Marunouchi, Chiyoda Ward, Marunouchi, Tokyo
Link to Google Map: https://goo.gl/6kJCNR
Access
Tokyo Station (Yamanote, Keihin-Tohoku, Tokaido, Ginza, Asakusa lines)
Tel
03-3218-8040 (+81-3-3218-8040)
Seats
About 70 seats
Opening Hours
7:00 – 23:00 (Last Order : at foods 22:30)
Shop Holidays
Irregular Holidays
Review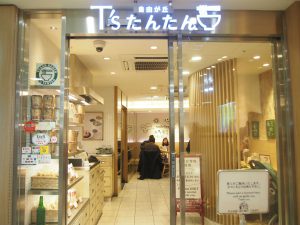 There are so many ramen shops in Japan but Veggie Ramen shop is very rare here in Japan.
Still here in T's TanTan, you can enjoy tasty vegan tantan noodles.
Personally, I can say this is the top vegan ramen shop so far from my experience.
I've tried the noodles several times here and visited last month, too.
T's TanTan is located inside Tokyo station.
The noodle does not use meat, fish, dairy products, egg or any MSG.
When I arrived here, there were a line of people.
Maybe about 10 people.
The day I visited was Sunday and before 7 O'clock.
In about 10 to 15 minutes, I could go inside.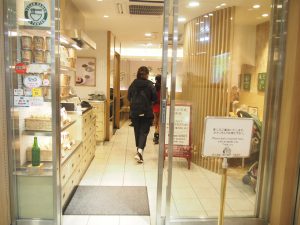 Inside was spacious.
For both table and counter seats, about 70 people can sit.
And I was directed to the counter seat.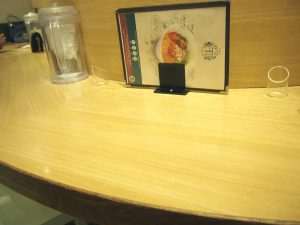 I was torn what I should choose.
There were also attractive side menus such as Vege Gyoza (Dumplings), Fried Soymeat, Curry Bowl, etc.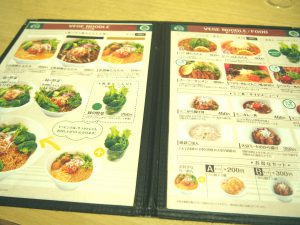 I think popular menus are White Sesame, Black Sesame and Gold Sesame Tantan.
I've already tried White Sesame Tantan before and it tasted really good.
I've decided to go for Black Sesame Tantan this time.
While I wait, I notice there are people from overseas, too.
I think over a third of the customers are from overseas.
Looks like T's TanTan is now popular among vegetarian people who come to Japan from overseas.
There is also menu written in English here.
After 10 to 15 minutes, Black Sesame Tantan finally came!
Wow, I can see many black sesame.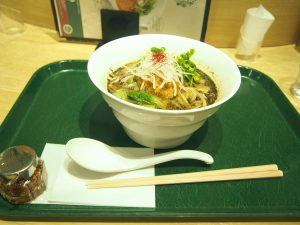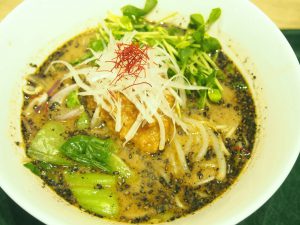 It came with something red, maybe hot pepper!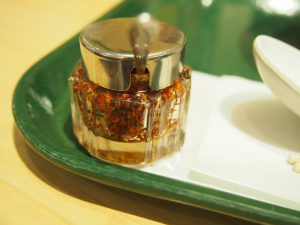 Now I try!
Itadakimasu!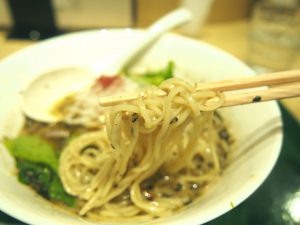 It was really good taste with sesame flavor.
Rich in flavor!
What I could find behind vegetables in the center was Miso, or paste of soymeat.
It was salty-sweet taste and went very well with its soup.
I had a image of light taste for vegetarian noodles before but here what I can enjoy is strong taste.
I think if non-vegetarian is served the noodles as an ordinary ramen they would not notice that this is made of only vegetables.
Black Sesami TanTan was a bit hot so I did not need to use hot pepper came with it.
It was substantial meal so I was full.
Manner of waitresses were also very good.
They were friendly and did not forget smile and polite manner even in the busy situation.
After the meal at the cashier, while I was waiting and shooting picture of the shelf of the shop, the staff told me "I'm sorry for not preparing enough stock on the shelf "
She even took care of me.
I had to say "No, no that's no problem at all"
For the food and service manner, I can really recommend this T's TanTan with confidence.
By the way, what I was taking is cup noodles of T's TanTan.
I did not know that they even sell their cup noodles.
There were 2 types, TanTan noodle and Suān là tāngmiàn (hot and sour noodle soup).
How about getting it for a souvenir if you visit!
I bought both of them!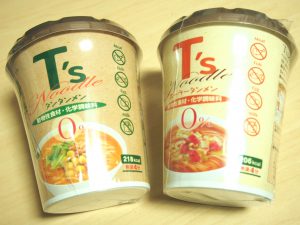 T's TanTan also has a main restaurant in Jiyugaoka.
Here is the link.
Google Map of T's TanTan Tokyo Keiyo Street