Vegan and Vegetarian Lunch Box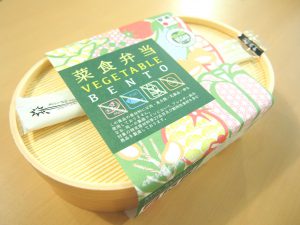 Address
Ekibenya Matsuri (駅弁屋祭) or Ekibeyya (駅弁屋) 1F, Tokyo Station
Link to Google Map: https://goo.gl/6kJCNR
Access
You can buy Saishoku Bento at shops called Ekibenya Matsuri (駅弁屋祭) or Ekibeyya (駅弁屋).
They are inside Tokyo station so no need to get out of the ticket gate if you get off the train at Tokyo station.
Both of them are located on the first floor of Tokyo station.
For Ekibenya Matsuri, closest ticket gate is Marunouchi Central ticket gate.
The shop is alongside of Chuo street which is in front of the Marunouchi Central ticket gate.
For Ekibenya, you need to turn right at the corner Ekibenya Matsuri is located (Your back needs to be Marunouchi Central ticket gate) .
Just go straight and you can find Ekibenya on the left.
It is just about 1-minute walk from Ekibenya Matsuri.
Website (Japanese)
https://www.tokyoinfo.com/shop/mall/ekibenyamatsuri/ekibenyamatsuri.html
※ Sadly, they don't sell this vegan lunch box anymore as I couldn't find it at the store last year (2022)
Review
There are many lunch box you can find inside Tokyo station but it is very rare to find a lunchbox for vegetarian or vegan.
But there is just one lunch box which got a certification of vegan officially.
That's Saihoku Bento I introduce this time!
It is made only by vegetables.
No meat, fish, egg and dairy products in it.
But it included synthetic seasoning like ordinary lunch box and the vegetables are not organic.
So I can recommend it if you do not so much care about those things and want to just enjoy a lunch box of vegetables.
It has certification mark of vegan on it and it's the first lunch box attached vegan mark.
This time I visited Ekibenya first but Saishoku Bento had already been already sold out. (T-T)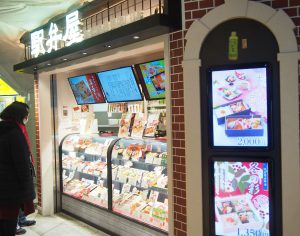 I asked the staff the other place I could get.
She told me to visit Ekibenya Matsuri so I visited the shop.
Here I am, Ekibenya Matsuri!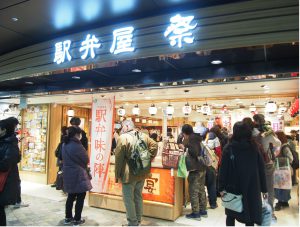 Surprisingly, you can find over 200 types of lunch box here!
I looked for Saishoku Bento and found it finally!
It says "VEGETABLE BENTO".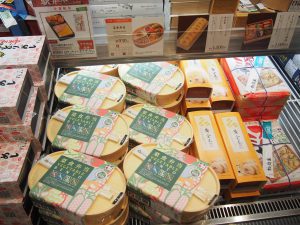 Vegan Mark attached.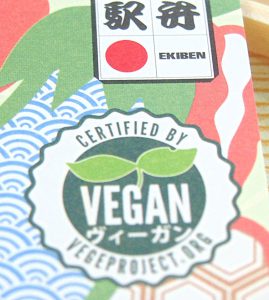 It is 930 yen including Tax (about $9)
I'm gonna buy it!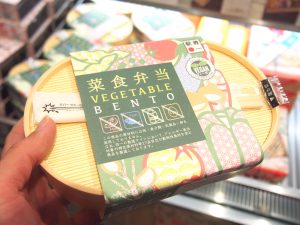 I was hungry so I decided to eat inside Tokyo station.
I looked for the place to eat.
And found free space with tables and chairs.
It is "View Square" located on B1.
It is close to famous meeting point "銀の鈴" (Gin no Suzu).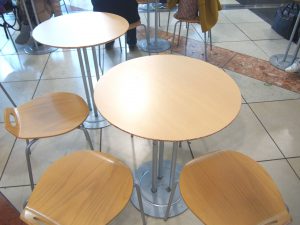 I'm gonna open it!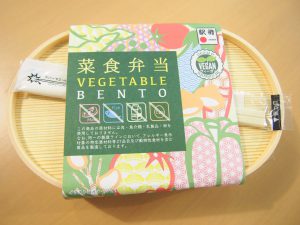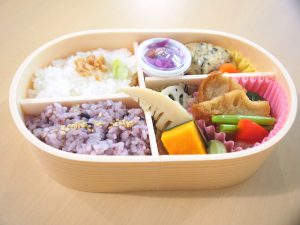 Looks tasty!
2 types of rices, one is ordinary rice and the other rice mixed with grains.
I can see minced soy meat on the rice.
Itadakimasu!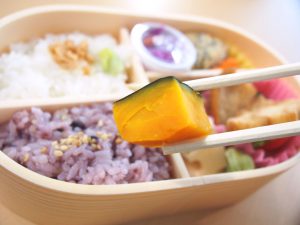 For the taste, it is light taste overall and I like it!
Some vegetables have lots of flavors seasoned with stock from Japanese seaweed.
This is fried wheat gluten.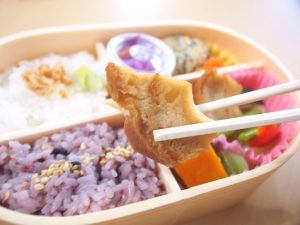 This is Tofu hamburg stake.
Japanese thick starchy sauce goes well with the Tofu hamburg stake and tasted good!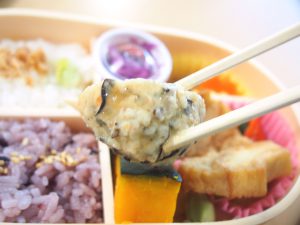 Found pickled vegetables inside a small cup and I had it.
It was sweet-sour taste.
It was marine made of red cabbage and agar strip.
With red Chinese wolfberry fruit for accent, it was tasty!
There were onions fried in oil and stewed mushrooms under the cup.
Saishoku Bento was tasty and I was satisfied!
If I request, it was better if the MSG was much less although MSG is destiny for any lunch box.
The rices were Japanese rice and that's good but I also want to know production area of other vegetables.
Anyway it is very rare lunch box for vegetarian and vegan.
I've never seen this kind of lunch box until a couple of years ago.
Must be the needs for vegetarian and vegan foods have been increasing.
Not only in Tokyo station but also Shinjuku, Shinagawa, Ueno station of "Ekibenya" you can find Saishoku Bento.
That's great!
Oh, and Veggie Ramen of T's TanTan inside Tokyo station is also highly recommended!
That's the best Veggie Ramen I've ever had so far.