Non-Vegetarian Menu Vegetarian Curry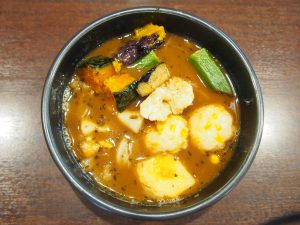 Shop Holidays
Irregular Holiday
Have you ever tried curry here in Japan?
Yes, I know most of all the curries here are not for vegan or vegetarian so it is difficult to try.
But to tell you the truth, you can enjoy vegetarian curry all over Japan now.
That's the shop I introduce this time CoCo ICHIBANYA.
This CoCo ICHIBANYA is very famous and big chain restaurant of Japanese curry.
I myself tried a couple of times before and the taste was certainly good but could not find vegetarian curry before.
But now, they added vegetarian curry to the menu.
Until this February, you can enjoy vegetarian soup curry at all the restaurants of CoCo ICHIBANYA nationwide.
You might think, OK but if visit the restaurant after February?
Yes, still you can enjoy vegetarian curry at some restaurants of CoCo ICHIBANYA.
They started to sell vegetarian curry in 2015 and the number of the restaurants serving vegetarian curry has increased to 112 in 2016.
Not all the restaurants offer vegetarian curry but they sell vegetarian curry mainly in restaurants in Tokyo.
If you want to know the exact restaurants in Tokyo, check the link below.
So now I came to CoCo Ichibanya!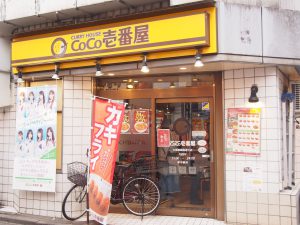 It's been a while to come visit the restaurant.
I took a counter table!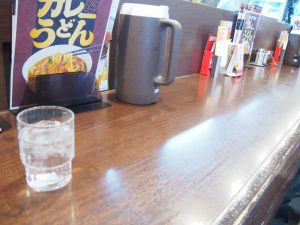 I could see a picture of vegetarian curry on the menu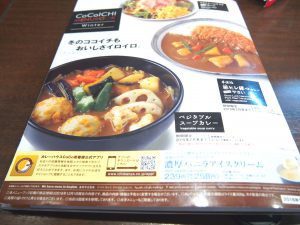 There were Japanese under the picture of Vegetable Soup Curry which says "Until February 2019".
That's a shame I thought first.
But I noticed there was an another category of vegetarian curry while leafing through the menu.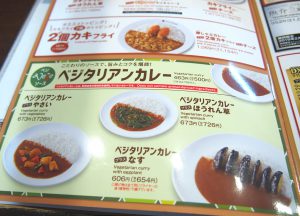 Vegetarian Curry Vegetable/Vegetarian Curry Eggplant/Vegetarian Curry Spinach.
They are all under 750 yen (about $7) so reasonable price.
If you do not add any eggplant or spinach, that is, ordering just curry roux and rice, the price is just a 1 coin of 500 yen (About $4.5)
But I thought this menu might be until February as well so I asked the waitress and she told me it is not like special menu that I can order even after February.
That's great!!
I'm also interested in this menu of Curry Nan.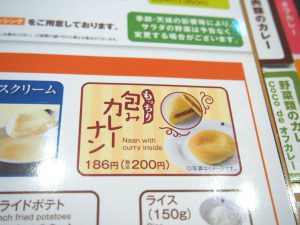 Anyway I ordered Vegetable Soup Curry which I found first on the menu.
Be able to watching the cook making curry is the good point of here at the counter table seat.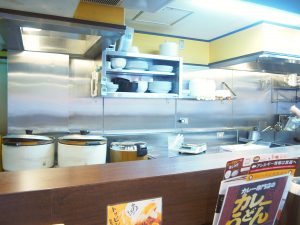 Within 10 minutes, Vegetable Soup Curry arrived!!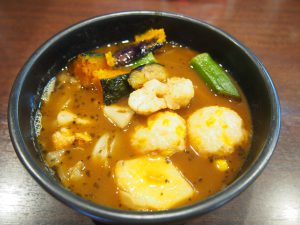 Came with rice!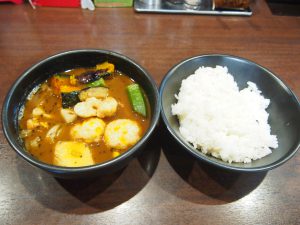 Looks very good!
Fist I taste the soup.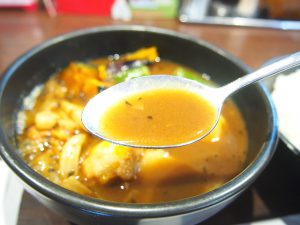 Yes, a bit spicy taste but good!
Here at CoCo ICHIBANYA you can choose the level of hot taste within 10 levels.
I'm actually not so good at hot taste so I always do not choose level, that is, level 0.
Level 0, still it is a bit hot to me.
So if you are not good at hot taste like me, I do not recommend you to add any hot level.
A bit hot, still the taste of CoCo ICHIBANYA is very good!
For the vegetable inside, they were potato, cabbage, carrot, okura, eggplant, pumpkin, lotus root, cauliflower, and what is this?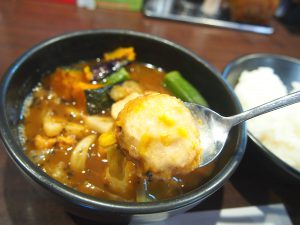 I see some corns inside.
I can say it is a fish ball or a meat ball if this is not a vegetarian curry.
Anyway I'll try.
There was no texture like fish ball or meat ball and no strong taste.
After all, I could not find even after tasting it. (-_-;)
So I checked it after coming back home and found that it was Tofu.
I see!
Other vegetables are also tasted good.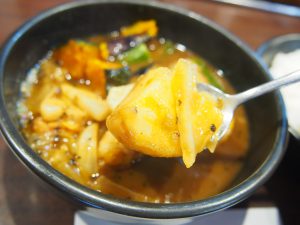 It was a bit spicy and rich taste!
Not oily heavy curry at all so no heavy feeling in the stomach.
It was 948 yen (About $9) including tax.
If you crave for more spice, there was a special hot spice, too.
Of course, I did not use it.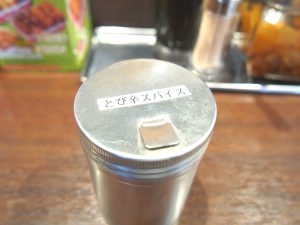 Oh, I forgot to have Fukushin Zuke.
Fukushin Zuke is sliced vegetables pickled in soy sauce.
We usually add this Fukushin Zuke to the curry so I recommend you to try it.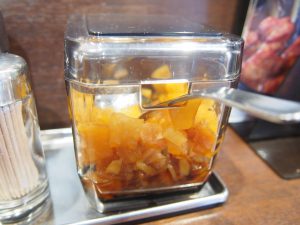 When I was coming to the cashier after the meal, I could see CoCo Ichibanya Vegetable curry on the showcase.
It said "Curry you can enjoy vegetables taste without ingredients from animals".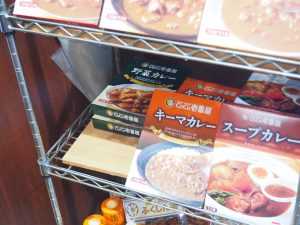 I see so this is a vegetarian curry!
It was 329 yen (About $3) including tax and I bought it.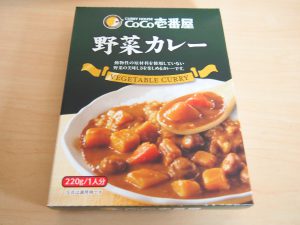 It was a great curry but if I could add one wish, that would have been more great if they had used only domestic vegetables as I could see the vegetables used the curry had been mainly from China.
I know Japanese vegetables cost much more still I wanna enjoy Japanese vegetable even if the price become a bit expensive.
It is rare to find the vegetarian curry here in Japan.
But until February 2018, you can enjoy vegetarian curry at all the store of CoCo ICHIBANYA.
Of course, curry roux or stock is also from vegetables.
Even after February 2018, you can still enjoy vegetarian curry at many restaurants in Tokyo.
Check the following link for the exact restaurants to enjoy vegetarian curry!