Vegan Muffin & Scone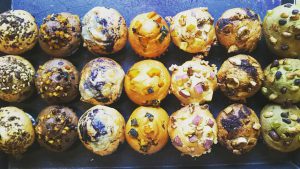 Source : Nezunoya
If you like sweets such as scone and muffin, here is the place.
What they offer is soy milk scones and tofu muffins.
They use organic soy milk, Japanese tofu and Japanese wheat for the sweets.
No egg, butter, milk and dairy products are used.
Yes, you can enjoy selected vegan sweets here.
For soy muffin, they have choco & apricot, blueberry, apple cinnamon, matcha white, choco banana, pumpkin, etc.
For tofu scone, they have apricot, caramel apple pie, cranberry white, potato & corn, matcha white, honey nuts, etc.
They also sell organic vegetables and organic items in the store.
It has dining space so you can enjoy sweets on the table.
It is a special shop of scones and muffins but they also offer veggie lunch set at lunch time.
Less than 1000 yen ($9.5), you can enjoy hearty lunch here.
Google Map of Guruatsu