Vegan Parfait Vegan Dessert Vegetarian Menu Non-Vegetarian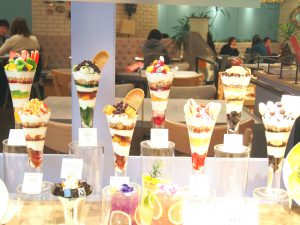 I sometimes see vegetarian or vegan cake nowadays at care or restaurants but not parfait.
So I checked online and found this wired bonbon on the top page.
Looks like it had opened last year of 2018.
Specialty shop for sweets!
Visit wired bonbon
Wired bonbon located on the 6th floor of Shinjuku LUMINE 1.
Please not to go LUMINE 2, wired bonbon located in "LUMINE 1".
It is good I don't need to go outside station as LUMINE is inside Shinjuku station
Went up to 6th floor of LUMINE 1 and found wired bonbon。
Stylish Cafe!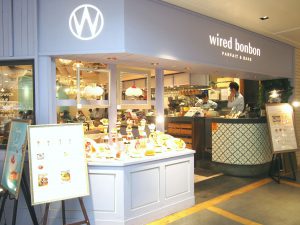 Many sweets on the display in front of the cafe!
It is surprising as they are all vegan sweets!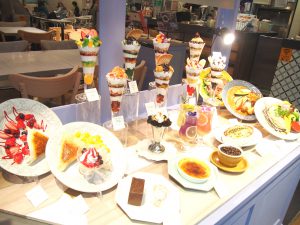 Entered to find that most customers are women.
I see, healthy sweets are popular among girls and ladies!
Lights on the ceiling is also stylish.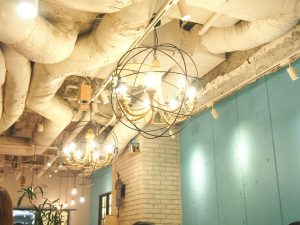 Many vegan and vegetarian Menu
There were many tables for 2 people.
All the seat are about 60.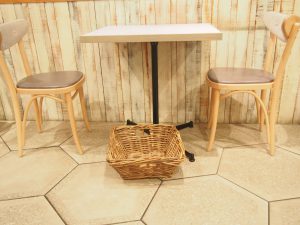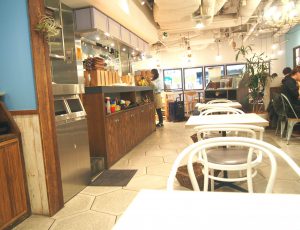 What I ushered is also table for 2.
I open the menu.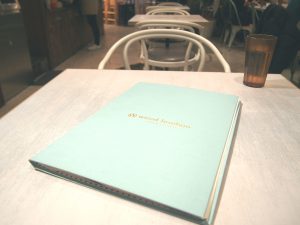 Wide variety of parfait.
8 types in total.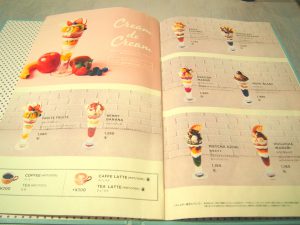 Oh, 1 more.
Strawberry parfait named Fresh Fresh Fruits.
It's a seasonal specialty, isn't it.
So 9 types in total.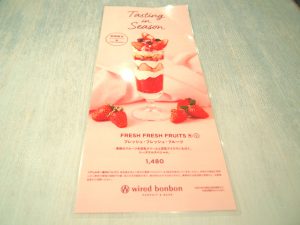 All the parfaits are vegan parfait without egg, milk or any from animal based ingredients.
Casual look, I can't tell the differences from ordinary parfait made of daily products.
Each menus has allergy mark using symbolic picture mark of the ingredients so you can check before you order.
For example, vegan parfait only has symbolic mark of wheat.
No symbolic mark of milk or egg that it means no animal or daily products are used.
There are many sweets such as soft ice cream, jelly, tiramisu, choco cake, etc. other than vegan parfait.
All of them are vegan sweets made with plant-based ingredients, too.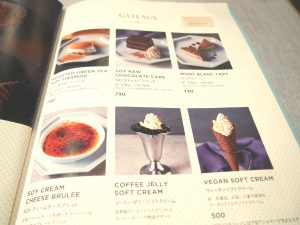 For its crepe, not only animal-based product but wheat is not used.
Instead, rice flour is used.
It is a gluten-free crepe, isn't it.
I'm curious in these sweets, too!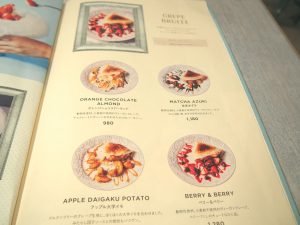 Vegan sweets of wired bonbon is supervised by Haruo Okada, owner patissier of halcafe 229, which is specialty shop of vegan sweets, located in Kanagawa Prefecture.
He has an experience of over 25 years as a patissier and had been working as a chief patissier at Chaya Macrobiotics before.
I also checked the food menu.
The menus were not all vegan or vegetarian but still I could find 2 vegan or vegetarian dishes.
They were veggie Taco Rice of Okinawa Tofu and Vegan Vegetable Curry.
I'm interested in food menu, too.
Ordered Vegan Parfait
I came here to enjoy vegan parfait but am torn as there are many vegan parfait.
After all, I decided to order "Fruits Fruits" as I could see it at the top of the menu.
Price is 1580 yen (About $14) so it is a bit expensive but this is rare chance so it's OK just this time!
By the way, for other parfaits, for example Matcha Azuki and Apple Cinnamon, you can enjoy them at 1180 yen (About $10).
Wait for a moment and here the parfait Fruits Fruits came!
Literally, many fruits, colorful parfait!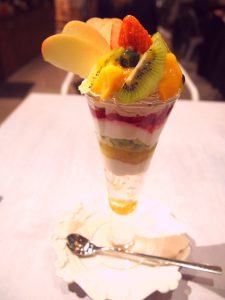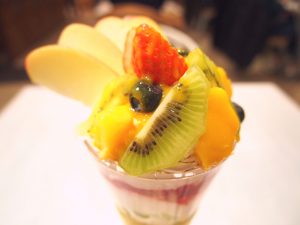 Itadakimasu!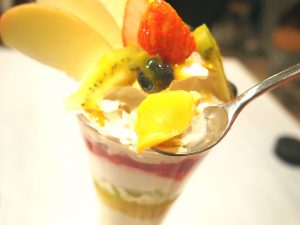 Yes, strong taste of fruits!
Strong and sweet taste of Peach, Kiwi fruit, blueberry.
Fruits are tasty!
For its cream, this is also smooth and tasty!
The ingredients used in cream is soy milk.
It has a light sweetness compared to fresh cream from ordinary milk.
No peculiar taste or smell of soy milk.
When I dig into the parfait, crunchy texture I felt.
This is rice puff or something.
Next sour and sweet taste of jelly of strawberry.
Under the jelly of strawberry, many of sherbet-form kiwi.
And jelly of peach, soy milk cream layer appeared next.
Looked at it from the side and found that there were layers of fruits.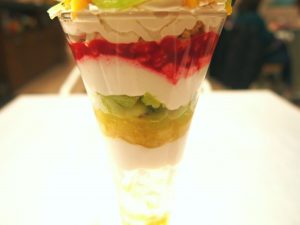 The more you dig, the more new taste you meet!
Just one parfait but could enjoy variety of tastes!
Substantial parfait and I'm very satisfied!
Summary
If you want to try vegan parfait in Tokyo, I think wired bonbon is the largest and most popular place.
Supervisor of the parfait is also professional vegan patissier.
I myself going to visit once more as I like the parfait of wired bonbon.
Next, I wanna try Matcha or chocolate parfait.
Still other vegan sweets also attract my attention!
If you have a sweet tooth, wired bonbon is recommended!
Google Map of wired bonbon