Vegan Doughnut Vegan Sweets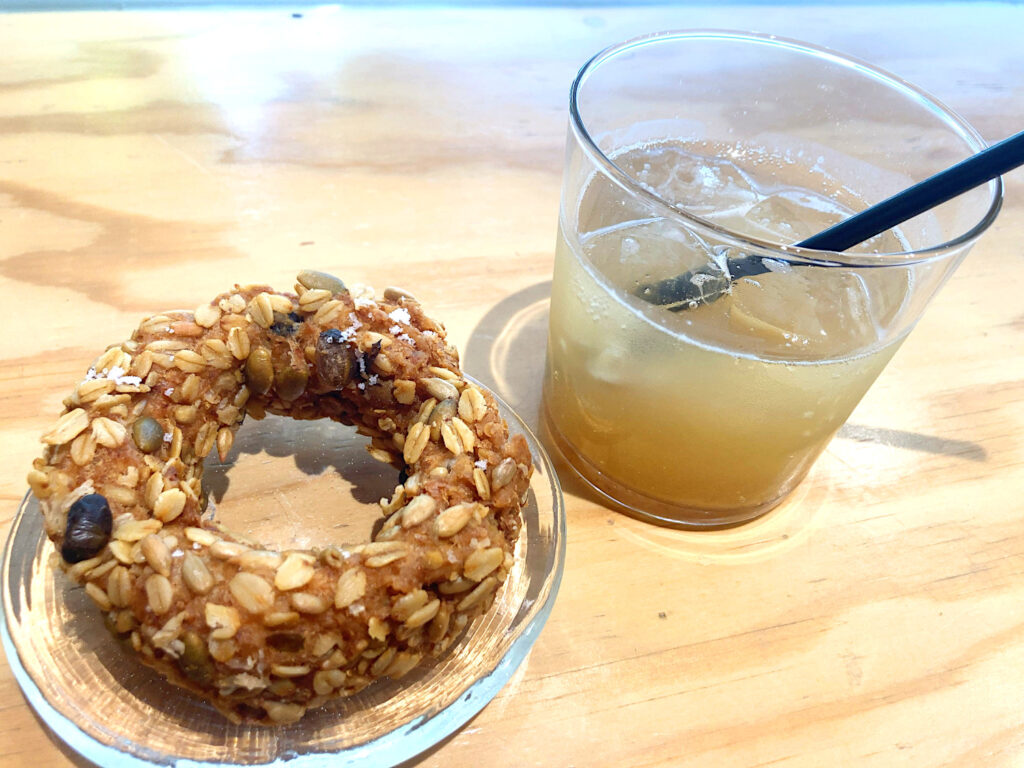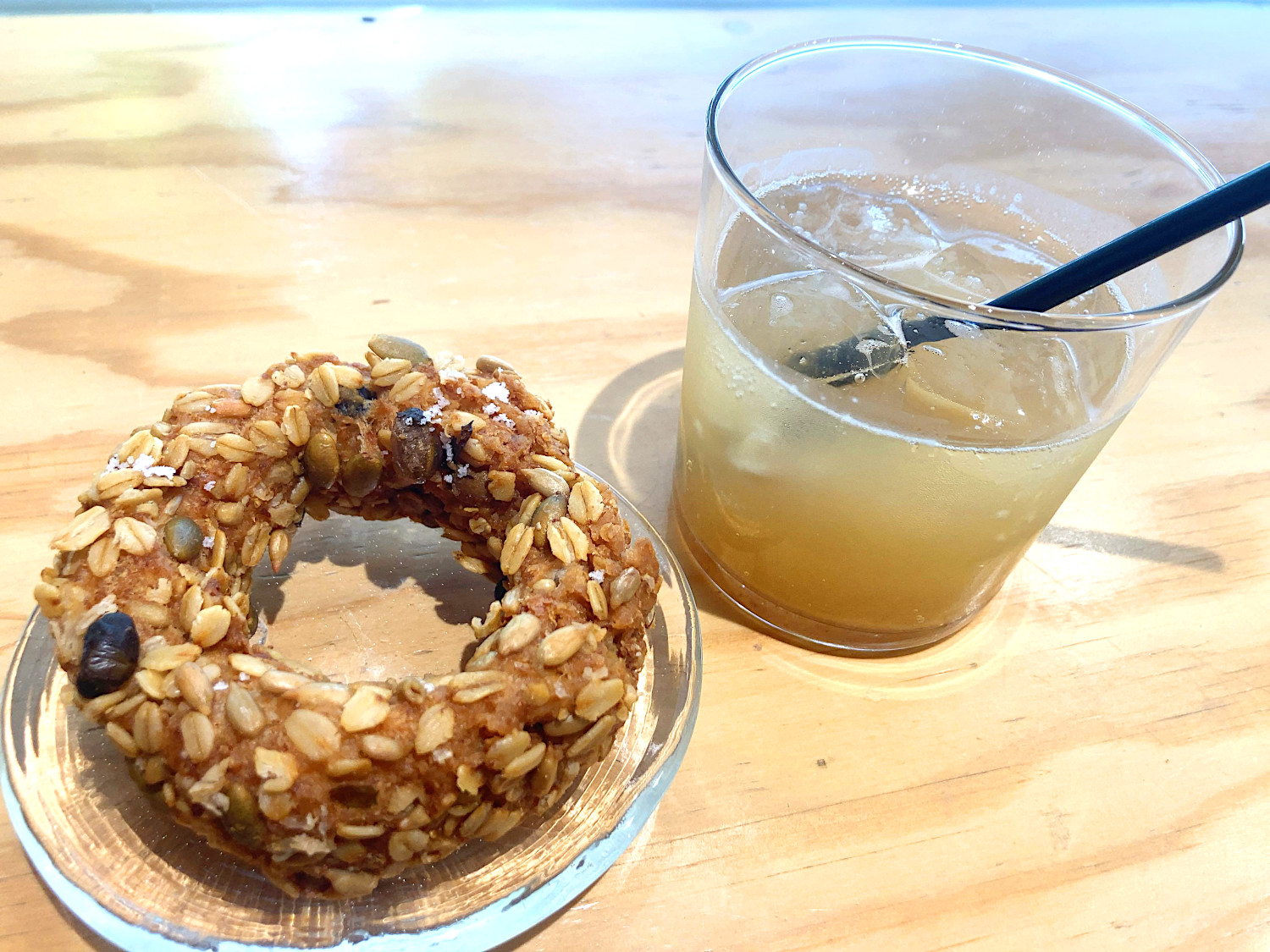 Address
3-9-5 Yoyogi, Shibuya-ku, Tokyo, Japan,
Google Map : https://maps.app.goo.gl/FKE93wd3EmX3P1QC9
Access
Minami-Shinjuku Station (JR Yamanote Line)
Yoyogi-koen Station (Tokyo Metro Chiyoda Line)
Shinjuku Station (JR Yamanote Line)
Tel
070-1381-8042 (+81-70-1381-8042)
Seats
4 Seats (Inside)
Opening Hours
11:00 – 20:00 (Weekday)
11:00 – 18:00 (Saturday/Sunday/Holiday)
Shop Holidays
Wednesday and Thursday
Website (Japanese)
https://www.farmmart.jp/
Having heard that there is a store in Yoyogi where I can eat Vegan Cereal Doughnut, I went to FarmMart & Friends.
Since it is within walking distance from Shinjuku Station, I thought it would be in the middle of buildings and fashionable stores, but the store was located in a rather quiet residential area.
While I was at the store, neighbors were also visiting the store in turn.
The restaurant opened last year in 2022, but it looks like it has been around for a long time.
This time I spent a little time at the counter inside the store, eating Vegan Cereal Doughnut.
Access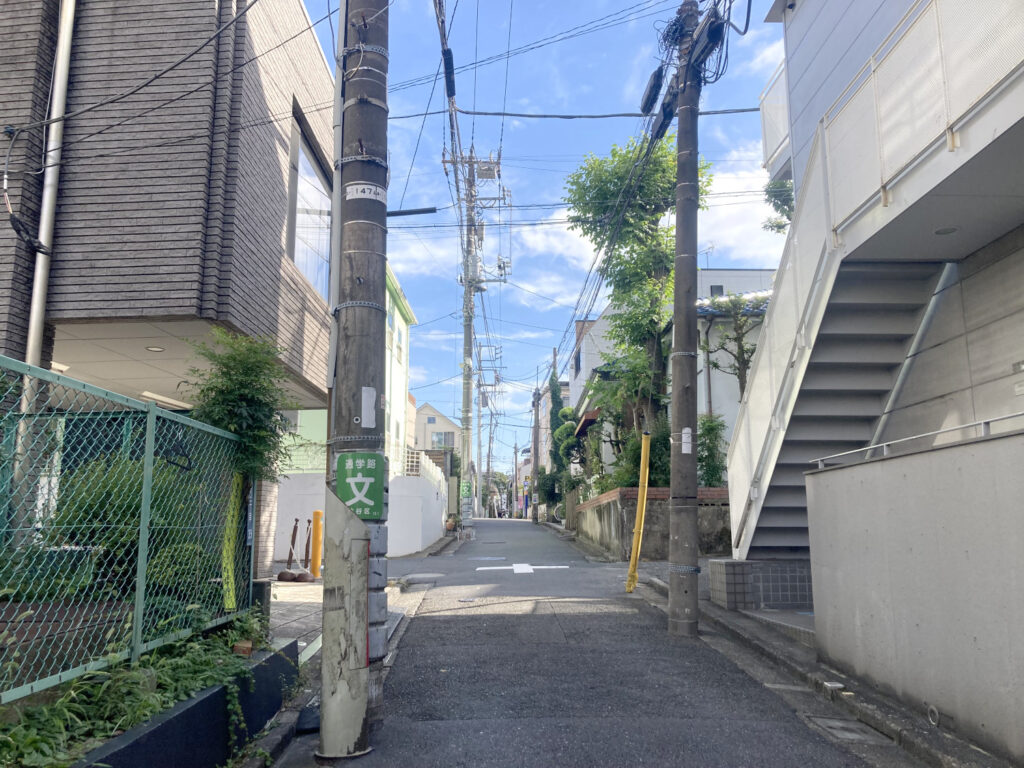 The closest station is Minami-Shinjuku Station.
It is about 300 meters from the station and takes only a few minutes to get there.
It is also about 1 km from Shinjuku Station, so you can walk there.
This time I'll show you how to get there from Shinjuku Station.
After exiting the Shinjuku Station South Exit ticket gate, go straight ahead and you will soon reach the main street (Koshu Kaido).
With your back to the station, walk straight down the street for about 100 meters to the Nishi-Shinjuku 1-chome intersection.
Cross the intersection and go straight for about 200 meters and turn left at the traffic light (you will be on the street between the NK Building and the Yu-Wa Building).
Turn right again immediately and follow the road for about 500 meters, and you will see Yoyogi New Heights on your left and Town Heights on your right.
Turn right here and FarmMart & Friends will be on your immediate right.
Google Map of FarmMart & Friends
From Shinjuku Station to FarmMart & Friends in Yoyogi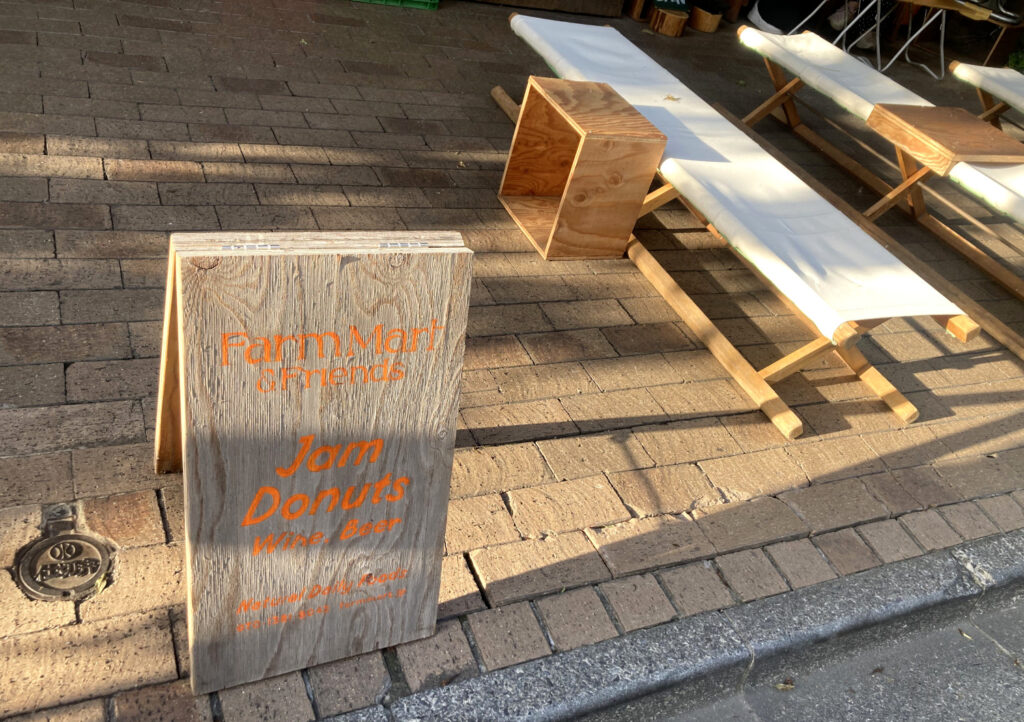 Minami-Shinjuku station is the closest, but this time I walked to the shop from Shinjuku station.
The South Exit of Shinjuku Station is the closest, about 1 km away, and a 15-minute walk will get you there.
Before I went there, I imagined an area lined with buildings and stores because of the short distance from Shinjuku Station.
But as I go forward, rather more and more big buildings and stores are disappearing.
I found myself in a quiet residential area, with apartments, condominiums, houses, etc., for people who live in Shinjuku.
Just a 10-minute walk, it showed me very different face even in same Shinjuku area.
In about a 15-minute walk from the station, I could get to the shop.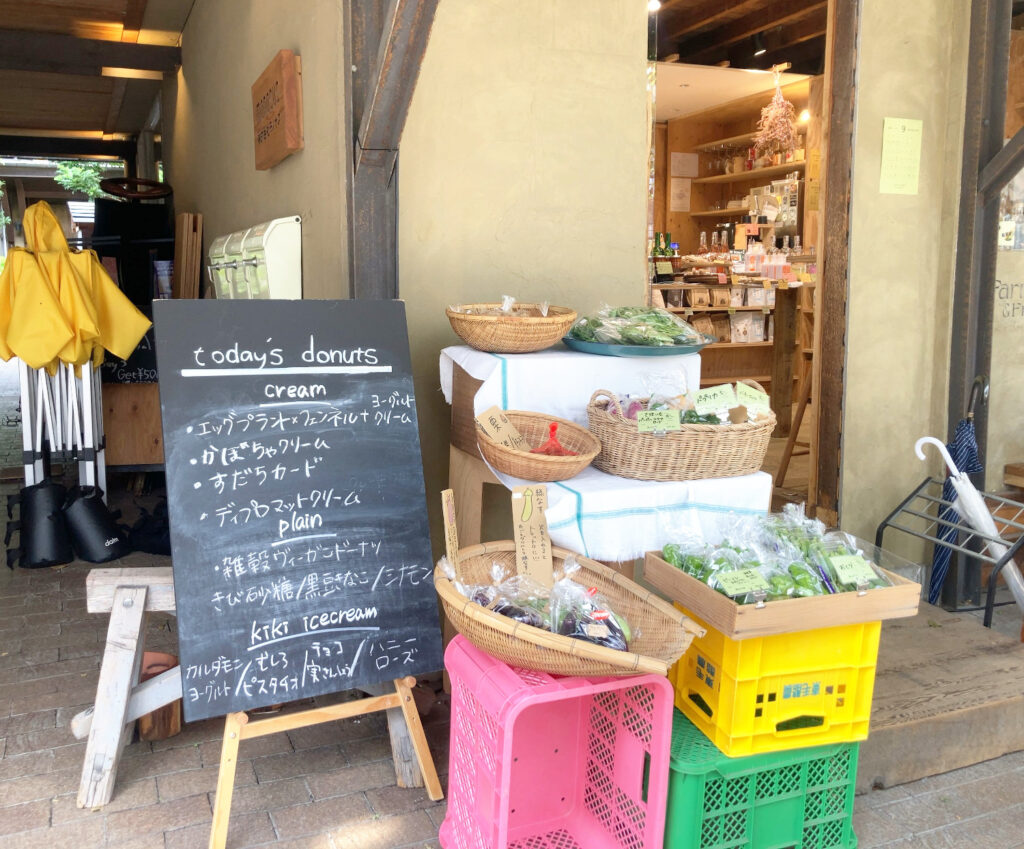 It was around 3:00 p.m. on a weekday, so I wondered if there were any people around but there were Japanese and foreign people relaxing in their seats.
I was surprised to see people relaxing in their seats even at this time of the day on a weekday, so far from the station.
The shop itself has a sense of being integrated into daily life!
Inside of FarmMart & Friends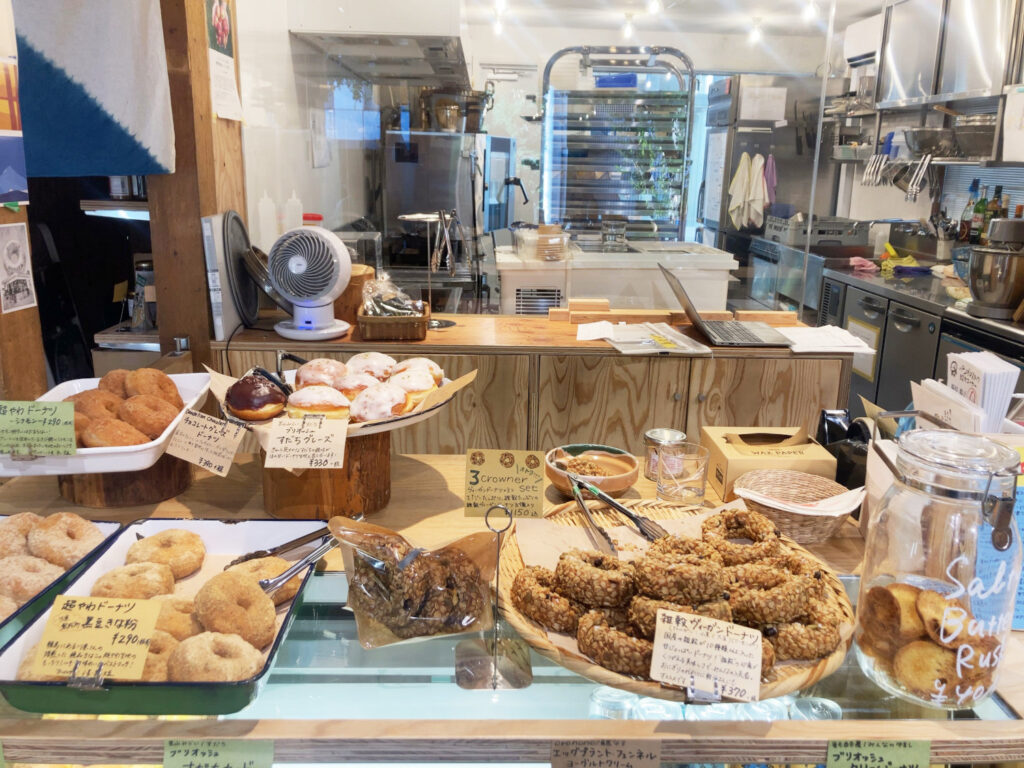 Organic vegetables were sold in front of the shop.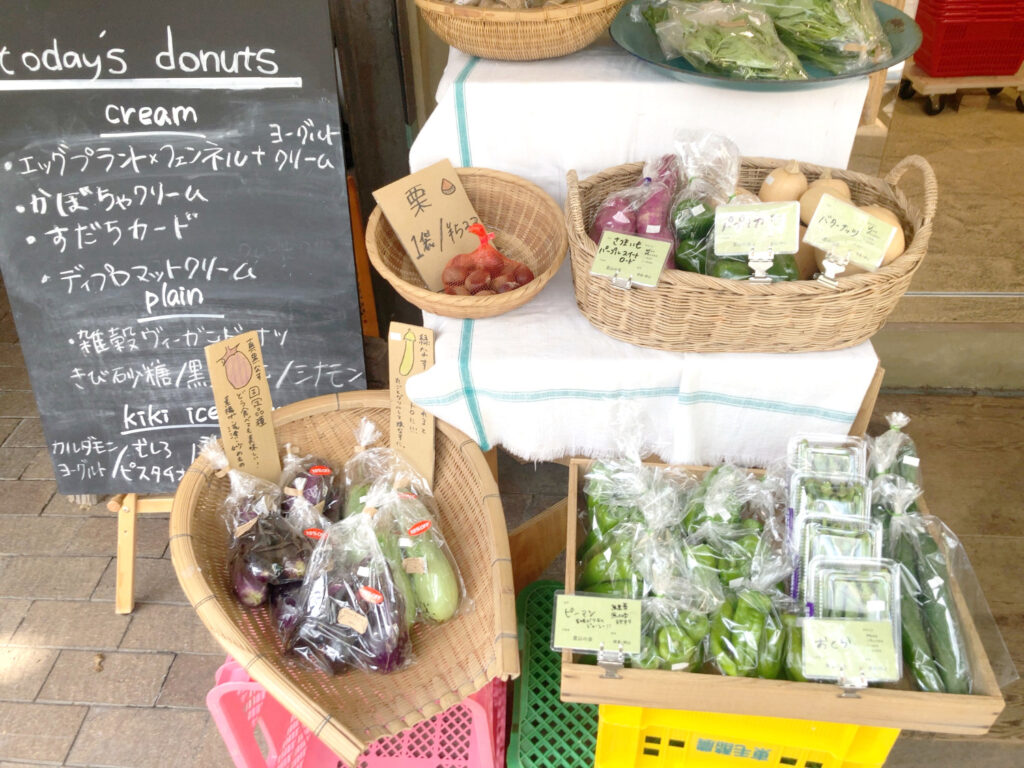 There were some vegetables sold at a discount price but I gave up as I had enough vegetables already at home.
I first thought this shop is just for a cafe but there were also a variety of foods sold inside.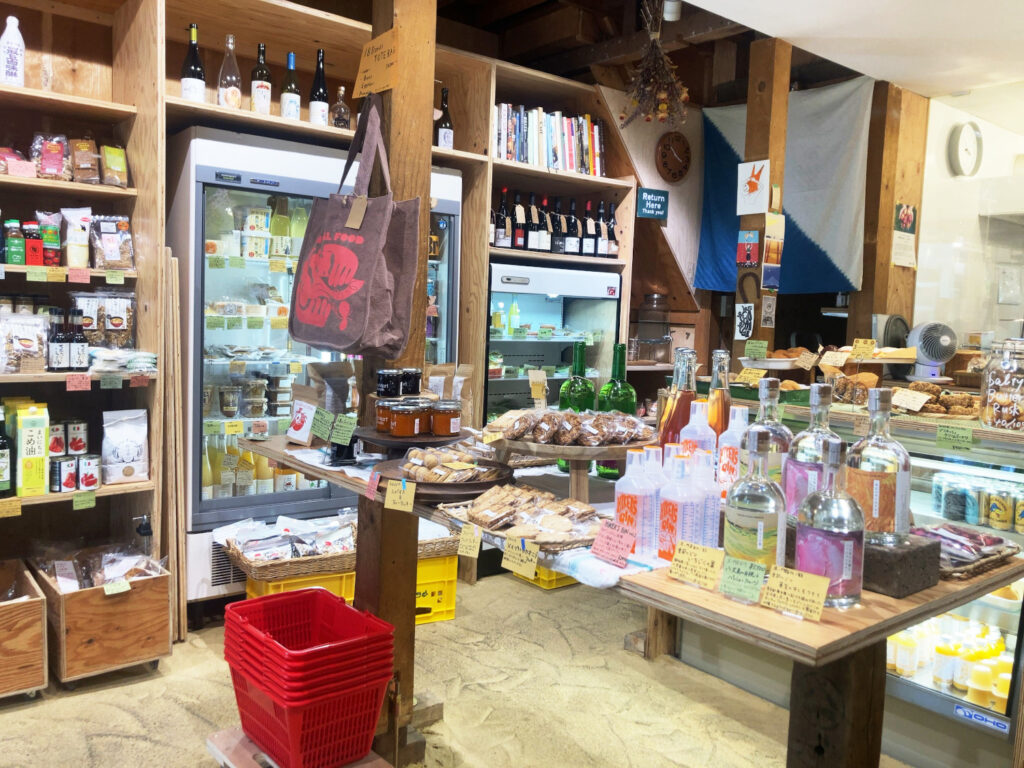 Most of them are domestic or free of MSG, so selected items.
Organic vegetables were sold inside as well.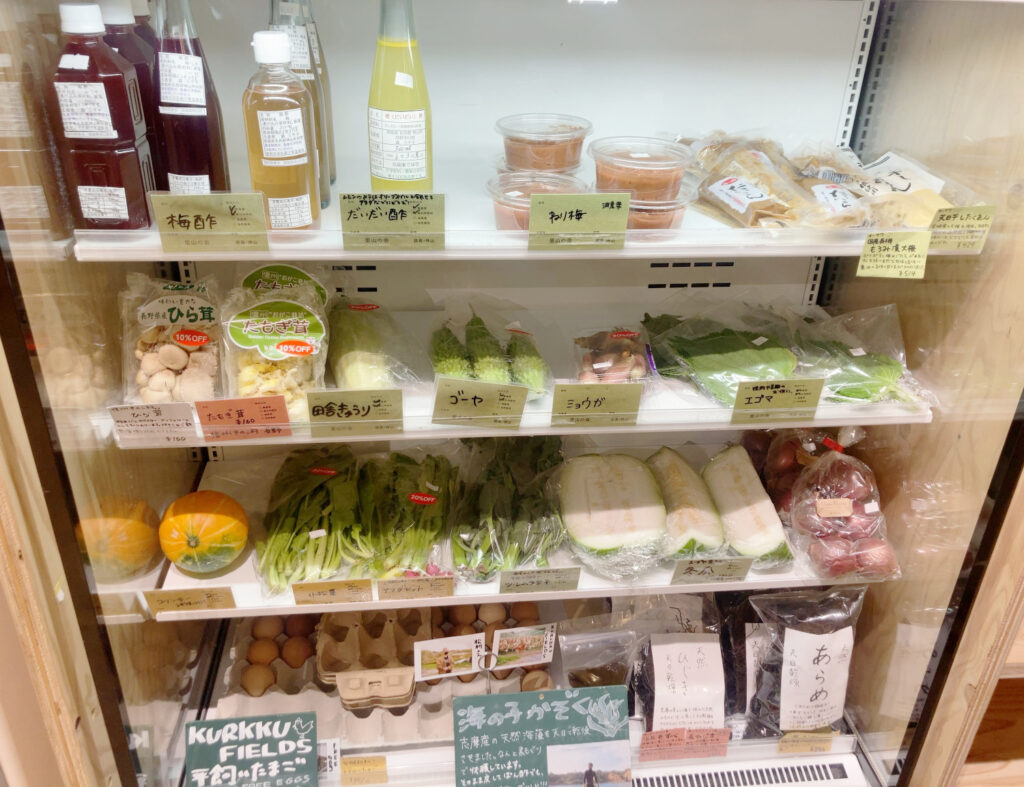 There were some baked sweets which attracted me.
There were Fruit nut cookies, Maple cacao nib cookies, Spice balls, Spice & Tea cookies, Brown sugar oats cookies, etc.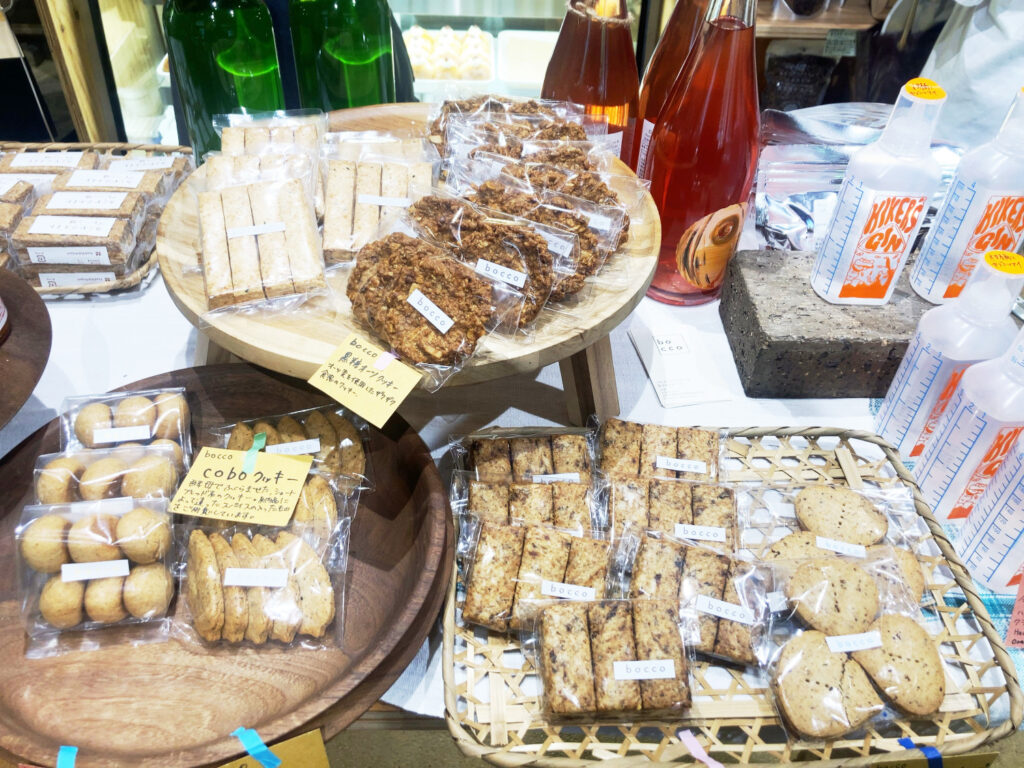 Most of the cookies were made without dairy products and eggs that even vegan can enjoy (Just in case, check the ingredients of the label on the back before your purchase).
I bought this Kamiyama Mate which was displayed like a signature cookie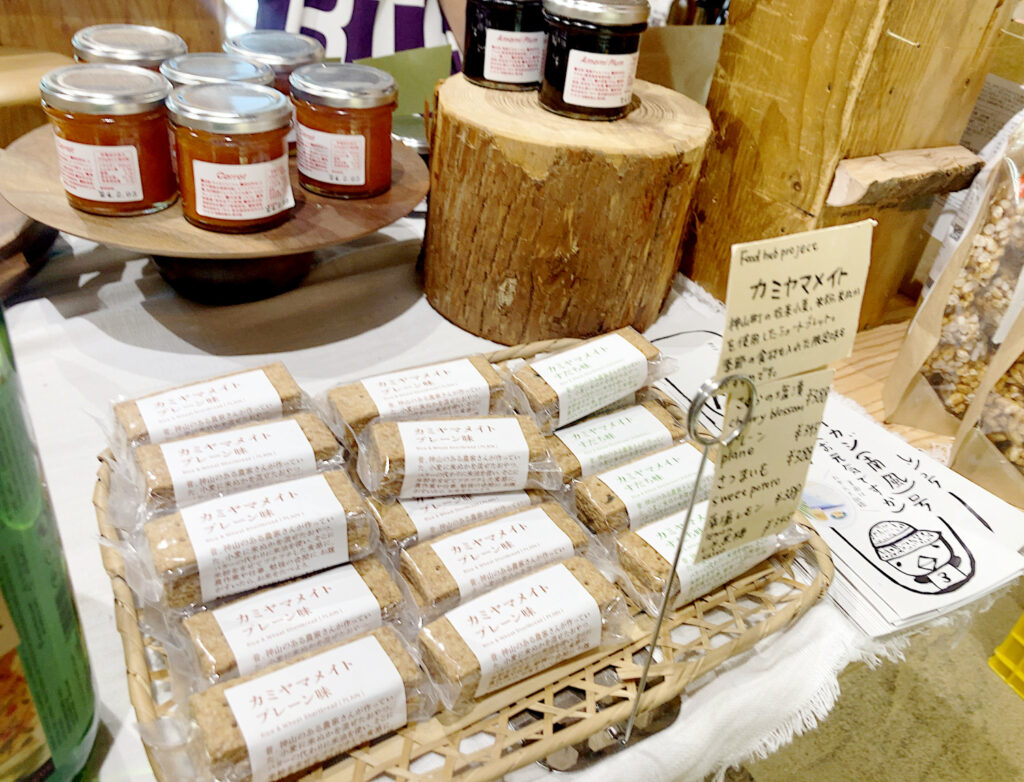 But the store's most signature item is Vegan Cereal Doughnut!
Many were available at the counter.
I was also interested in other sweets such as black soybean soybean flour doughnuts and chocolate doughnuts but vegan doughnut is only this Vegan Cereal Doughnut..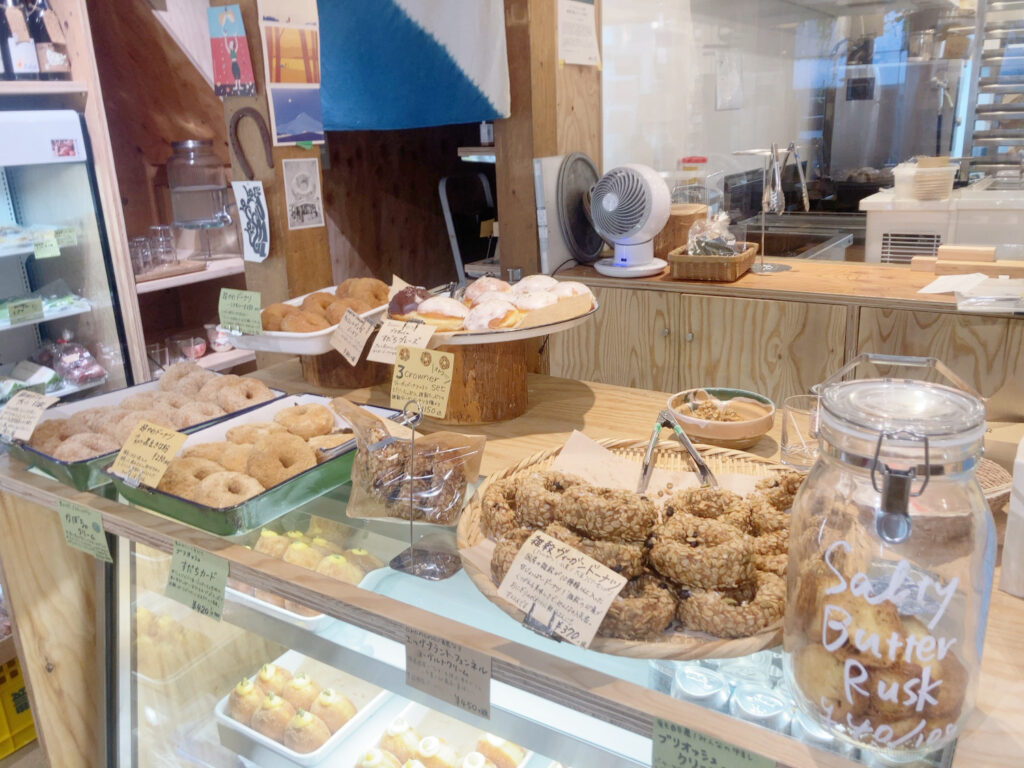 Brioche looks good but these sweets are also not for vegan.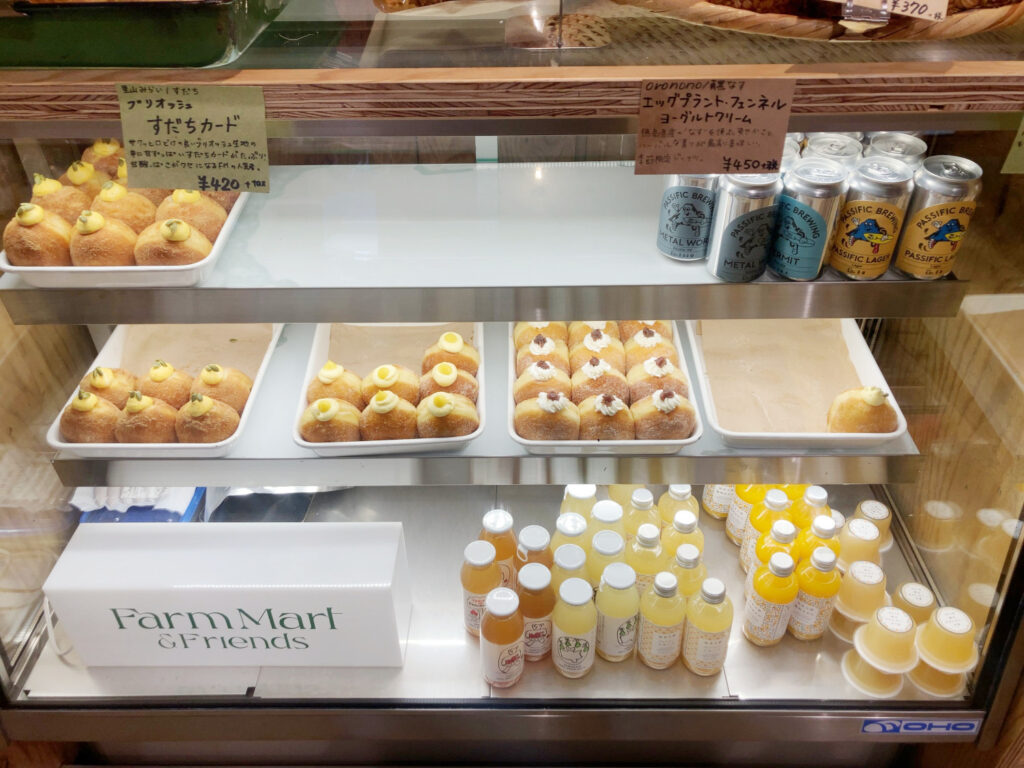 "Would you like to try our Vegan Cereal Doughnut?"
The staff recommended it to me.
I was going to buy one from the first but decided to try it.
Oh, this is really delicious!
Order Vegan Cereal Doughnut and Kamiyama Citrus Sudachi Sylup!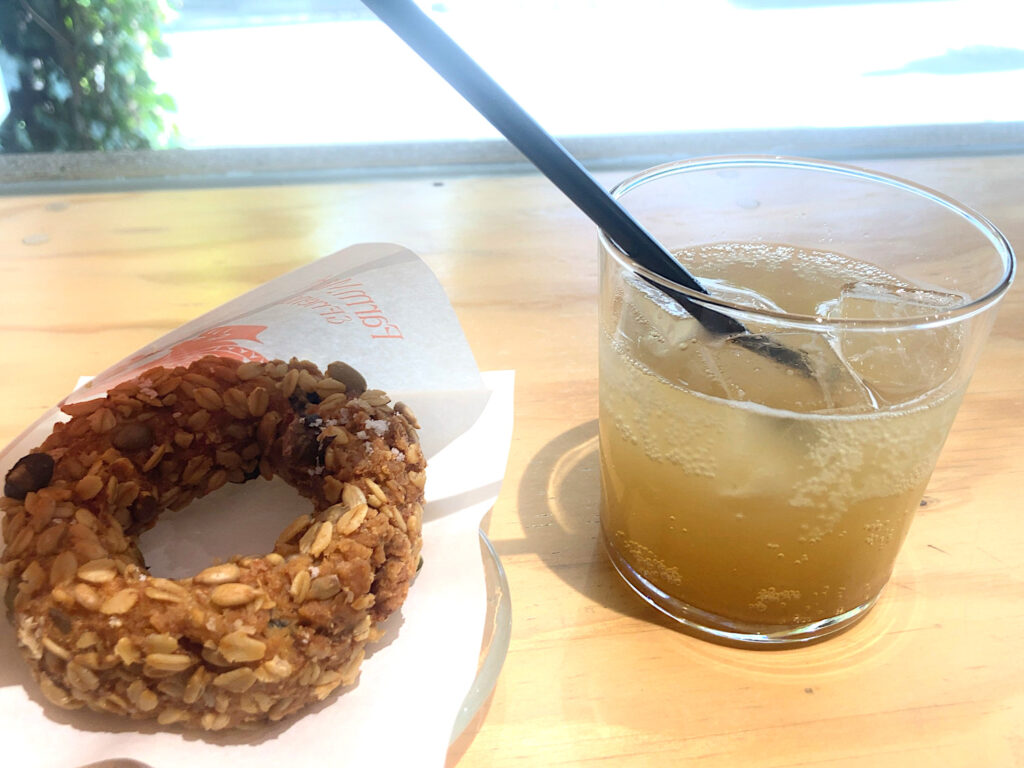 I was told that one drink is required when eating in the shop, so I ordered a drink as well.
The staff told me that there is a seasonal drink called Kamiyama Sudachi Syrup available now, so I ordered this drink.
Vegan Cereal Doughnut was about $2.7 including tax (407 yen) and Kamiyama Sudachi Syrup was about $4 (600 yen).
Since I asked to use the eating space, the total was about $7 (1067 yen).
The price is not cheap but it is understandable since both are handmade by the shop using selected ingredients.
Credit cards and electronic payment were also accepted at the checkout.
I went to the counter seating in front.
About 4 people can sit at the counter.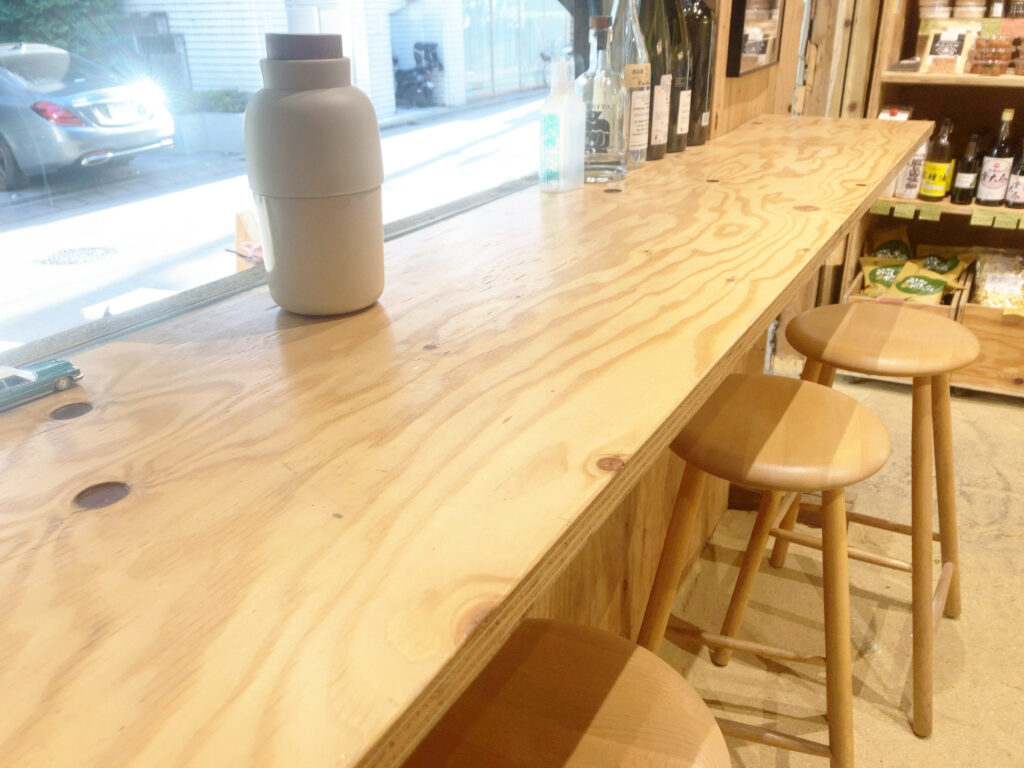 There were also seats outside and there was a customer with her dog.
It looks comfortable on a sunny day!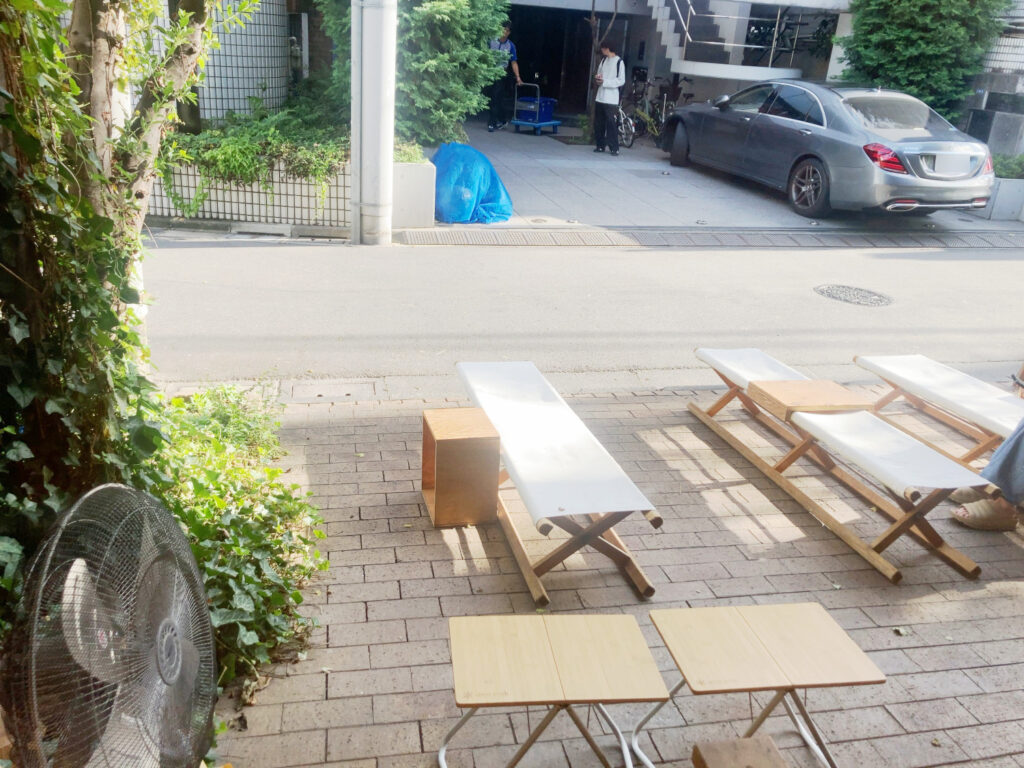 In a couple of minutes, the staff brought Vegan Cereal Doughnut and Kamiyama Citrus Sudachi Sylup.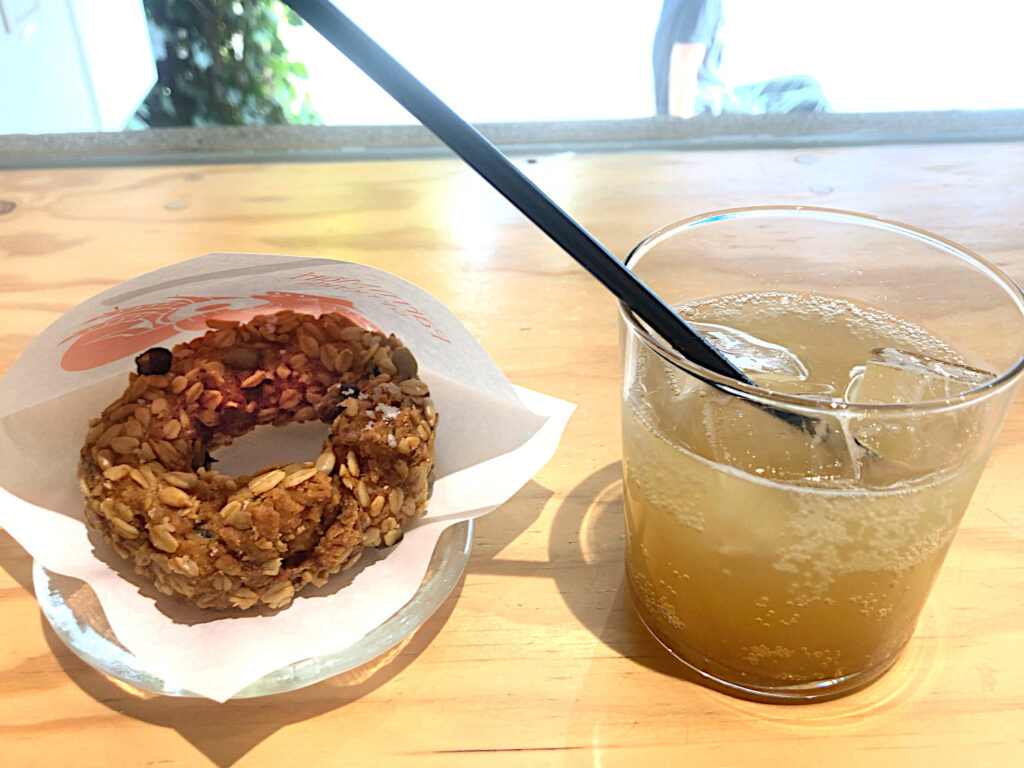 Vegan Cereal Doughnut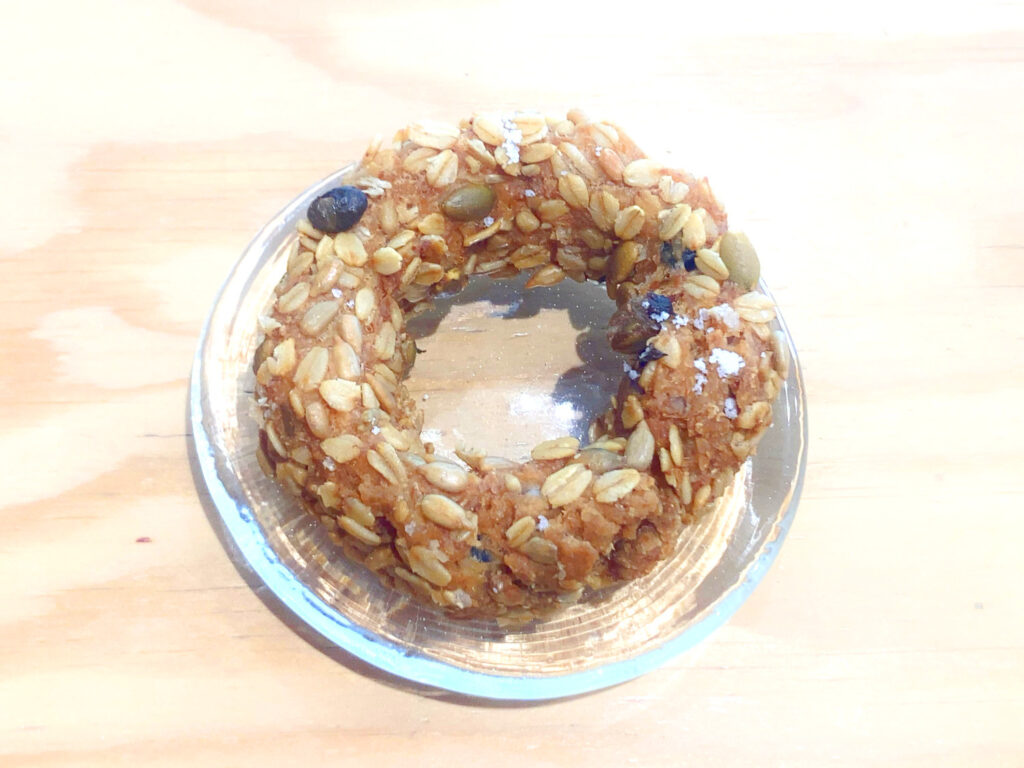 This is the Vegan Cereal Doughnut made with more than 10 kinds of domestically produced minor grains!
As the name suggests, this is the doughnut made without any eggs or dairy products!
It has a strong visual presence, doesn't it?
When I tried it, yes, crunchy texture of the Cereals!!
The taste is not the usual sweet doughnut, but a perfectly salted doughnut!
When I bite into it, I also feel the rustic sweetness of the dough.
The dough of the doughnut seems to be made of tofu.
This is delicious!!
The cereals are also very filling, so one was enough to fill me up in its own way.
Kamiyama Citrus Sudachi Sylup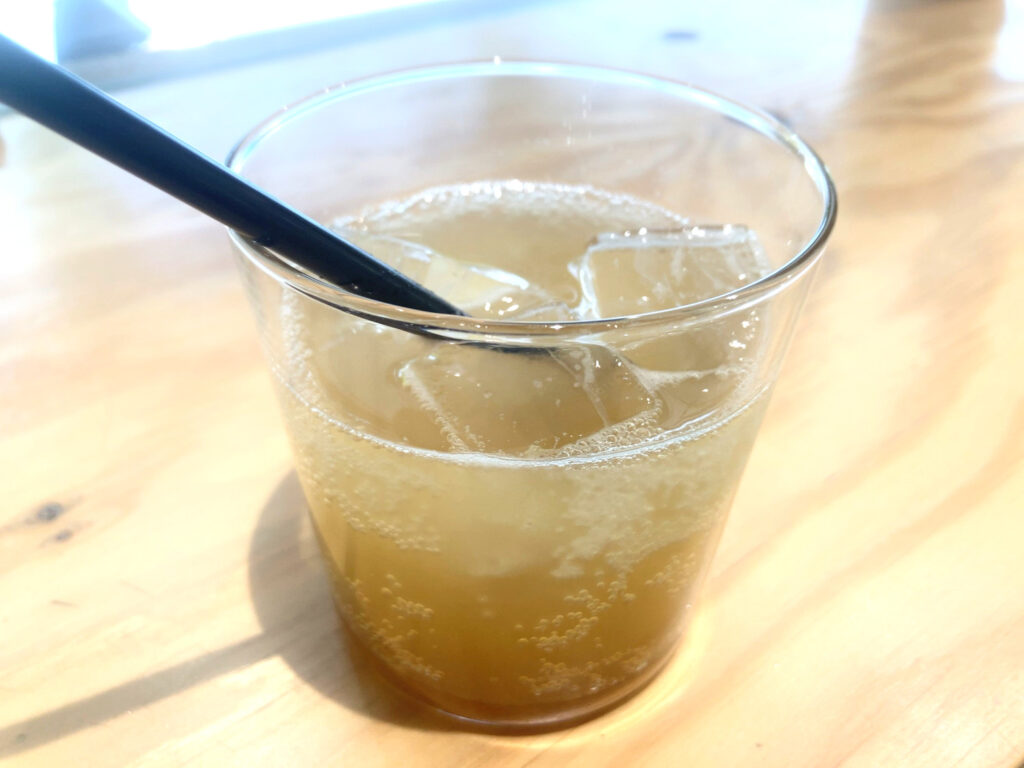 I usually order coffee, but I ordered this Kamiyama Sudachi Syrup because it is a seasonal drink.
By the way, what is Kamiyama? I looked it up and found that it comes from Kamiyama-cho in Tokushima Prefecture.
Most of the ingredients of the jam of the fruits and vegetables sold here come from farmers in Kamiyama-cho.
Kamiyama-cho was a peaceful place and the photos showed that it was a place that make me want to travel alone.
So the juice is made with sudachi from this Kamiyama-cho.
When I drank it, I found that this is a fresh juice made directly from the juice of sudachi!
There is a ginger ale with a raw flavor that is really grated ginger itself, and this is exactly what it tastes like, although the taste is different.
The balance of sweetness and citrus acidity makes it especially delicious on a hot day!
Coffee usually goes well with sweet doughnuts, but this Kamiyama Sudachi Syrup also goes well with the slightly salty cereal doughnut.
Kamiyama Mate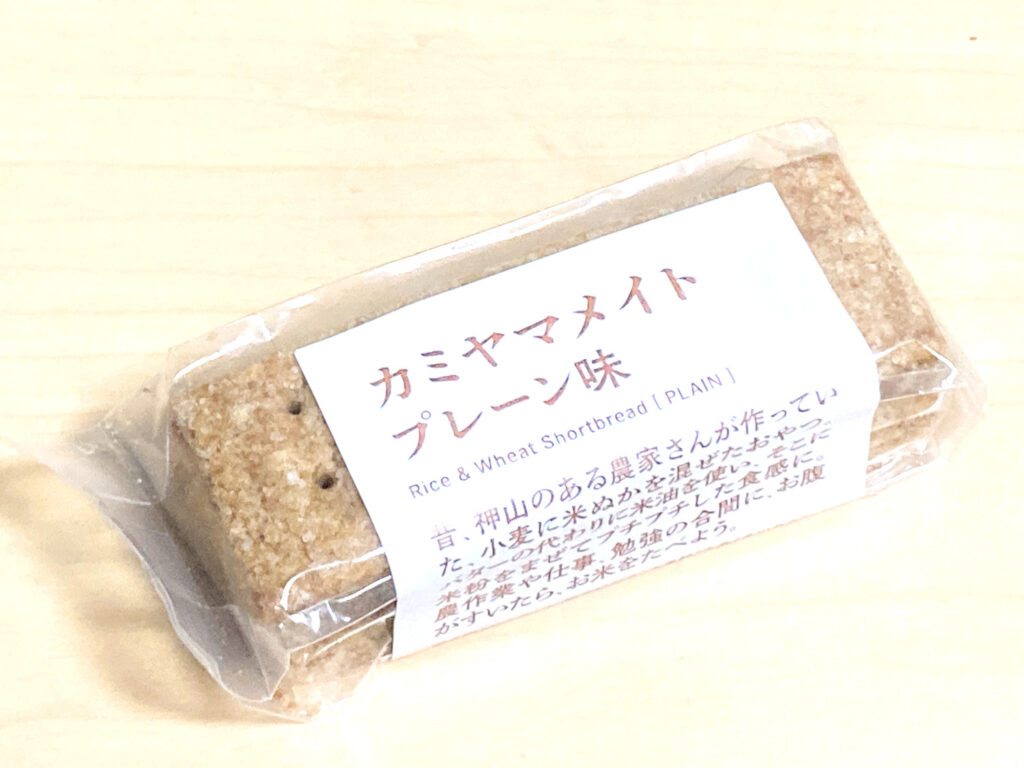 I ate Kamiyama Mate after I got home.
The price was for about $2 (324 yen) including tax.
This Kamiyama also comes from Kamiyama, Kamiyama-cho in Tokushima Prefecture.
The ingredients are simple: wheat flour (Kagawa Prefecture), rice flour, rice oil, sugar (raw sugar), soy milk, rice bran, and salt.
The rice flour and rice bran used for the dough are said to be specially cultivated rice.
But when I checked the ingredients closely, the wheat flour was from Kagawa Prefecture.
Not Kamiyama?
I checked again to find that the maker produced this cookie was Food Hub Project Co. in Kamiyama-cho.
The taste of Kamiyama Mate is homeliness taste of wheat and rice flour.
As I chewed, I enjoyed the simple sweetness of the ingredients' original taste.
The texture is also crunchy and chewy.
This is quite addictive!
And since it is quite hearty, it will stay my stomach!
Although it is not a Calorie Mate (Nutritional supplement cookie), Kamiyama Mate could be an energy bar when I am hungry!
Summary
FarmMart & Friends was a shop that fit into people's lives.
Even after 3:00 pm on a weekday, neighbors and others were visiting the store in turn.
The store looks as if it has been around for a long time, but it opened about a year and a half ago, in March 2022.
Next door is another bakery called Shiomi, which also seemed to be a bakery known by those in the know, so I was curious about it.
The only vegan doughnuts are Vegan Cereal Doughnut but vegans can also enjoy some baked goods such as Kamiyama Mate.
It was a discovery for me that a place like this can be found even in Shinjuku, 10 minutes away from the center of the city.
Although I only stayed for a short time, the shop gave me a sense of connection with the community.