Vegan Ramen Vegetarian Ramen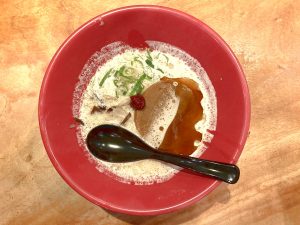 Address
2-26-10 Minamiikebukuro, Toshima-ku, Tokyo
Google Map :
https://goo.gl/maps/wmcxiTc3WPa2WWkZ6
Access
Ikebukuro Station
Tel
03-6907-8305 (+81-3-6907-8305)
Seats
35 seats
Opening Hours
11:00 – 20:00 (Time for state of emergency as of 2021 February)
Shop Holidays
Irregular Holidays
To Ippudo for Vegan Ramen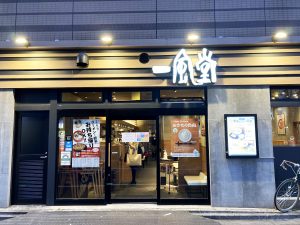 I was curious about vegan ramen of Ippudo as some Japanese people posted the pictures.
They started to sell vegan ramen on 1 February for a limited period and I finally could come to try it!
From the Ikebukuro station, it was about a 5-minute walk, less than 500 meters.
On the wall of Ippudo, there are big menu ads of Plant Base Akamaru.
This Plant Base Akamaru is the vegan ramen I try this time.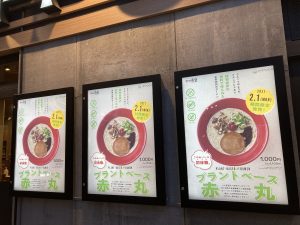 I'm going inside.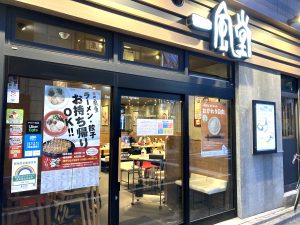 I chose to come at a slack time of 5 pm, so most seats were available.
Considering this is a ramen shop, I think it is relatively large with 35 seats.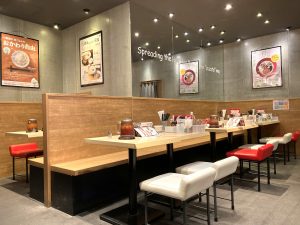 I was thinking about taking a seat with a good view and then
"Have a counter seat here"
A waitress takes me to a counter seat right across the entrance.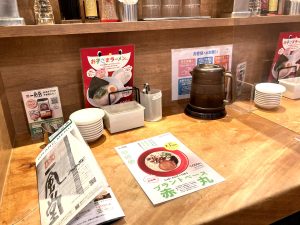 I first wanted to take a table seat in the back as most seats were available and I could take good pictures.
But this counter seat might be good as it conveys the touch of the ramen shop, so I take a seat here.
Order Plant-based Vegan Ramen Akamaru
There was a special menu just for Plant Base Akamaru on the table.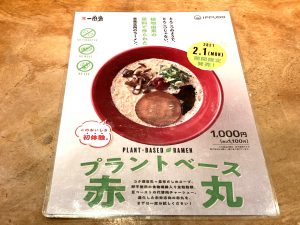 Top recommendation ramen now, isn't it!
Another customer who just came in and sat next to me also ordered Plant Base Akamaru.
It might be popular ramen now!
I also order it.
While waiting, I look around to find most seats except for these counter seats where I am now are table seats.
If you come here at a slack time with your friends, you can have a relaxing time, I think.
Waited for about 5 minutes and here the ramen came.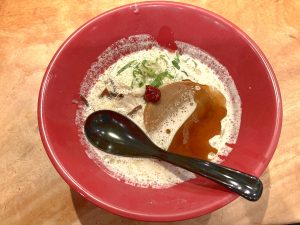 I was surprised as it came faster than I expected.
Slack time might be the reason.
It looks like an ordinary Tonkotsu Ramen (Ramen in pork broth soup)!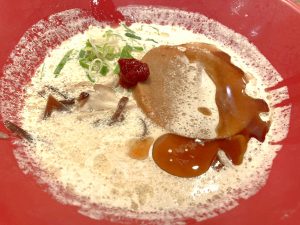 When I was a child, I liked Tonkotsu Ramen but since I became a semi-vegan (Flexitarian, technically speaking) I didn't eat it.
There were two types of chopsticks, wooden one and plastic one.
To tell you the truth, wooden chopsticks are easier to have ramen and I can get a feeling of I am eating ramen now.
But I can not find that if the wooden chopsticks are made of thinned wood, so I choose plastic one.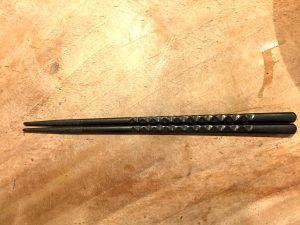 I try the soup first.
Oh, it looks really like real pork broth soup.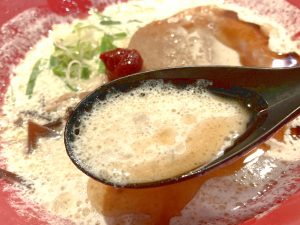 The moment I tasted it, I found this is very tasty!!
In contrast with its looks, it would light mild veggie soup, I thought, but was not.
It had a rich taste in it!!
They say this soup is made with soymilk and kelp stock.
The taste was like pork soup but not like oily soup like real one.
Rich creamy taste and not heavy!
I had it with the noodles and I thought it is almost impossible to tell the difference from real ramen.
Rich taste like ordinary ramen but made all from vegetables.
By the way, the noodles are made of whole wheat and no eggs used, of course.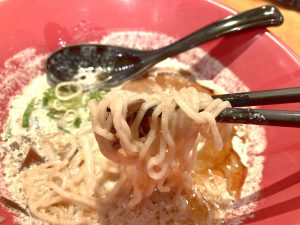 Other than that, 3 types of Japanese mushrooms were on the top.
What I paid attention, especially, is this Char-siu pork (Sliced pork)!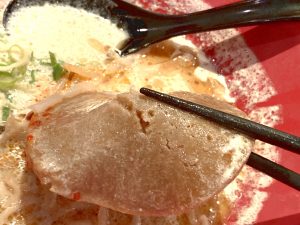 Tried to find this Char-siu pork is certainly different taste from the real one.
The taste is like that of soybeans but has a unique texture in it although it is different from real Char-siu pork.
They say this Char-siu pork is made of green beans and wheat protein.
I heard a lot about soybeans and gluten for an alternative but this is the first time to hear about green beans to me!
Oh, and don't forget about namul of bean sprouts on the table.
It's free, so you can add it to the ramen.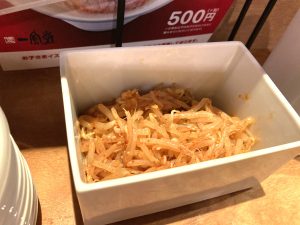 It is namul, so a bit hot but very tasty when add it to the ramen!
Rather, with Japanese rice, I wanna eat this namul of bean sprouts, too, haha.
I ate up and am very satisfied.
Shops in Tokyo you can enjoy Plant Base Akamaru of Ippudo
You can enjoy Plant Base Akamaru at 45 shops of Ippudo nationwide now.
Here, I only pick up Ippudo you can enjoy Plant Base Akamaru in Tokyo.
Ebisu, Komazawa Park, Ikebukuro, Machida, Shinjuku Island Tower, Asakusa ROX 3G, Lumine Ost Shinjuku, Gotanda East Exit, Hamamatsu-cho Stand, Celeo Hahioji
Take notice for vegan and those who have an allergy to certain foods
This Plant Base Akamaru is certainly made all with vegetables including its soup stock.
Still, there are some points I want vegan and those who have an allergy to certain foods to take notice.
The kitchen also handles animal products as Ippudo is not a perfect vegan ramen shop.
Ramen boiler also boils ordinary noodles used eggs.
Please take notice especially those who have an allergy to certain foods.
Plant Base Akamaru also uses onion and garlic, etc. that is, it uses five pungent roots.
So, it might not for oriental vegan.
Summary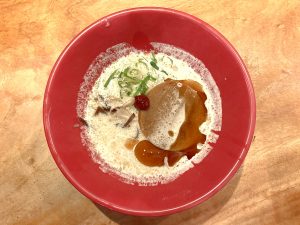 From the first sip, Plant Base Akamaru of Ippudo was very tasty!
I was surprised to know that just with vegetable ramen can make such a rich taste.
I've tried various veggie ramen in Tokyo and T's Tan Tan was the best but this Plant Base Akaramu was added to my best ramen list as well.
Sad point is this is sold for just a limited period.
If it become a standard menu, I wanna keep going Ippudo!
Google Map of Ippudo Ikebukuro