Miracle Apple Yoshinori Kimura Company of Natural Farming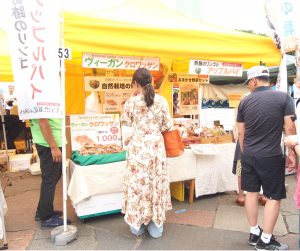 Miracle Apple of Mr. Kimura、became a big topic about decade ago here in Japan.
But I never imagined to see it here!
Sold here was not the apple itself but apple pie made use of Miracle Apple of Mr. Kimura.
There were also vegan croissants.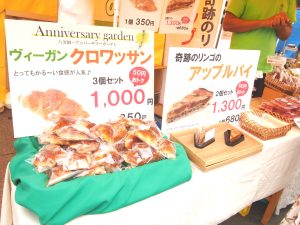 I have not tried Miracle Apple, so I'm curious.
NURTI VEGESTAND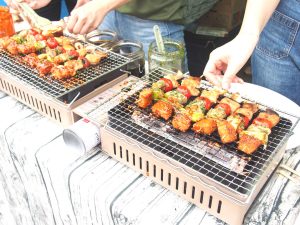 Yakitori (skewered chicken)?
Looked so, but it is made all vegetables!
This is Vegetable Skewer of NURTI VEGESTAN
Looked high heat, rather firing!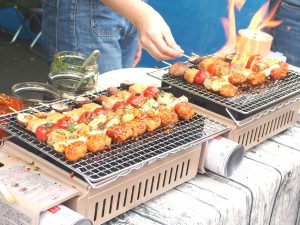 I was interested in, so bought it!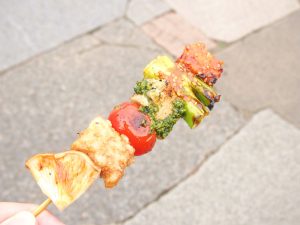 The taste was a bis spicy.
But tasted good.
I knew later that it also included devil's tongue of soya pulp.
Next to it was the shop selling Takoyaki.
I think I also saw Takoyaki last year, too but from a different shop.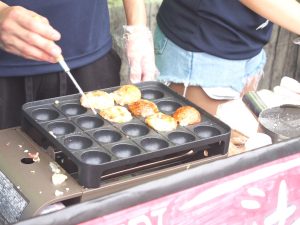 NURTI Otofu Doughnut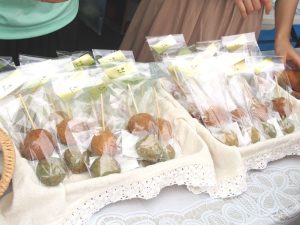 And right next door was this NURTI Otofu Doughnut。
The staff told me Takoyaki and vegetable skewers including this shop are all from the same group.
I see, certainly all the shops have "NURTI" in their names
This is Yomogi (Mugwort) and Kinako (roasted soybean flour) flavor, the staff told me!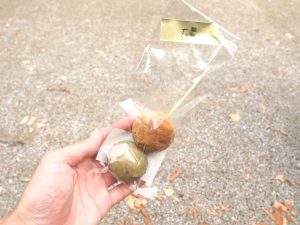 Although the appearance really looked like dumplings, this is doughnut of Tofu!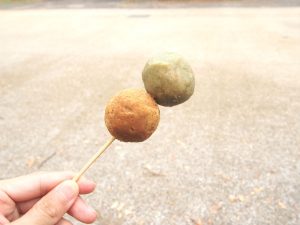 And tasted it, very good!!
I wish they sell it at a convenience store or supermarket, too!
Yasai no Osushiya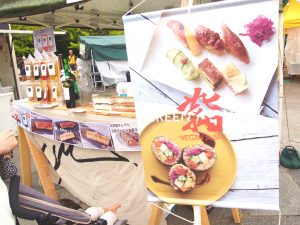 Found Sushi shop again!
This is Yasai no Osushiya。
They are vegetable sushi made based on macrobiotics
Interesting susi had been displayed such as faked eel, pressed sushi and rolled sushi, etc.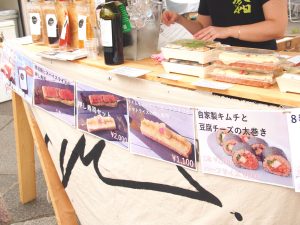 When I first visited here, there were a variety of sushi.
But just a few left when I came back again after about an hour later.
I wanted to buy rolled sushi.
I asked the staff if there is a real shop but he told me only the event like this, they come.
I have not seen a special shop of vegan sushi, so I think it'll be popular someone make it in Tokyo.
Will be popular especially among people from overseas.
Reinette & Yuuchi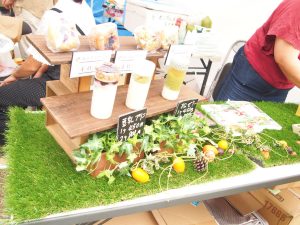 Soy milk pudding looks good!
Pine jelly next to it also appeals me.
Patissier of french sweets makes sweet for thisReinette。
Made without dairy products, egg and white sugar
Behind it were muffins of Yuuchi.
Muffin made of mulberry looks good!
PITHAGORA SWEETS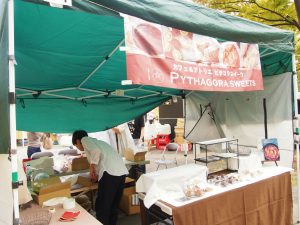 PITHAGORA SWEETS is a shop selling macrobiotic sweets
This shop is also very popular so when I visited, some sweets were already sold out.
Asked the best seller and the staff told me it is dauphinois.
Asked what is dauphinois?, I also became ?, so checked it to find it is a traditional cuisine in Dauphiné area in France.
The appearance was a potato gratin.。
I wonder why this sweet got the name of potato gratin of France?
Looks like this sweet is what is called Engadine, which is a traditional sweet in Switzerland.
It is a sweet wrapped walnuts in cookie dough.
It was already all sold out but the staff showed me the sample which was still left in the back.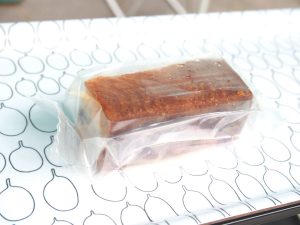 I wanted to try it!
There were still soy milk scones and brownies of rice flour.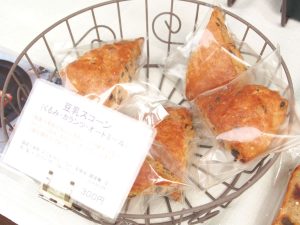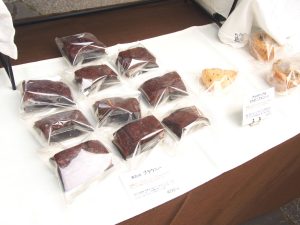 She told me this soy milk scone is also popular, so I bought one!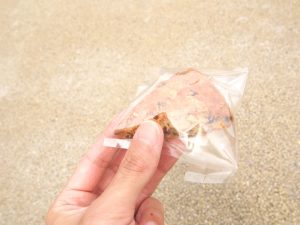 Veggy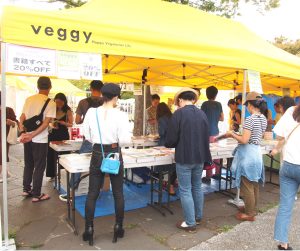 Veggy is a famous magazine among vegan and vegetarian.
I don't know any other magazine except for Veggy which only focused on vegan and vegetarian information.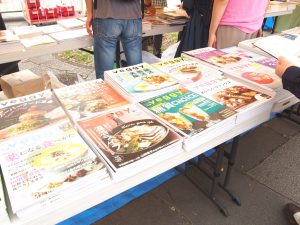 They had been in Organic Lifestyle EXPO that held on August in Tokyo!
You can buy the magazines a bit cheaper price than usual at this kind of event!
KICK BACK CAFE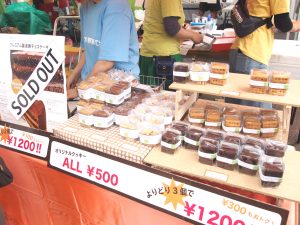 KICK BACK CAFE has its cafe in Chofu in Tokyo.
Sampling of vegan cookies were popular, so it was a bit hard to come closer.
They were selling Lo Han Kuo raw chocolate, chocolate cake, tart of rice flour, etc.
Although all the Lo Han Kuo raw chocolate cakes were already sold out.
Looked like just several types of original vegan cookies were left.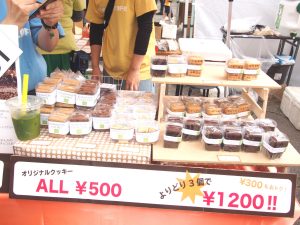 Miyoshi Farm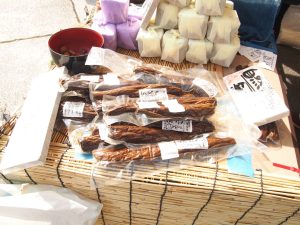 Iburigakko!
It's a traditional food in Akita Prefecture!
Miyoshi Farm had been selling it.
Miyoshi Farm located in near Tazawa lake in Senboku city of Akita Prefecture.
They grow vegetables in natural farming and and makes this Iburigakko
This Iburigakko doesn't use additives and made by smoking woods of Sakura and oak.
Recommended those who like pickled Japanese radish called Takuan and I also buy Iburigakko often.
LUNA BURGER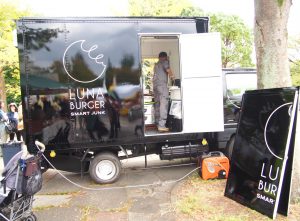 This is the picture from a backside of LUNA BURGER。
The other side was a long line, so looked like a famous shop.
They sell vegan burger made of vegan buns and soy pâté.
FALAFEL BROTEHRS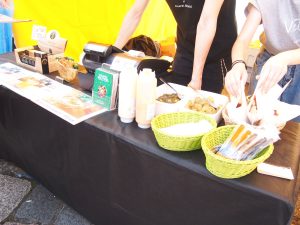 FALAFEL BROTEHRS have their cafe in Roppongi and Ebisu and I've been to the cafe in Ebis about half a year ago.
FALAFEL is a croquette in Middle East made mainly of chickpeas
You can enjoy falafel sandwiched in pita breads.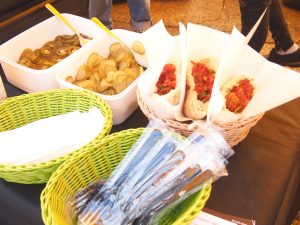 The impressions of I, who went to the cafe in Ebisu, is substantial & very tasty!
You can also enjoy vegan sweets at the cafe!
Recommended vegan cafe in Ebisu or in Roppongi!
SHIBUYA HIDEOUT BURRITO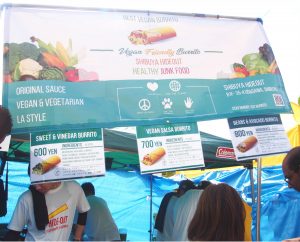 SHIBUYA HIDEOUT BURRITOisa special cafe bar of burrito
There is a cafe bar in shibuya and you can find vegan burrito, too among ordinary menus.
Good point of it is they open until 5 am.
You do not need to worry even if you miss the last train, let's go grab the burrito to SHIBUYA HIDEOUT BURRITO!
Yokosuka Heritage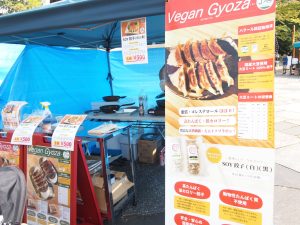 Yokosuka Heritageisa company deals in foods made of vegetable protein
Soybeans used in their Gyoza are all domestic and acquired certification of halal, too.
Freshly-fried Gyoza looked very good!
Summary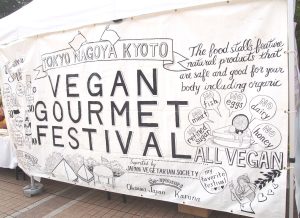 I just introduced a part of the shops in the event.
There were 74 shops in total.
Actually, there were many vegan foods I wanted to try but couldn't have enough time to spend and all sold out when I wanted them.
I recommend you to come in the morning as best as you can if you already know the shop or food you want to try.
Popular foods might sold out in 1 to 2 hours.
And there is not such a long line even in front of the popular shops which have a long line in the afternoon if you visit in the morning such as 10 or 11 am.
Good point of this kind of event is you can buy the foods at a bit cheaper price than usual.
Personally, vegan sushi caught my eye in this Vegan Gourmet Festival
I think there were at least 3 vegan sushi shops as long as I could check.
I noticed that there were many breads and sweets made of rice flour or ancient wheat, too.
Here you can find rare foods which you can not meet in an usual life.
I think even non-vegan or vegetarian can enjoy the foods as they were tasty.
If you are a food lover and have a chance to come to Japan, please drop by!
This Vegan Gourmet Festival is held every year not only in Tokyo but also in Kyoto and Nagoya!