Event
I've been to Tokyo Vegan Gourmet Festival which was held in Kiba Park in Tokyo!
The thing I surprised at was the size of it.
I felt like the scale became a bit bigger!
I understand it as the the trend of vegetarian and vegan are increasing globally, especially recently.
Here I introduce a part of the places I visited at the event!
Access
Tokyo Vegan Gourmet Festival is held at Kiba Park every year.
Closest station is Kiba station (Tokyo Metoro Tozai Line / Hanzomon Line).
Exit 3 is the closest when you use Tokyo Metro Tozai Line.
You can see intersection in front.
Walk along with the Mitsume Street (319) there and you'll see Kiba Park on the right.
It is about 5-minute walk from the station.
This Kiba Park is actually big so you might get lost after the arrival.
I myself could not find where the festival was when I first arrived the park.
Anyway, take right path and go straight when you arrive at the park (in case of arriving from Kiba Park)
You'll see a following bridge in the picture on your left, so cross it.
Then, after crossing the bridge, you'll see venue of Vegan Gourmet Festival.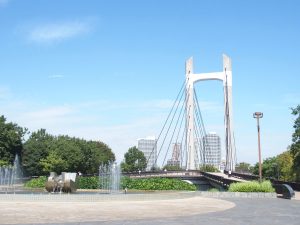 1. Go out Exit 3 of Tokyo Metro Tozai Line
2. Go straight along the street (319) in front at the intersection in the direction of Kiba Park
3. You'll see Kiba Park on the right
4. Take right path when you get to Kiba Park
5. You'll see a big bridge on the left, so cross over it
6. There is the venue of Vegan Gourmet Festival in front
Tokyo Vegan Gourmet Festival 2019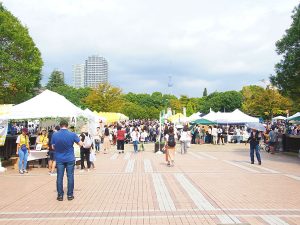 Tokyo Vegan Gourmet Festival is blessed with a fine weather every year.
Rather, hot!!
So organic beer must be tasty although I don't drink alcoholic drink very much.
On arriving, what I felt first was many people there & lively!
I feel like the scale of it became a bit bigger.
There is an information office on the left, so I recommend you to get a map which introduces all the shops first.
It's just 10 yen (about 10 cents)
imocchi
What I found first was this imocchi!
I knew imocchi already actually as I followed it on Instagram although I never know they joined this event.
Imocchi sell bakes and dried sweet potatoes.
Yes, not just a baked sweet or dried sweet potato but it is a baked and dried sweet potato.
After baking domestic sweet potatoes one by one, they are dried using patented manufacturing method.
I tried one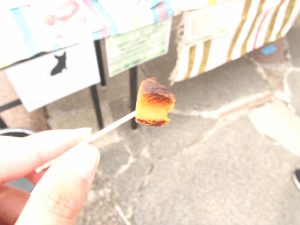 Very sweet!!
Without any sugar, this sweetness!
It was very tasty!
When I told them I introduce imocchi in my YouTube and blog, they gave me even a sample.
I did not mean it, but thank you very much, anyway.
Next time, I'm gonna buy it!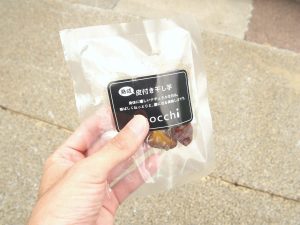 Hakui Shizen Saibai Mirai (Hakui Natural Farming Mirai)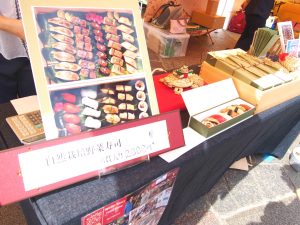 Every aspect, it is Sushi! Σ(゚Д゚)
But they are all made of vegetables!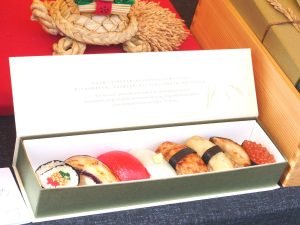 Rice made by natural farming, produced in Hakui city in Ishkawa Prefecture, is used.
I'm very curious about the ingredients of tuna and salmon eggs!
It has almost reached status of high art!!
KARUNA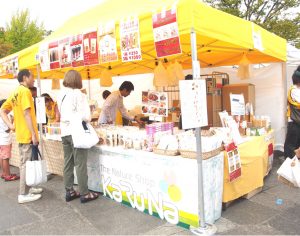 Karuna is a special store of vegetarian foods.
They had been selling various vegetarian foods centering on soy meats.
I did not notice but they seemed to have sold cheese kimuchi burger and pork style cutlet skewer, etc. too.
They also sold stainless straw.
Plastic-free, isn't it.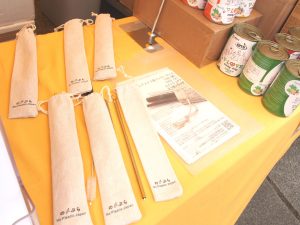 OHSAWA JAPAN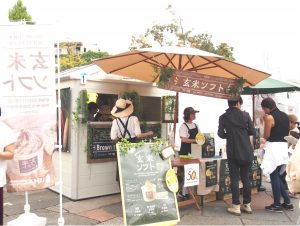 OHSAWA JAPAN is a company which sells macrobiotic foods.
It has a long history and is very famous.
I've also been to the shop in Shinjuku the other day and could see various macrobiotic lunchbox, vegan and vegetarian foods.
Brown rice soft serve was sold last year, too.
OHSAWA JAPAN also had a shop focused just on veggie foods.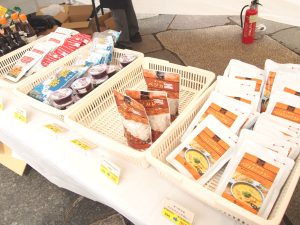 Bought brown rice cracker and veggie curry.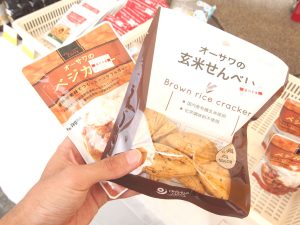 Brown rice cracker was very tasty, I want to buy it again!
I had not had veggie curry yet, so I'm looking forward to having it!
marin food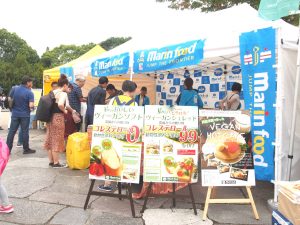 Marin food is a company deal with a wide variety of vegan and vegetarian foods as well.
This shop was popular last year, too.
Vegan Soft, cheese and vegan pan cake, they mainly sold here.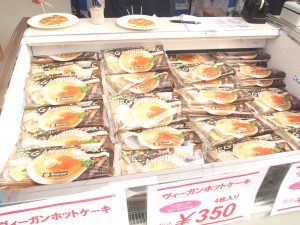 I sampled a vegan pancake and it was tasty!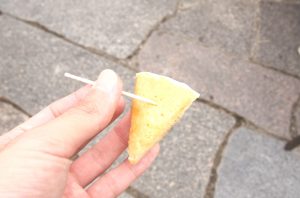 So, I bought vegan pancake and vegan cheese.
I also wanted to buy vegan soft but gave up this time as I still had a place to go and would be back at night that there was a high chance of melting.
But they give you ice packs so it will be last for a couple of hours.
Loving Hut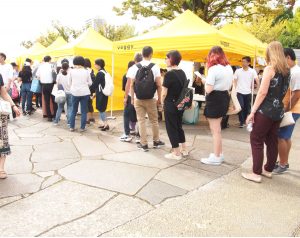 Loving Hut is very popular every year!
Long line of people in front of the shop every year.
It was a bit hard to take a picture of the shop, so the picture became a picture of line of people in front of the shop.
There is a vegan restaurant of Loving Hut in Jinbocho in Tokyo
Here, they had been selling veggie Gyoza.
I also wanted to try but gave up as as I heard the waiting time would be 20 minutes.
I'm gonna go to the restaurant directly!
Premarché Gelateria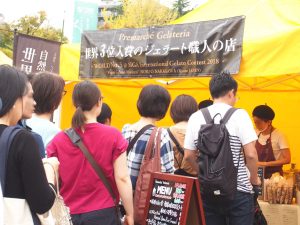 This shop also very popular every year!
Premarché Gelateria is a shop selling vegan jelato.
It originally has a shop in Kyoto and opened another shop in Nakameguro in Tokyo last year 2018, too.
Must be very tasty as I could see this long line every year!
I was torn to line up but gave up after all.
Personally, the story of the owner until the opening of the shop and thought of the owner are intriguing, I felt.
I'm going to go to the shop in Nakameguro next time!
Organiccafe Gopan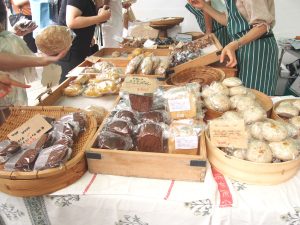 Organiccafe Gopan offers dishes based on macrobiotics in Yatsugatakenanroku in Nagano Prefecture.
They sell steamed breads made of nanbu wheat, doughnuts used sake lees of Terada Honke, etc.
There are a variety of foods I took interest in.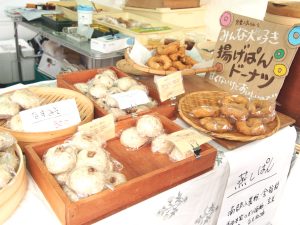 Tereda Honke is sake brewery in Chiba Prefecture which focusing on home-made and no additives.
Sake of Terada Honke is the one I can drink without hesitation.
Every year Terada Honke holds festival and here is the atmosphere of it.
Terada Honke Okura Festa! Visited Sake Brewery!
Bread and doughnut used sake lees of Terada Honke, I was interested in, so bought both.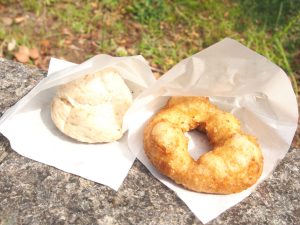 Doughnut was freshly-fried and could enjoy the taste of the flour itself!
Ashitabi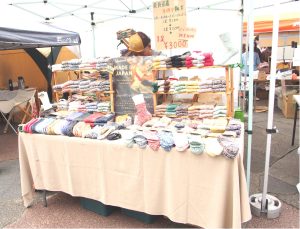 Ashitabi sells socks made in Nara Prefecture.
They use vintage machine to make them that 40 socks is the maximum they can make a day.
I was wondering if I should buy it but I had many socks already, so I didn't.
But I want to buy this socks made in Nara when I used up all the socks I have now.
Kotori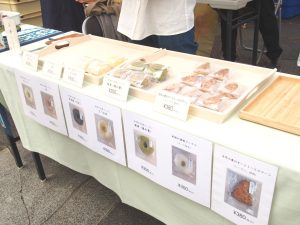 This Kotori had been selling amazake doughnut made of rice flour, sake lees doughnut, scone made of ancient wheat, etc.
All made without egg, dairy products and white sugar.
Doughnut of rice flour makes use of sweetness of amazake is very rare.
Amazake is a fermented sweet rice drink.
Scone made of ancient wheat is also very rare!
I should have bought on the spot but didn't after all, so doughnuts I wanted were all sold out when I came back to buy.
Oh, my.
Boulangerie L'oiseau bleu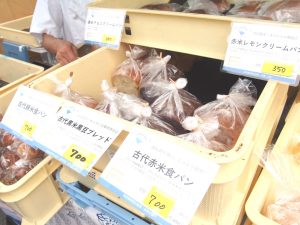 Shop right next to Kotori was Boulangerie L'oiseau bleu.
They were selling gluten-free breads and breads made of ancient wheat.
Breads of ancient black rice, red rice and green rice are rare especially.
Here I bought doughnut made of rice flour.
It was a doughnut made of organic soy milk and syrup other than rice flour.
Thank you very much for preparing a tray for photo shooting!
But I'm sorry I could not make a good picture.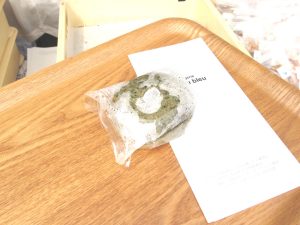 Here I separate the page as it becomes heavy with a movie and pictures.
I introduce other vegan foods in the next page (Click "2" for the next page).
↓