Vegan Ice Cream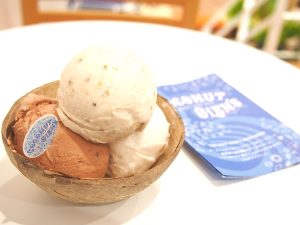 Address 
5-11-7 Jingumae, Shibuya-Ward, Tokyo
Google Map : https://g.page/coconutglensomotesandou?share
Access
Harajuku Station (Yamanote line), Meiji-jingu Mae Station (Tokyo Metro), Omotesando Station (Tokyo Metro Ginza Lin, Chiyoda Line, Hanzomon Line)
Tel
03-6452-6275 (+81-3-6452-6275)
Seats
About 20 seats
Opening Hours
11:00 – 19:00
Shop Holidays
Irregular Holidays (Only New Year's holiday is closed)
Website (Japanese)  
https://coconutglens.jp/
After visiting Meiji Jingu Shrine, I felt like "I want to check something interesting as I came all the way to Harajuku", then came this ice cream shop "COCONUT GLEN'S".
It opened this year 2019, on July.
What you can enjoy here is a vegan ice cream made from organic coconuts.
The atmosphere of the inside of the shop was a kind of Kawaii and relaxing at the same time.
To COCONUT GLEN'S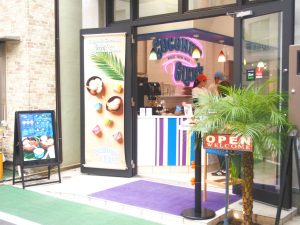 It took about 15 minutes from Harajuku station as I got lost a bit but I got to "COCONUT GLEN'S" anyway.
COCONUT GLEN'S is an ice cream shop from Maui island in Hawaii.
No dairy products or eggs are included and it is made based on organic coconut cream
It looks like the founder Mr. Glen Simkins had been a chef at Michelin French restaurant.
I see, Glen of COCONUT GLEN'S is the name of the founder, isn't it.
Mr. Glen started making an ice cream after quitting his job as a chef and moved to Maui island.
After that he opened his shop in Maui island and then this year 2019, on July, he opened his shop here at Omotesando in Tokyo.
Anyway, the pink wooden bench and flowers on the wall are Kawaii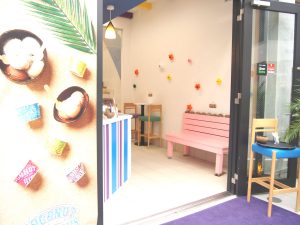 Entering the shop, in front of the entrance was a cashier.
I asked the staff of popular menu.
She replied
"Original, chocolate and pistachio are popular flavors"
The staff was friendly with a good smile.
1 scoop is 500 yen (About $4.5), 3 scoop is 700 yen (About $6.5) and 5 scoop is 900 yen (About $8).
I can not eat 5 scoop, so decided to order 3 popular flavors of original, chocolate and pistachio.
I was also a bit curious about Mystery Flavor as well.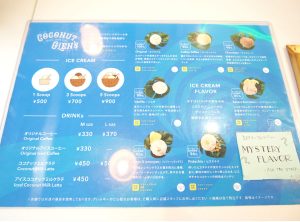 I could enjoy the ice cream sitting in the wooden bench in front of cashier but wanted to relax, so went up to the table seat.
Going up stairs.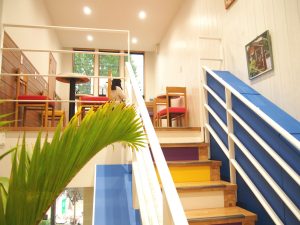 One customer went down just when I arrived the floor, so now all seats are available.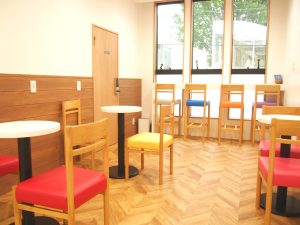 Chairs of the counter seats by the window are colorful and Kawaii.
That looks like it feels good with a lot of sunlight shone in from the window.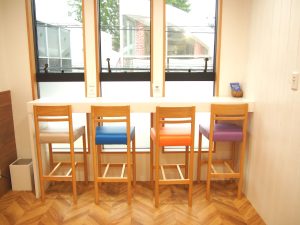 It is good that there are sockets for charge.
And here is Free Wi-Fi.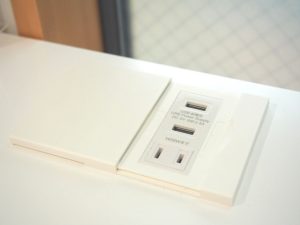 I wondered if I should take a seat by the window but decided to take a table seat in the front (The picture is other table seat but same type of table seat I sat).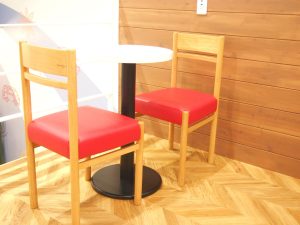 I could charge at this table seat, too.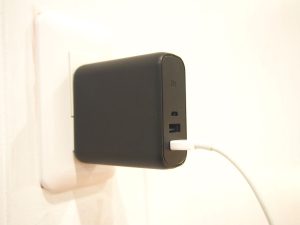 There are 8 seats on the floor downstairs.
Here I am is 3rd floor.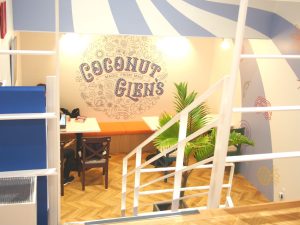 COCONUT GLEN'S' Ice Cream
Now I'm gonna have the ice cream!
Original Ice Cream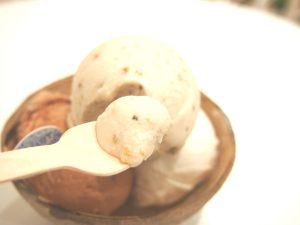 First, I'm gonna try Original Ice Cream.
I should have asked what of it is the original.
I found that this is thick and smooth but gentle sweetness when I tasted.
It is not like sherbet ice cream but smooth texture like an ordinary ice cream.
I could find tiny particles inside (they were original coconut candies) and enjoyed the texture.
Original Ice Cream was very tasty!
Chocolate Ice Cream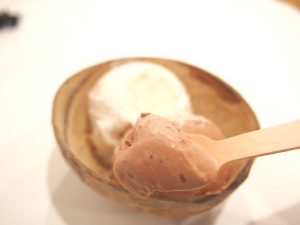 Next is Chocolate!
Oh, this is also very tasty!
Chocolate matches with chocolate!
Maybe that's because flavor of this coconut is not like that of an ordinary coconut, which often has its strong coconut flavor in it.
I could enjoy crispy texture of chocolate chip inside, too!
Chocolate flavor was also very tasty!
Pistachio Ice Cream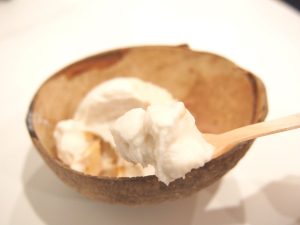 Last one is Pistachio Ice Cream!
This ice cram was really tasty!
First of all, a lot of pistachios are inside, not like an ordinary ice cream with some little pistachios but a lot of big pistachios!!
You can enjoy the crunchy texture of pistachios with coconuts ice cream!
This is the Hawaiian style, isn't it!
All the three flavors I ordered this time were very tasty, certainly popular flavors!
It was also good that the ice creams were served in the coconut's shell!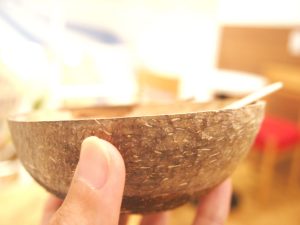 Summary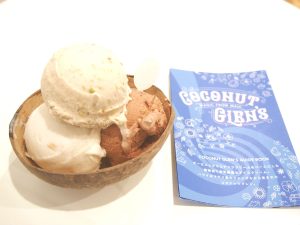 If you are looking for quality vegan ice cream around Omotesando and Harajuku, this COCONUT GLEN'S is highly recommended!
Not only the taste but each scoop was substantial that I became a kind of full after having 3 scoops.
Inside of the shop is cute and pop that I think girls can enjoy especially.
There were also family with a child who were enjoying ice creams when I visited.
The child had been speaking with parents both in English and in Japanese fluently, so I felt like it became a global era now.
Every year, rather month, something interesting appears here in Harajuku.
Kippy's COCO-CREAM, where you can enjoy organic vegan ice cream, is also very recommended!
I've been to there last year and the vegan ice cream was very tasty like that of COCONUT GLEN'S!
Google Map of COCONUT GLEN'S