Vegan & Vegetarian Ice Cream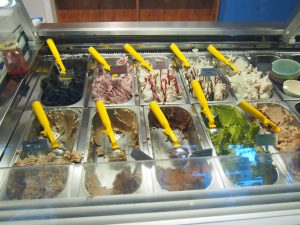 Address 
2-6-3 Sendagaya, Shibuya-ku, Tokyo
Google Map : https://goo.gl/maps/sS645kZFbQs
Access
Harajuku Station (Yamanote line), Meiji-jingu Mae Station (Tokyo Metro)
Tel
03-6758-0620 (+81-3-6758-0620)
Seats
About 10 seats
Opening Hours
11:00 – 19:30
Shop Holidays
Irregular Holidays
Website  
http://kippyscococream.com/
Do you like ice cream?
As for me, yes I really do.
But it is very difficult to find ice cream for vegan here in Japan.
Still you can find it here in Harajuku.
That's Kippy's COCO-CREAM!
If you are from US, you might be familiar with the name.
It's origin is California in US so they have two shops now, California in US and Tokyo in Japan.
The ice creams they make do not include dairy products, sugar, gluten.
Instead, coconut cream, honey, dates, coconut water are used.
Yes, I know, vegan do not eat honey but they also offer ice cream made of dates, not honey.
Ingredients are also quality.
Because they use only organic ingredients.
And no food additives such as stabilizer, coagulant, baking powder are included.
Quality ice cream, I can say.
Anyway I walked to the shop from Harajuku station.
It was about 15 minutes walk.
The appearance of the shop was stylish like cafe or beauty salon so I had almost passed over it.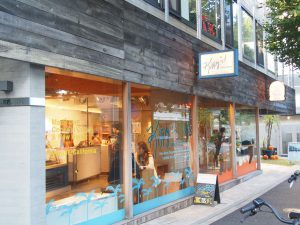 Manner of the staff was also good as she told me "Konnichiwa", not "Irasshai Mase".
"Konnichiwa" means "Hello" or "Hi" and "Irasshai Mase" means "May I help you".
Of course "May I help you" is good manner and polite.
In Japan, it is really common phrase to be used when customers enter the shop or restaurant.
But I rarely hear "Konichiwa".
I felt like I was being treated as a human rather than one of the customers.
Her smile towards me was also a proof.
Anyway I stood in front of showcase of ice creams.
All of them look really good!
Let me see, which one I should take.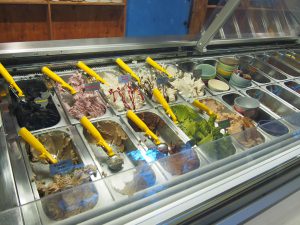 I asked the staff of popular flavors.
She told me "Coconut Honey", "Double Dark Chocolate" and "Vanilla Dates" are the popular flavors.
I see, Double Dark Chocolate attracts me.
I decide to order this flavor.
And, yes I came all the way so I'm gonna order 2 more ice creams.
The black color ice cream caught my eyes.
What's this?
I fund the tag which says "Charcoal".
I see, Charcoal.
That's also popular flavor nowadays.
Yes, I go for it!
And last one is green tea, or Match.
Matcha is now popular worldwide, isn't it.
She also asked me the topping.
I did not know they have also topping for the ice creams.
There are various kinds of dried fruits and nuts.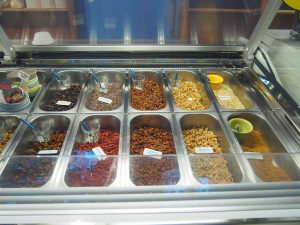 But this time I decided to enjoy ice cream only.
There was also a counter in which cold press juice was sold.
I see, they also sell cold press juice, don't they.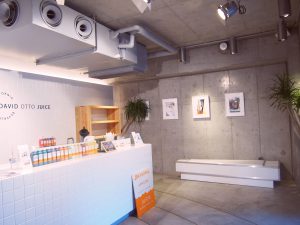 The three ice creams was 720 yen (About $6.5) in total.
Is is such a cheap price?
I imagined over $10 but it was less than $7.
I understand the price if these were just an ordinary ice creams.
But it is organic and no dairy milk or food additives.
It's quality one.
What a reasonable ice cream!! (゚д゚)
I looked around to find a seat available.
And decided to take a counter seat facing on the street.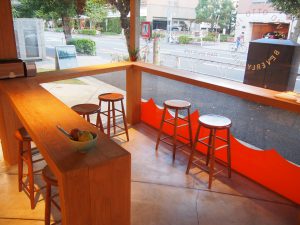 These are the ice creams I ordered this time.
Double Chocolate Cream, Charcoal and Matach.
Looks good!!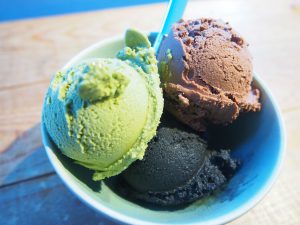 First I tried double chocolate cream.
It is not too sweet and I can taste a bit bitter taste like dark chocolate.
This is tasty!
I understand why this flavor is popular.
It was mild sweetness, not like direct sweetness of ordinary white sugar.
Next one is charcoal.
This one I was most interested in.
Take a bite, oh, that's also mild taste.
I imagined strong taste from the color but it was a mild taste of charcoal
They say this charcoal was from charcoal powder made with Californian coconut shell
This charcoal is becoming popular in Japan lately for its detoxification.
And last one is Matcha.
The taste was certainly green tea.
But not like strong flavor of Matcha.
Still I could taste the flavor of green tea.
The Matcha used in this ice cream was organic Uji Matcha from Kyoto.
Wow, really quality one!!
I can say all the flavors tasted good!
But if you imagine the taste of ordinary ice cream, that is, strong sweet taste, this one is different.
It is not very sweet and the type of sweetness is also different.
I could tasted coconut from the ice cream.
Texture was also a bit different.
It was between ice cream and sherbet.
So I recommend you to come with the thought of trying new type of ice cream.
Anyway I like the ice cream of Kippy's COCO-CREAM very much!
I'm gonna come visit again and try other flavors!!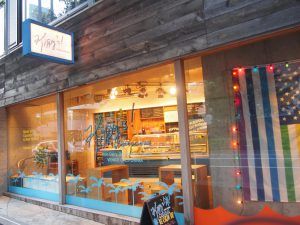 Google Map of Kippy's COCO-CREAM