Non-Vegetarian Menu Vegetarian Menu (Falafel)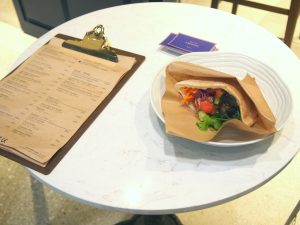 Address 
2F Shibuya Stream 3-21-3 Shibuya, Shibuya-ku, Tokyo
Google Map : https://goo.gl/maps/n9gZbic5xK52
Access
Shibuya Station (JR Yamanote line)
Tel
050-5596-1043 (+81-80-5596-1043)
Seats
59 seats (Counter Bar : 17 Seats, Table : 16 Setas, Terrace : 26 Seats)
Opening Hours
11:00 – 23:00 (Last Order : 22:00)
Shop Holidays
Irregular Holidays
Website (Japanese)  
https://shibuyastream.jp/shop/shopdetail.php?id=9
Bar à vin CROISÉE is located inside Shibuya Stream.
This Shibuya Stream has just opened this month September.
So I visited this new facility.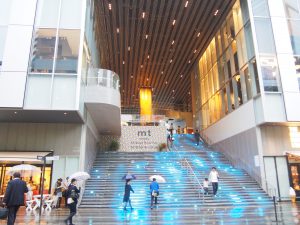 I walked upstairs which lit up in various colors.
On the second floor, I found this shop bar à vin CROISÉE.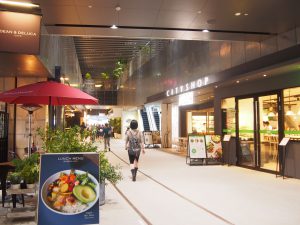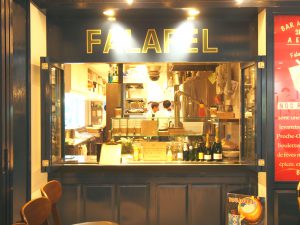 It is left side and easy to find as the falafel sandwich displayed in front of the shop.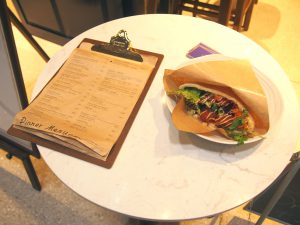 It is actually French restaurant so not vegetarian restaurant.
But only this Falafel sandwich, it is vegetarian or vegan menu, made of all vegetables.
So I ordered it.
It was 780 yen (about $7).
I think that's a reasonable price.
I asked the staff if I could eat inside but he said this falafel is just for take-out.
Looks like inside is for those who enjoy French cuisine.
Few minutes later, falafel sandwhich came!
They handed me a paper bag which held falafel inside.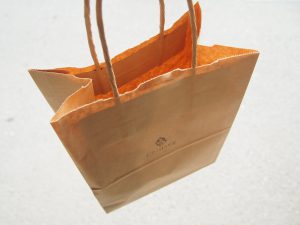 And I opened the paper wrap.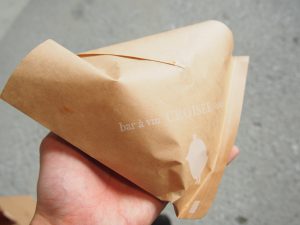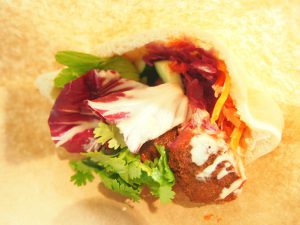 Looks good!
It's a substantial falafel.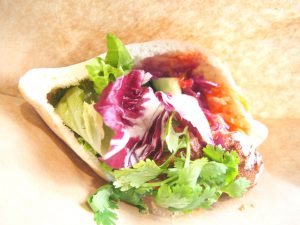 Had a bite.
Yes, very good taste.
There were various kinds of vegetables inside.
I found that some of them were vegetables not from Japan but from other Asian countries as the taste was ethnic.
There were also many small falafels (maybe 5 falafel balls) inside.
I had a substantial lunch.
There was also pizza restaurant across this French restaurant.
And it had a vegan pizza in the menu.
So here in Shibuya Stream you can enjoy either falafel sandwich or vegan pizza.
If you are very hungry, yes, try both of them!
Google Map of bar à vin CROISÉE