Vegetarian Food Vegetarian Noodles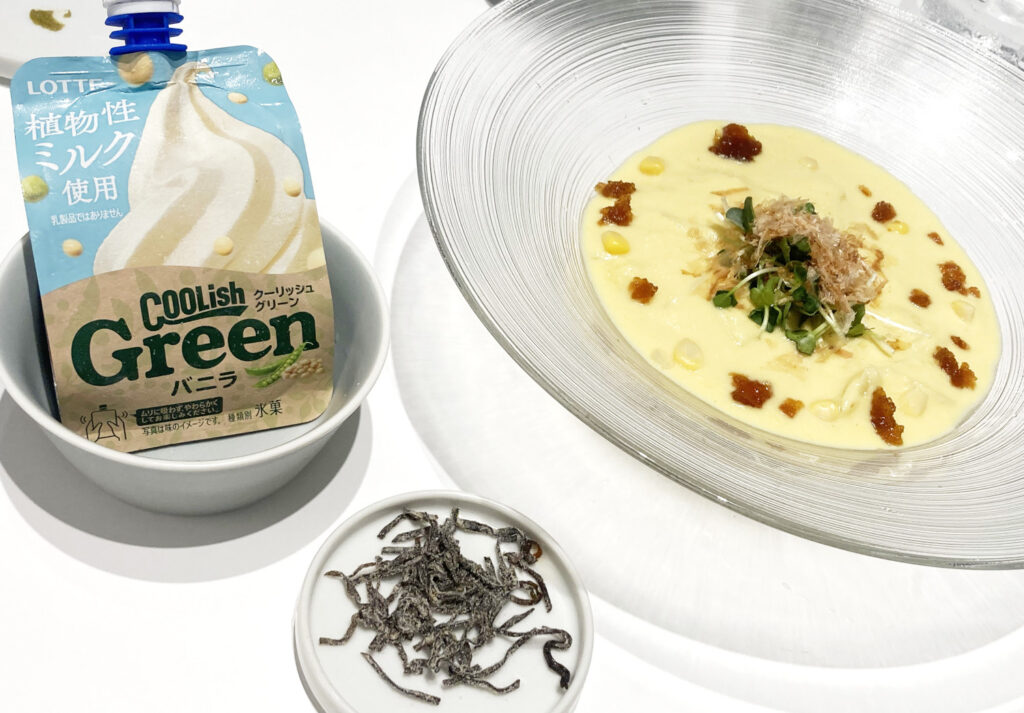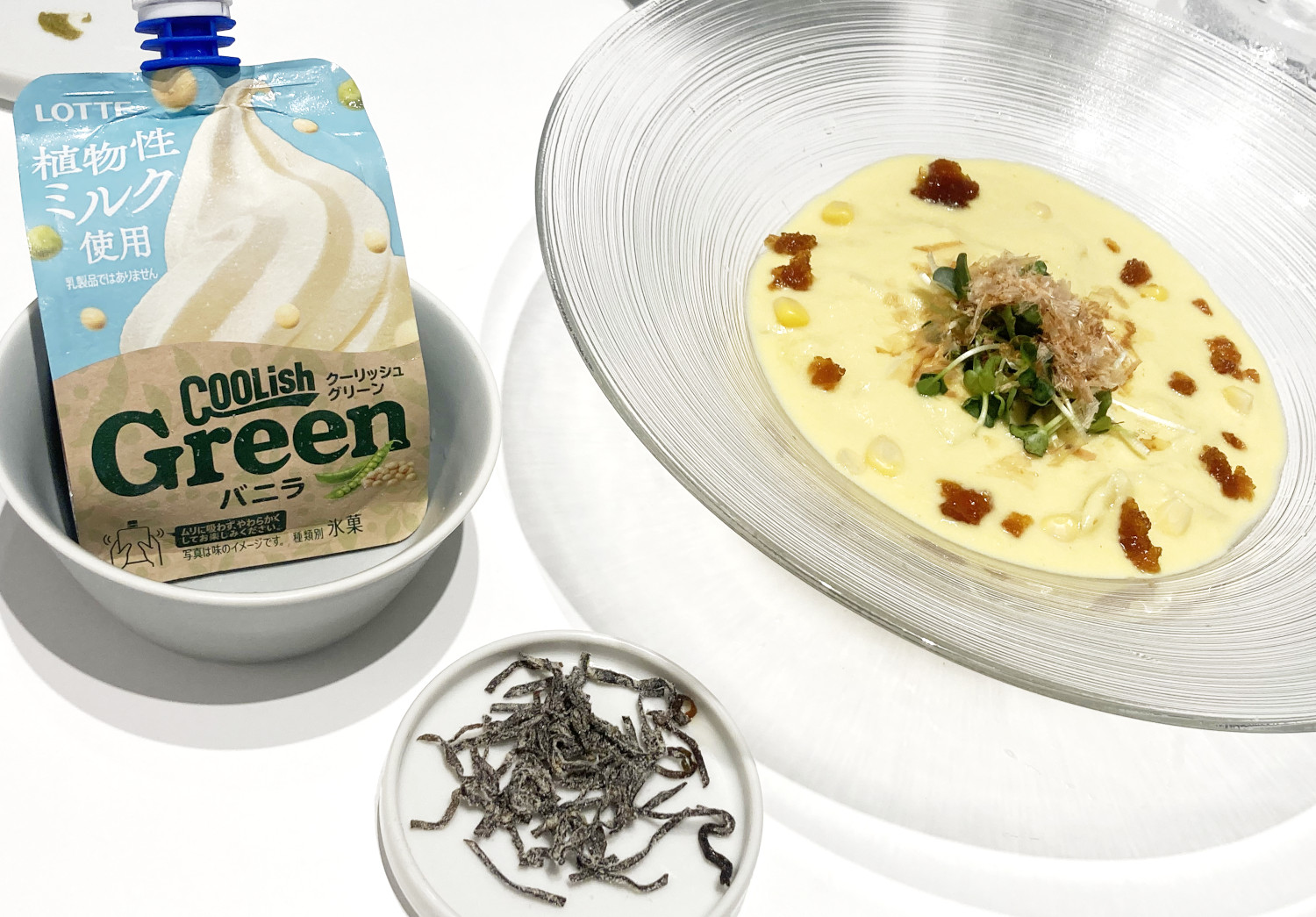 The other day I visited the Soumen Sososo Laboratory in Shibuya Hikarie!
I've always wondered why there are no specialty shops for somen noodles while there are specialty shops for udon and soba noodles? , but there were!
To my surprise, I was also able to enjoy a plant-based Coolish ice cream called Coolish Green!
Here I would like to share my impressions of the restaurant and the somen noodles with plant-based Coolish that I ordered.
※ Many of the somen noodles are comes with soup including fish broth or dishes themselves might include fish broth, so please check the details when you order
Access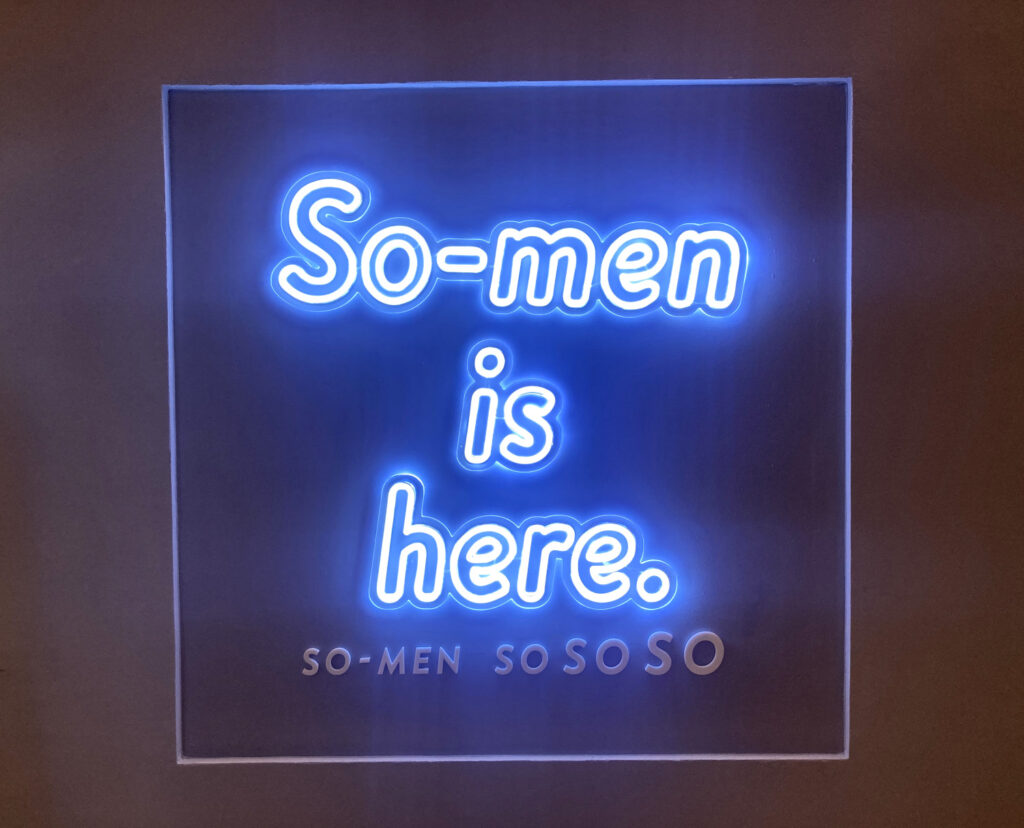 Shibuya Hikarie, where Somen Tantoso is located, is directly connected to Shibuya Station.
The Fukutoshin, Toyoko, Hanzomon, and Denentoshi lines are the closest, taking less than one minute to reach Shibuya Hikarie.
From the JR Yamanote and Ginza lines, it takes about 3 minutes.
When you arrive at Shibuya Hikarie, take the escalator or elevator to the 6th floor.
The elevator is faster, but depending on the time and day of the week, you may have to wait quite a while, so the escalator is recommended.
If you take the escalator to the 6th floor, turn around and you will find Somen Sososo Shibuya Hikarie at the far end of the floor.
Google Map of Somen Sososo Laboratory Shibuya Hikarie
To Somen Sososo Laboratory Shibuya Hikarie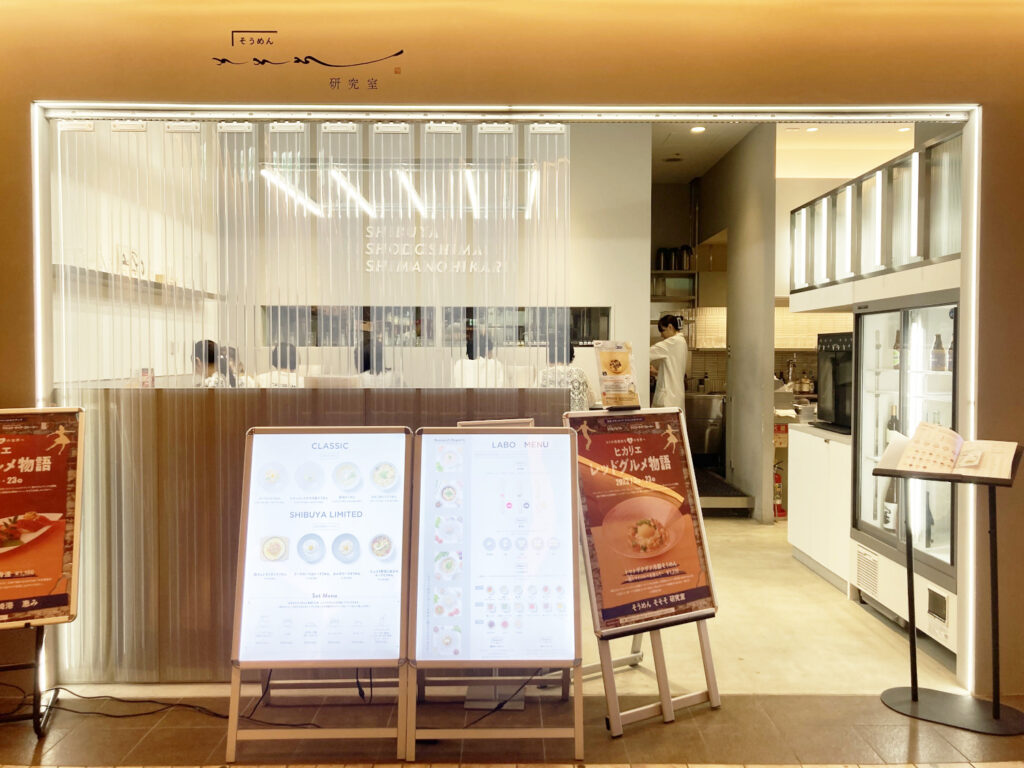 After meeting with my friends, we were going to a completely different restaurant at first, but were told that only a table for four was available, so we gave up.
We decided to go to Shibuya Hikarie anticipating many restaurants there and went to the 6th floor of the building.
And we found Somen Sososo, a restaurant that I had been curious about for a while!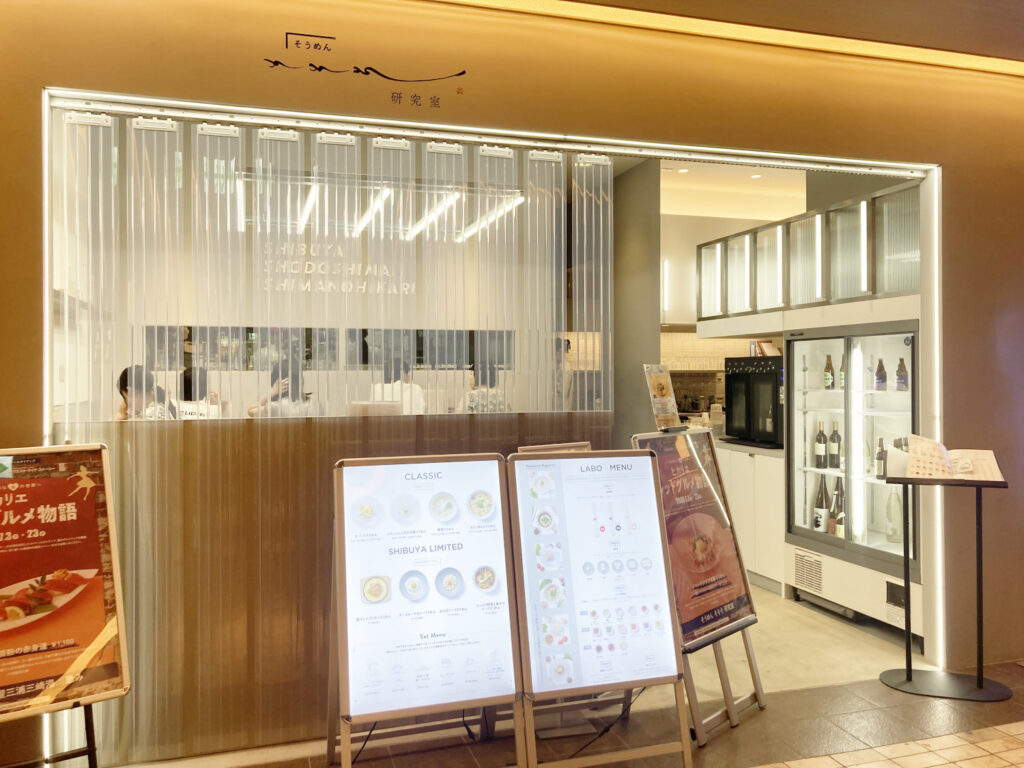 However, since it was past noon on Sunday, there was quite a long line in front of the restaurant!
There were probably about 15 people in line.
I thought that it was going to be a long wait, but my friend said it would be fine, so we decided to wait.
While we were waiting, the waiter suggested, "If you like, we can prepare a private room for you, although it will take a little time".
I was so grateful that she was considerate of my friends's children that I decided to have a private room prepared for us.
By the way, all the staff wore white coats.
As the name Somen Torso Lab implies, they must be dressed as researchers.
After waiting for about 20 minutes, we were guided into the restaurant.
Check Menu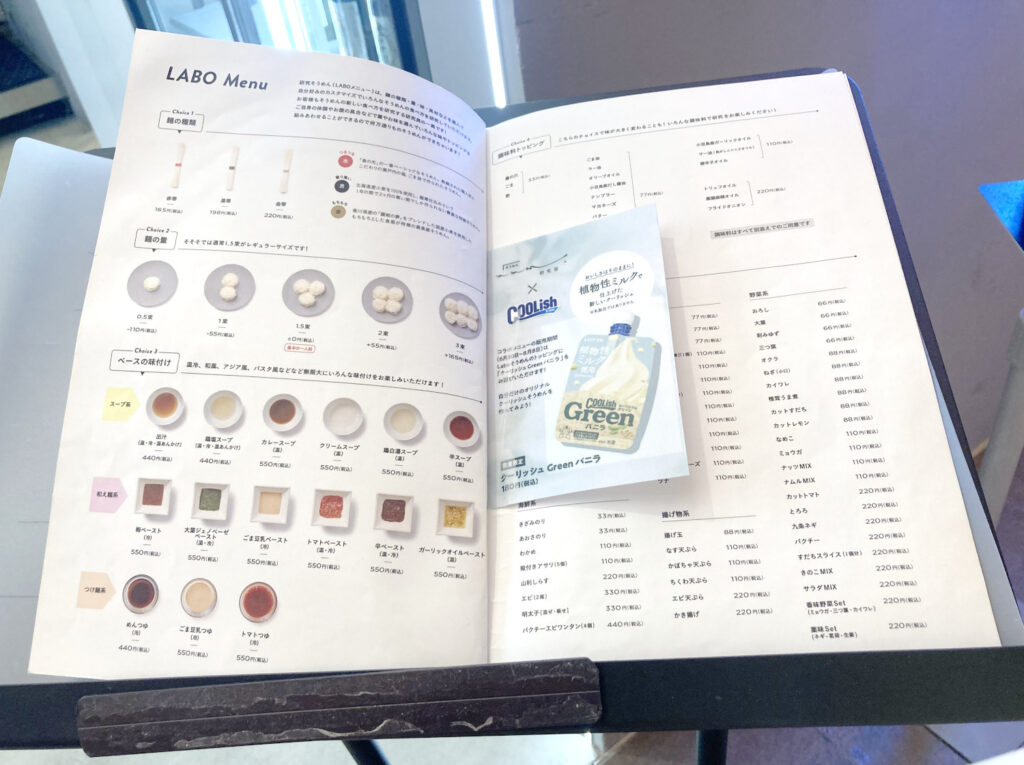 Most of the seats inside were counter seats.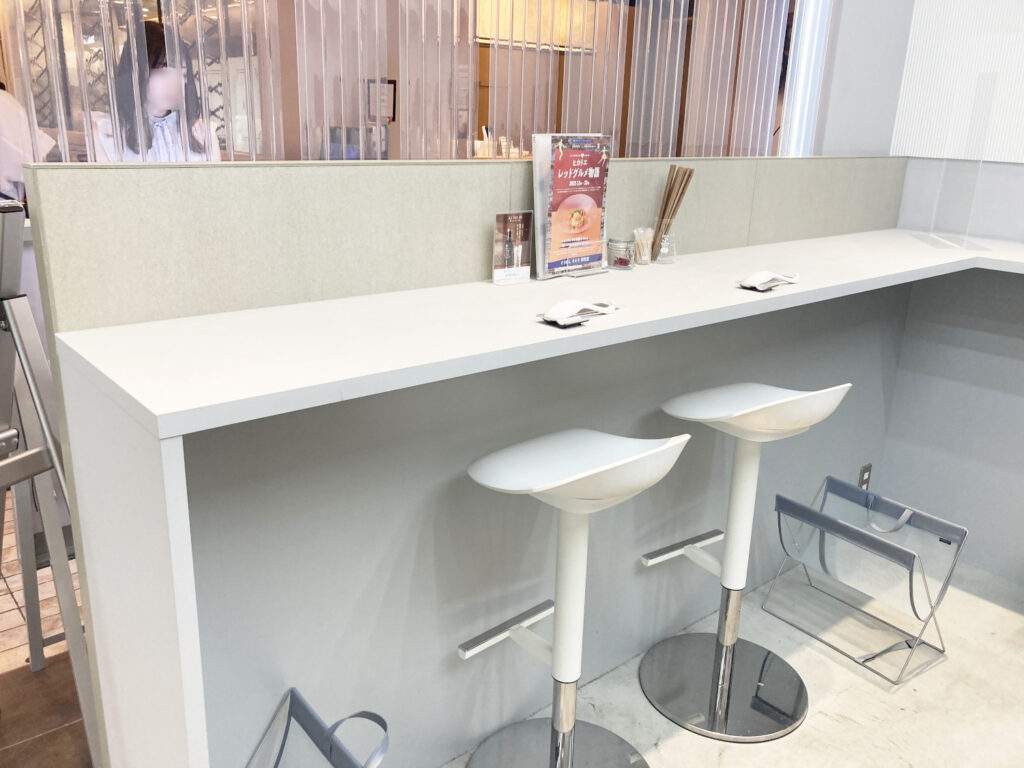 There is also a private table and we are shown to this room.
We were given a spoon and paper hand towel, but this was the first time for me to use a black hand towel!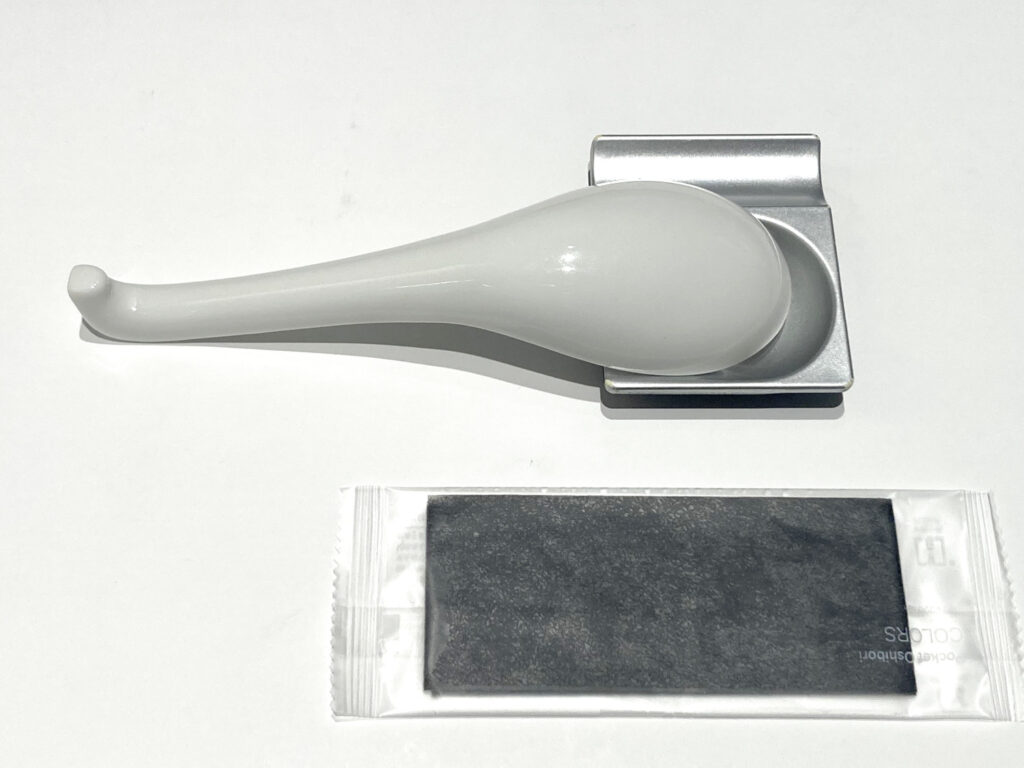 The menu is a combination of noodle types, noodle amounts, base seasonings, toppings of seasonings, and topping of ingredients to choose from.
But, there is too much variety to choose from!
If I choose the regular base seasoning, it's fish broth, so I want something else.
Hmmm, what should I do?
I think I'll choose ume paste for the base seasoning, or shiso leaves for the toppings?
My friend had already decided, and when I asked her what she chose, she said Japanese-style Corn Soy Somen.
What's more, it comes with a vegetable milk Coolish!
Coolish is a popular Japanese ice cream sold at a convenience store or supermarket.
I didn't know there was such a set on the menu!
And I've never heard of a plant-based Coolish before!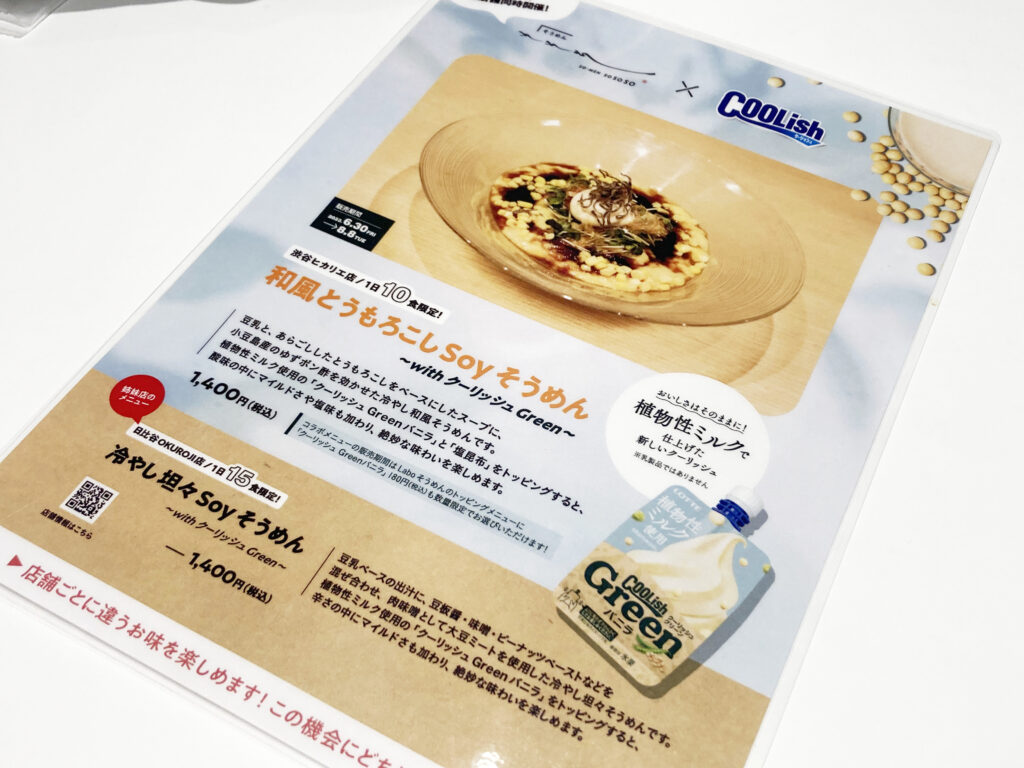 I'm gonna order the same one, I could decided easily thanks to her.
It looks like I can order menu by reading the QR code from smartphone.
These days, even ordering is IT-based, isn't it.
Even Gusto (Family restaurant) has a cat-shaped robot running around to take menus, so it's the world of science fiction I dreamed of in the past!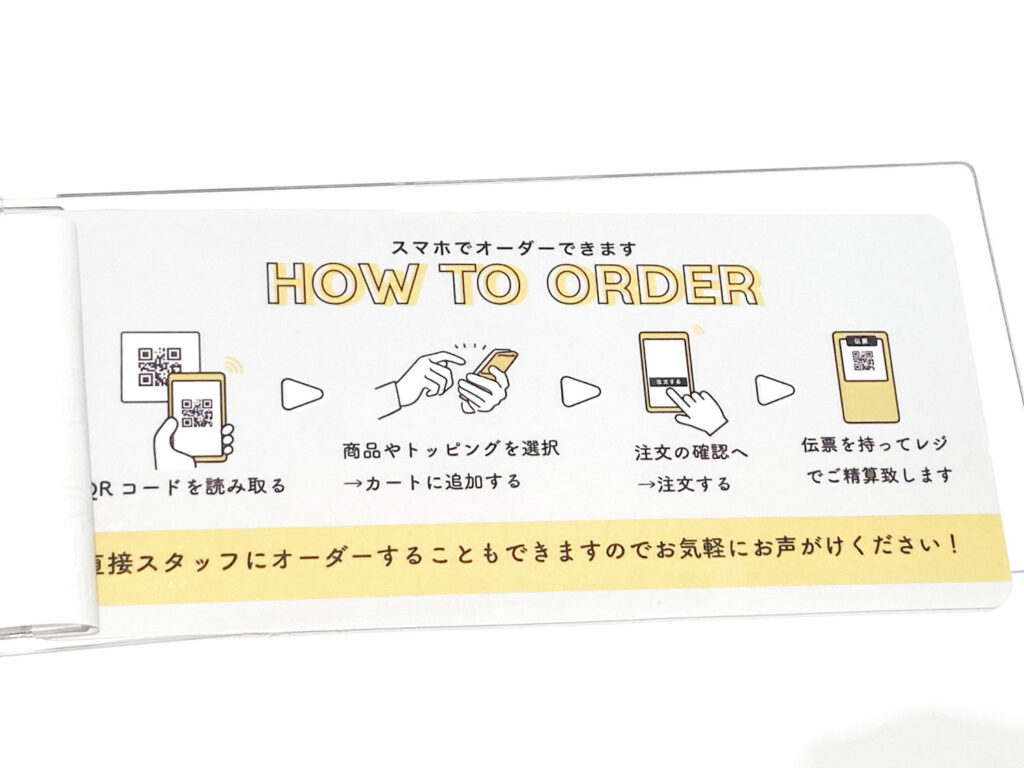 But, for some reason, it does not work that we ended up calling the waiter and ordering directly verbally.
Order Japanese-style Corn Soy Somen with Coolish Green (Plant-based ice cream)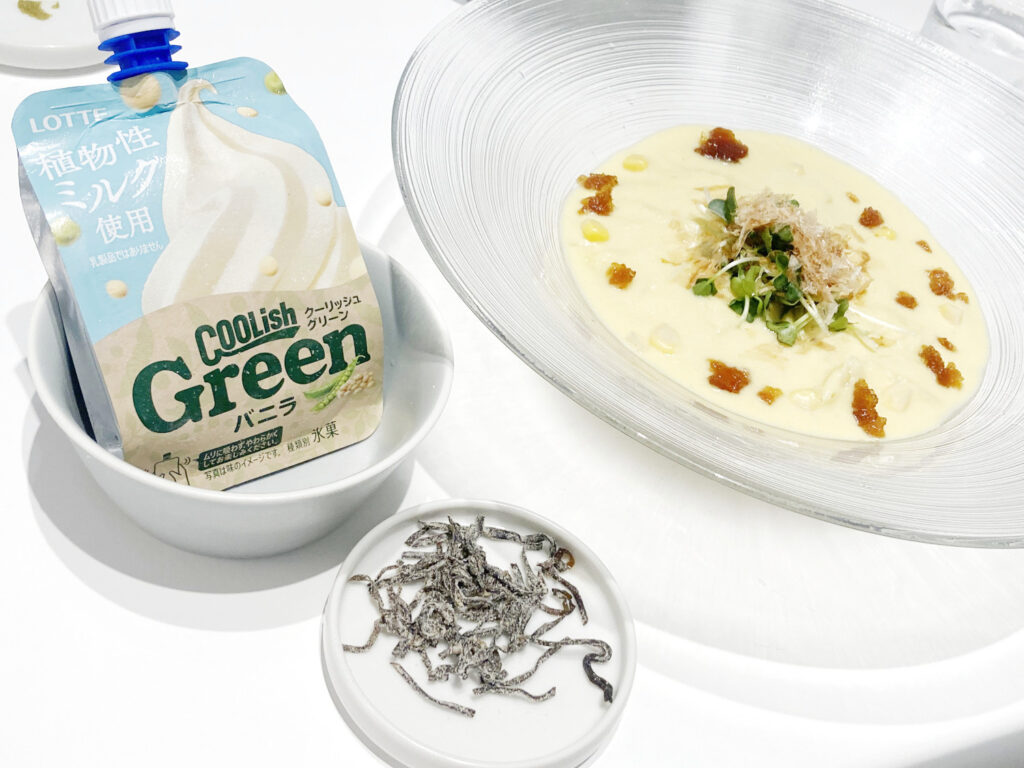 A friend ordered the Tomato Tsuke Somen with shiso leaves.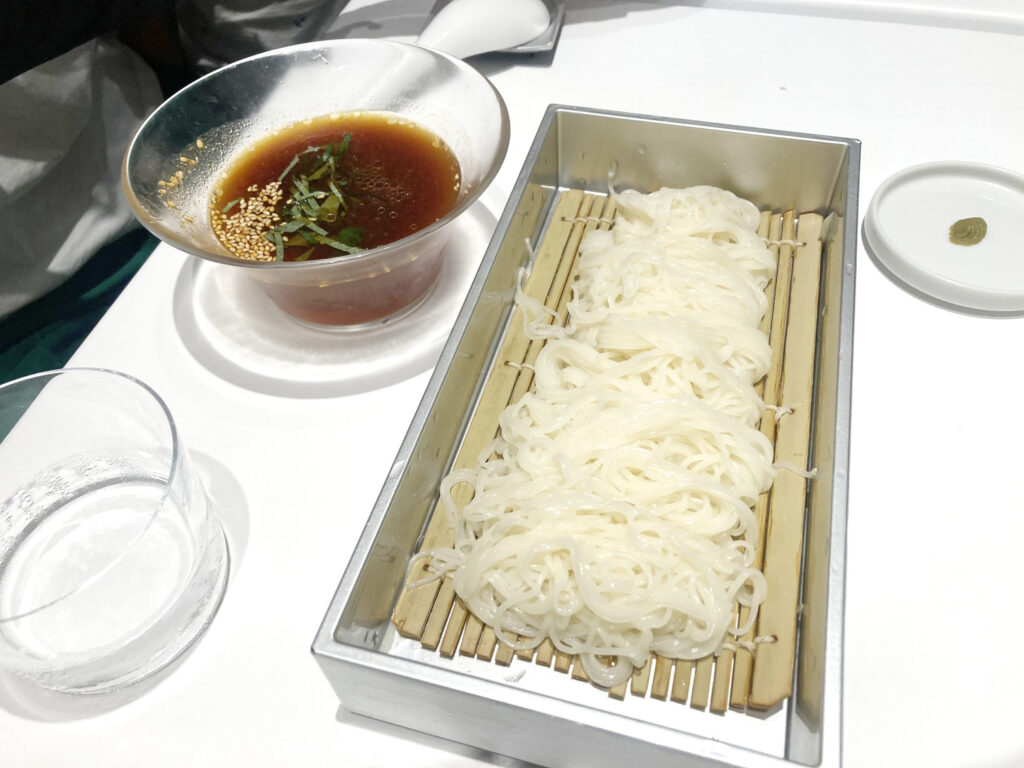 This looks good to although the soup might use fish stock.
Perfect for summer!
I and another friend ordered Japanese-style Corn Soy Somen with Coolish Green.
Here the somen is!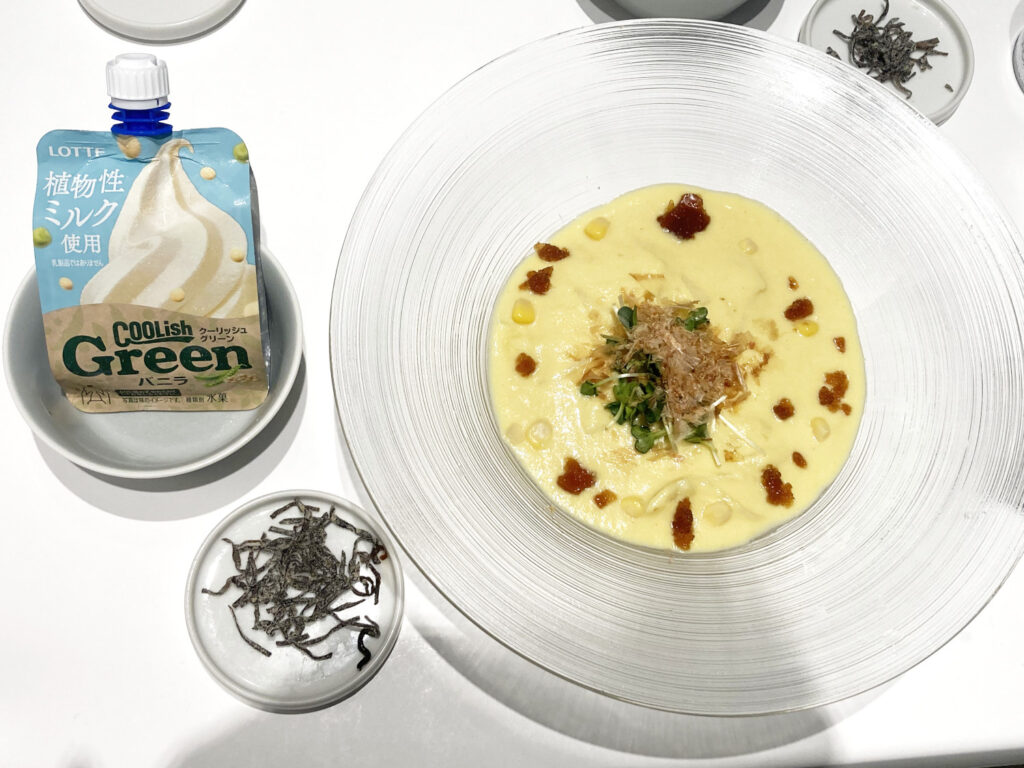 Salted kelp and Coolish came with a small plate!
The yellow soup is made from soy milk and rough corn.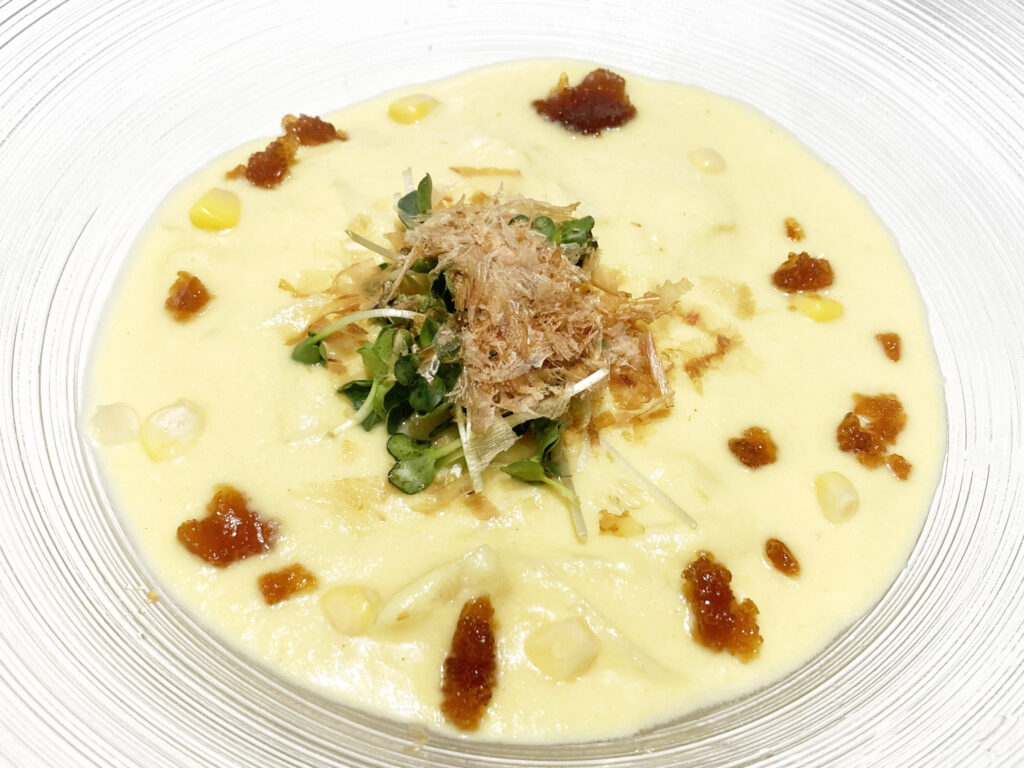 Here I notice that there is dried bonito flakes on the top.
I am a flexitarian, so I am still fine with it, but if you are a vegan, please order without the dried bonito flakes before ordering (they will probably be flexible since they only remove it).
The somen noodles are hidden under the soup.
Then, let's eat it!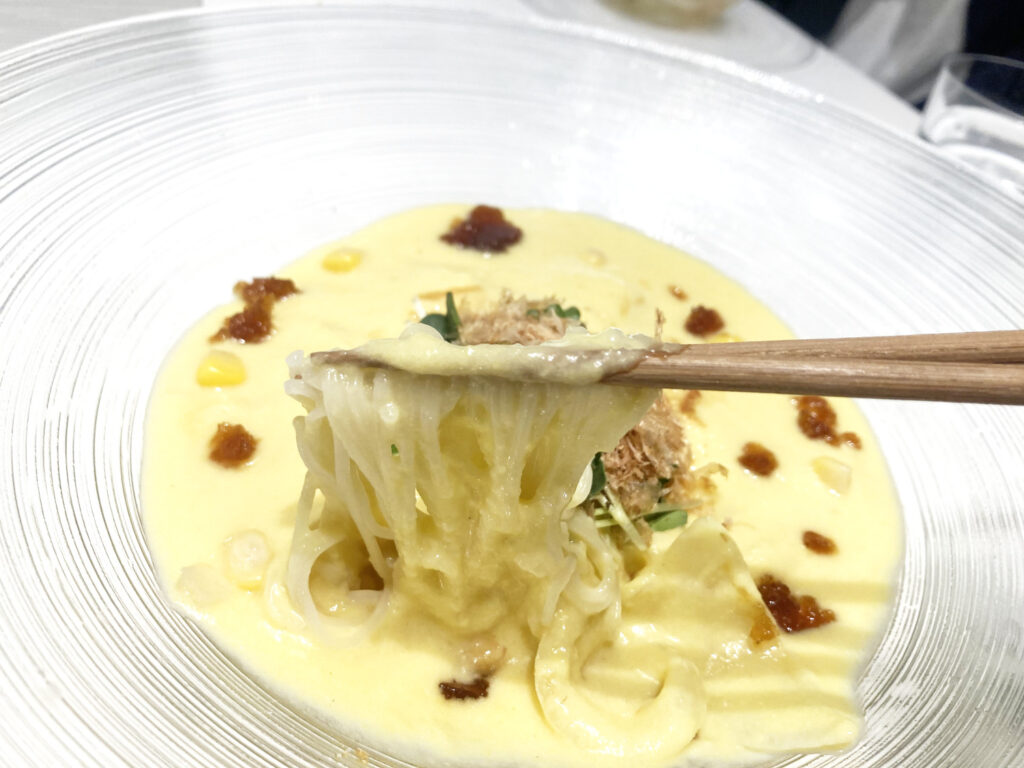 Yes, the sweetness of the corn is matched by the sourness of the ponzu!
Yuzu ponzu vinegar from Shodoshima is used here.
Adding some salted kelp also gives it just the right amount of saltiness!
Add vegetable milk Coolish cautiously to this somen.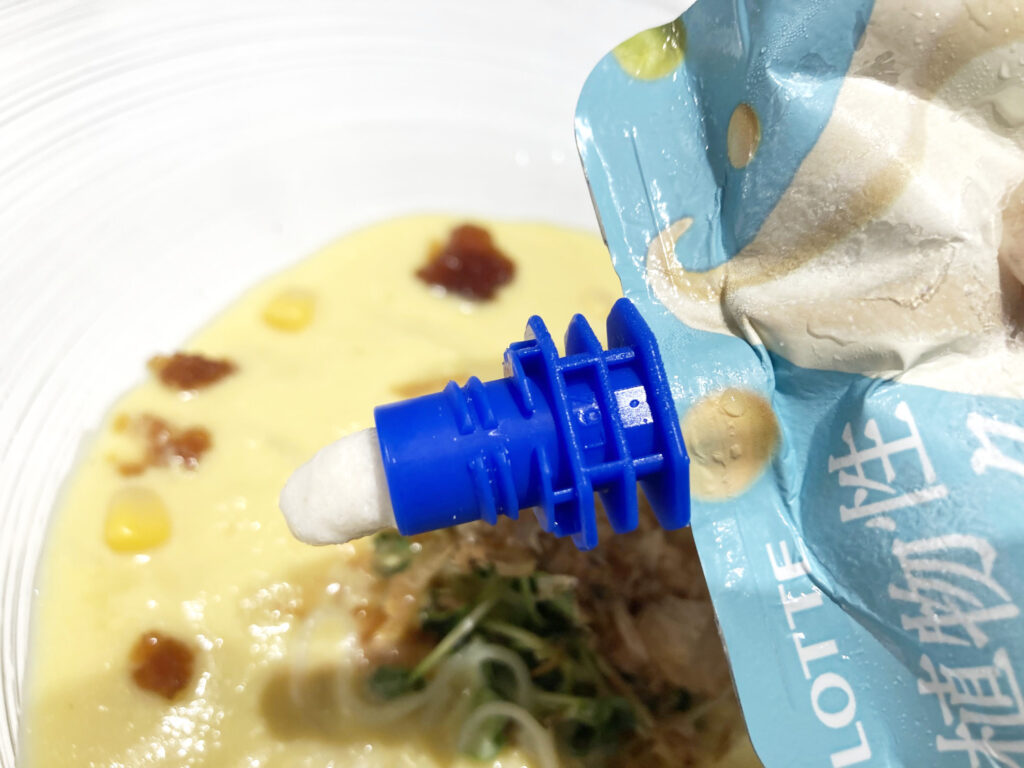 Is ice cream really match with somen noodles?
Oh, it matches better than I thought!
The soup became a little sweeter and creamier!
Before I tried it, I wondered if it's OK, I mean adding ice cream to already sweet corn somen noodles would be like almost dessert. Rather, I couldn't imagine the taste at all, but it was tasty!
I thought it must be due to the yuzu ponzu and salted kelp. They keep the balance of sweet and salty flavors well.
By the way, Coolish was also delicious on its own!
The taste was almost like a regular vanilla-flavored Coolish, but lighter and richer!
I wish they sell this plant-based ice cream at convenience stores and supermarkets!
Summary
Somen Sososo was a restaurant that I had been curious about for a while, so I was glad to go there this time!
To be honest, I thought it would be difficult for vegans and vegetarians (except for pescatarians) to enjoy Somen because it uses fish-based soup.
In fact, I noticed later that the menu I ordered this time had dried bonito flakes on the top.
Still, you can make your own original menu such as ume paste, shiso leaf genovese paste, sesame soy milk paste, etc., so vegans and vegetarians can also enjoy their dishes depending on the combination.
If you are not sure what to order, I recommend you Japanese-style Corn Soy Somen with Coolish Green that I ordered this time!
If you are a vegan, please let them know in advance that you would like to order without dried bonito flakes, and they will be flexible to your request.
The menu is limited to 10 servings a day, so if there are still some left when you visit the restaurant, please give it a try!