Vegetarian Okonomiyaki Vegan Okonomiyaki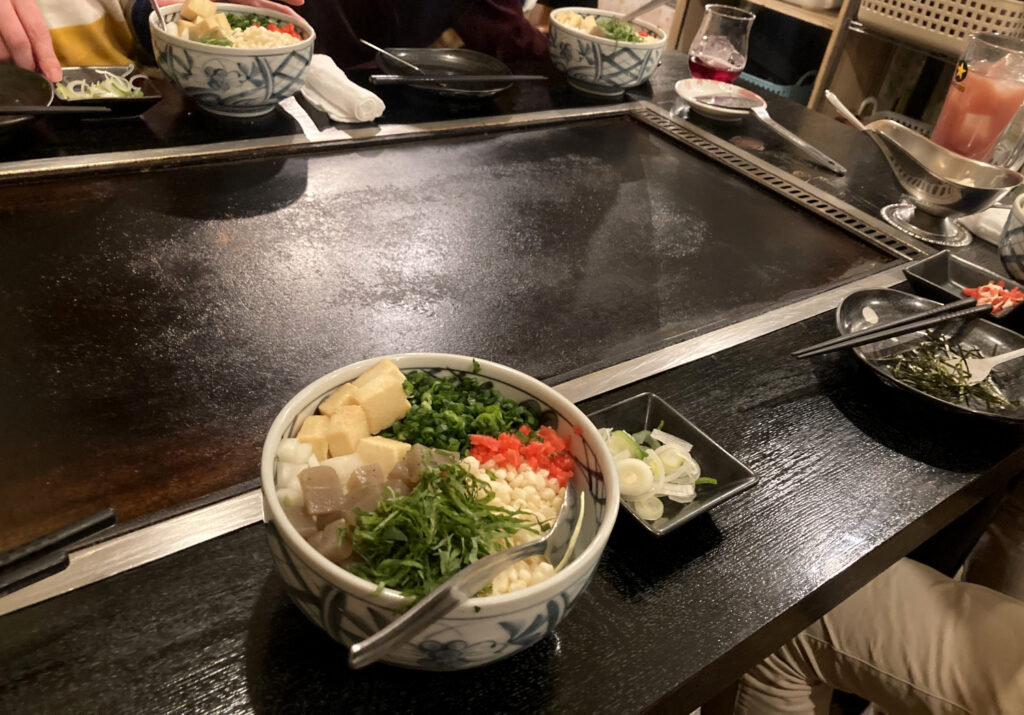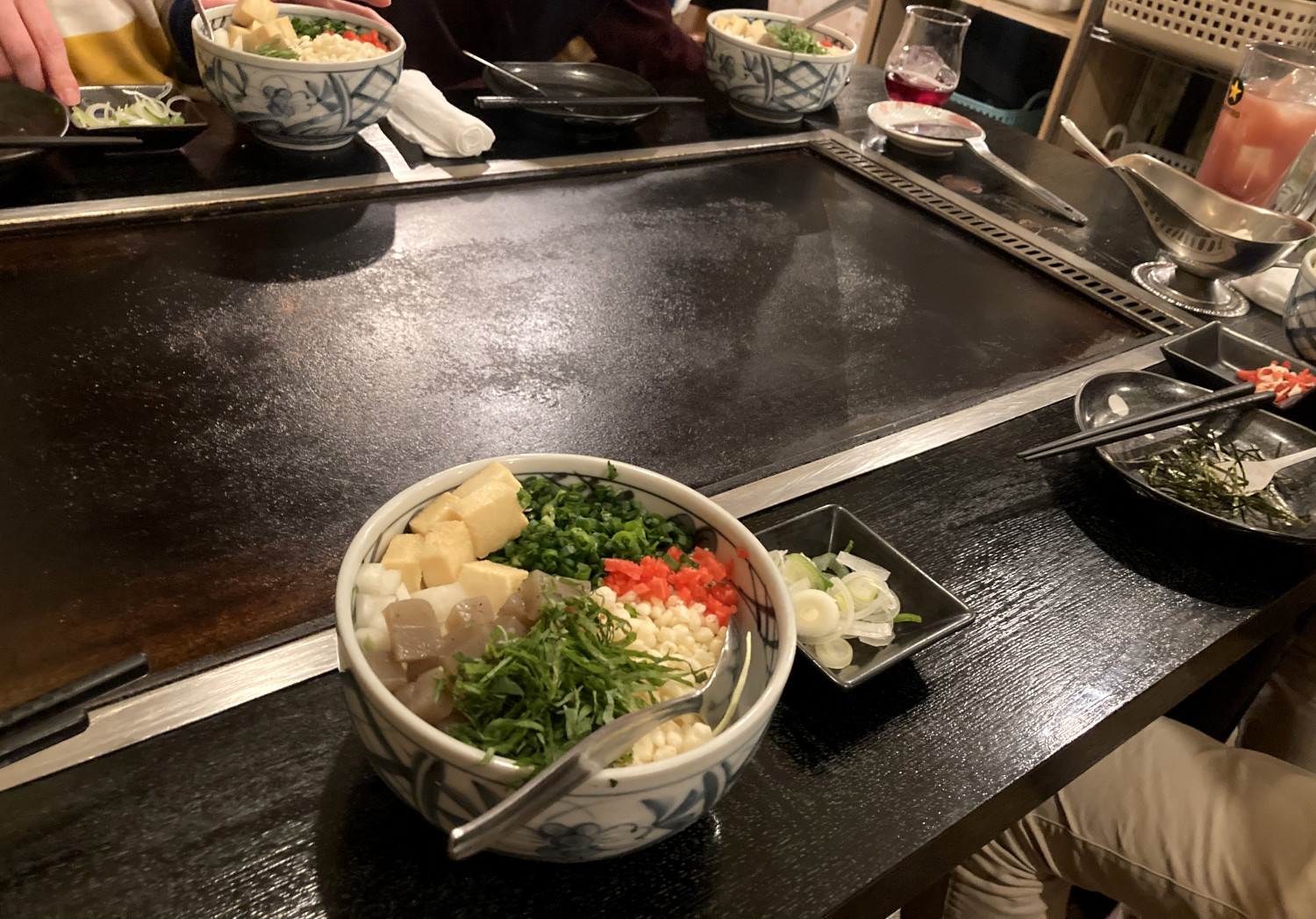 Address
3-20-1 Jingumae, Shibuya-ku, Tokyo
Google Map : https://goo.gl/maps/woXTWp2qaHLEVmdbA
Access
Harajuku Station (JR Yamanote Line)
Meiji-jingumae Station (Tokyo Metro Chiyoda Line, Tokyo Metro Fukutoshin Line)
Tel
03-3479-0039 (+81-3-3479-0039)
Seats
210 Seats
Opening Hours
11:00 – 23:00 (Last Order : 22:00)
Shop Holidays
Irregular Holiday
Okonomiyaki is a Japanese-style pancake made usually from egg, flour, vegetables, seafoods, meats, etc.
I thought I have to make original one if I wanna enjoy vegan or vegetarian okonomiyaki.
But I could find a pace which offer us veggie okonomiyaki in Tokyo!
That's Sakuratei in Harajuku!
Actually, I knew this Sakuratei but didn't know they offer even veggie okonomiyaki!
I went to the restaurant and introduce you here.
Access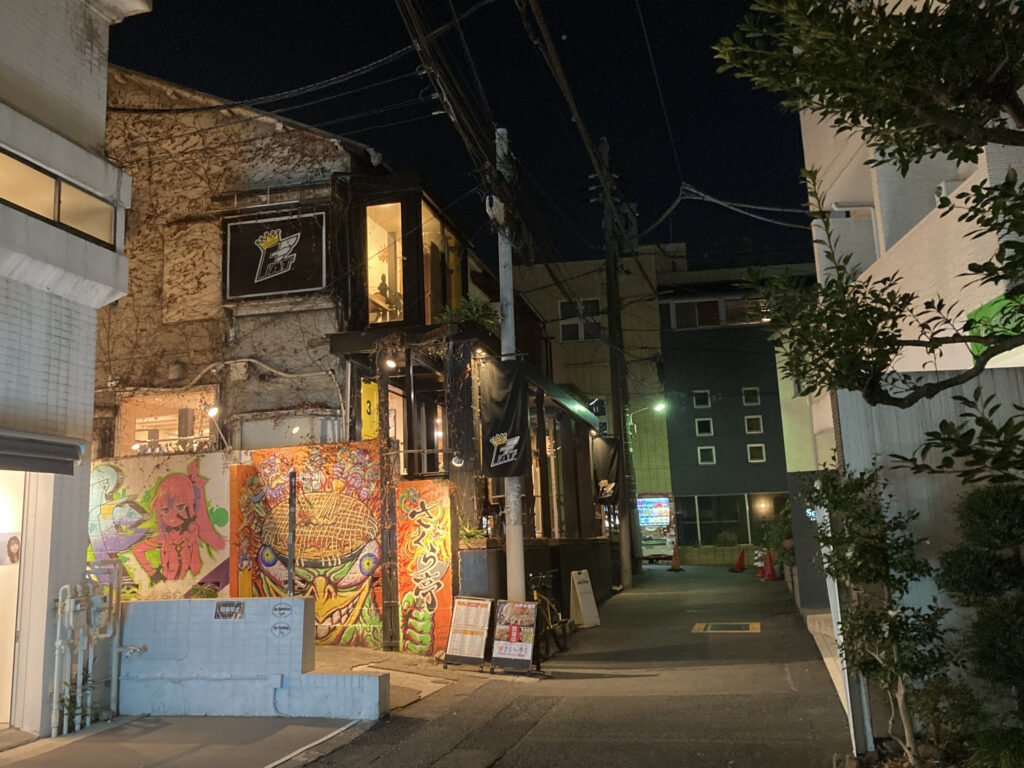 Closest stations are Harajuku and Meiji-jingumae Station.
Here I introduce you from Harajuku Station to the restaurant.
After going out Takeshita Exit of Harajuku Station, go across the street in front and go straight along the Takeshita Street.
Walk about 300 meters and you can come across street again.
Go across the street and go straight.
Walk about 100 meters and turn left when you find Family Mart (Convenience Store) on your left.
You'll soon find the street splits in two and take left path.
Less than one-minute walk, you'll find Sakuratei on your left.
Google Map of Sakuratei Harajuku
To Sakuratei in Harajuku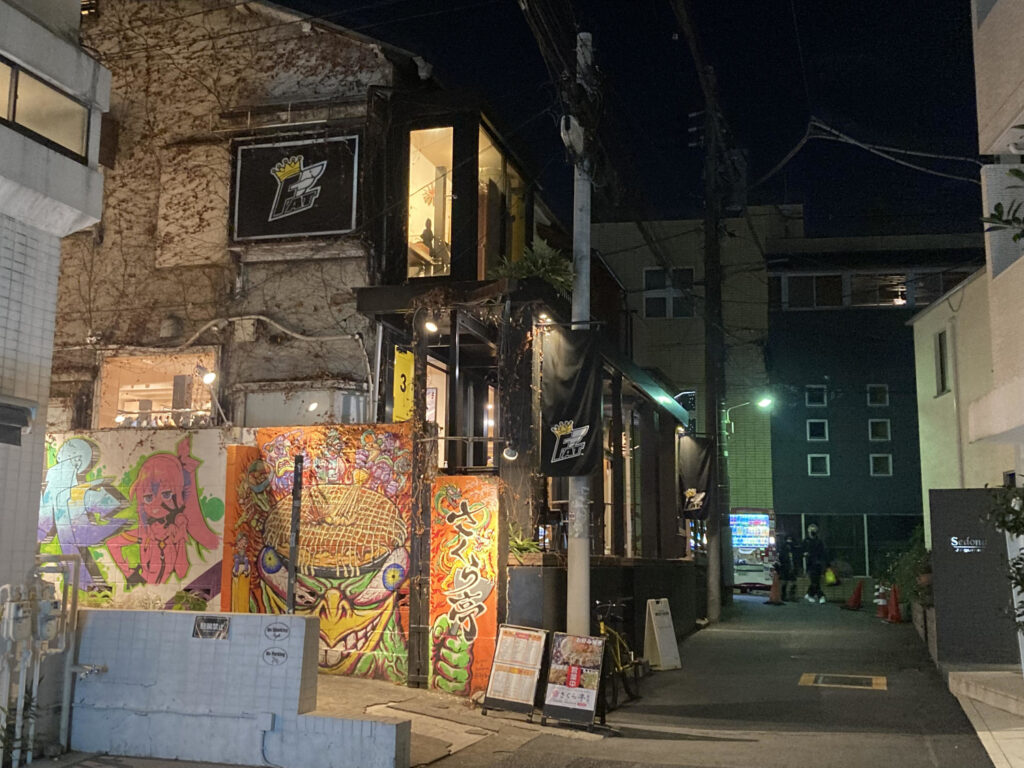 I could get to Sakuratei in about 15 minutes from Harajuku Station.
The distance from the station is about 500 meters.
If Takeshita Street is crowdy, especially on holidays, it might take more than 15 minutes.
Sakuratei was located in Ura Harajuku (Area behind the main streets of Harajuku) where Cat Street passing through.
If you happen to know about Design Festa Gallery, the restaurant is right next to it.
Exterior and Interior of Sakuratei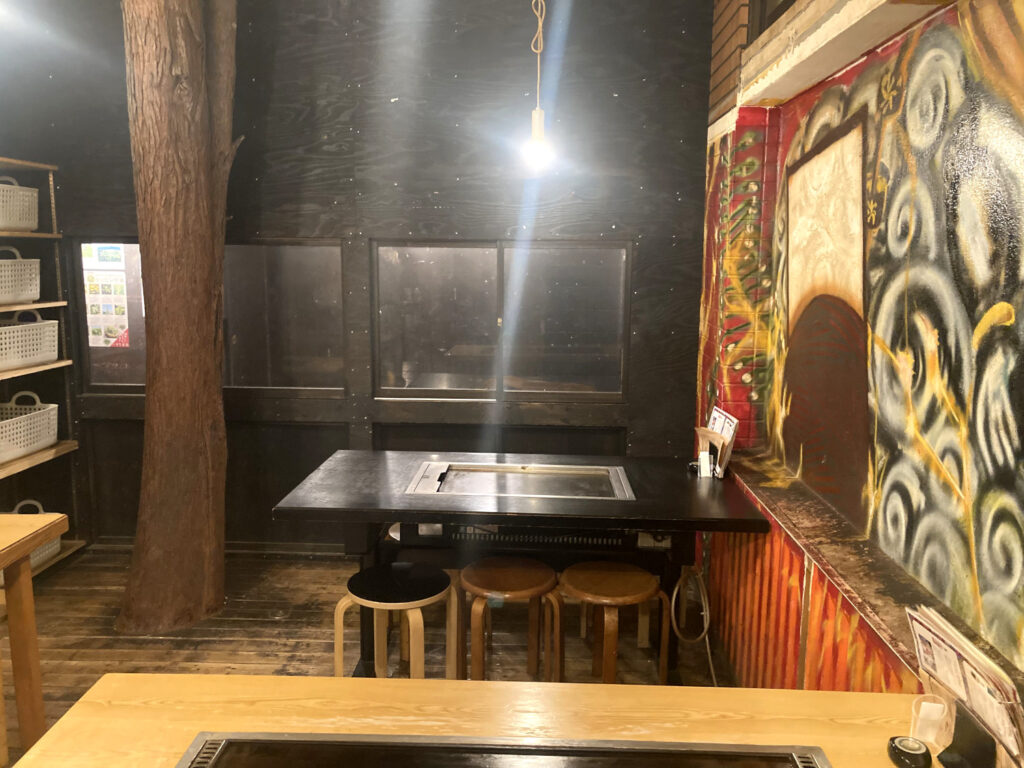 The exterior is very unique!
I could easily see that this is Sakuratei!
It sure is next to the Design Festa Gallery.
Impressive art!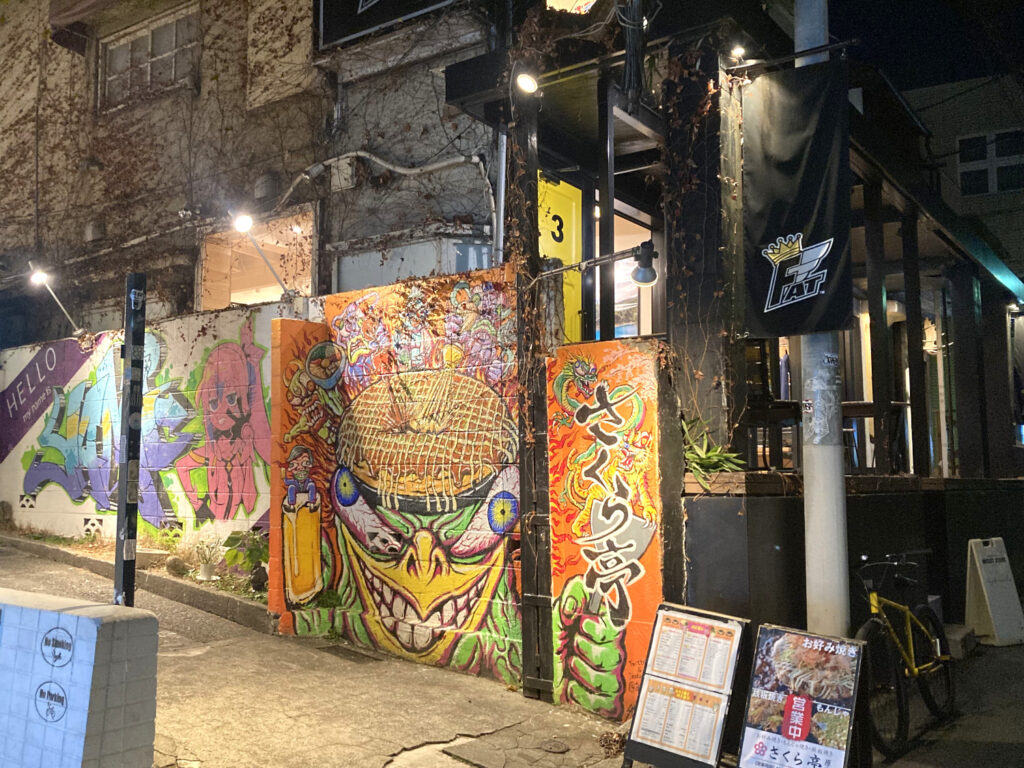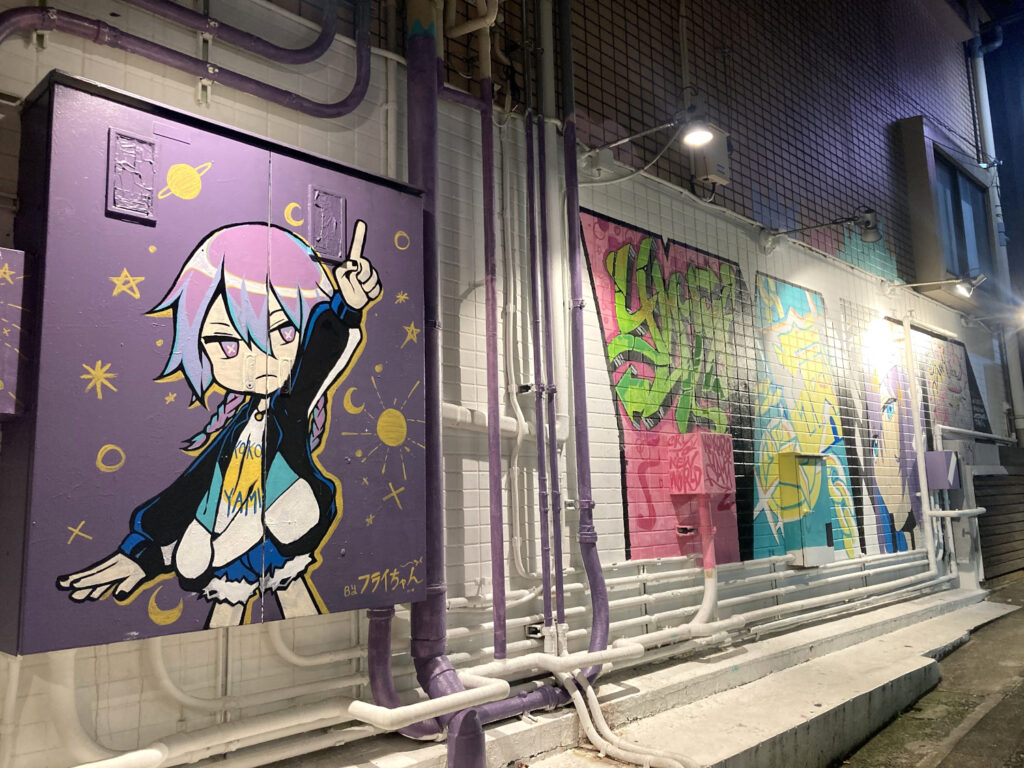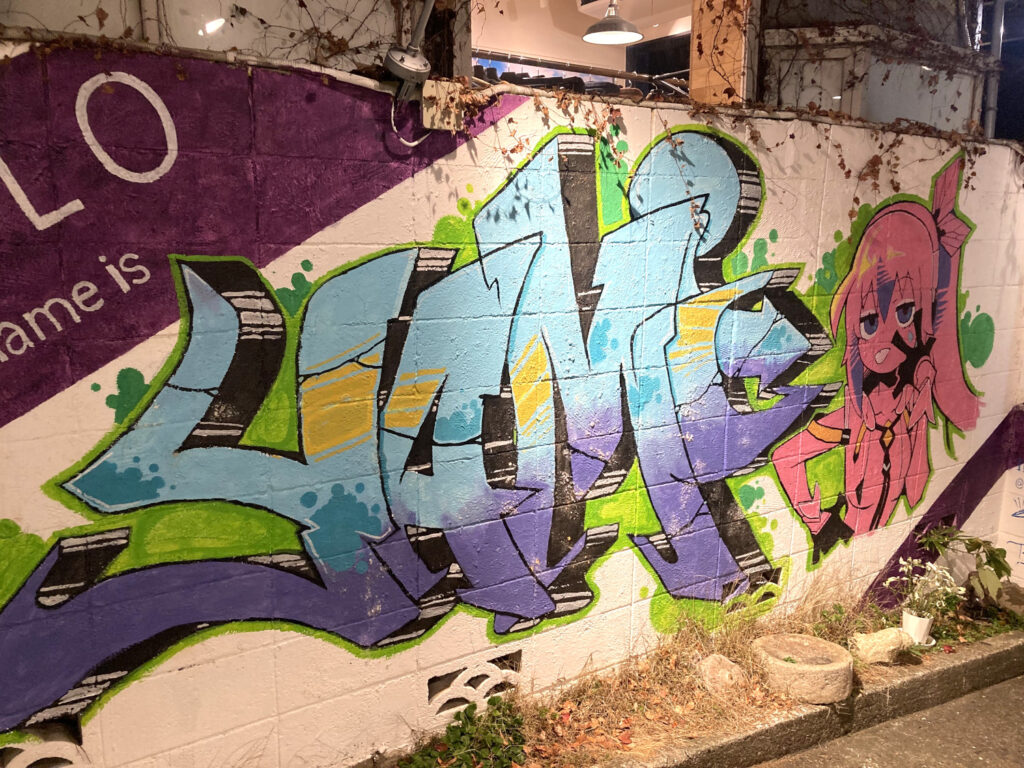 In fact, I imagined an ordinary Japanese-style okonomiyaki shop that I was a bit puzzled.
By the way, I went to the restaurant with friends but reserved a table in advance as I heard this restaurant was popular.
I recommend you to reserve a table especially on holidays.
While waiting, group of people from overseas came in but went out soon.
I think they didn't make a reservation.
Still, I think they knew this restaurant from the first as they were group and this restaurant was not close to the station.
Actually, all the seats are full and I thought this restaurant was certainly popular.
With trees growing from the ground, it is almost Tree House!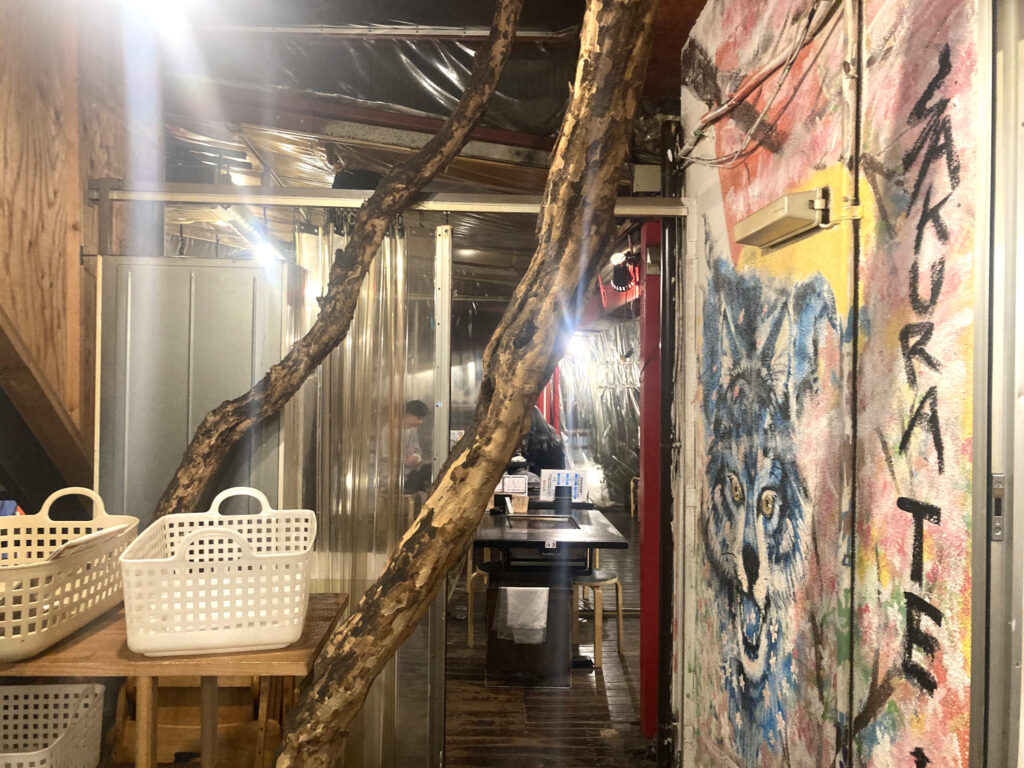 Speaking of Tree House, there was a cafe of Tree House called HIDEAWAY nearby but they closed the business of cafe already.
That's a shame.
These are the pictures of the inside of the restaurant right before leaving.
I could enjoy unique arts even inside!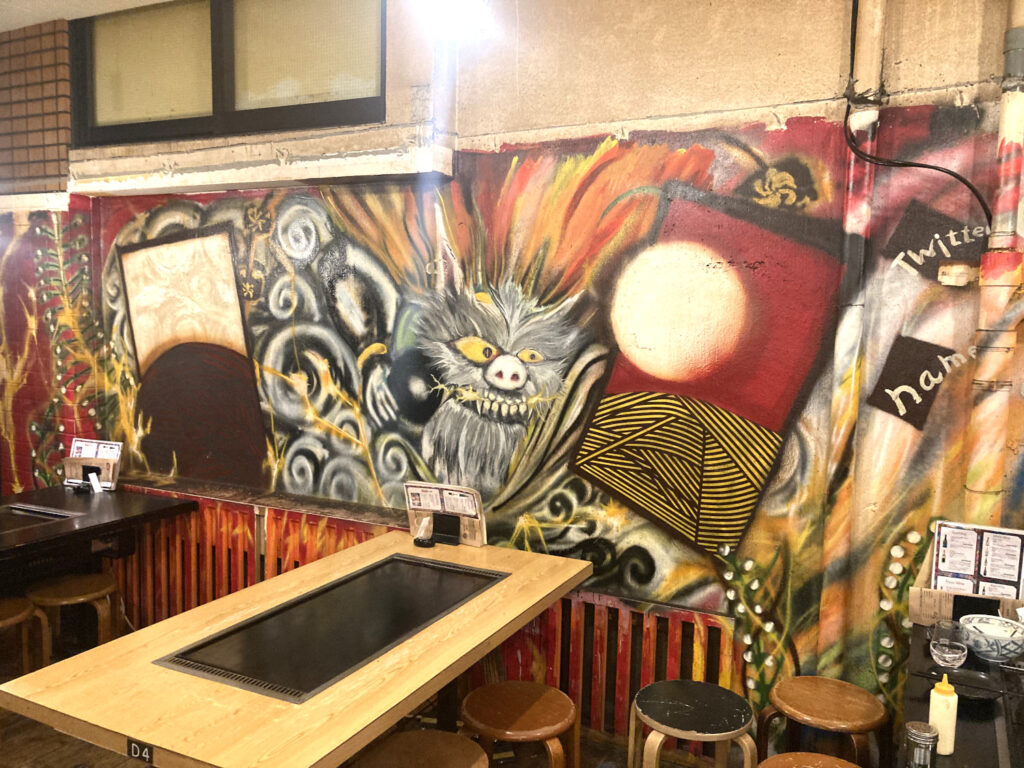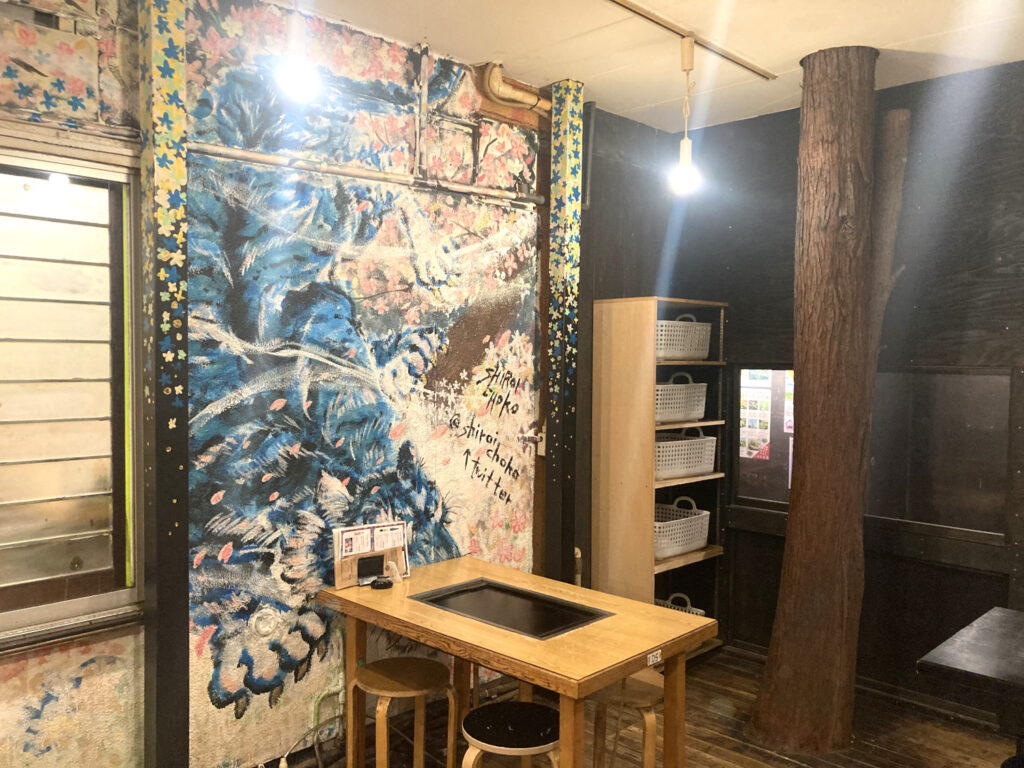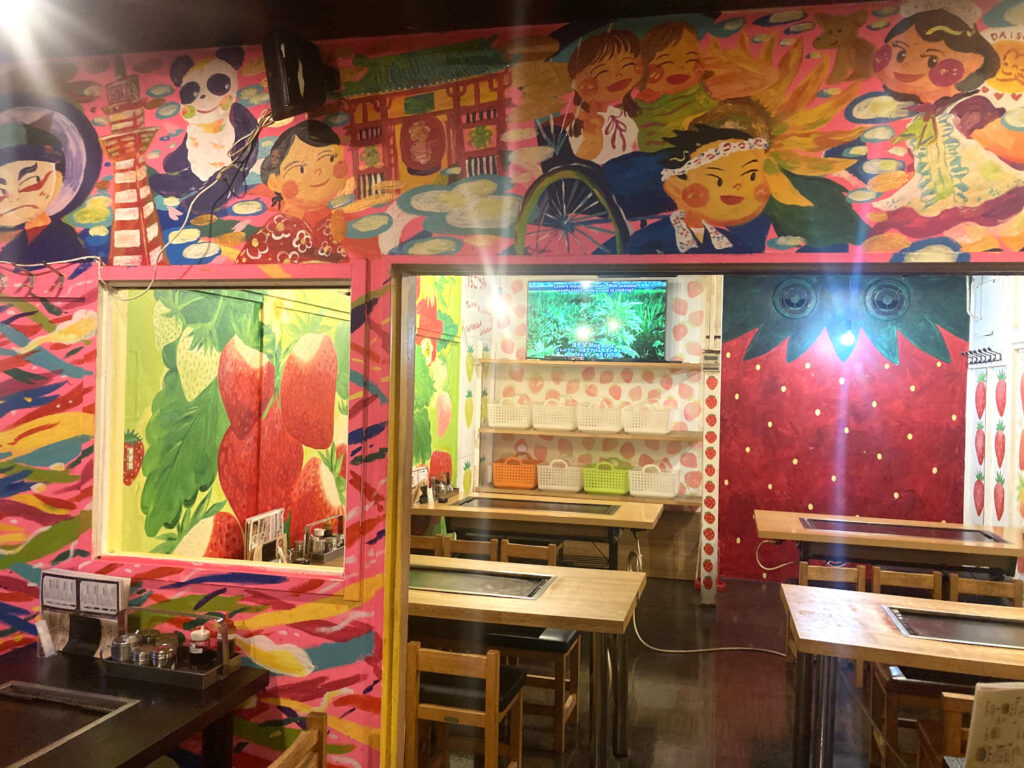 Order Vegan Style Vegetarian Okonomiyaki!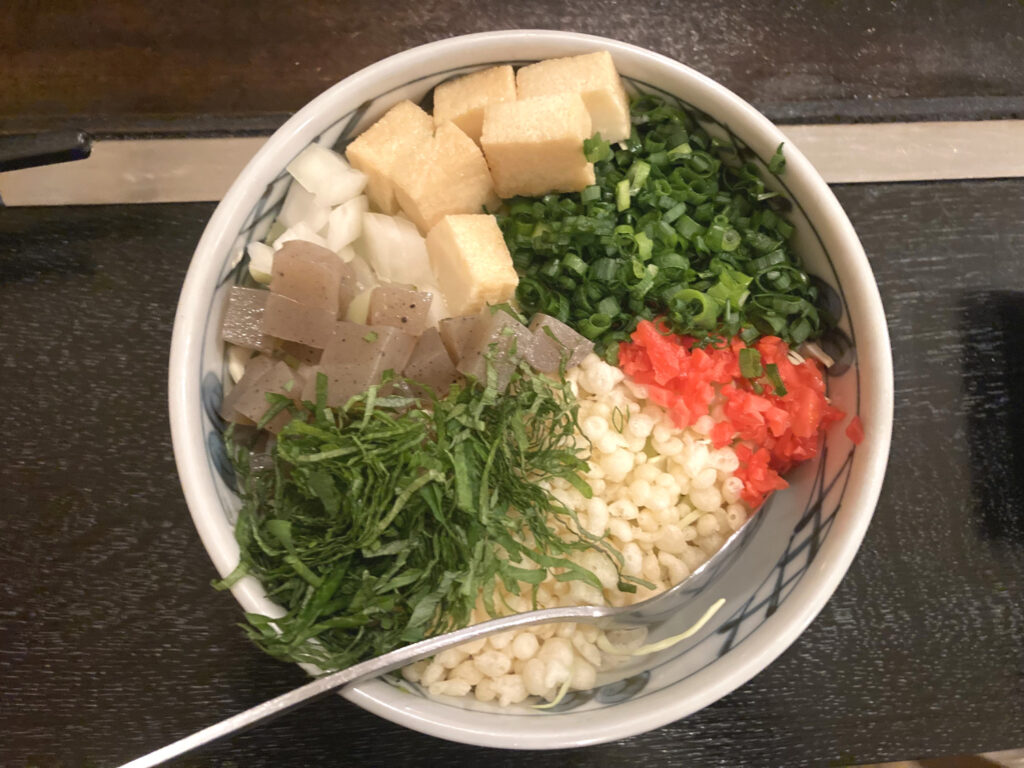 The waitress took us to the table seat.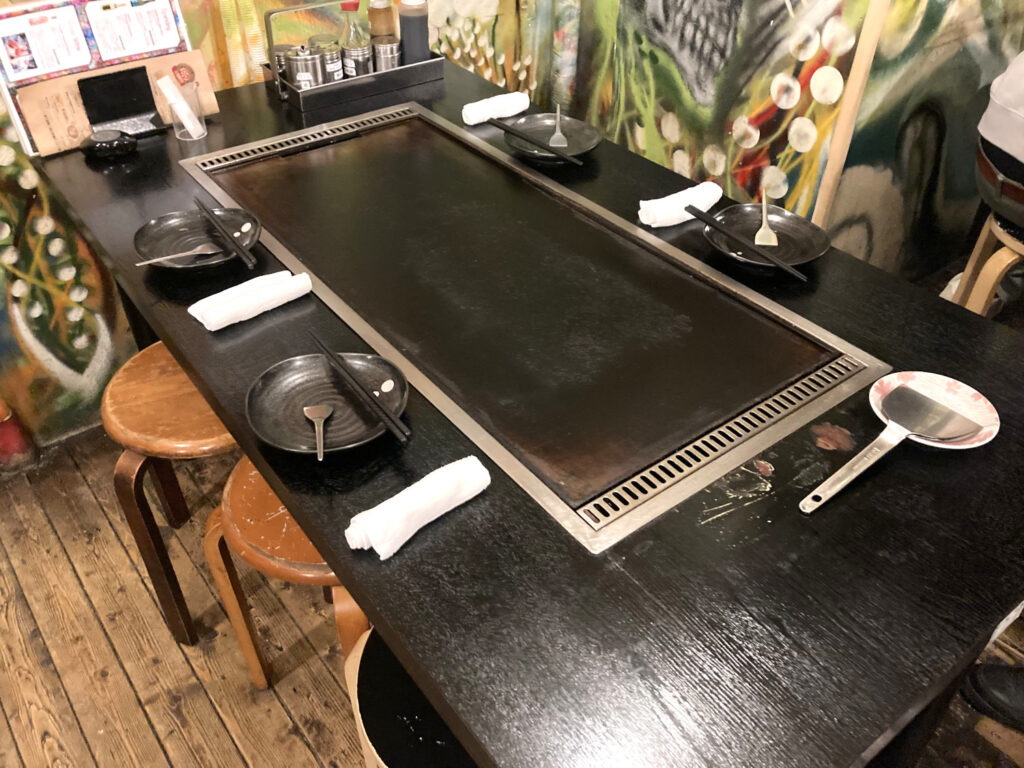 Come to think of it, it's been a while to come to okonomiyaki restaurant!
Vegetarian Okomomiyaki on the menu!
The price is about $10 (1400 yen).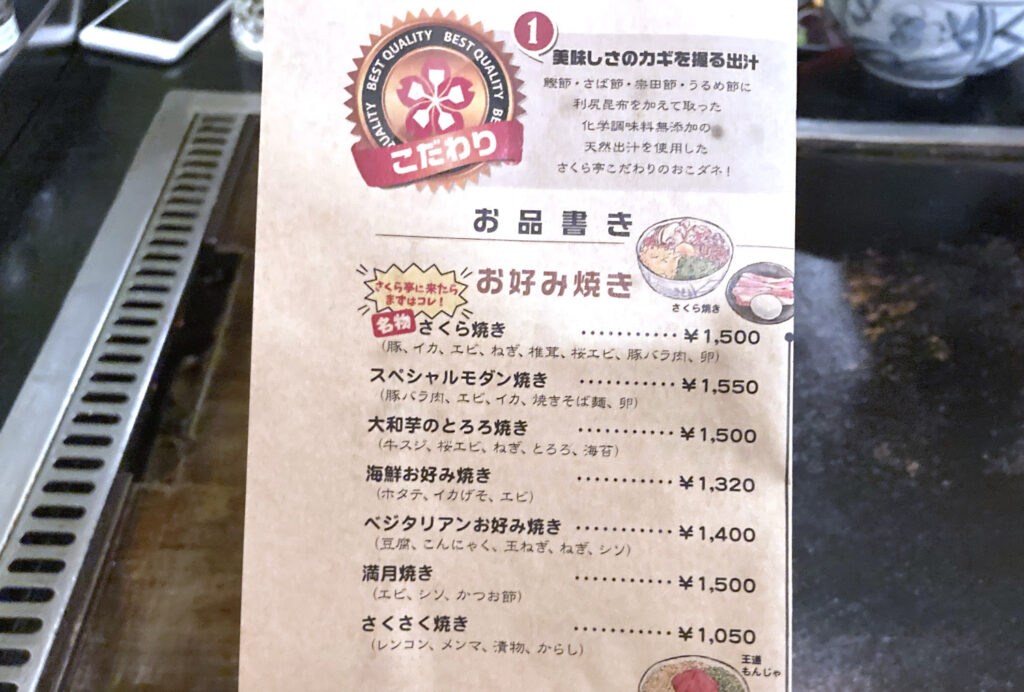 On the menu, the ingredients of Vegetarian Okonomiyaki were written.
Tofu, konjac (devil's tongue), onion, leek, shiso.
No animal ingredients, aren't they.
I and other two friends ordered vegetarian okonomiyaki and the other friend ordered an ordinary okonomiyaki.
By the way, please tell no egg and dashi (soup stock) when you order just in case if you are vegan.
There is a possibility of egg and dashi are included if you just order Vegetarian Okomomiyaki.
In about 10 minutes, here came Vegetarian Okonomiyaki without egg and dashi!
Japanese leek were served separately.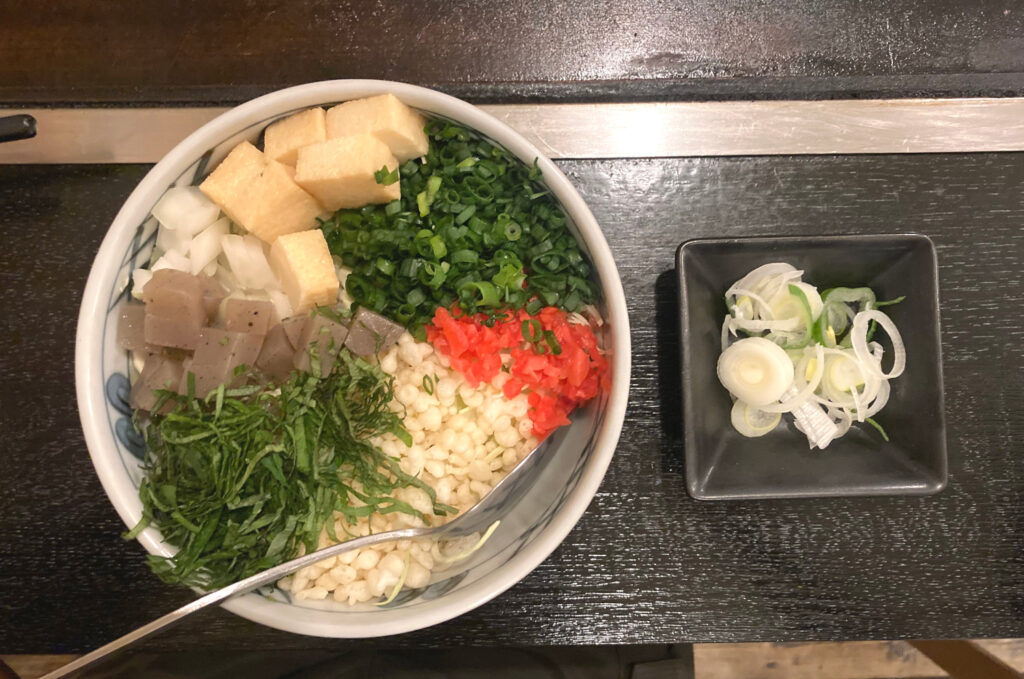 Mix all together well.
I think this is enough!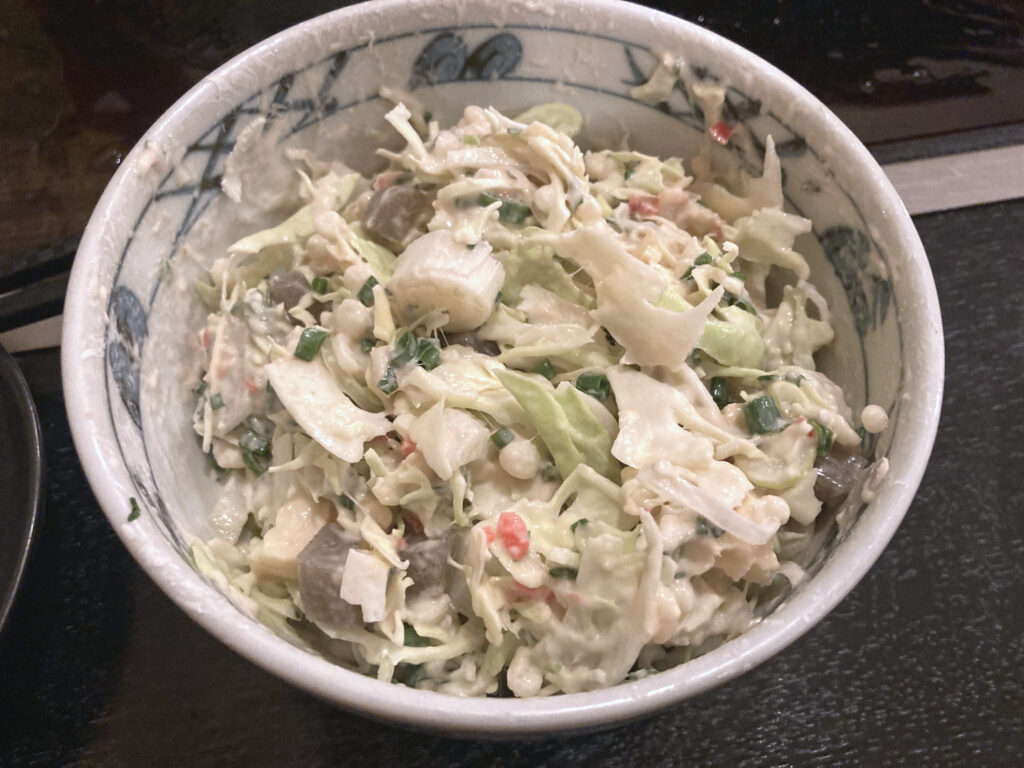 Put oil and cook.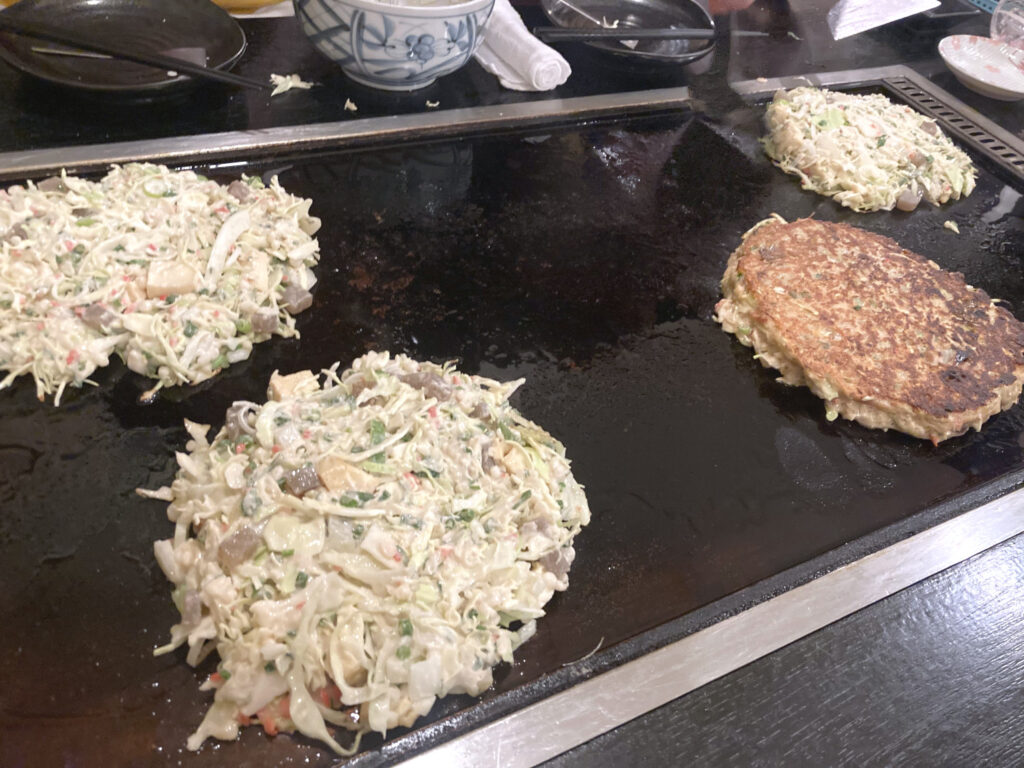 If you cook one side, turn over and cook the other side as well.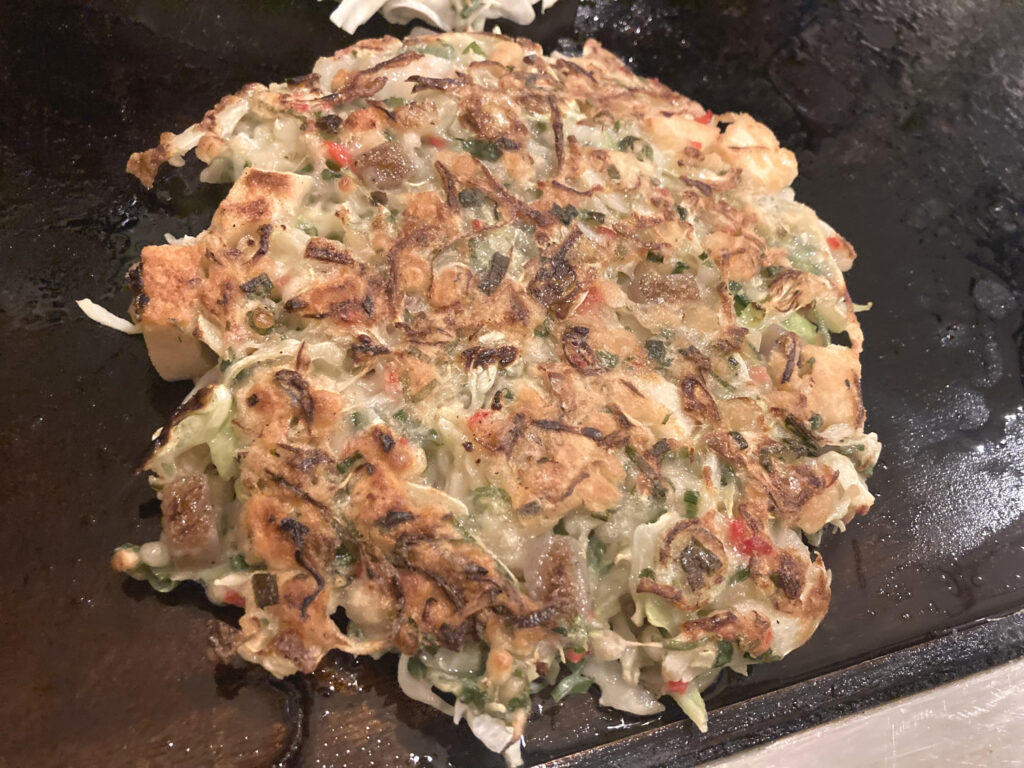 Lastly, put sauce and sprinkle green dried seaweed.
It's all done!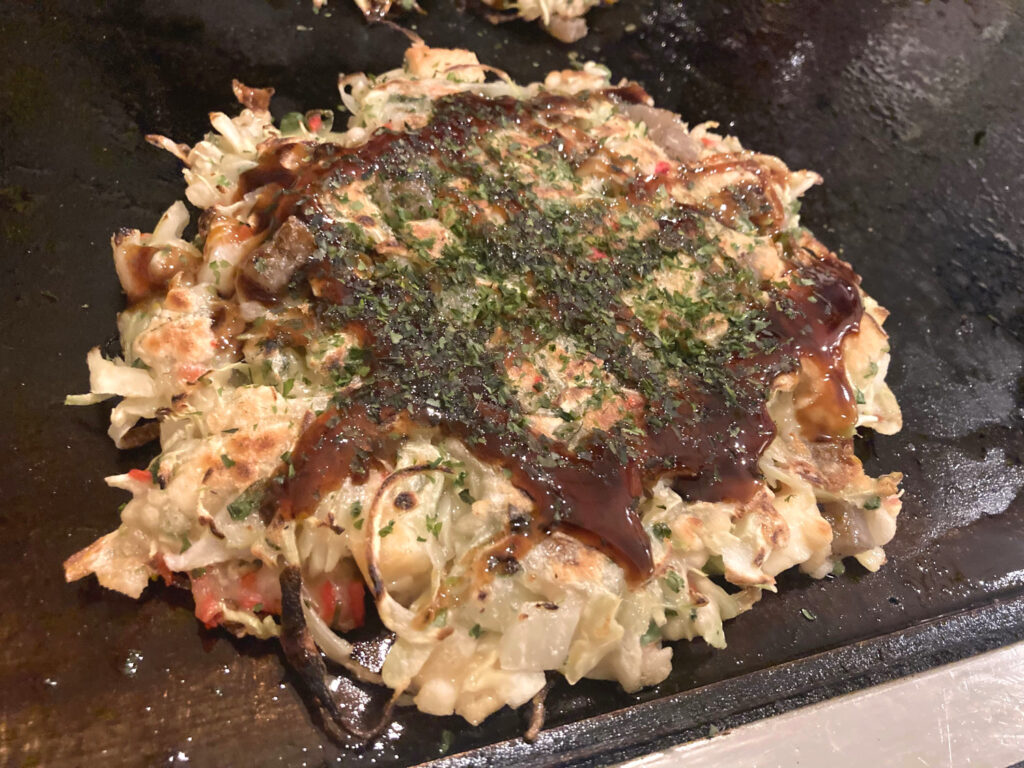 I think this Japanese sauce is OK even for vegan as it is all made from vegetables as far as I know.
For mayonnaise, it includes egg, so it is for Lacto-ovo vegetarian, isn't it.
Vegetarian Okonomiyaki was tasty!
I make veggie okonomiyaki at home but it's thinner than and difficult to make it fluffy.
But an ordinary okonomiyaki which my friend was cooking next to me was thicker and fluffy than Vegetarian Okonomiyaki.
That's the technique egg can do!
As okonomiyaki was cooked on strong heat of iron griddle and fresh, it was much more tasty!
This was the first time to try vegan okonomiyaki for my friends of vegan from overseas and they said it was tasty.
I was very glad to come here with them!
Summary
It was great Sakuratei offers veggie okonomiyaki!
I thought there was no place to offer veggie okonomiyaki in Tokyo before I knew they also offer Vegetarian Okonomiyaki.
It appears that Sakuratei has been popular since the opening 30 years ago!
This restaurant is the only place you can enjoy veggie okonomiyaki in Tokyo as far as I know.
Artistic exterior, interior and trees grown inside are attractive!
I'd like to come here again to enjoy their okonomiyaki!