Vegan Sushi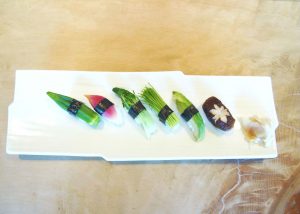 You might think sushi shop is all about seafood but I found a sushi shop which serves vegan sushi this time.
That's Gonpachi, which I introduce you in this article this time.
I sometimes could see vegan or vegetarian sushi sold at some events but didn't know that there is a real restaurant which offers vegan sushi.
The location is Shiubya in Tokyo!
I went to there!
Access
It is about 10 minutes from Shibuya station to Gonpachi.
First, exit the Shiubya station through the Hachiko Exit and go down the Dogenzaka street.
Dogenzaka street is just left side of 109 (109 is a building in front of the Shibuya station).
Walk about 500m along the Dogenzaka street, you'll get to the intersection of Dogenzaka police box (Dogenzaka Koban Mae).
You can see 15‐story building called Space Tower on your right side and Gonpachi is on the 14th floor of the building.
Space Tower is separated and a little bit hard to find but what you need to go is E. Space Tower, so please note that
Even the elevator is separated and the elevator you need to take is on the left side of Space Tower.
1. Exit Hachiko Exit of Shibuya station
2. Walk down the Dogenzaka Street (left side of 109 building) for about 500 meters
3. You can see Space Tower on the right side of the intersection of Dogenzaka police box (Dogenzaka Koban Mae)
4. 14th floor of Space Tower, you can find Gonpachi
Reserve a sheet of Gonpachi Shibuya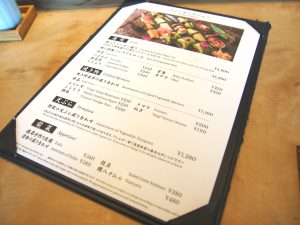 I happened to find a picture of vegetarian sushi in Instagram.
The shop which offered sushi was Gonpachi in Shibuya!
I commented on the post and the poster replied me "Their menu is available online, so you can check their website".
Although I checked the website, I couldn't find any words of vegan or vegetarian sushi.
I could only find menu of haral.
Am I checking wrong website?
Anyway, I decided to check by calling to the restaurant.
"Can I make a reservation for one and do you have vegan sushi?"
I asked.
"Yes, we have"
The staff replied.
"Which seat do you prefer, counter seat or table seat?"
He asked me.
So I reserved a counter seat as my image of real sushi shop is counter seat.
Anyway, I felt like the restaurant is a bit high-class from the pictures on the website and the sushi made in front of the counter by sushi chef.
I felt like I need to check the price just in case.
"How much does it cost for vegan sushi?"
Now I shrank as it would be a tough challenge to me if it go beyond $100, or even over $50 actually.
"If it is a lunch time, you can order from 2000 yen (about $17)"
In a soft tone, he replied.
Good, so I made a reservation at 11:30 on weekday.
I chose the time 11:30 just before lunch time because I wanted to take pictures inside of the restaurant before people come.
To Gonpachi Shibuya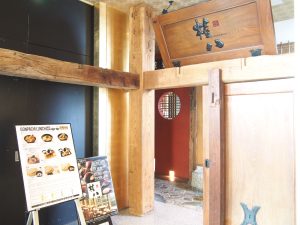 Came to Gonpachi.
This is 14th floor in front of Gonpashi.
I can see menu in front.
It is an ordinary sushi menu.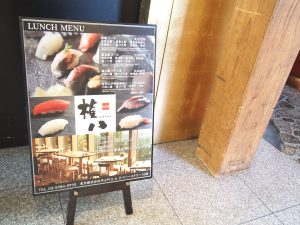 Go inside and tell my reservation to the staff.
"Yes, certainly, this way please"
He guides me to the room.
Inside was spacious, but he guided me to the other room.
And the room I led is here.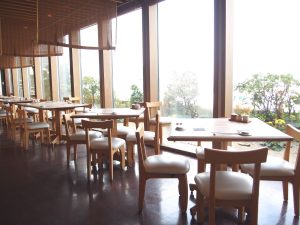 Good view!
And the gust is only me.
"Have a seat"
The waiter led me to the table seat.
"Excuse me, I made a reservation for counter"
I told him.
I became a bit anxious from this point.
Anyway, I could sit at the counter.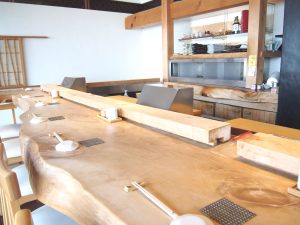 This is a fine counter seat.
I told that I reserved for vegan sushi to the sushi chef.
"I did not know that, now I check it"
That was a surprising answer to me.
Am I the one who forgot to tell it?
But I think I certainly told that I want to have vegan sushi.
Either way, this might be a case I can not eat vegan sushi and go back home.
I thought so, but he told me he can make it in the end.
I'm relieved.
Ordered Vegan Sushi and Vegetable Roll
I check the menu.
Gonpachi Vegan Nigiri Set and Special Vegetable Roll, I can see on the menu.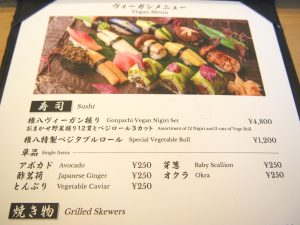 This Vegan Sushi Set was about $45 (4800 yen), so not cheap price but I could also find just 6 pieces of Vegan Sushi Set and that one was about $12 (1300 yen), yes, reasonable price.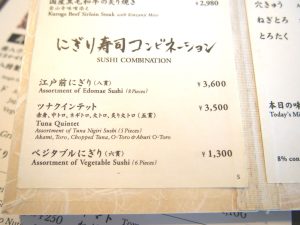 Finally, I ordered 6 pieces of Gonpachi Vegan Nigiri Set and Special Vegetable Roll.
Gonpachi Vegan Nigiri Set (6 pieces) is about $12 (1300 yen) and Special Vegetable Roll is about $11 (1200 yen), so $23 (2500 yen) in total.
I'm relieved as the price was easier on the wallet than expected.
I wait with green tea.
This green tea was not hot but warm, so I could feel assiduities.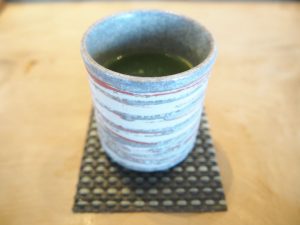 As here is on the 14th floor, you can command a fine view of Shibuya city.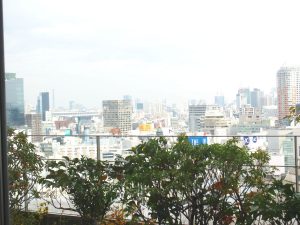 Sushi chef is making sushi one by one in front of me.
Watching handiwork, I'm impressed with thinking like "Professional".
On second thought, this is the first time to me to have sushi alone at counter seat!
And he makes sushi just for me alone.
What an experience!
Sushi chef is a person of few words and that is also good to me.
Of course, if you ask, he replies you politely.
"People from overseas also come here?"
I asked.
"Yes, sometimes people from overseas also come here"
He replied me.
Vegan Nigiri (Sushi) Set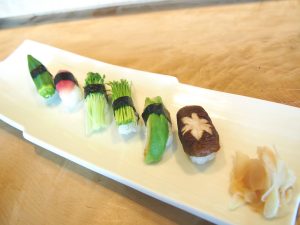 Here is the Vegan Nigiri (Sushi) he made.
Sushi of vegetables!
Beautiful!
From the left, Okra, Japanese Ginger, white radish sprouts, baby scallion, avocado, shiitake mushroom.
I try Okra first.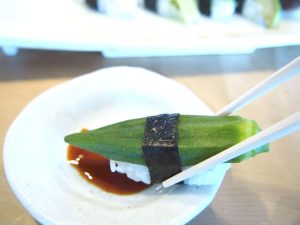 Okra is very crispy
Very fresh okura!
Shari (vinegared rice) is really tasty above all else.
Each grains of rice has the texture, yes, this venegared rice is that of I can enjoy at the counter of sushi restaurant by sushi chef!
Next is Japanese ginger!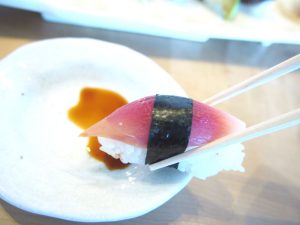 This Japanese ginger was also very crispy.
I could enjoy sour and sweet taste of Japanese ginger itself.
Solid Japanese ginger and very good taste!
Now I found salt on the table, so I'm gonna try it.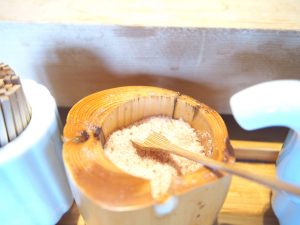 Try white radish sprouts with salt.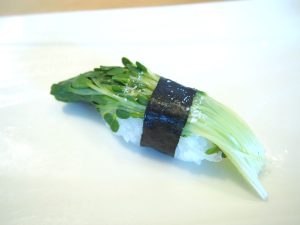 Salt and white radish sprouts go well.
This is not fined salt which you can see at an ordinary restaurant, but natural salt including minerals that it has a hearty taste.
Next is baby scallion.
I try this one with soy sauce.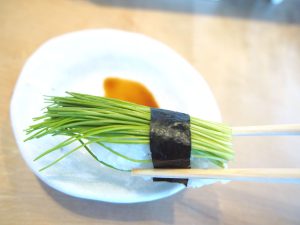 Speaking of baby scallion, I remember "Shota no Sushi".
It is a Japanese comic about sushi and I was reading it when I was in junior high.
That's the time I knew sushi of vegetable other than cucumber rolls or fermented soybeans rolls for the first time.
This baby scallion was very crispy and fresh sushi.
I try Avocado with salt.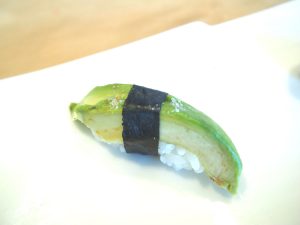 Avocado goes well with salt.
Avocado was thick and smooth and very tasty.
Last one is shiitake mushroom.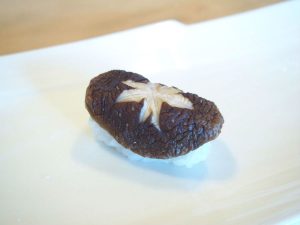 Autumn foliage carved on the top.
Yes, now is the best season for autumn leaves in Tokyo.
This meticulous attention is good, isn't it.
Shiitake mushroom was thick and meaty.
It was very good taste.
Special Vegetable Roll (Avocado Roll)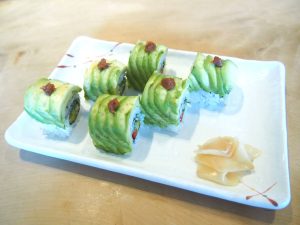 Special Vegetable Roll is Avocado Roll, isn't it!
6 rolls in total.
I can see small portion of miso on the top.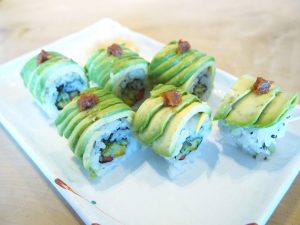 I think it is better to eat directly, without using soy sauce or salt as it already has miso.
I try it directly.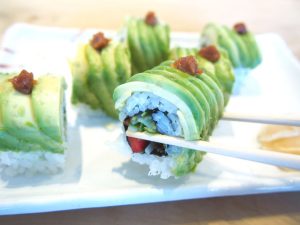 Avocado is rich and smooth texture.
The vegetables inside are also very crispy.
Miso on the top is slightly sweet and goes well with avocado as an accent.
If you like strong taste, I recommend you to use salt rather than soy sauce.
Little bit of salt would bring out the the flavor of the ingredients.
Summary
All the vegan sushi of Gonpachi were very good taste.
Relaxing atmosphere was also good.
The situation that I was the only guest in the room might be part of the reason.
I recommend you to reserve seat online or by phone if you try vegan sushi just in case.
And counter seat is recommended as you all the way to come here!
You can enjoy "real" as sushi chef makes sushi in front of you.
I think they came to offer vegan sushi to meet the increased demand by the guests from overseas.
2020 is the Olympic, there will be much more demand next year!
Google Map of Gonpachi Shibuya