Vegan Convenience Store Japanese Vegan Dish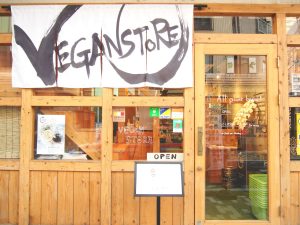 Address 
2-25-9 Nishiasakusa, Taito-Ward, Tokyo
Google Map : https://goo.gl/maps/hh6k7dwq8t11EPHx7
Access
Asakusa Station (Tsukuba Express,Toei Asakusa Line, Ginza Line)
Tel
03-6231-6252 (+81-3-6231-6252)
Seats
About 20 seats
Opening Hours
6:00 – 23:00
Shop Holidays
Monday (If Monday falls on National Holiday, it opens and the next day becomes shop's holiday)
Website (Japanese)  
https://www.veganstore.jp/
Special shop of vegan, VEGAN STORE opened last year 2019 December in Asakuksa
Organic shops have been increasing little by little over the decade but, I've never heard of special shop for vegan here in Japan.
I was so curious that I went to the shop.
Access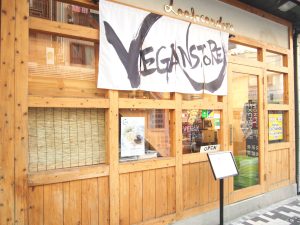 Closest station to VEGAN STORE is Asakusa Station of Tsukuba Express.
It is about 150m from the station, so about 1 minute on foot.
There are several lines for Asakusa station such as Ginze line, Toei Asakusa Line, etc. but the closest line is Tsukuba Express.
If you get off, for example, at Asakusa Station of Ginza Line, it takes about 10 minutes.
To get to the shop, first you exit A2 of Asakusa Sation Tsukuba Express and turn right.
Then you turn right at the first corner and walk along the street about 150m.
You'll see Vegan Store on the left side.
1. Exit A2 of Asakusa Station of Tsukuba Express
2. Turn right and turn right at the first corner
3. Walk ahead about 150 meters and you'll see Vegan Store on the left
To Vegan Store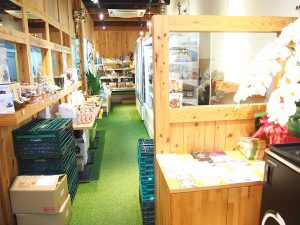 In about 10 minutes from Asakusa Station of Ginza Line, arrived at VEGAN STORE.
It's a shop with natural appearance.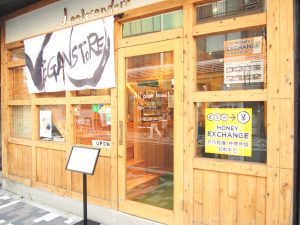 Found menu in front of the shop.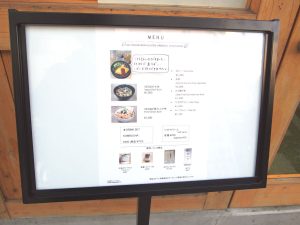 Vegan Omelette, interesting!
But now they can not make it due to the lack of the ingredients, it says.
Shopping at VEGAN STORE
Inside of the shop, I noticed shopping baskets and money exchange machine stood on the right.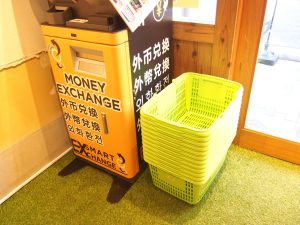 It's very rare to see money exchange machine inside the shop.
Maybe because of many tourists come here in Asakusa?
The atmosphere inside is like this.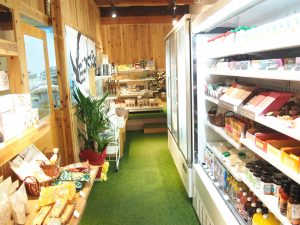 Small shop but has a variety of items, so it is interesting just to look around.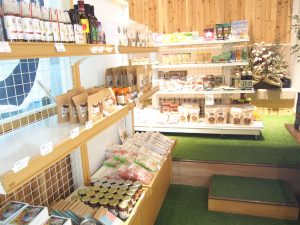 Vegan cookies and brownies look good!
By the way, the back side of this place is kitchen, so the dishes are made here.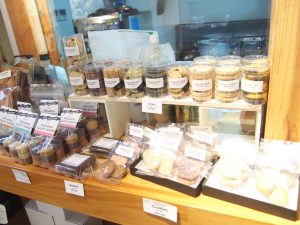 At the deli corner, tempeh, hashed potatoes, frankfurt, beans chimaki (steamed rice dumpling), etc, are sold.
All of them are made on the spot at the kitchen here.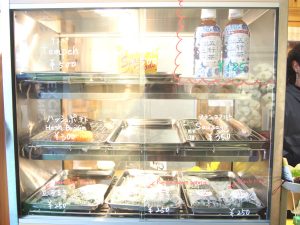 There are organic vegetables such as carrot and Japanese horse radish, etc.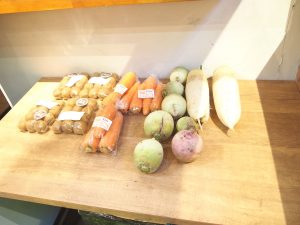 Wide variety of fair trade and organic chocolates.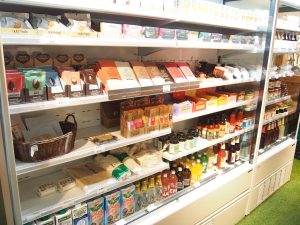 I can see this veggie sheet even at an ordinary supermarket recently.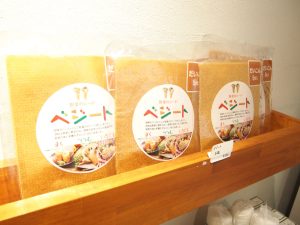 Walk further and various foods of Alishan Cafe!
Organic mung beans chips is tasty and my recommendation!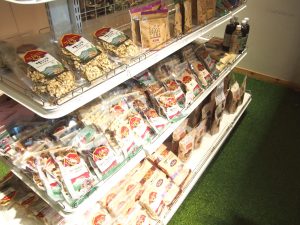 I'm curious about Moroheiya (Jew's mallow) Noodle.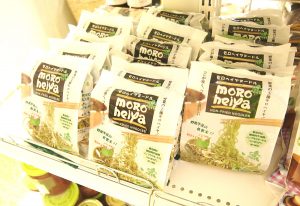 Not only foods but organic and additive‐free cosmetics, they also sell here.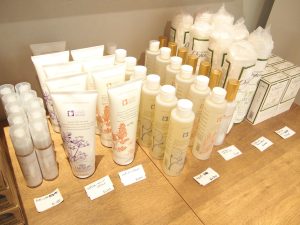 After all, I bought Moroheiya Noodle, organic mung bean chips and soybean Japanese style cream stew.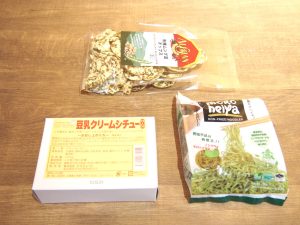 You can not use credit card here, so please carry cash.
Enjoy Vegan Dish at Restaurant
As I found the stair to the second floor,
"Can I go to second floor?"
I asked the staff.
"Yes, second floor is restaurant"
The staff told me.
OK, I'm gonna have meal here.
Menu was as follows.
Curry : 1200円
VEGAN Pork Kimuchi Bowl : About $9 (1000 yen)
VEGAN Beef Bowl : About $9 (1000 yen)
Tempura Bowl : About $9 (1000 yen)
Fried Chicken Bowl : About $11 (1200 yen)
Salad Bowl : About $11 (1200 yen)
Soup Set : About $10 (1100 yen)
From Curry to various bowls, all of them are made of vegetables.
Let me see, I'm torn what to have.
But I feel like I want to enjoy Tempura Bowl now.
Let's go for Tempura Bowl!
I go up stairs.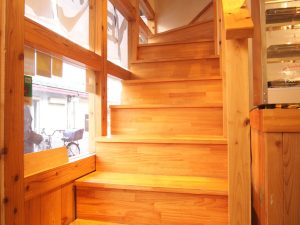 There are 2 tables on the second floor.
Each table has 3 seats, so 6 seats in total.
As one table had already guests, I took the other one.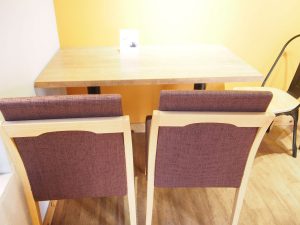 Looks like Kombucha is recommendation here.
This Kombucha became popular in Japan, too a few years ago.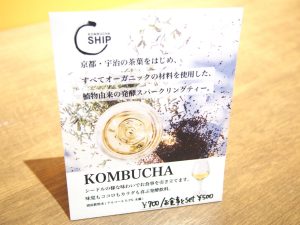 After a while, Tendon came from downstairs.
Chef herself brought it.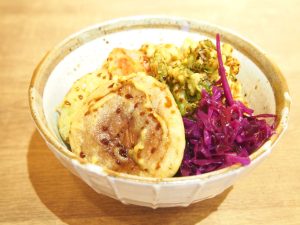 "Oh, water is in the back, I'll bring it"
She said and went into the back.
I didn't know there is a room in the back and the water is self-service.
"Oh, sorry, I didn't notice"
I replied and went to the room with her and there were many tables.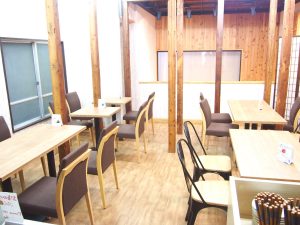 Chopsticks were also here and self-service, weren't they.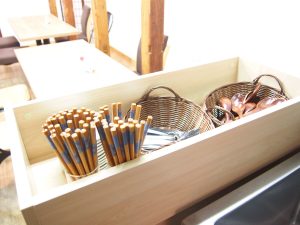 "Are you owner?
I asked.
"Yes, I am"
She replied.
I never imagined the owner herself cook and bring the food to the second floor.
Maybe it happened to be not busy time now.
"I used chickpeas for the coating of Tempura"
She told me.
I see, certainly ordinary tempura uses eggs as a binder.
Now I'm gonna have this Veggie Tendon.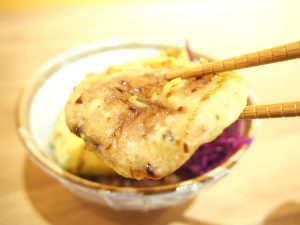 Yes, This is so good!!
Thin coating and crispy!
This is that of Tempura made by professional!
If I deep-fried them, it would be a bit thicker, heavier and oily.
Shiitake mushroom inside is thick and juicy!
Under the deep-fried vegetables was rice with mixed grains!
Usually Tendon use white rice but here mixed grains are used and substantial!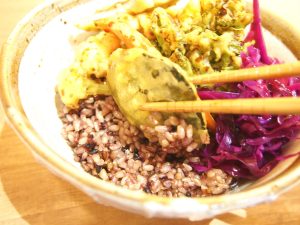 Various types of deep-fried vegetables were on the top.
Each of them were crispy and the vegetables itself were fresh!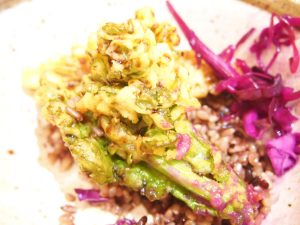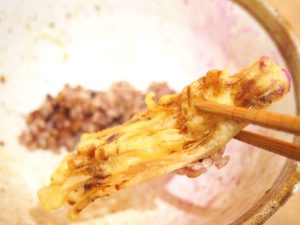 It was good I ordered Veggie Tendon!
It was a substantial bowl, so even men will be satisfied with.
You can return the empty dishes here after the meal!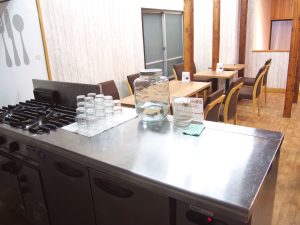 Summary
There are some restaurants or guesthouses which can handle vegan, vegetarian and haral in Asakusa other than this place.
Yes, many people from overseas come to here in Asakusa, that's why.
I had always thought about opening of special shop for vegan as there were none here in Japan although there were organic shops.
But it opened finally!
I hope VEGAN SHOP spread across Japan from Asakusa!
Google Map of VEGAN STORE