Vegan Food Tour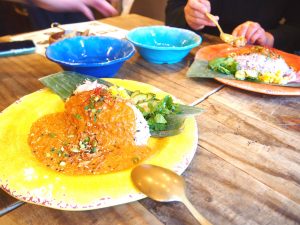 This time, I joined Vegan Food Tour of
I thought it was rare to find a tour focusing on vegan food while there are many tours to enjoy Japanese historical spots or anime spots.
The tour I joined this time was held in Shimokitazawa from 4 pm to 7 pm.
And I could enjoy vegan foods at 3 spots there.
I'll introduce how the tour went!
Shimokitazawa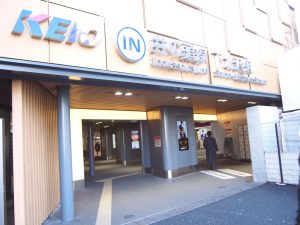 We, 4 of us including tour guide, gathered in Shimokitazawa.
I, married couple from New Zealand and guide are the members of the tour this time.
Many Japanese under 30 go to New Zealand using Working Holiday Visa and I also really want to visit New Zealand.
For the guide, she was fluent in English as she lived in US for a while.
Plus, very friendly and I could talk with her like a friend, I think the married couple, too!
For the place Shimokitazawa, this is very popular spot for young people and famous for small secondhand clothes shops, variety stores and local theaters.
Long time ago when I was a student, I often came to Shimokitazawa, too.
Actually I thought I know a lot about Shimokitazawa including vegan or vegetarian cafes here (at least I knew 3) but many shops had been changed now with time.
I also came legal Asa (Weed) Restaurant here for interviewing professional 15 years ago but it closed already.
Through the tour, I could get some new information on vegan or vegetarian foods.
Komainu Coffee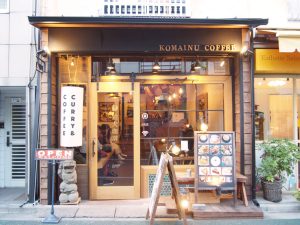 First we went was Komainu Coffee.
You might think what is Komainu?
They are guardian dogs.
You can see set of Komainu at the entrance of shrine.
I thought I can enjoy Japanese foods here from the name but the dishes were actually Thai.
And not all the dishes here were vegan although there are some vegetarian dishes.
Still there was one vegan dish and that's the one we ordered this time.
Here it is!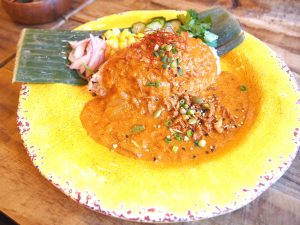 Yes, Thai style vegan curry!
We ordered 2 curries and shared them.
Oh, coriander, cucumber, corns, etc.
Certainly this is Thai curry.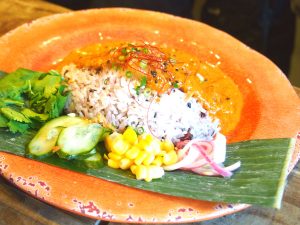 Anyway I'll try it with coriander!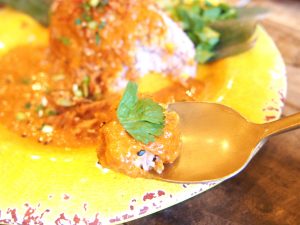 Yes, this is very good taste!
Exotic ethnic taste I could taste!
Coconut is used in the base of the curry.
Without saying, coriander had a fresh, strong taste and I like it very much!
I think you can also have a curry without coriander by asking the staff if you don't like it very much.
We took the table in the center but seat by the window might also be relaxing!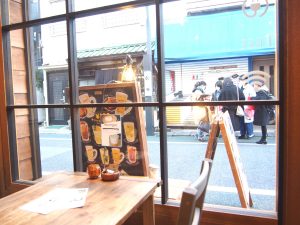 Recommended cafe for Asian curry lovers!
Chabuton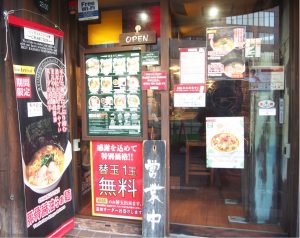 Next we visited was Chabuton.
Bar counter we took here.
Most Ramen shops in Japan are bar table style like this.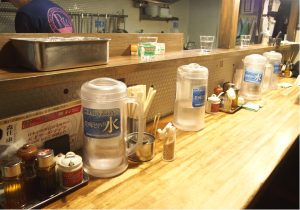 Here is not a perfect vegan noodle shop but had one vegan noodle.
They also had a vegan gyoza, so we also ordered it.
Here it is!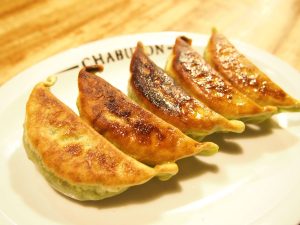 Looks good!
The staff told me the skin of the Gyoza includes échalote as long as I remember.
I asked the ingredients of Gyoza but he said it was secret (rather, he did not know, maybe)
Anyway with this Gyoza sauce, I'll try!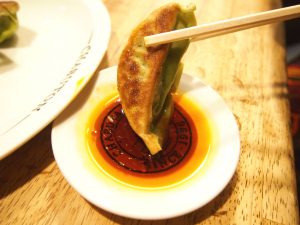 Yes, good!
Soft and chewy!
Certainly all vegetables inside although I could not find each of them.
And next is vegan Ramen.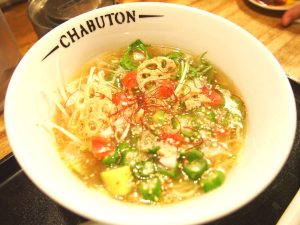 Soup stock is made separately here, so you can enjoy all vegan Ramen without problem.
Itadakimasu!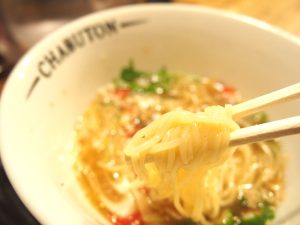 I remembered ramen which I enjoyed in my childhood days.
This ramen included nostalgic taste in the base which from modern ramen I can not taste anymore.
To me, the taste was a mixture of old days and modern.
And I like it!
Interesting point was it had okura and avocado in it.
I've never had a ramen with okura and especially avocado.
You can also find fried échalote on the table.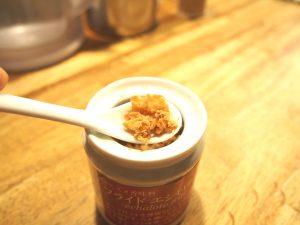 I recommend you to use it for ramen as the crispy taste becomes a good accent!
Tsukimasa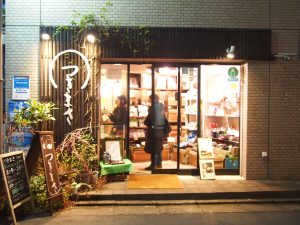 Last place is Tsukimasa.
This is a special shop of Japanese green tea.
We had a table seat.
Seat in the back is Japanese tatami style!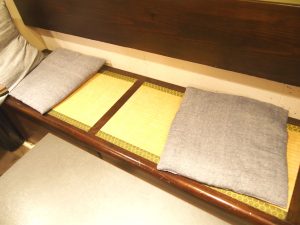 The menu is cool!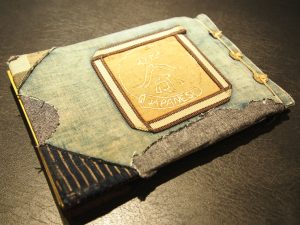 Here you can choose Japanese tea from over 20 types.
We all ordered set menu which comes with Japanese traditional sweet.
Yes, tea ceremony style.
For the tea, I do not have enough knowledge, so did not know which one to choose.
Anyway I chose Yamabuki (Sencha).
We could also pick up Japanese sweet.
Some of them are not vegan although it looks vegan, so please ask the staff when you choose vegan sweet.
My recommendation is Kaminariokoshi.
It is sweet crispy rice cracker famous in Asakusa and I love it since I was a child.
I chose very ordinary Japanese sweet Manjū.
It is a simple sweet bun.
Here is green tea and manju!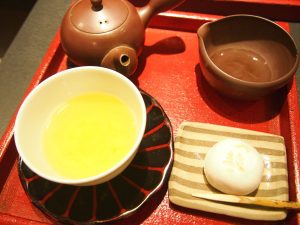 Came with tea pot.
You can drink tea pouring from this tea pot.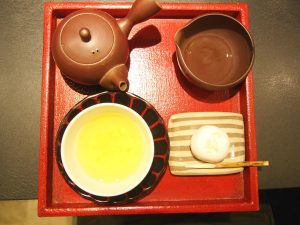 They also serve hot water and you can directly pour it into the tea pot that contains green tea leaves inside.
If you are not good at hot tea, just cool it down by pouring the tea in other dark brown cup (top right in the picture).
I sipped Yamabuki and found that this is very unique taste.
I've never had this taste for green tea before.
Certainly, not a typical taste of green tea we enjoy but I like it.
Manjū was also very good taste with smooth sweet beans paste!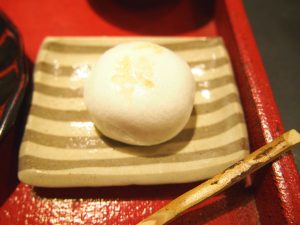 Sweet red bean might be a bit unique taste for some people in overseas but once you get used to it, it is really tasty and goes well with a bit bitter Japanese green tea!
The guide ordered Matcha.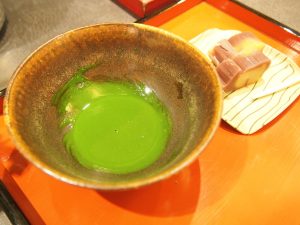 Matcha became popular worldwide now, so no need to explain, I know.
But looks like there are 2 types of Matcha here, thick one an thin one.
What she ordered was certainly Matcha but not what we imagine of whisked one.
She said that it was a bitter taste of real Matcha.
World of Matcha is deep!
Drop by Flower Shop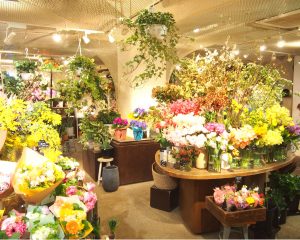 We also doped by a flower shop on the way.
The married couple know well flowers and loved them.
I did not know well about flowers but they were really beautiful.
It was nice I could enjoy other place, too!
Summary of Vegan Food Tour
It became a new finding of Shimokitazawa for me.
I did not know most of all the cafes we visited this time.
Looks like the places to visit and the guide vary each time.
Maybe depends on the guests' taste?
If I add small points, it would have been better if communication of the guide and the company were made properly in advance.
And not only this tour but for other tours, the guide needs special or deep knowledge about the field, I felt.
Although the character of the guide was very good and she had a mind of hospitality.
Anyway, first meeting but like a friend I could enjoy the tour with the guide and other participants.
If you need a guide for vegan cafe & restaurant and want to communicate with local, why don't you consider Vegan Food Tour of Magical Trip as one option?