Vegan Bread Vegan Sweets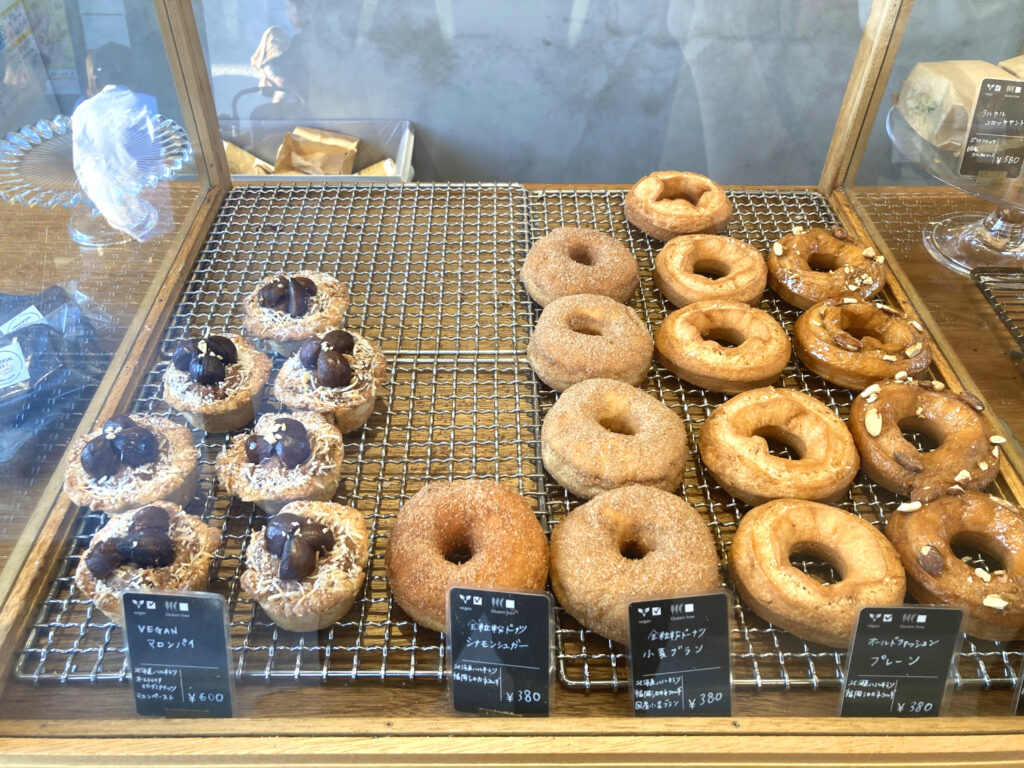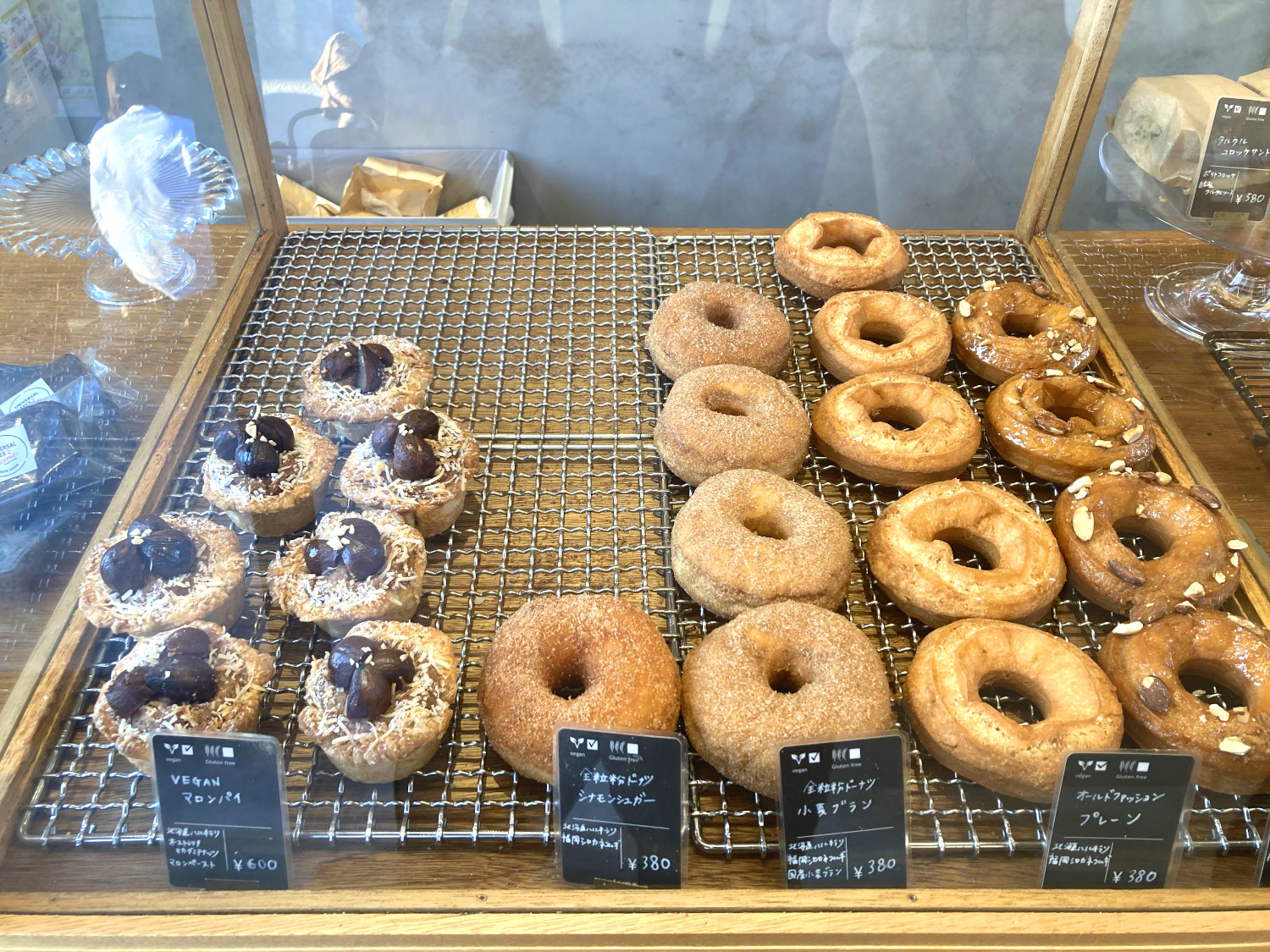 Address
reload 2F, 2-29-2 Kitazawa, Setagaya-ku, Tokyo
Google Map : https://goo.gl/maps/6KaV5kL5Qzp2baPq7
Access
Shimokitazawa Station (Keio Inokashira Line, Odakyu Railway Odawara Line)
Tel
03-6407-1021 (+81-3-6407-1021)
Seats
No Seats (A few tables outside)
Opening Hours
8:30 – 18:00 (Wednesday to Sunday)
10:00 – 18:00 (Tuesday)
Shop Holidays
Monday
I enjoyed
vegan noodle at the Coji Coji collab. cafe in Shimokitazawa
last time and after that I went to
Universal Bakes Nicome
!
Bakery where you can buy vegan breads made without eggs or dairy products.
They also sell gluten-free breads and sweets.
It looks like this bakery opened in 2022.
I went to the bakery and took out some breads.
Access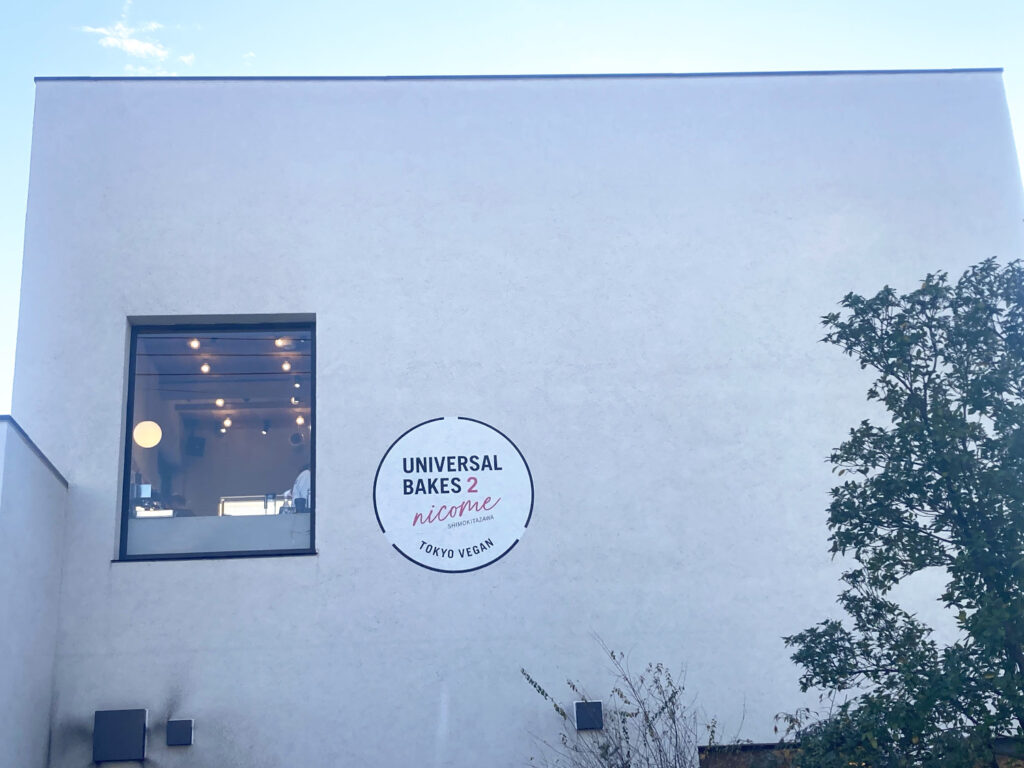 East Exit of Shimokitazawa Station is the closest to the shop.
After exitting the East Exit, go straight along the railway of Odakyu Odawara Line.
Technically speaking, there is no such straight path along the railway, so you sometimes need to turn right or left along the railway.
You can get to a complex called reload which is about 300 meters away from the station.
Go straight to the very back of the complex and walk upstairs and then you can find Universal Bakes Nicome right in front of you.
Google Map of Universal Bakes Nicome
To Universal Bakes Nicome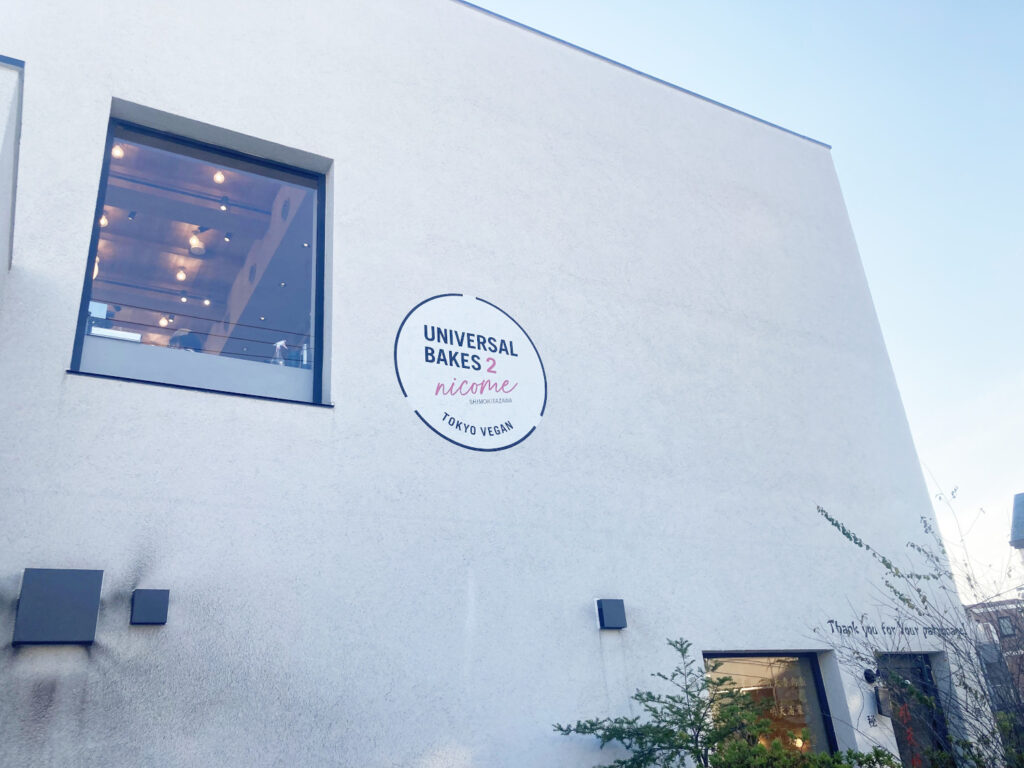 There is a cafe called UNIVERSAL BAKES and CAFE in Setagayadaida and this bakery is the second shop of the cafe.
It opened on December 2021.
I walked ahead along the Odakyu Line from Shimokitazawa Station and got to a complex reload.
It looks like this complex also opened in 2021 and there were 24 shops inside (As of December 2022).
At the very back of the 2nd floor of reload, I could find Universal Bakes Nicome.
Atmosphere Inside and the Menu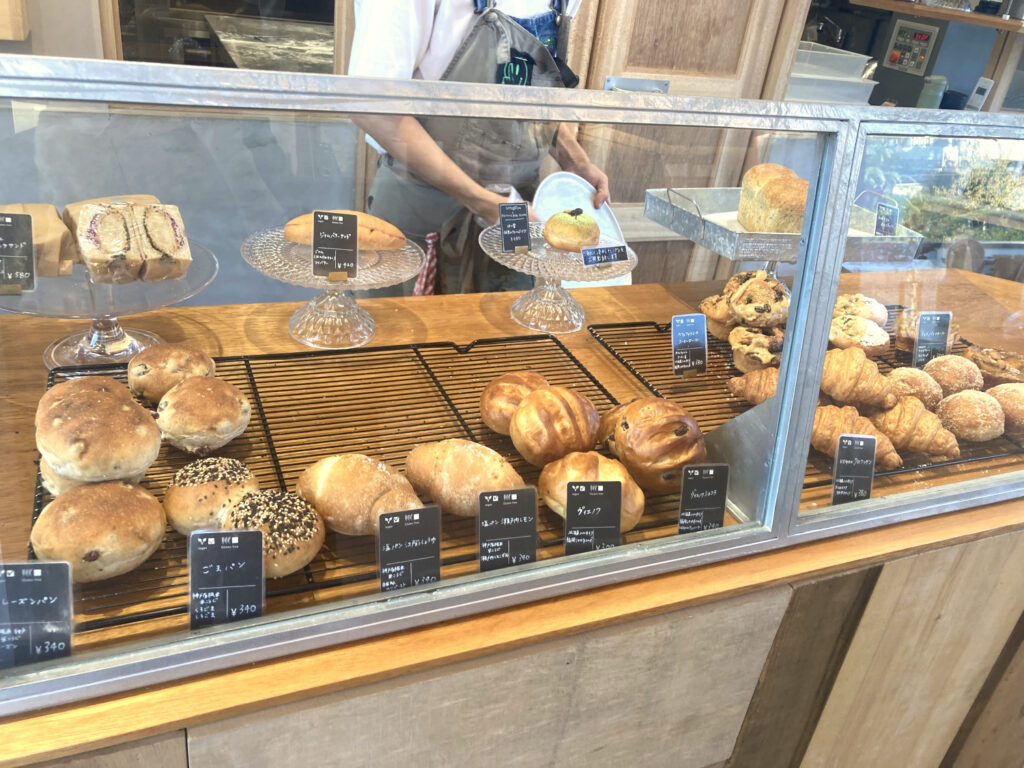 Bakery was small and it'll be full with a few people.
It's like a local bakery in town and I feel relaxed.
There were people who enjoyed the breads they bought at the table outside.
There were a variety of vegan breads displayed inside of the shop.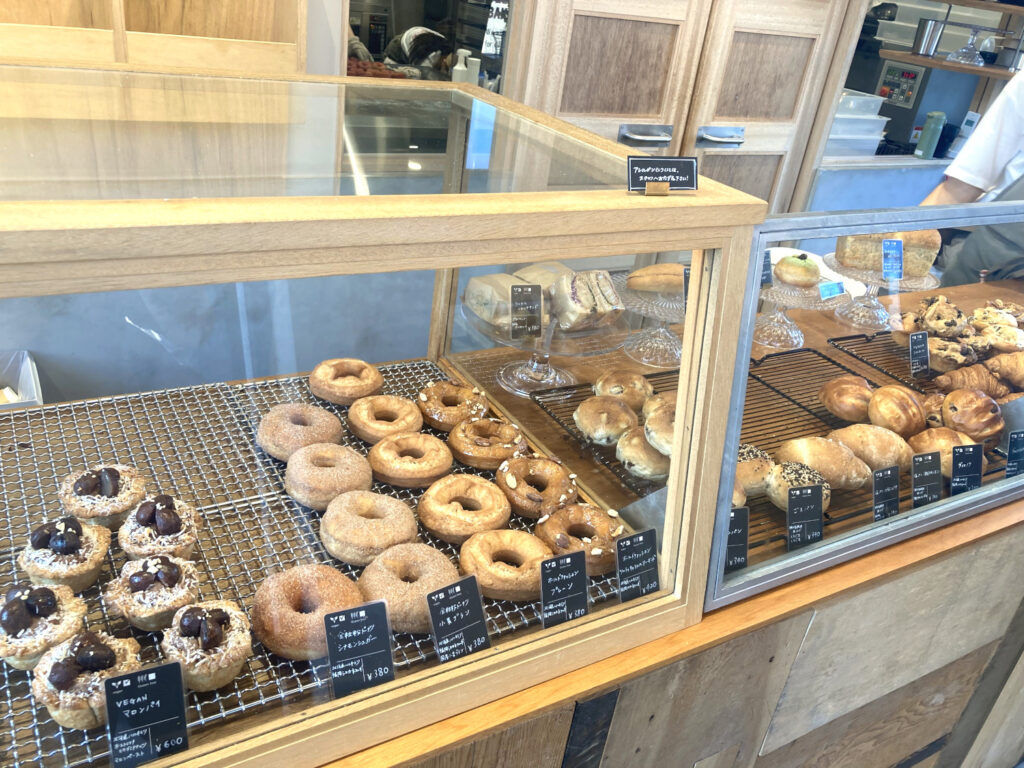 They also sell doughnuts, dont't they!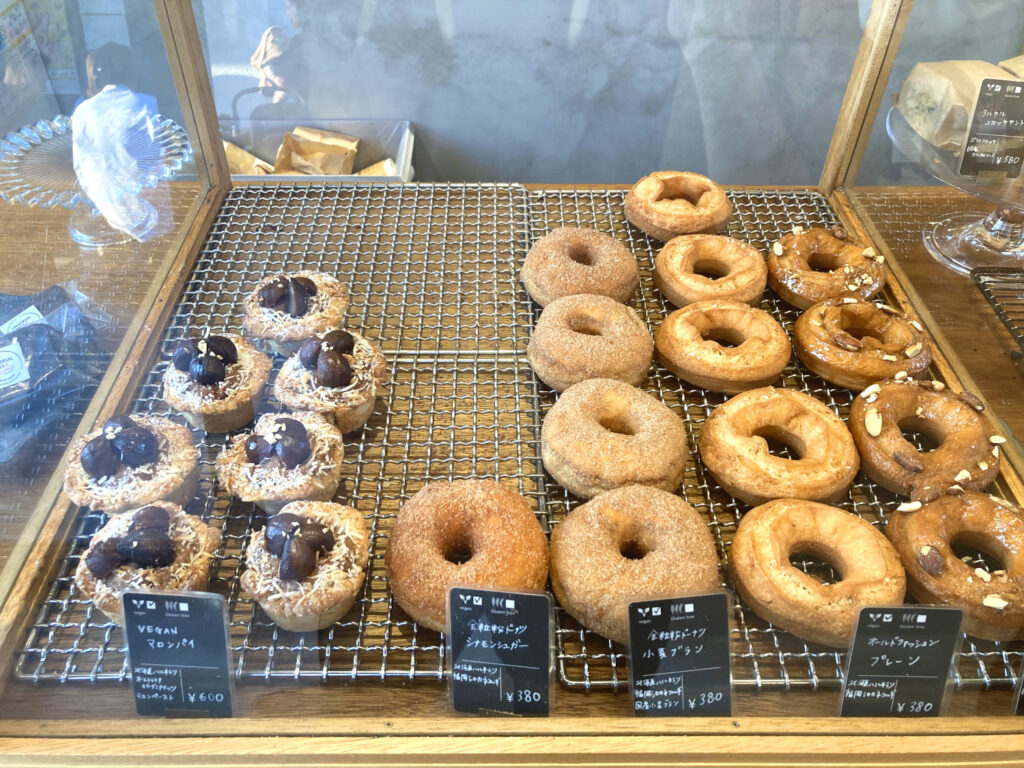 Even muffins and baked sweets!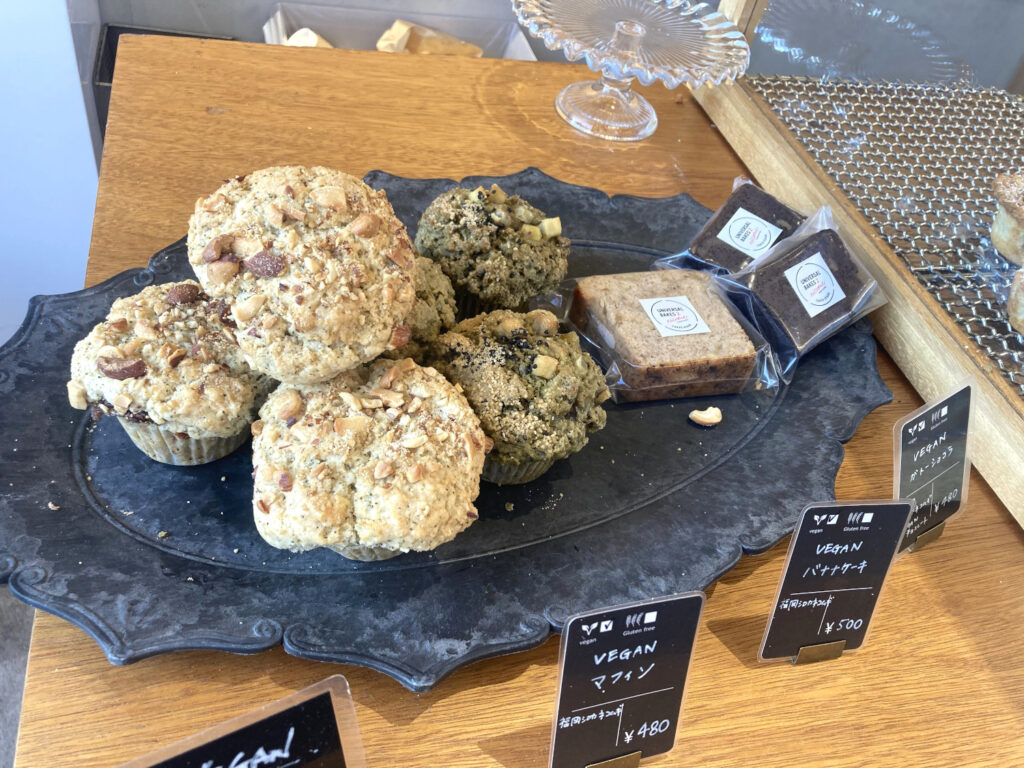 For drinks, coffee, tea, chai, soy latte, lemonade, etc. they sold.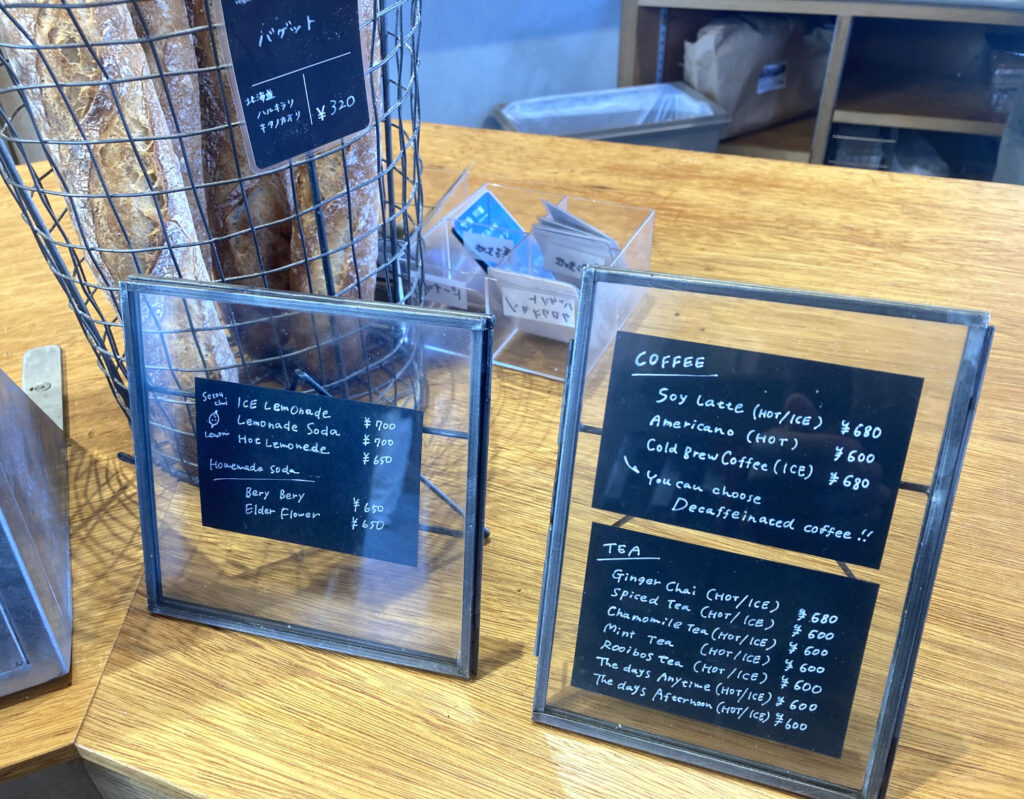 Oh, stasher!
This is a plastic-free storage container made from natural ingredients and I have one!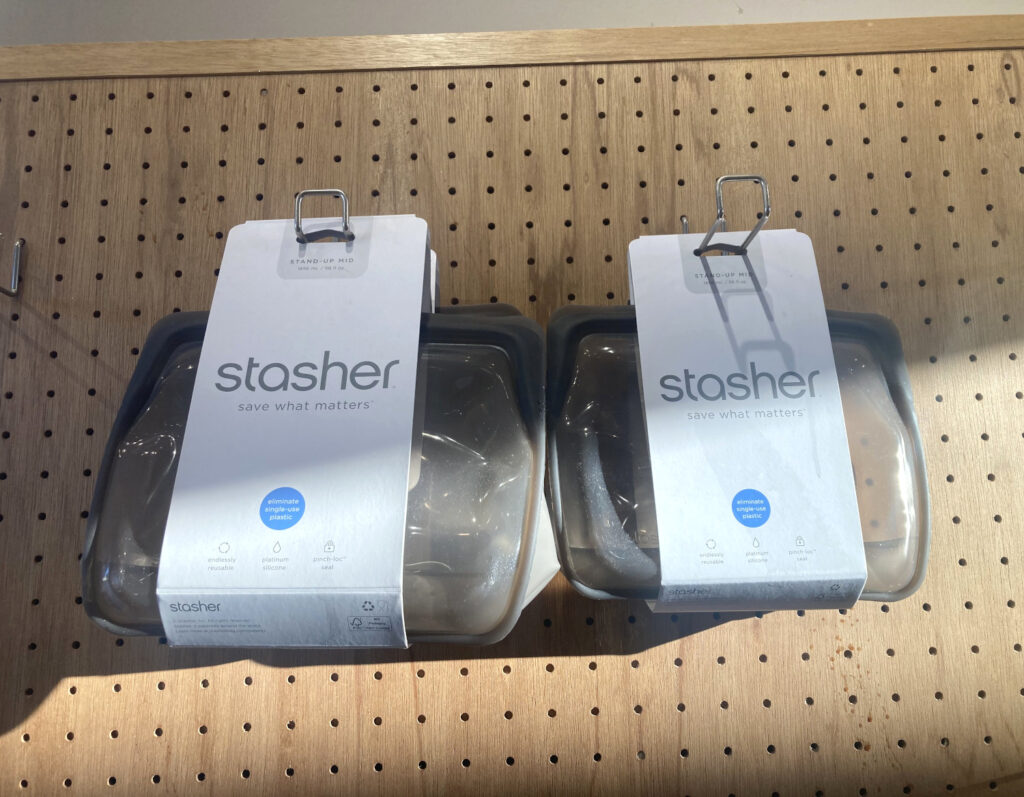 There were organic chocolates and beeswaxes.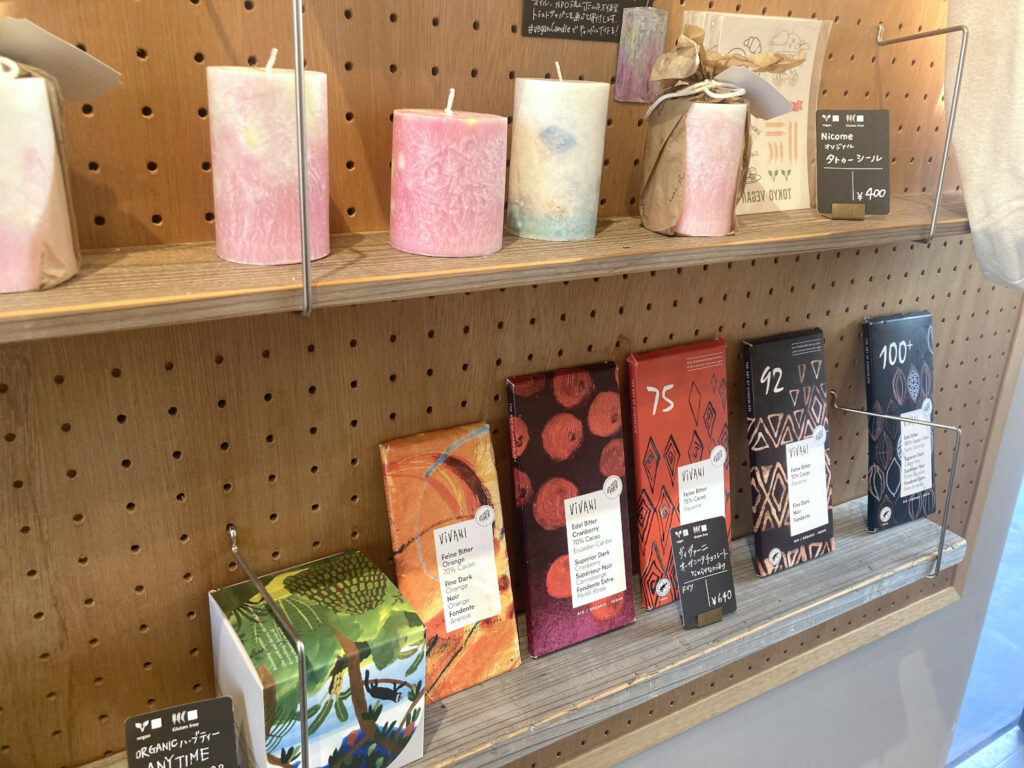 I was going to buy only breads first but I was torn after finding donuts and muffins as well.
Asked the staff and he told me salt bread is popular for bread and doughnut and muffin are also popular.
Yes, I'll buy all what he told me!
Salt bread had 2 types; Setouchi Lemon and Edomae Soy sauce.
It's rare to use soy sauce for salt bread, so I decided to buy Edomae Soy sauce!
Doughnut had 4 types; Cinamon Sugar, Wheat Blan, Plain and Soy Caramel Almond.
I decided to buy simple one, Plain.
Muffin had 2 types; Banana & Nuts and Matcha.
It looked like there was Berry & Choco usually but I couldn't find it so it might have been sold out.
I like Matcha that I chose Matcha for muffin!
Take Out Vegan Breads, Doughnut and Muffin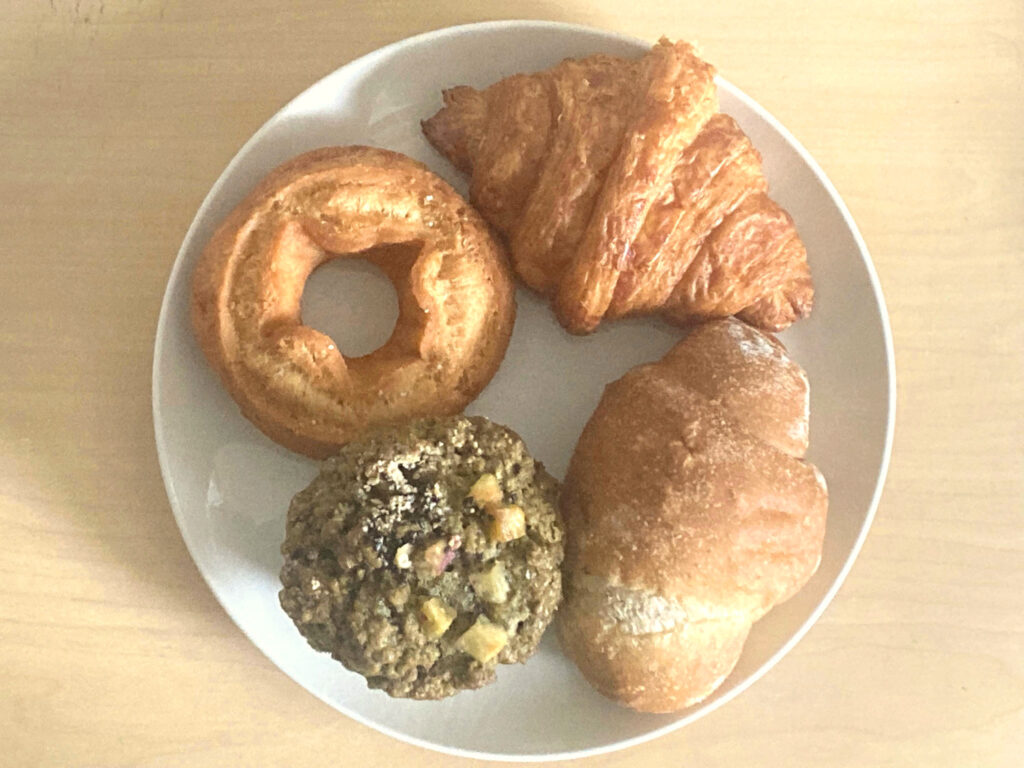 So I brought back Croissant, Salt Bread Edomae Soy sauce, Old-fashioned Doughnut and Green Tea Muffin home.
Actually, I was wondering if I should have eaten at the table outside in front of the shop but the tables were full and it was a bit cold outside that I took them out!
Coissant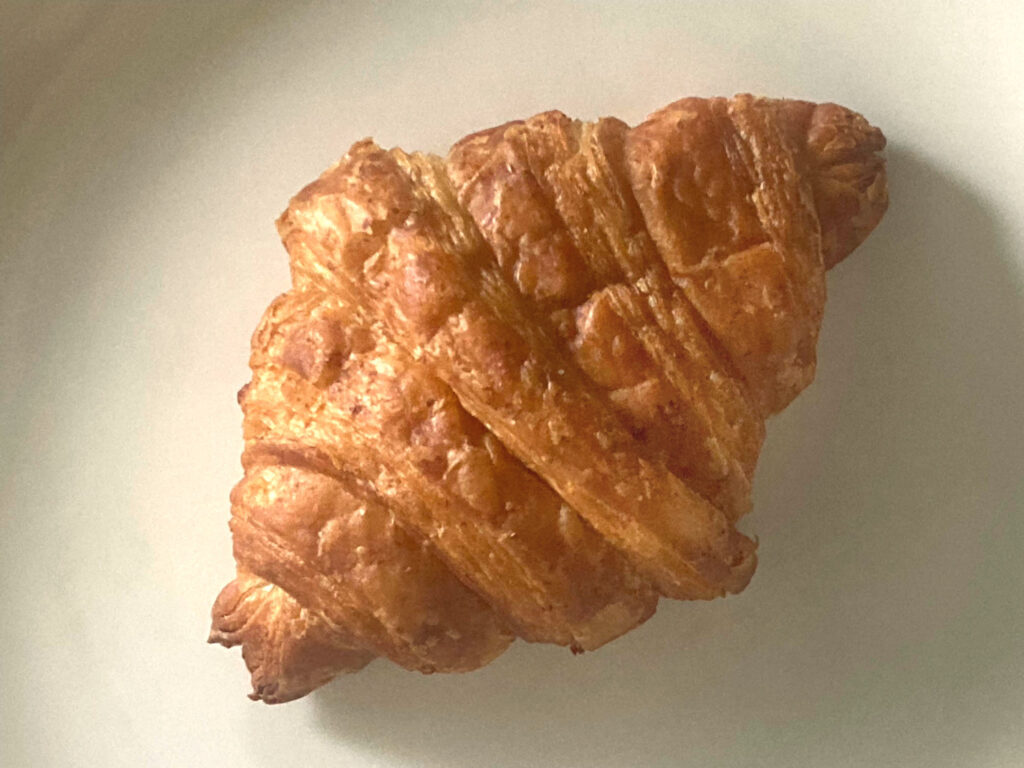 Coissant is one of my favorite, so I bought this bread.
Price is about $3 (380 yen).
The taste is, croissant!
Sorry, this just a straight review.
Not such a special croissant but an ordinary tasty croissant which you can enjoy the taste of wheat.
It's great that they can create same taste and texture of croissant without using butter or egg.
Salt Bread (Edomae soy sauce)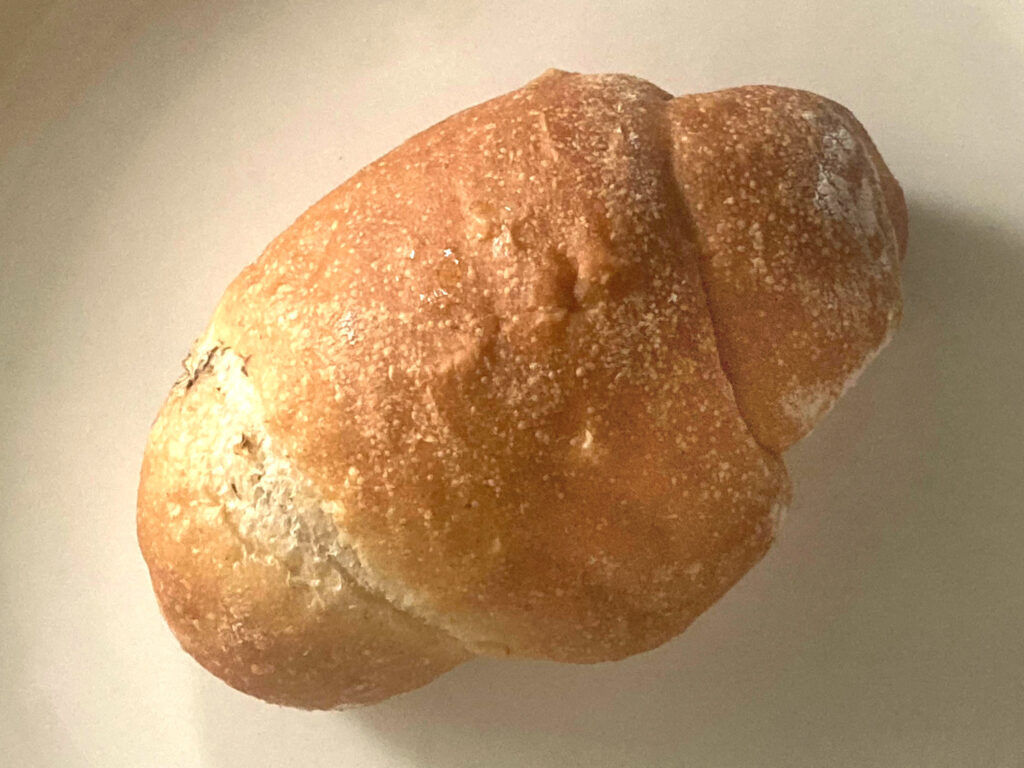 The staff told me Salt Bread is popular that I bought this bread.
The price is about $2.5 (340 yen).
Actually, Salt Bread is sold often at some Japanese bakeries but I've never heard of soy sauce flavor.
I ate it and this was very tasty!
I could enjoy the taste and aroma of soy sauce!
Tear off a piece of bread to find paste of seaweed was mixed into the bread.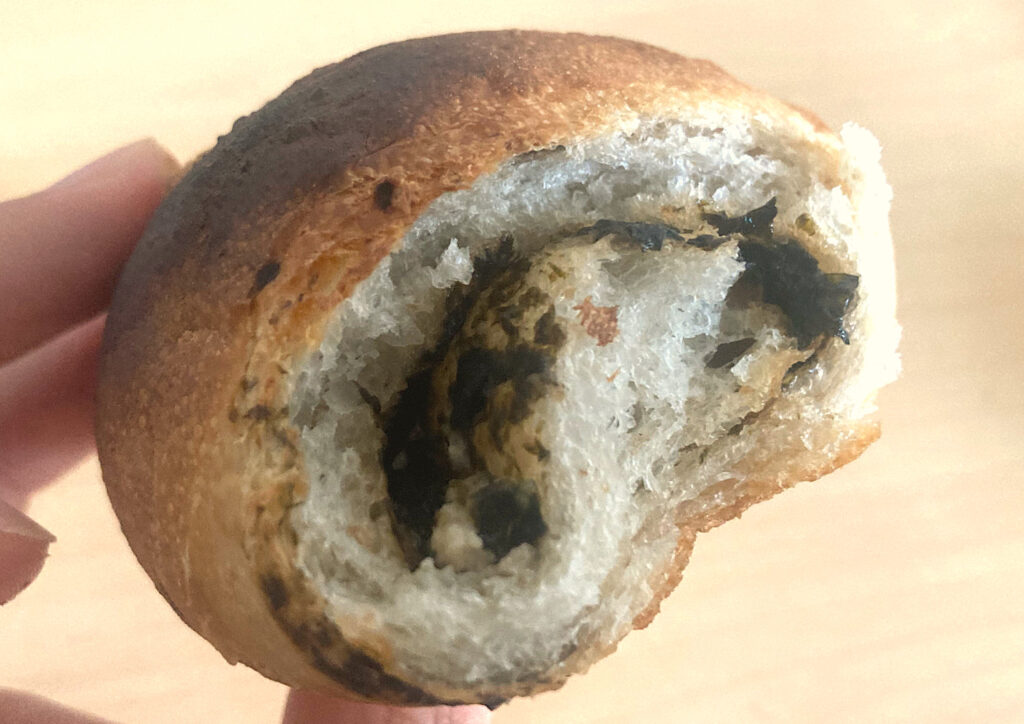 Before eating, I thought it would be a bread I could enjoy light taste of soy sauce but I could enjoy strong taste of seaweed and aroma in the end.
Bread I felt I wanted to buy again.
Old-fashioned Doughnut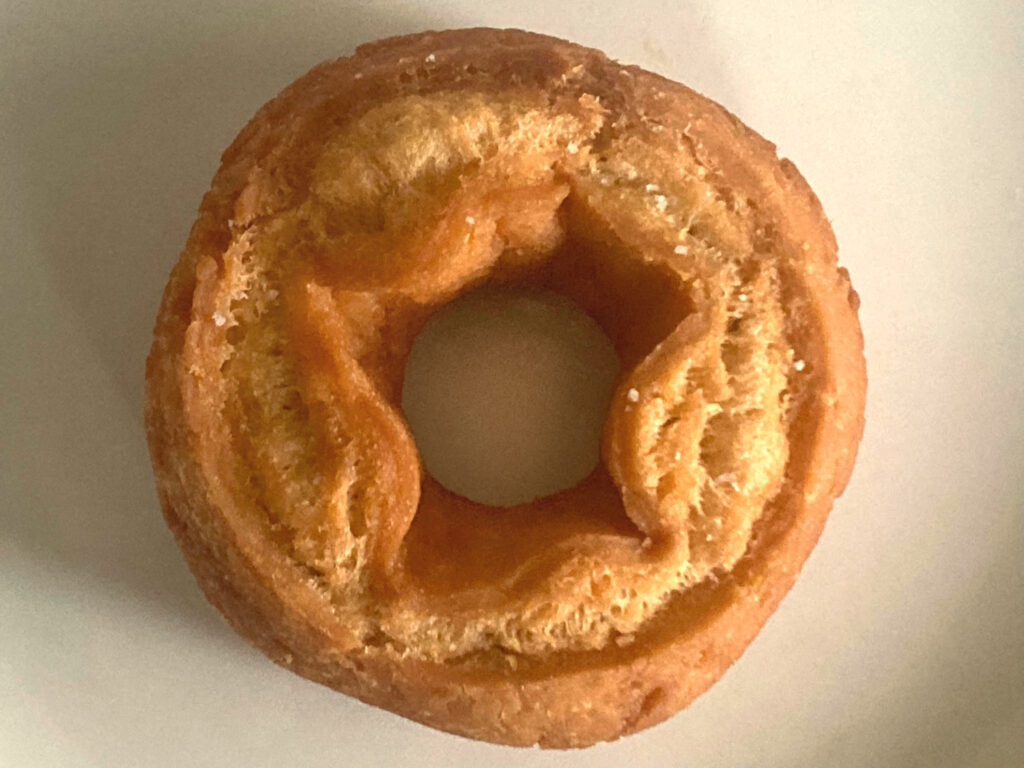 I think there are many people who like Old-fashioned Doughnut.
Traditional simple doughnut!
It is a doughnut made from whole wheat flour.
The price was about $3 (380 yen).
Surface was crispy, inside chewy like an ordinary doughnut.
My image of old-fashioned doughnut is very sweet but this doughnut was not so sweet.
Instead of less sweetness, I could enjoy the simple taste of whole wheat fully and I like it.
Muffin (Matcha)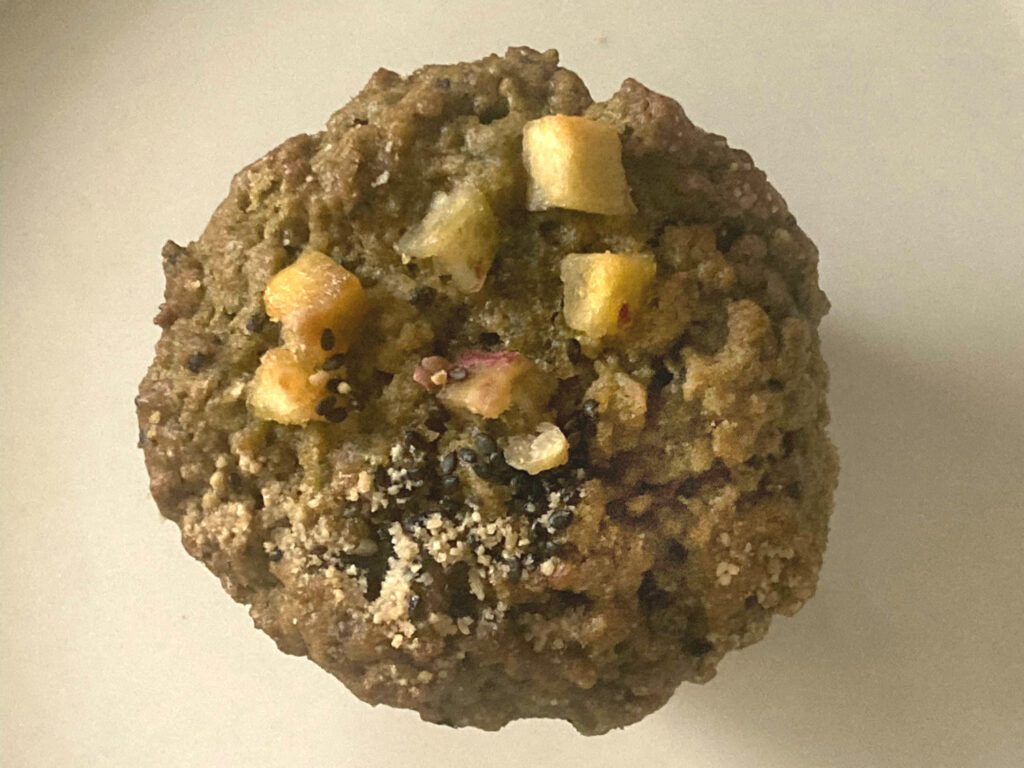 For Muffin, I bought Matcha Flavor Muffin.
Price is about $3.5 (480 yen).
Muffin with black sesame and diced sweet potato on the top.
It looked much bigger than I first saw it at the shop.
I think 1.5 times bigger than an ordinary Japanese muffin .
The taste was really good!
Without butter and egg, same taste and texture of muffin are created!
What made me surprise above all was white bean paste inside of the bread!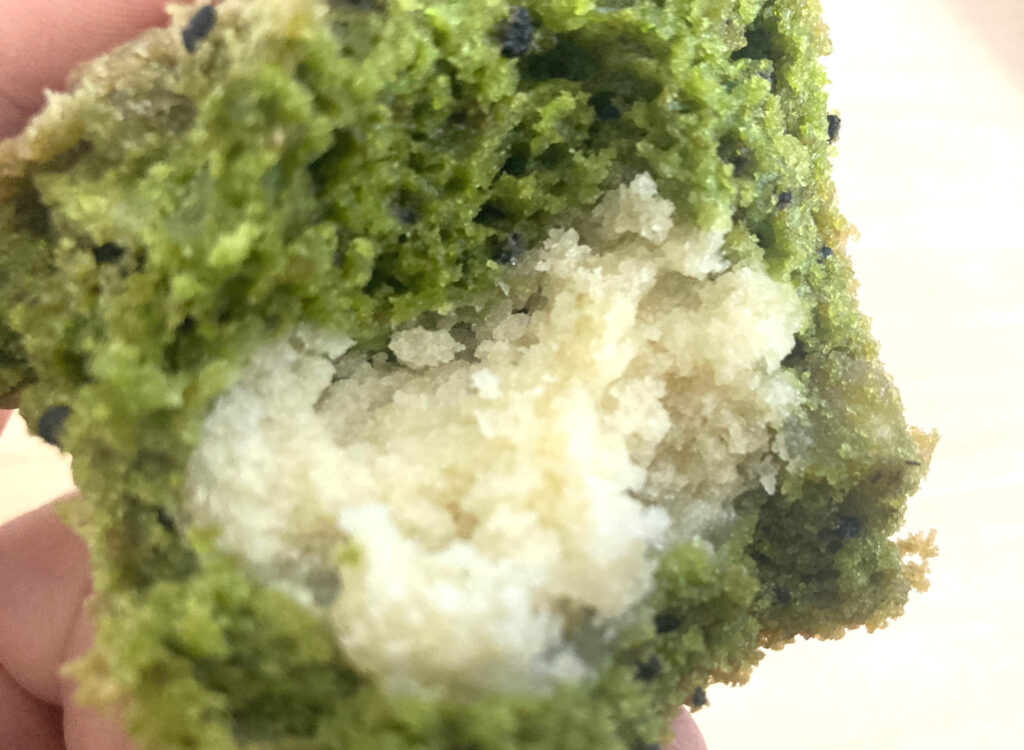 This white bean paste match well with matcha dough and very tasty!
It was also substantial and I was very satisfied.
I would buy it again when I visit the bakery!
Summary
Breads of Universal Bakes Nicome were all tasty!
The staff was also polite and kind.
Among the breads I bought this time, Salt Bread Edomame Soy sauce and Matcha Muffin were especially tasty!
I think no one notices these breads are made 100% with vegetables if they are not told so in advance.
Vegan bread evolved this far, doesn't it!
I'm going to visit this bakery if I have a chance to visit Shimokitazawa again!