Vegan Menu Vegetarian Menu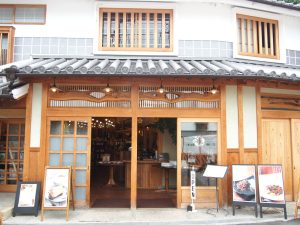 This place is not in Tokyo but in Okayama Prefecture.
But it was very good organic & vegan cafe so I introduce here.
Visit Café Nature
While walking to Bikan Area, which is tourist spot in Kurashiki City, I found stylish, quaint cafe ahead!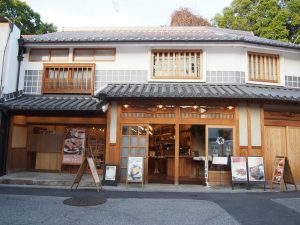 I check the menu in front of the shop.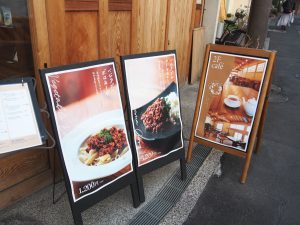 Vegetable Bolognese and Vegetable Keema Curry.
There was a explanation of the food, which says "Using nabural and organically grown vegetables~" on the bottom of the menu.
Vegan Mark on the next to Vegetable Bolognese, too.
Yes, I've decided to have meal here!
But now I'm full so tomorrow I'll come.
And the next day!
Visiting the shop again and found that 2nd floor is the cafe.
1st floor was a shop which sells things focused on organic foods and products.
And the room was very large with a variety of items, I was surprised at the space.
I should have taken a picture.
Waking up to the 2nd floor and here was also large! Σ(゚Д゚)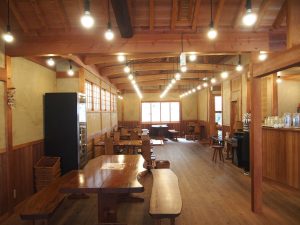 Looks like I'm the only customer.
It's before lunch time so people might come around 12 O'clock.
Ordering Vegan Menu
"Have a seat anywhere you like"
Waitress told me that literally I had a seat at anywhere I like.
I sat at the table for six people!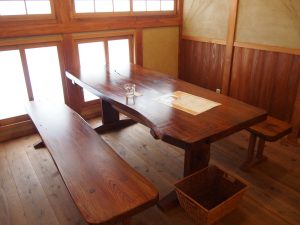 Still no one around and I thought this is the best position to take a picture.
Anyway this is great table.
Is it OK to use this table all to myself? though I've already sat here.
I might have sat at table for two people, I came to feel like that.
Anyway I decided to check the menu.
Main menu for foods are Vegetable Bolognese and Vegetable Keema Curry.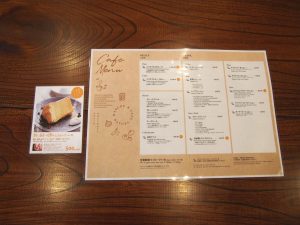 Both of them have vegan mark.
On the bottom of the menu, following note was written.
"The menus with this mark (vegan mark) are not including animal products such as meat, fish, dairy products, egg, etc."
I'm curious about both meals but I've never tried Vegan Bolognese so I decided to order Vegetable Bolognese.
"Vegetable Bolognese, Vegetable Keema Curry and Soy Milk Ice Cream are popular and many people order"
The waitress told me that I also ordered Soy Milk Ice Cream.
I'm also curious about this Chiffon Cake made using egg of hen that grown outside the cage freely.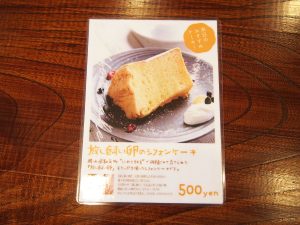 While waiting, I took a picture of inside.
Again, this is large room!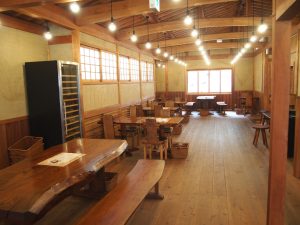 This table seats also look great!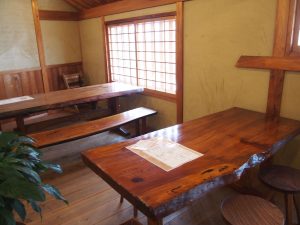 I could see socket on the wall.
It's nice we can charge battery here.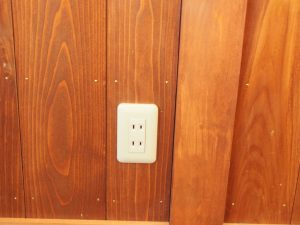 Just sitting and calms me down.
"This shop opened last year"
She told me.
And I also found that this place was cafe called Organic Cafe soil before and it was refurbished to make Café Nature in 2018.
"Do you want to take a picture of here? I'm go outside now"
She was kind enough to pay me attention and I felt like I'm sorry for disturbing her job.
This is the counter I took and there were 2 seats so you might be able to have a meal here, too.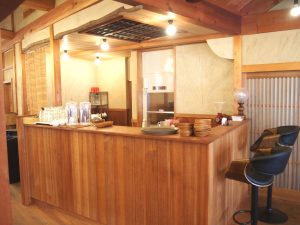 Vegetable Bolognese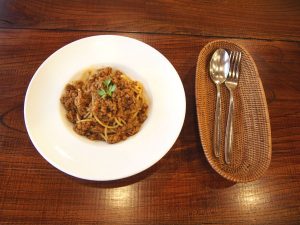 Waited a little while and here Vegetable Bolognese came.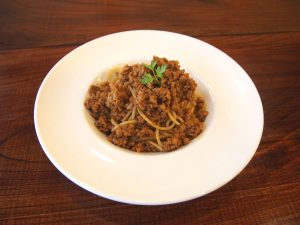 The look is ordinary Bolognese but all made from vegetable ingredients.
Seems like soy meat is used instead of real meat.
OK, Itadakimasu!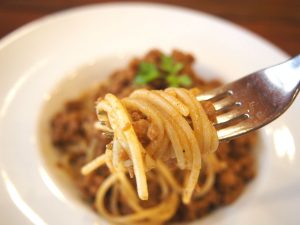 The taste was good!
The texture of soy meat is very close to that of real meat I felt.
But the taste itself is certainly not like real meat although I myself can not explain the details.
I checked the menu again to notice a note saying "Avocado oil used" on it.
Avocado oil, first time for me to hear, that's rare!
Bolognese tasted good but I felt like it might have been deeper taste if sour taste like tomato, although they've already added it, then a bit stronger sourness), or something else added.
Soy Milk Ice Cream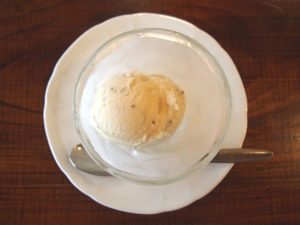 What arrived after the meal is Soy Milk Ice Cream.
This is ice cream made from organic soy milk, chia seeds and coconut milk.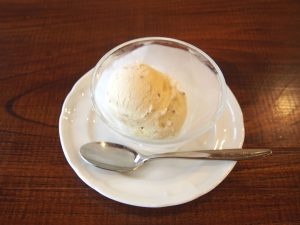 Organic soy milk, chia seeds, quality and rare ingredients are used.
Chia seeds became popular as a super food about 5 years ago here in Japan.
Now I gonna try, well but this ice cream is harder than I expected.
How can I say it, anyway it does not accept my spoon.
I'm sure it would fly away from the glass like anime if I keep trying hard.
Even for ordinary ice cream I do that kind of thing so I'm for sure the ending.
So I decide to wait.
I tried again when I felt the melting of ice cream.
It was still a bit hard but I could scoop it
Taste was, very good!!
No peculiar strong taste which is unique to soy milk and texture of chia seeds become a good accent!
I understand this ice cream is popular.
Recommended dessert after the main meal.
Summary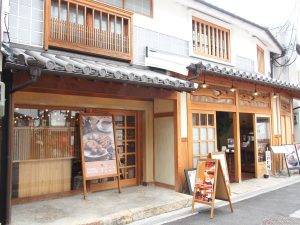 Staff, atmosphere and cuisine, all of them are very good for this cafe.
I would have been a frequent customer if I lived in Kurashiki city in Okayama Prefecture.
This place is not in Tokyo but in Okayama still I highly recommend you the cafe if you have a chance to visit Kurashiki city of Okayama Prefecture.
You can also buy organic foods from organic vegetables to sweets on the 1st floor!
Google Map of Café Nature