Vegan & Vegetarian and Organic Items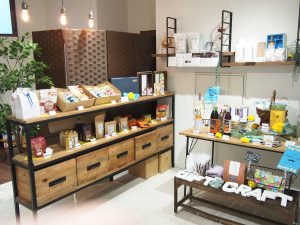 This place is not cafe or restaurant but I picked up as it also handles vegan or vegetarian items along with organic products.
I also interviewed the owner Ms. Naomi Shiambukuro so I introduce the reason why she started the shop here along with some vegan or vegetarian items.
Interviewed owner about the reason of opening the store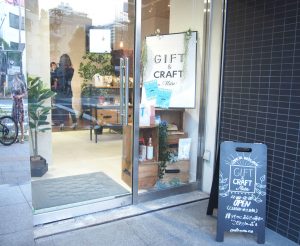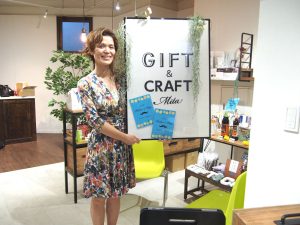 I've been running this shop since last year and small things motivated me to start the shop.
From the first, I was interested in organic and healthy things.
And I felt I really want to use good things in a real meaning when I got pregnant and had a dear baby in me.
That's the start.
When I think about things from the detergent to something to eat, including cosmetics to apply on and all of them go to baby, I felt I really want to use good things from the heart.
I had been working part-time at a store (she told me it was a shop that handles organic & natural things) when I was in university that to own my shop was a dream since then.
I've worked for an ordinary company before and was going to keep working there first.
But I met an executive one day and aimed to be an owner of shop.
I decided to make my shop without thought of gain, it's a kind of spur of the moment!
I've been living here in Mita Ward for 6 years but no shops where I can buy healthy things found here.
There are many mothers who want to use good things if all the things go to baby in the end.
There are also businessmen who want to buy a little bit good things but no place to buy such things here.
I myself also thought like "It is great if there are shops like Seijo Ishi or Natural House (they are shops that handle organic or natural things) around here" as one of the residents living in here.
I thought it would be great if I could make such a shop in this area, that was also a trigger.
That's why I attached "Mita" to the name of the shop.
Featured Items including for Vegan and Vegetarian
From here, I introduce goods vegan or vegetarian people can also enjoy.
Gift Set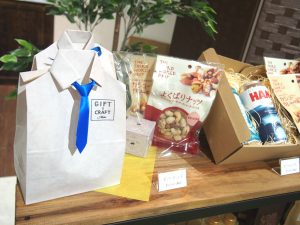 Its package is stylish!
It wears tie!
Personally, what I paid attention to were beers of Gift Set B & C.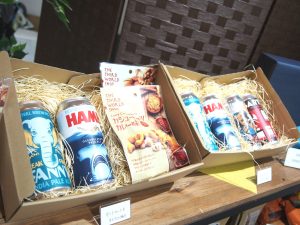 They are beers of "REVIVAL BREWING".
The beers are made in Rhode Island, East Coast of the United States.
Husband of the owner visited on the spot in Rhode Island to check the beers!
It's not like an organic beer but an additive‐free beer.
Just about 1 thousand beers for each brands made per month and they are distributed just among 3 states (Rhode Island, Massachusetts and Connecticut) in US.
It has a good reputation locally for its rarity value.
They say they focus on the taste in particular.
Actually I don't drink beer very much but was interested in it.
・Gift Set A : terrine & 2 types of nuts
・Gift Set B : 2 beers & 2 types of nuts
・Gift Set C : 4 beers
It might make a good gift for Father's Day!
SUPER FOOD BAR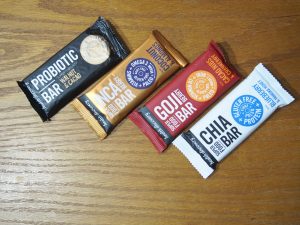 It looks like future's foods to me!
This SUPER FOOD BAR is made in New Zeland.
Literally, it includes super foods such as goji berry, chia seeds, etc. in the bars.
No additives, wheat and dairy products included.
So vegan, vegetarian and those who have allergy to gluten can enjoy it.
For the taste, yes, I myself had PROBIOTIC BAR and it tasted very good!
Filled with various nuts inside the bar!
Followings are 4 types of SUPER FOOD BAR.
・INKA BERRY BAR : coconuts and almond
・GOJI BERRY BAR : cacao nib and cranberry
・CHIA BAR : blueberry and manuka honey
・PROBIOTIC BAR : walnut and cacao
Brown Rice had a dream (Genmai ga Yume wo Mita)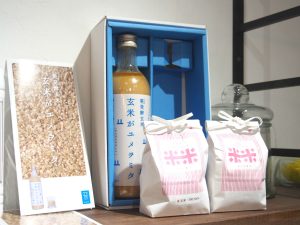 This Brown Rice had a dream is non-alcoholic sweet brown rice sake.
I like the naming!
Ingredients are very simple, just brown rice and malted rice.
For the brown rice, Koshihikari Amore made in Ishikawa Prefecture applying sustainable farming method without fertilizers or chemicals is used.
The farming method uses matured compost made by the force of microbes in the field.
I like sweet rice sake but some people do not like it.
Because of the thick texture and its unique sweetness.
As for this brown rice sweet sake, they say it is more like smooth texture and natural sweetness.
You can drink directly but adding it to cuisine or smoothie and yogurt is also recommended they say.
GRON PANCAKE MIX AND PROTEIN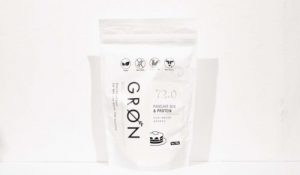 (I quoted the picture from the online shop as I forgot to take a picture)
To people who want to take protein and look for gluten-free or vegan & vegetarian pancake mix, this GRON PANCAKE MIX AND PROTEIN is recommended.
Rice powder and soy protein made in Japan are mixed in this pancake mix.
Followings are all the ingredients used in the item.
・Rice powder (Domestic)
・Isolated soy protein (non-GM)
・Beet non-centrifugal Sugar
・Cane Sugar
・Baking Powder (no aluminum included)
No gluten, dairy products and eggs that vegan, vegetarian and people who care about gluten-free foods can also enjoy it.
You can get 72 g of protein per 1 package 227 g (2 servings).
As it is a pancake, from adult to child can enjoy like having sweets while taking in protein.
GRON PROTEIN BLEND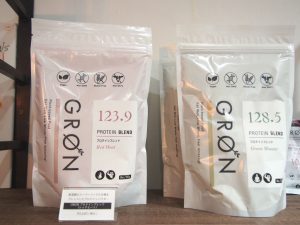 This is also a product of GRON but focusing on protein.
It's Protein blend powder added sweet rice sake to it.
There are 2 types, Red Heat and Green Monster.
For Red Heat, it is made from 3 types of root vegetables (Maka, beets and yams), goji berry and sweet rice sake.
Followings are ingredients.
・Isolated soy protein (non-GM)
・Rice powder (Domestic)
・Sweet rice sake
・Goji Berry
・Maka
・Beets
・Yam
・Beet non-centrifugal Sugar
For Green Monster, it is made from 4 types of green super foods (mugwort, shell ginger, Sasa veitchii and spirulina) and sweet rice sake.
Followings are ingredients.
・Isolated soy protein (non-GM)
・Rice powder (Domestic)
・Sweet rice sake
・Mugwort
・Shell Ginger
・Sasa Veitchii
・Spirulina
・Beet non-centrifugal Sugar
You can get 11 g of protein per serving (20 g) from both of them.
NET is 227 g so it'll last for 11 days.
People who pay attention to healthy diet or exercise can take protein easily just adding it to drinks.
Maple Almond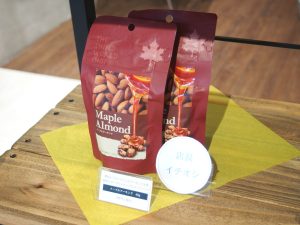 "Store manager recommends", found the note so I picked up.
The almond used in this Maple Almond is internationally certified as an organic.
The ingredients are just almond, maple syrup and salt, simple.
No sugar, oil and chemicals are used.
Coating process of maple syrup is made by hands of confectioners.
It's an exclusive almond, isn't it!
For those who care about cholesterol and have sweet tooth but want to cut down sugar, this Maple Almond is recommended!
Pot of Curry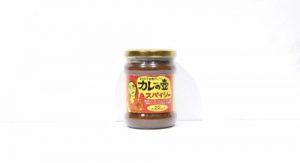 (I quoted the picture from the online shop as I forgot to take a picture)
I often see this Pot of Curry at an organic shop!
This is curry paste of fair trade of the Third World Shop (Daisan Sekai Shop).
No chemicals, additives, animal products and wheat are used.
The Third World Shop had a cafe in Meguro Ward about 15 years ago (no cafe there now) but I think I bought this Pot of Curry there or at the other shop.
The taste was very good!
It was, how can I say it, authentic curry taste mixed with spices.
Actually the spices are made by farmers in Sri Lanka.
I had also once been making curry from the first by mixing several spices such as garam masala, saffron, cumin, etc. but you can make it with this Pot of Curry without trouble.
And the taste is authentic!
There are 3 types for this Pot of Curry, Mild (Extra Mild), Medium (Regular) and Spicy (Hot).
You can buy Spicy one at this shop.
HUMBLE BRUSH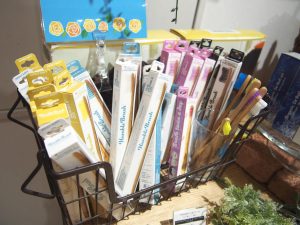 Toothbrush made in Sweden is this HUMBLE BRUSH.
Toothbrush made under the instruction and supervision of dentist.
Bamboo is used for the handle instead of plastic and its biodegradability is 100%.
It must be difficult for the bristles being biodegradable, I thought.
But it was not, even the bristles, they paid fully attention.
For the bristles, they use "Nylon 6", which is the nylon most biodegradable in the world.
With time, it is disassembled and processed through culvert.
As the bristles don't include BPA, which is known as a noxious chemical, child can also use the toothbrush in safe.
Even the package is all made from plants, 100 % recyclable.
This was first time for me to see such a toothbrush paid well attention to the details from the functionality to safety and global environment.
Nuku Nuku's Rice Bran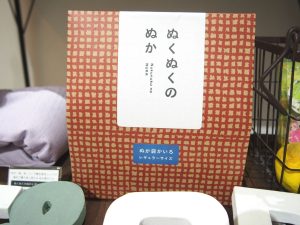 This Nuku Nuku's Rice Bran is a body warmer of rice bran.
You can use it repeatedly by heating it in a microwave oven.
The rice brown used for it is Koshihikari Amore which I mentioned above.
Rice brown made from sustainable farming, isn't it!
In using it, it seems like you are surrounded by the smell of rice bran and aroma of herb.
As it's a body warmer, I thought only in Winter I can use but looks like even in Summer I can use it by cooling down.
They say it is used in the mid Summer and to prevent heatstroke, too.
It is a body warmer you can use through 4 seasons according to the situation.
Summary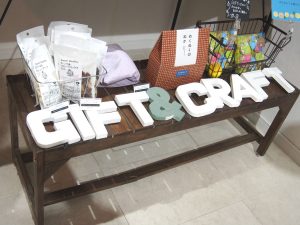 The owner told me, she focuses on handling "a little better items than usual".
That means, it's not just for rich people but also ordinary people can come and buy the items at her store.
That's GIFT & CRAFT Mita.
Through the interview, I felt a connection of the shop not only with its customers but also with other local shops here.
To find such a connection is rare in Tokyo although I felt the connection in Kunitachi city when I walked around.
If you have a chance to come visit around Shinagawa area, come visit GIFT & CRAFT Mita.
You can find various kinds of goods other than I introduced here!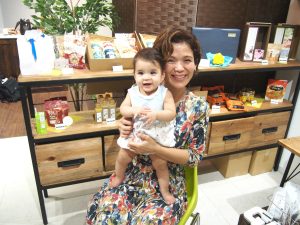 Owner and her baby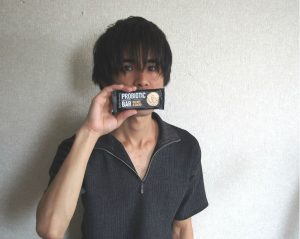 Interviewed and Written by Hiroshi, manager of this website
Google Map of GIFT & CRAFT Mita