Non-Vegetarian Menu Vegan Menu Vegetarian Menu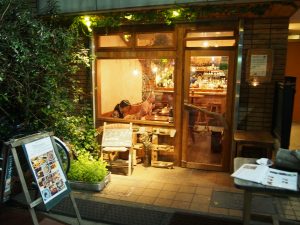 Address 
2-12-5 Takadanobaba, Shinjuku-ku, Tokyo
Google Map: https://goo.gl/maps/354tuCF54ebz8nva9
Access
Takadanobaba Station (JR Yamanote Line)
Tel
03-6265-9482 (+81-3-6265-9482)
Seats
20 Seats
Opening Hours
17:30 – 23:00 (Last Order : 22:00)(Tuesday to Friday)
12:00 – 23:00 (Last Order : 22:00)(Saturday and Sunday)
Shop Holidays
Monday (As they sometimes go on a trip so please check details on website
Website  
http://chikyu-tabi-cafe.com/
YouTube
https://youtu.be/48A64eMO01g
If you like journey, I recommend this Chikyu wo Tabisuru CAFE。
Chikyu means earth and Tabisuru means travelling in Japanese.
That is, Travelling Earth Cafe.
From the name, I feel like it's attracting travelers.
This cafe is not just for vegan or vegetarian but it also has tasty vegan and vegetarian foods on the menu.
Visited Chikyu wo Tabisuru CAFE
Married couple run Chikyu wo Tabisuru CAFE.
They say they met each other during their travel abroad.
The owner says she traveled over 70 countries, that's a lot!
The foods offered at the cafe is mainly organic and it also includes fair trade coffee.
There are many menus for vegetarian and vegan.
For sweets, they are macrobiotic style, so no white sugar, egg, dairy products or animal products are included.
By the way, I've been to the cafe with friends, one of friends had an allergy to gluten and there are a few of gluten-free foods here. (but they are not dishes made focusing just on gluten-free).
For African samosa, 10% of the profit is donated to Uganda in Africa, they say.
Dinner at Chikyu wo Tabisuru CAFE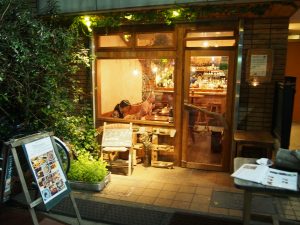 Here I am!
Looks Kawaii cafe with a natural atmosphere!
The name Chikyu wo Tabisuru CAFE is the perfect match!
There is a menu on the table in front of the cafe and all of them look good.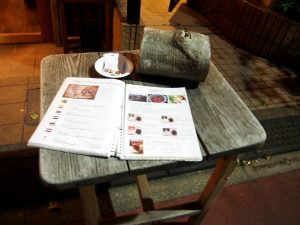 There are about 20 seats inside.
Table seats, counter table seats and bar table seats that I can see at British Hub.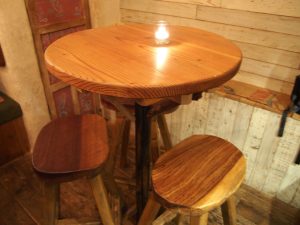 Waitress guided us to the bar table.
3 people could seat, so we, three of us, were just fit!
I'm wondering which menu I should order as there are various dishes.
There are guacamole & chips, African samosa, deep-fried soy meat, etc.
Friends ordered spiced stew of chicken and potato.
After giving a deep thought, I ordered Mexican quesadilla.
"No1", it said, so I was attracted.
They say they can remove cheese inside for vegetarians or vegans.
We also ordered ajillo of mushrooms to share.
By the way, it's a stylish atmosphere!
I like the atmosphere inside very much, it relaxes me.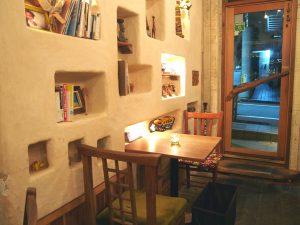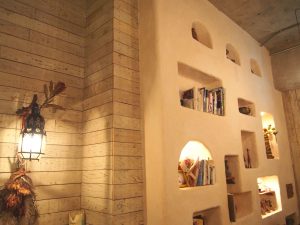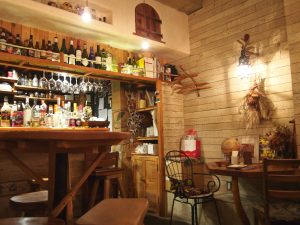 Interior is made mainly by the owners.
More than 90% of the interior is made of natural ingredients, they say!
I was wondering what this place was, which people were coming in and out sometimes.
Later, I knew it was a bathroom.
It was pretty like the house for hobbits.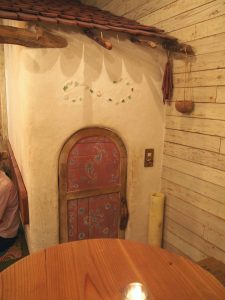 Ahijo of mushrooms were very hot!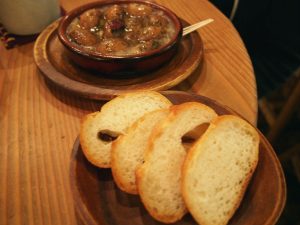 Waited for a while and here ahijo of mushrooms came.
Simmering!
So I'll definitely burn my tongue if I try it in one bite!!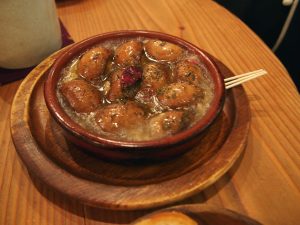 But sooner is better for this kind of hot food!
So I eat it while blowing on it to cool it down.
Very hot, but very tasty!!
Mushroom was thick!
Dip baguette into simmering olive oil and it tastes good!
Next, spiced stew, which my friends ordered came.
This stew was also simmering.
Looks like simmering dishes are the point of this cafe.
Homemade Mexican quesadilla is tasty!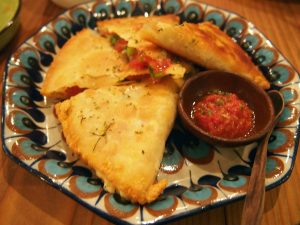 And here my order Mexican quesadilla came!
"Enjoy while it's hot"
The waitress told me.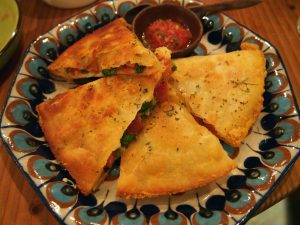 It was certainly very hot!
Not only pod dishes but other dish was also hot!
But this Mexican quesadilla is crispy for its skin and tastes good!
This is certainly the homemade quesadilla!
Pouring tomato chili sauce adds spicy taste to the dish!
African samosa is also recommended!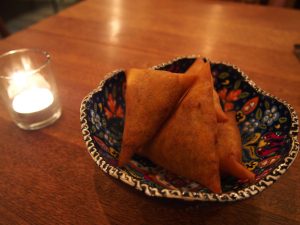 Not this time but on the other day I came here alone and had this African samosa!
Samosa is a traditional cuisine in India, isn't it!
Insides are mushed potatoes and onions, etc.
I ordered with a maple & organic soy milk tea!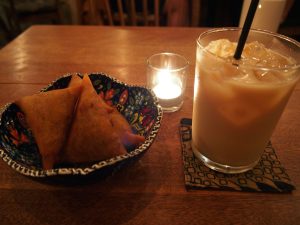 This African samosa was also very hot!
And their skins were thin and crispy!
I've had samosa several times before but their skins were basically thick.
So this type of samosa with thin skin is first time to me.
Is is because of African ver. samosa?
Anyway I like the crispy texture!
They say 10% of the profit is donated to Uganda in Africa if you order this samosa.
Maple & organic soy milk tea was not too sweet and I like it, too!
Ordering okara cake of black soy beans and matcha as a dessert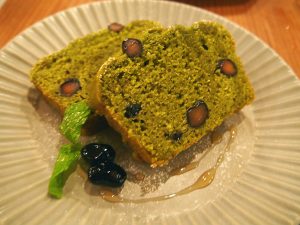 Order a dessert after a meal.
All the sweets are made based on macrobiotic without white sugar, egg, dairy products or any animal products, so vegan can enjoy desserts, too.
There are sweets such as tofu cheese cake, apple cinnamon, etc.
As all looked good, I was torn to choose the one from the menu.
Finally, I decided to order "Okara cake of black beans and match".
"What is Okara?"
Swedish friend asked me and that made me wonder like "yeah, I also do not know what is the word for Okara in English"
Owner was right next to us receiving my order and she also thought together saying
"I wonder what is Okara in English"
In the end, I checked on the phone and it said "Soy Pulp"
"I see"
All of us there agreed.
I've learned something knew.
Then here it came!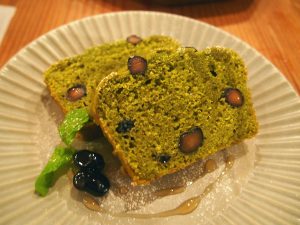 Take a bite, yes, I can taste flavor of okara, somehow it is a familiar taste!
I can taste Kinako (roasted soybean flour).
Black soybeans were big and tasty, too!
Summary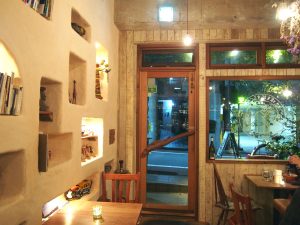 Looks like this cafe opened over 4 years ago.
Why I did not know this cafe until today!
Anyway, it was good I could come this time!
My friends also came to like this cafe and said "I'm gonna come here again".
Owner and the staffs were kind and friendly.
Not only at the cafe but also I called to ask information on gluten free menu before arriving and she told me to the details kindly.
She could speak English well so I think people from overseas also come to this cafe.
I did not need to translate each menus for my friends, thank you very much.
I rarely get off the train at Takadanobaba station but thanks to this cafe, I will get off sometimes from now on.
This is the cafe I want to recommend to those who like journey!
Not only ordinary people but also vegetarian and vegan people or those interested in macrobiotics can enjoy the meal here!
Google Map of Chikyu wo Tabisuru CAFE