Non-Vegetarian Menu Mexican Vegetarian Menu Mexican Vegan Menu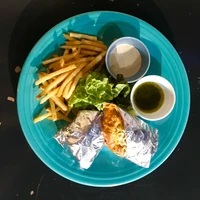 Address 
Oak Village B1F, 3-5-4, Udagawa-cyo, Shibuya-ku, Tokyo
Google Map : https://goo.gl/maps/t3dPYBnNSR6Xhsqj6
Access
Shibuya Station (JR Yamanote line)
Tel
050-3464-6461 (+81-50-3464-6461)
Seats
18 seats
Opening Hours
11:00 – 5:00 (AM 5:00)
Shop Holidays
Irregular Holidays
This is not a perfect vegan or vegetarian restaurant, but they serve vegan and vegetarian menus as well here.
If you like Mexican foods, this place is recommended.
Looks like they especially focus on Burrito.
Among a variety of Burrito, you can find vegan Burrito.
Of course, cheese inside is also a vegan cheese.
Combo set with potato, salad and drink is between $10 to $13 and would make you full.
They also use paper straw, so this is eco-friendly restaurant.
Good point is they open until 5 AM.
Even midnight, you can visit.
If you missed last train in Shiubya and felt hungry, come visit here.
It's about 10 minutes walk from Hachiko exit of Shibuya station.
Google Map of SHIBUYA HIDEOUT