Indian Vegetarian Menu Indian Vegan Menu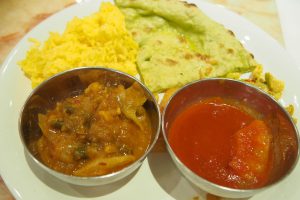 Address 
Iwamoto build.3F, 1-22-7, Jinnan, Shibuya-ku, Tokyo
Google Map : https://goo.gl/maps/Yi1fDFKk9dS2
Access
Shibuya Station (JR Yamanote line)
Tel
03-6416-9022 (+81-3-6416-9022)
Seats
60 seats
Opening Hours
11:30 – 15:00 (Lunch Time)
15:00 – 18:00 (Cafe Time)
17:00 – 23:00 (Last Order : 22:30)
Shop Holidays
New Year Holidays
Review
If you want to enjoy Indian vegetarian cuisine such as curry, naan, etc. here is the place for you.
They don't use any MSG for the foods and the vegetables are grown organically in their farms.
So what you can enjoy here are Eco-friendly Indian cuisines.
It took about 5 minutes from Shibuya station.
And the restaurant was 3rd floor.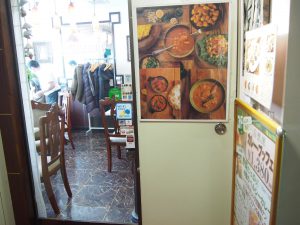 I could see menu at the entrance.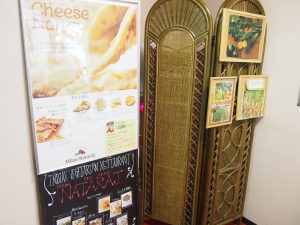 Inside was, yes, good space and there were some families from India.
Looked like this restaurant is famous among people from India.
There were also Japanese people.
Anyway I took a seat.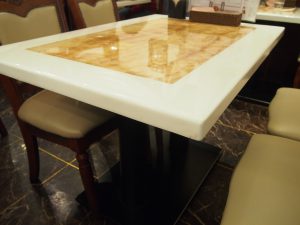 And checked the menu.
There were a variety of Indian menus but most people seemed like ordered buffet as long as I checked customers.
So I also decided to go for buffet and it was 1380 yen (About $12).
Reasonable price!
I asked if it was OK to take a picture of foods and room for my website when I ordered the menu.
She said OK and asked me to tell the website.
I was, of course, OK, rather happy to tell!
Back of the room you can find dishes.
There are 4 types of curries.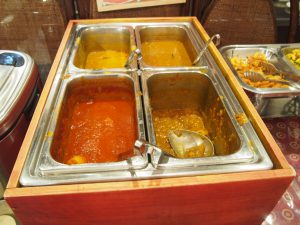 Found naan!
Oh, green color!
It was naan used Japanese spinach!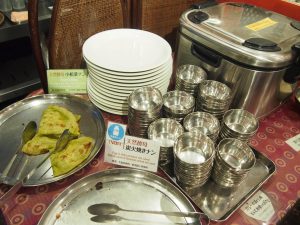 Side menu, too!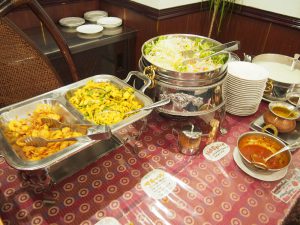 These were House-made dressings for salads, too.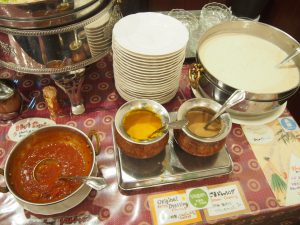 And came back to the table.
Looks good, isn't it!
I took 2 curries and these curries were also homemade from the spices.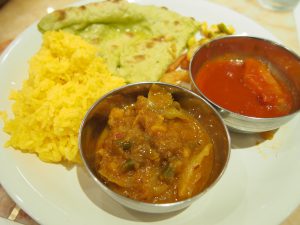 What is yellow thing?
Yes, there was also a big rice cooker and I found saffron rice inside.
I did not forget to take naan, too.
This is my first time to try naan of Japanese spinach.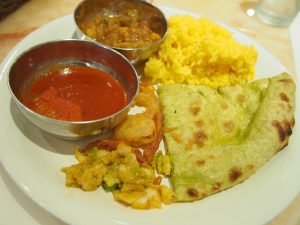 And the taste?
Yes, it was very good.
This naan is also homemade and to my surprise, made using natural yeast.
Naan of natural yeast, that's very rare!
For the curries, yes, this was not the curry of Japanese but of Indian.
So I could enjoy spices.
It might be a little bit hot for some people but not like very hot so I liked it.
Another curry was, yes, opposite, mild or sweet taste.
I could enjoy sweetness of vegetables.
That's good they prepare curries taking each people's taste into consideration.
Side dishes were also good taste.
I especially preferred fried onions.
It was sweet and tasty.
So I went for a second help!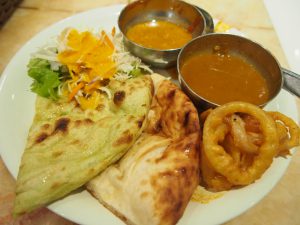 I eat too much? haha.
I found plain naan, too this time.
Fresh naan was really good taste!
For the curries, yes I tried different ones.
It was curry of dal.
This is curry of beans.
I've been to India before and this was the curry local people often enjoyed there.
This was also good taste and it reminds me of the dal soup I ate in India.
I took a picture of ceiling.
Beautiful lamps.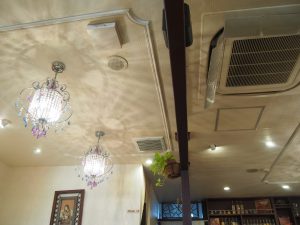 I've had enough!
It was good even 30th of December this restaurant was open while most vegetarian restaurants closed.
I also enjoyed talk a little bit with the waitress when I leave.
She was very friendly and told me come back here again.
I can say this restaurant is very good both for food and for hospitality.
Very recommended place if you want to enjoy Indian style vegetarian or vegan dishes.
This is chain restaurant so you can find this Nataraj in Ginza, Aoyama, Ogikubo, too.
Here are the links.
Google Map of Nataraj Shibuya