Vegan Sweets Vegan Cakes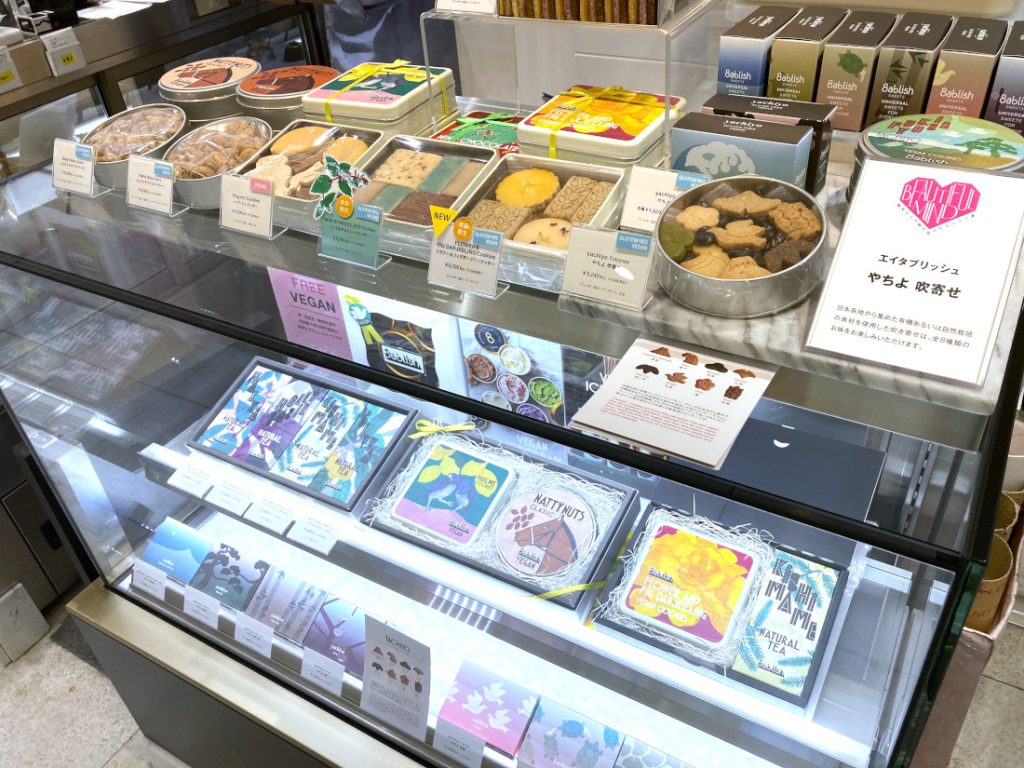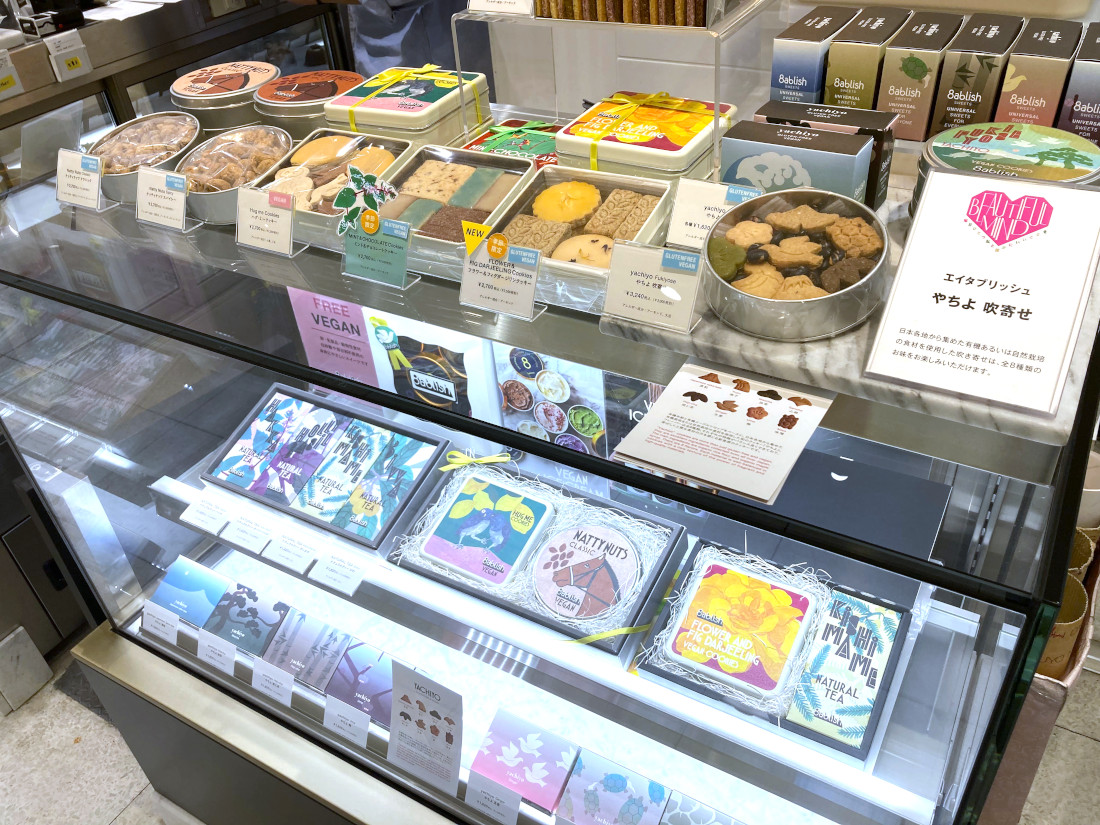 Address
B1, Matsuya Ginza, 3-6-1 Ginza, Chuo-ku, Tokyo
Google Map : https://g.page/matsuyaginza?share
Access
Ginza Station (Tokyo Metro)
Higashi Ginza Station (Tokyo Metro)
Ginza Ichome Station (Tokyo Metro)
Yurakucho Station (JR Yamanote Line)
Tel
03-3567-1211
Seats
No Seats
Opening Hours
10:00 – 20:00 (Monday-Saturday)
10:00 – 19:30 (Sunday, Holiday)
Shop Holidays
Irregular Holiday
Website
https://www.8ablish.com/
Went to 8ablish Ginza for for the first time in a year!
A variety of vegan sweets had been selling and I bought cake and muffin this time!
I took them out and enjoyed at home.
Access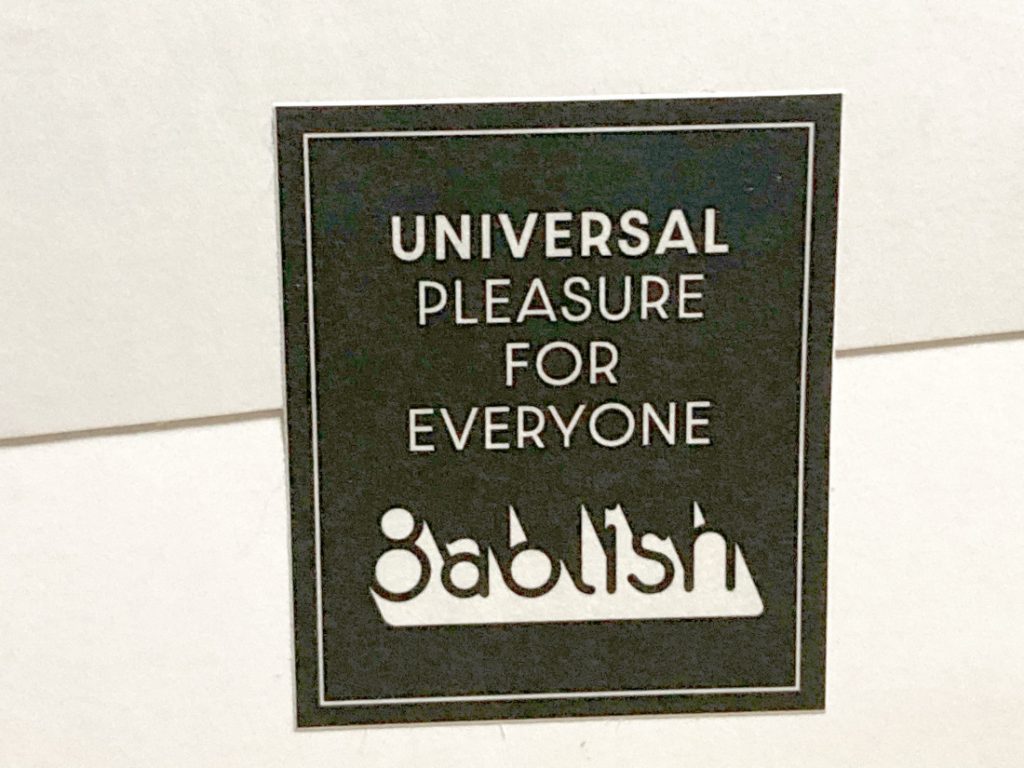 Closest station to 8ablish Ginza are Ginza, Ginza Icchome and Higashi Ginza Station.
Ginza Station is the closest station among them and you can get to Matsuya Ginza, in which 8ablish is located, from A12 Exit directly.
If you use either of Ginza Icchome or Higashi Ginza Station, go straight along the Ginza Chuo Street (National Route 15) and in 2 or 3 minutes you can arrive.
Even JR Yurakucho Station you can use and it takes about 10 minutes on foot to the shop.
Google Map of 8ablish Ginza
To 8abtlish Ginza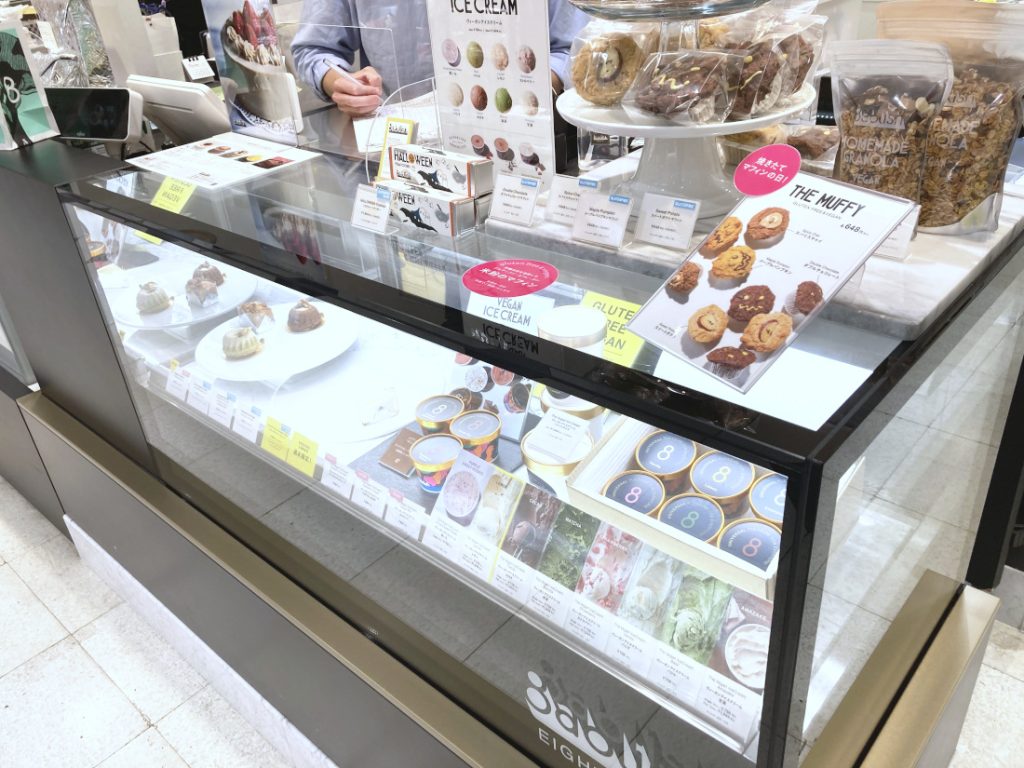 Went down to B1 floor of Matsuya Ginza in which 8ablish is in!
Variety of vegan and gluten-free sweets displayed in the glass showcase.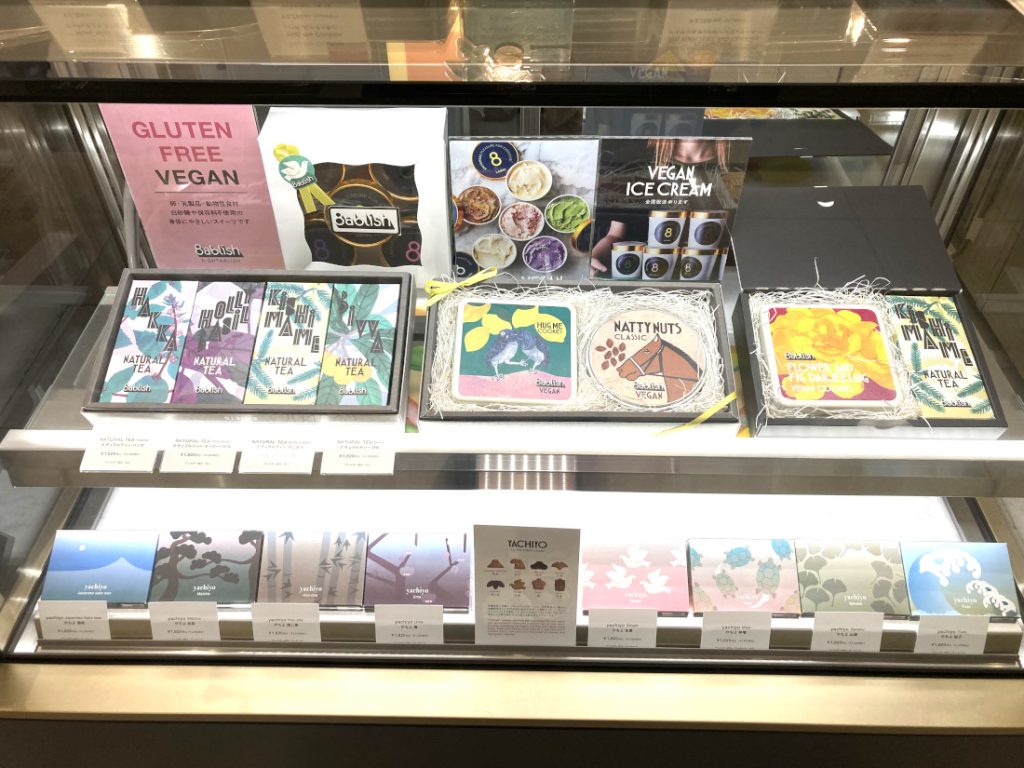 Cookies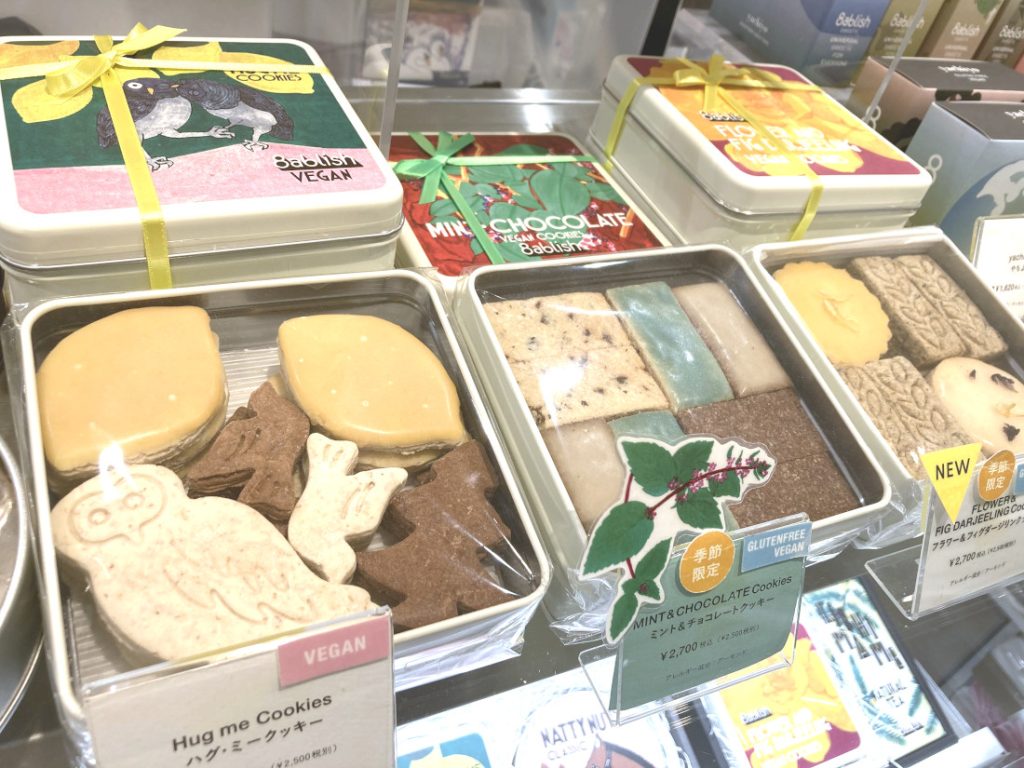 Ice creams!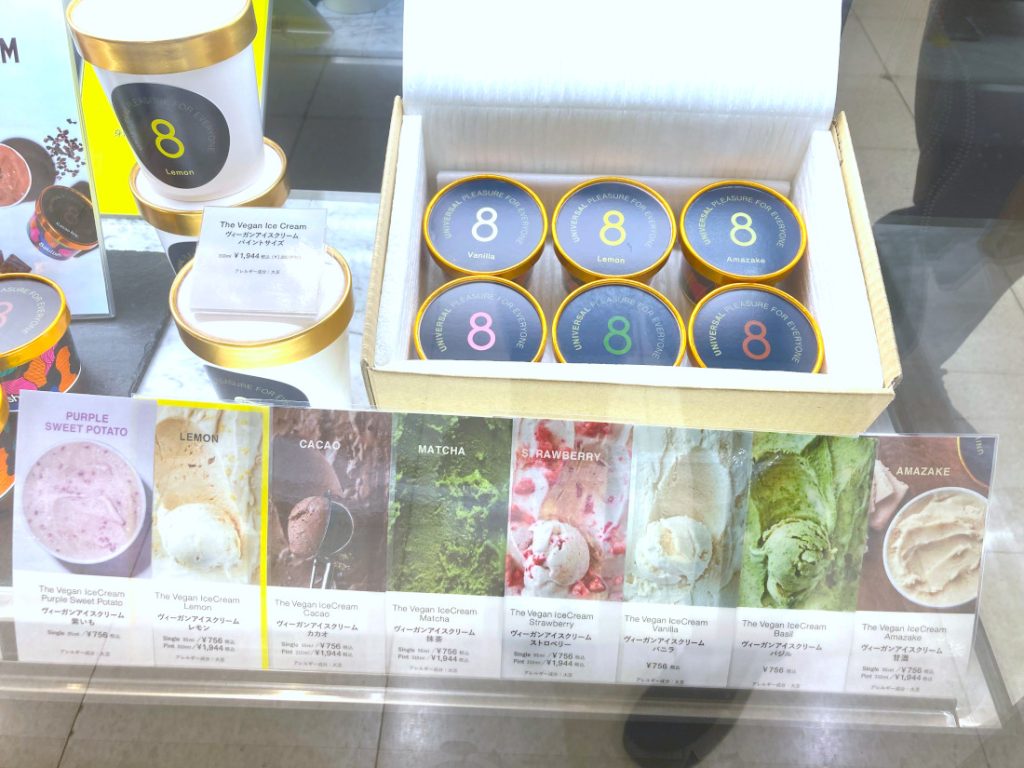 It's October, so Halloween-style muffins and cookies had been selling.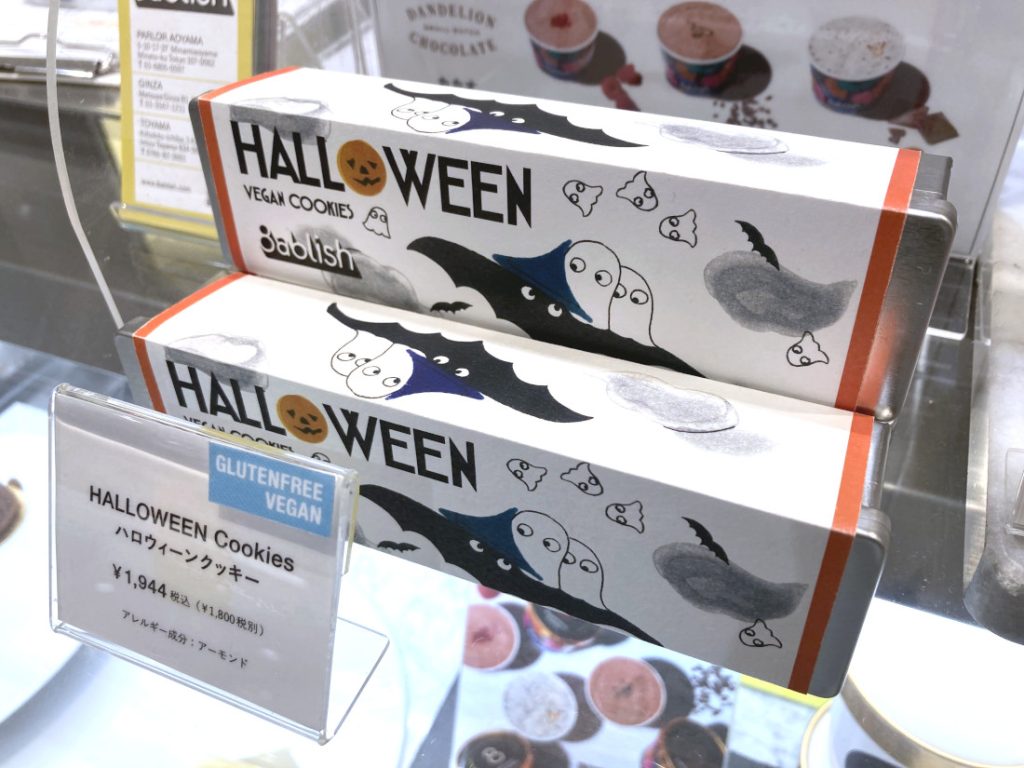 Asked the popular cake and the staff told me No-bake Cheese Cake was popular.
Oh, I see, it looks like the last one.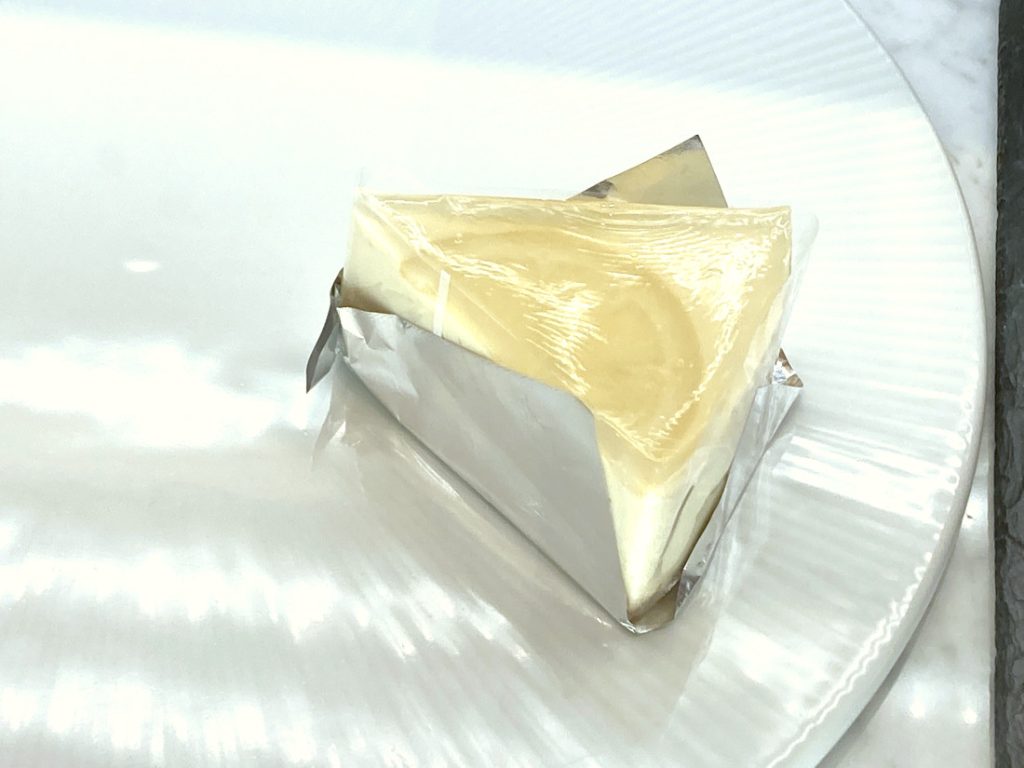 Cakes are sold on Friday, Saturday and Sunday, he told me.
Other than that, a few types of Kouglofs were also sold.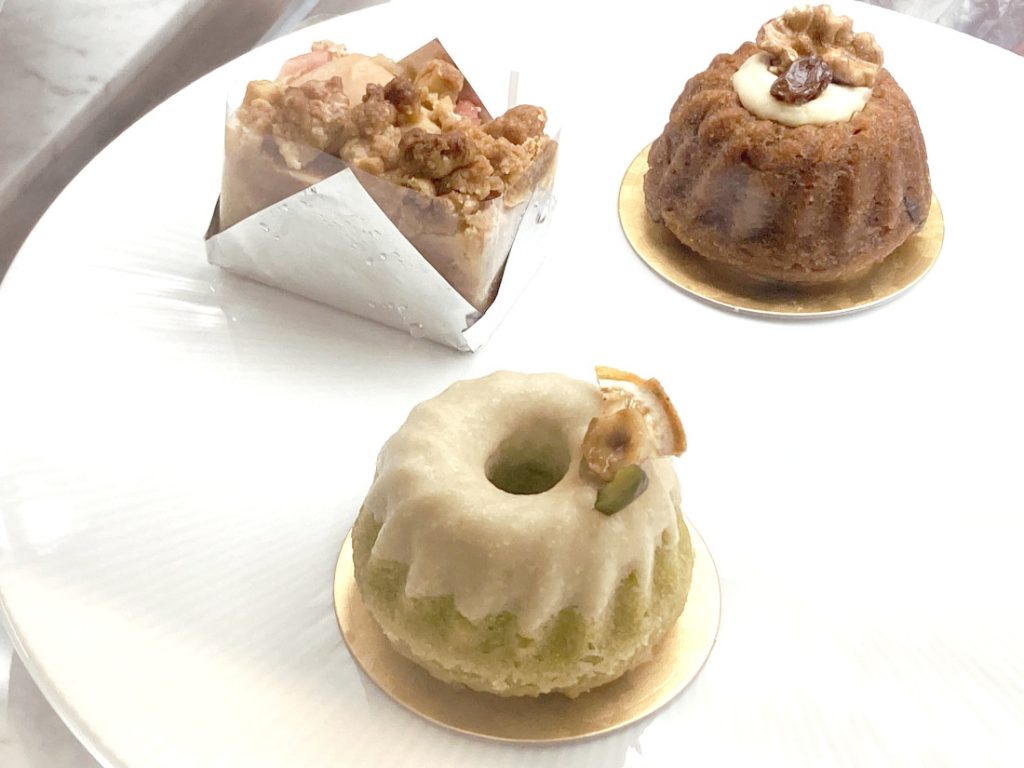 When I came visit here last time, I bought this kouglof of pistachio and lemon.
It was so tasty!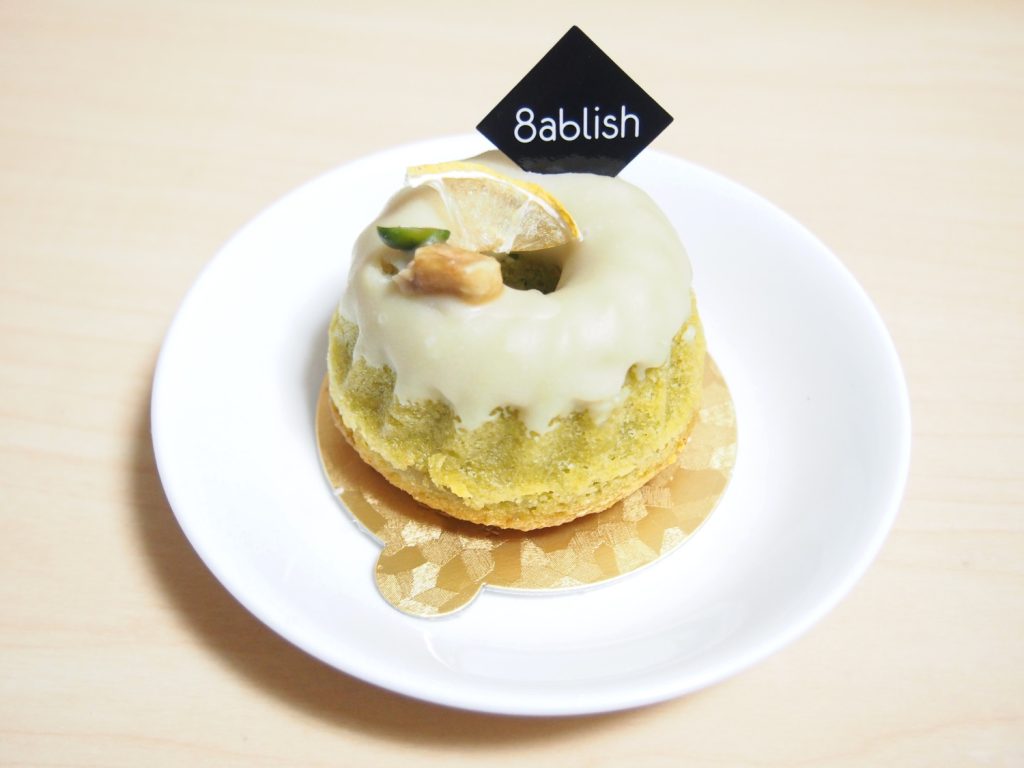 Muffins look good, too.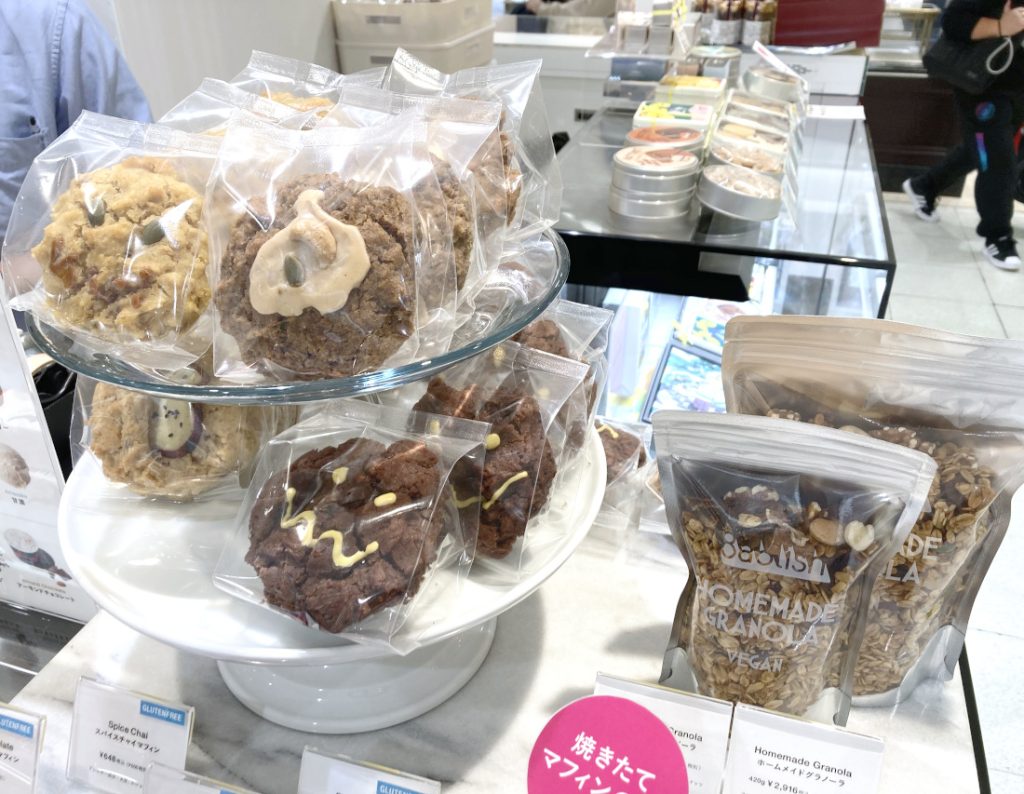 Displayed 4 flavors of muffins: Spice Chai, Double Chocolate, Maple Pumpkin and Sweet Potato.
All of them are cute Halloween Version.
Flavor of Spice Chai is rare but I also want to try pumpkin or sweet potato.
I think both of them are October only.
"Which muffin could you recommend?"
I asked.
"Maple Pumpkin is recommended!"
He replied me instantly.
Muffins are being sold only on Saturday and Sunday, he told me.
I can freeze the muffin in the refrigerator if I can not eat it on the day.
In that case, I need to get it out from the refrigerator and leave it at a fixed temperature more than 3 hours (4 to 5 hours in winter) before I eat, he added.
So I bought no-bake cheese cake and muffin of maple pumpkin and took them back home.
Vegan Gluten-free Sweets of 8abtlish Ginza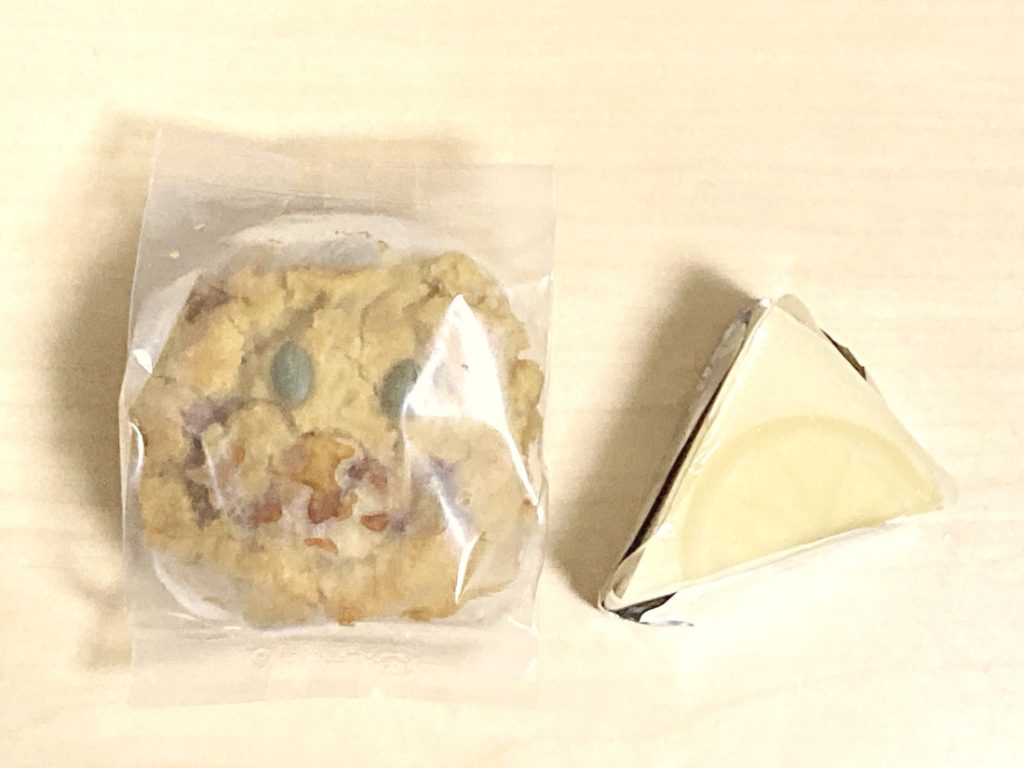 No-bake Cheese Cake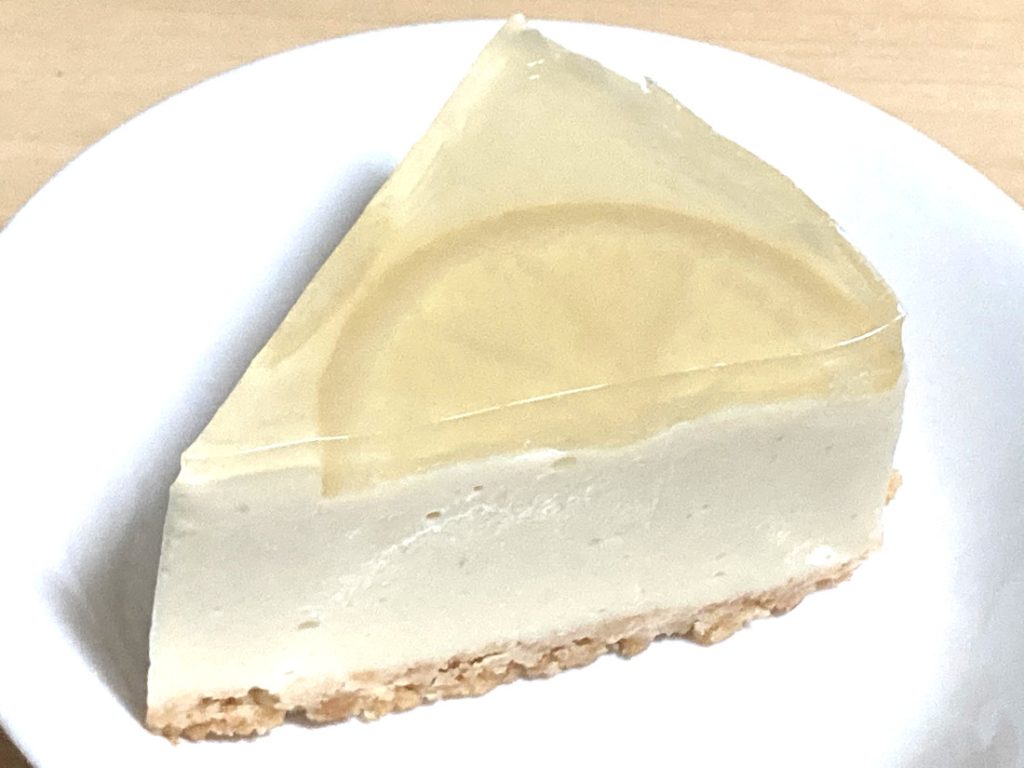 As the staff told me this cake is popular that I bought this No-bake Cheese Cake!
No-bake cheese cake topped with a slice of lemon under the transparent jelly.
Not only vegan but also gluten-free cake.
I tried to find that it was smooth and rich taste!
But not heavy and fresh taste!
Home-made soy yogurt is used, they say.
Checked the ingredients and organic soymilk and organic coconut oil were written on the label
For the sweetness, beat sugar and organic agave syrup are used
Other than that, Shiro Miso (White Miso) was also used and I felt that this Shiro Miso was the hidden flavor which made the taste richer!
Maple Pumpkin Muffin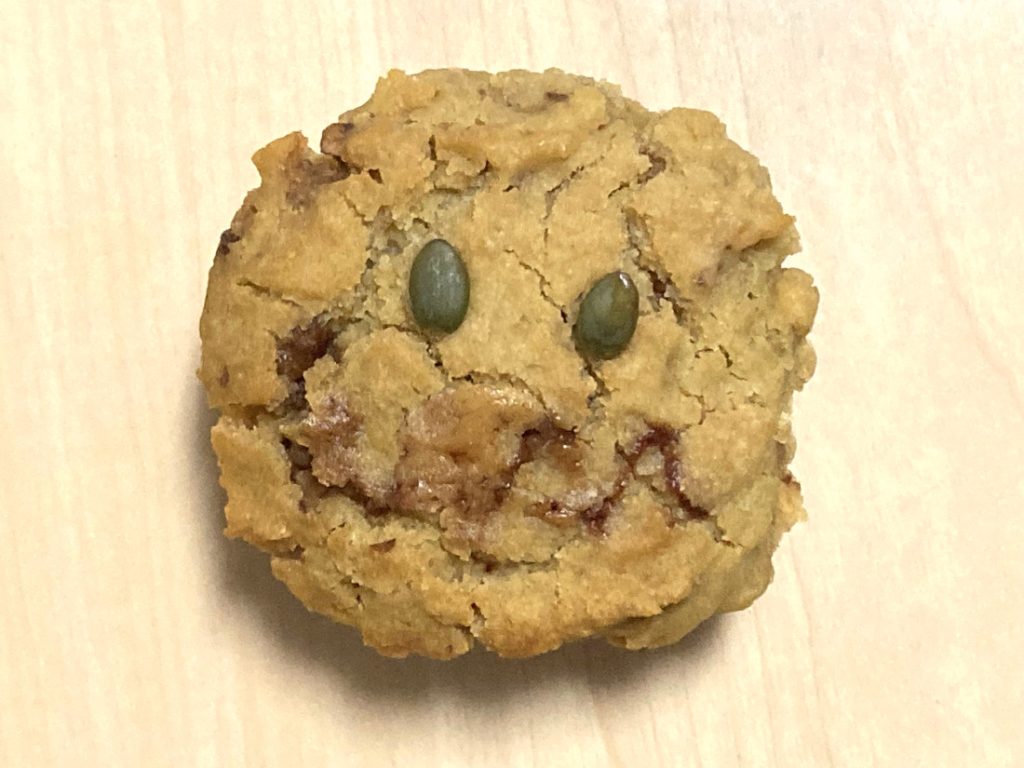 This Maple Pumpkin Muffin is also recommendation by the staff and I bought it!
Limited time offer of Halloween, isn't it.
Although mouth crushed a bit while taking back home.
And this muffin is also vegan and gluten-free.
I could taste light sweetness of pumpkin.
This was a gentle taste muffin.
If I say, it was a bit dry and the crumbs drop sometimes.
It's because the muffin uses rice flour instead of wheat flour, I think.
Or I kept it in the refrigerator a few days and that might affect the muffin.
Warm it in the oven might make the taste batter.
While eating, I could reach the fresh filing of pumpkin and that was a bit of surprise.
I could enjoy gentle sweetness of pumpkin.
Summary
I was very pleased with the rich taste of Non-bake Cheese Cake which was made only from plants!
I could enjoy gentle taste of the ingredients for the Maple Pumpkin Muffin!
The price is not cheap compared to ordinary cakes but the sweets basically use organic or domestic ingredients that quality sweets.
Asked the staff and he told me that there were also many customers to come who were looking for gluten-free sweets.
I haven't tried ice creams and cookies yet that I'm gonna try when I visit the shop next time!