September 27, 2022 Akihabara,Sweets
Vegan Sweets Vegan Cookies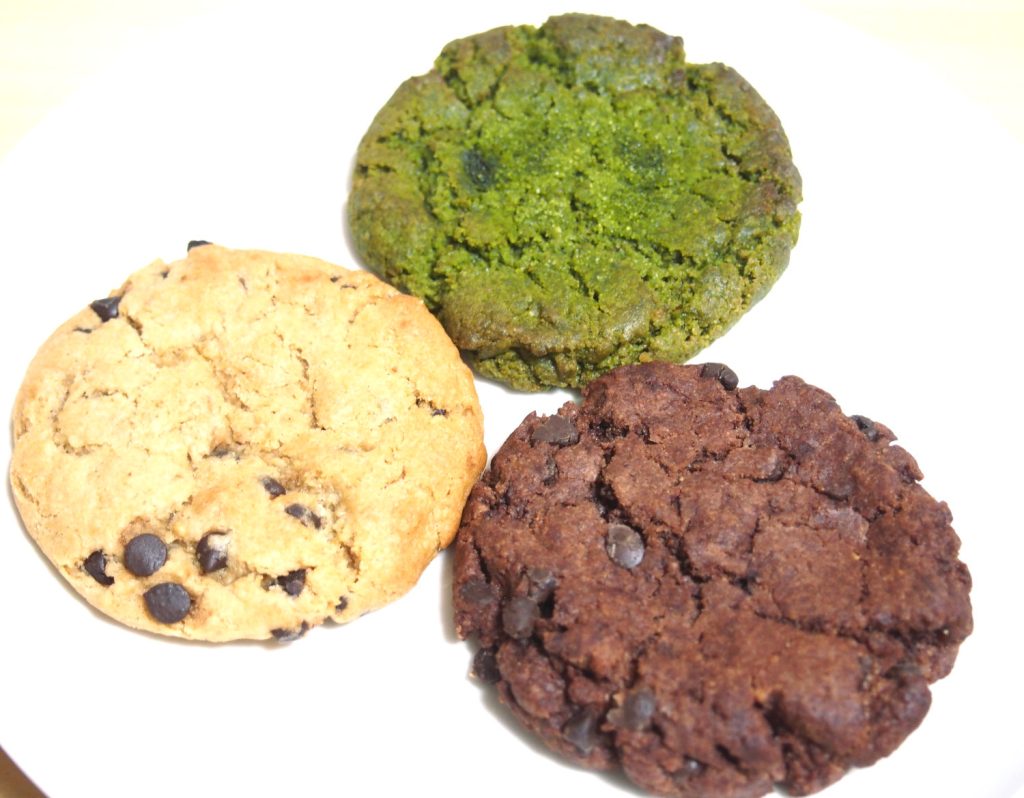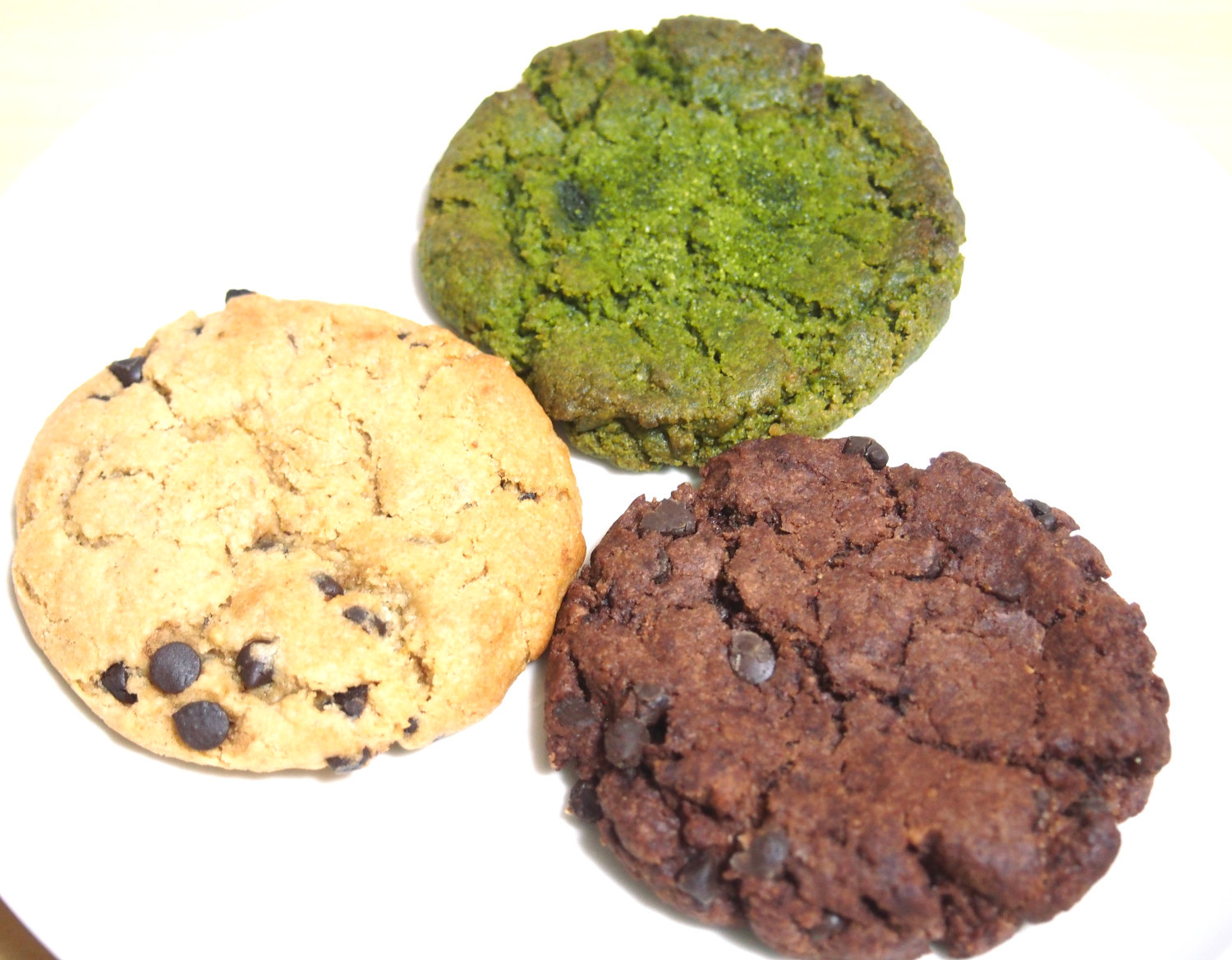 Address
10-8 Nihonbashikodennma-cho, Chuo-ku, Tokyo
Google Map : https://goo.gl/maps/4Uhw2F6BtwgDpqxK7
Access
Kodenmacho Station (Tokyo Metro)
Kanda Station (JR Yamanote Line)
Akihabara Station (JR Yamanote Line)
Tel
No Information
Seats
5 Seats
Opening Hours
11:00 – 19:00 (Weekday)
11:00 – 18:00 (Saturday, Sunday, Holiday)
Shop Holidays
Irregular Holiday
Website
https://ovgo.thebase.in/
Shop of Vegan Cookies opened on June 2021 in Kodenmacho!
Heard the news and already over one year passed since then.
It's already September 2022 but I could finally visit ovgo B.a.k.e.r Kodenmacho.
I introduce you the impression of the shop and the vegan cookies I enjoyed here.
Access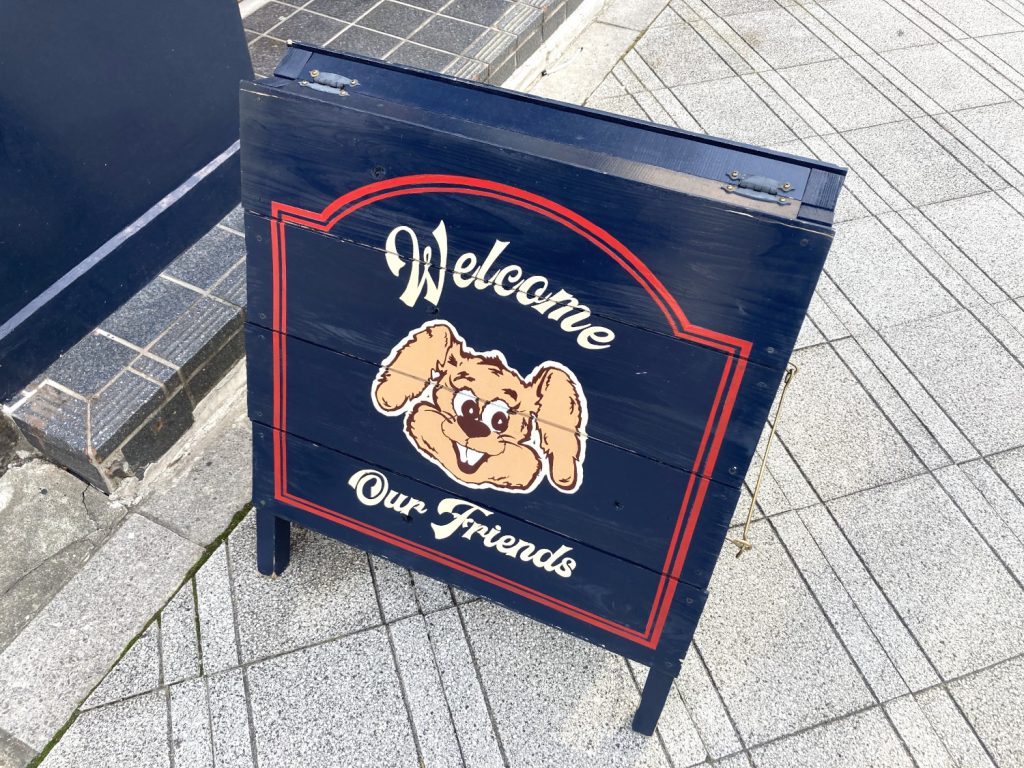 Closest station is Kodenmacho Staion (Tokyo Metro).
The distance from Kodenmacho Station to the shop is about 100m.
1 to 2 minutes, isn't it.
You can also use JR Kanda Station and JR Akihabara Station and the distance from both stations is about 1km.
15-minute-walk, isn't it.
Google Map of ovgo B.A.K.E.R Kodenmacho
To ovgo B.a.k.e.r Kodenmacho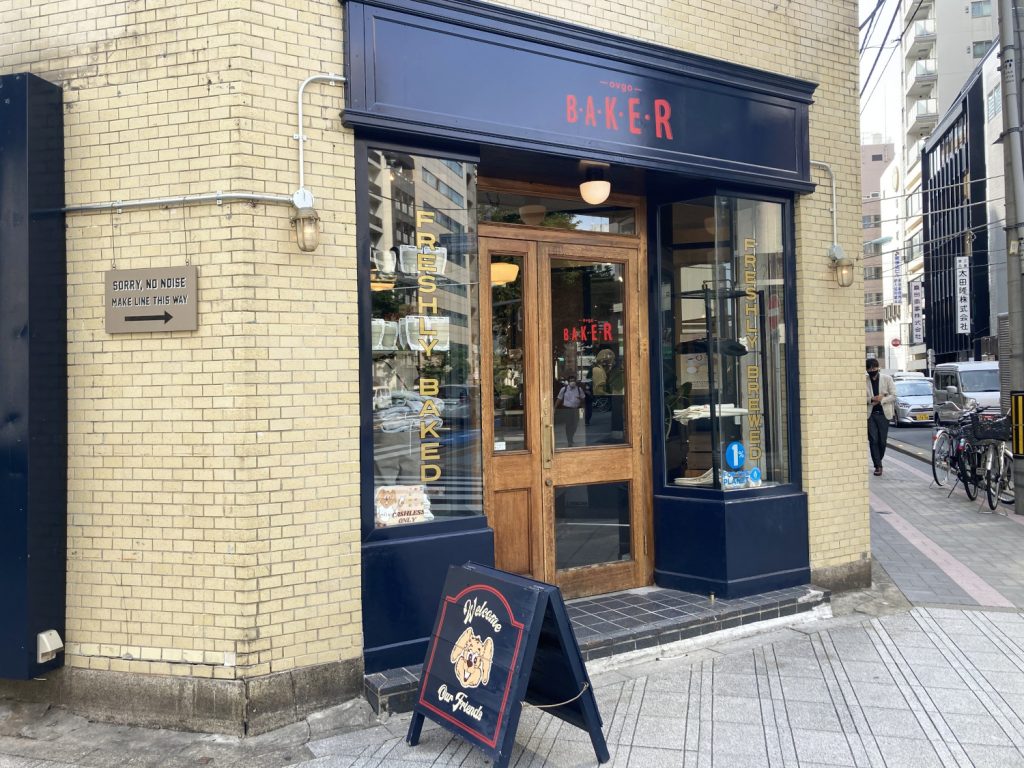 I came to the store by bike this time.
It looks like a stylish shop in US!!
I could also see the words AMERICAN VEGAN GAKE SHOP on the window.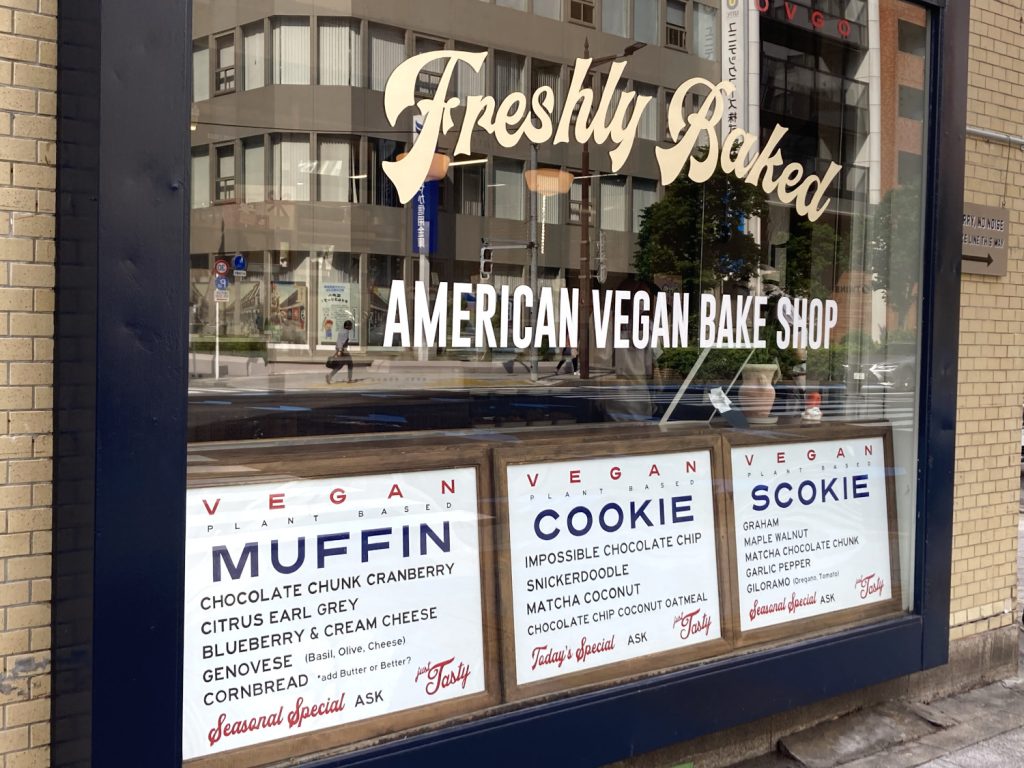 Couple of people went inside and went outside while taking a picture.
Tge shop face to the main street that it stands out!
Inside Shop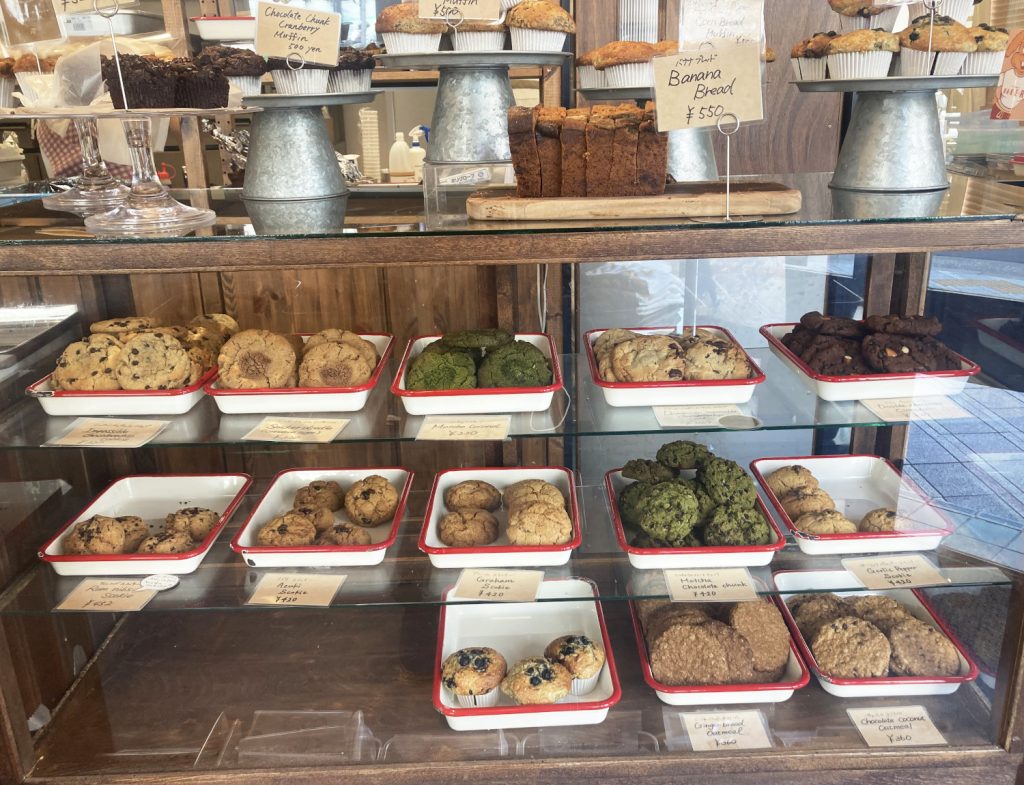 Variety of cookies in a glass showcase inside of the shop.
Not only cookies but muffins and pound cakes were on display.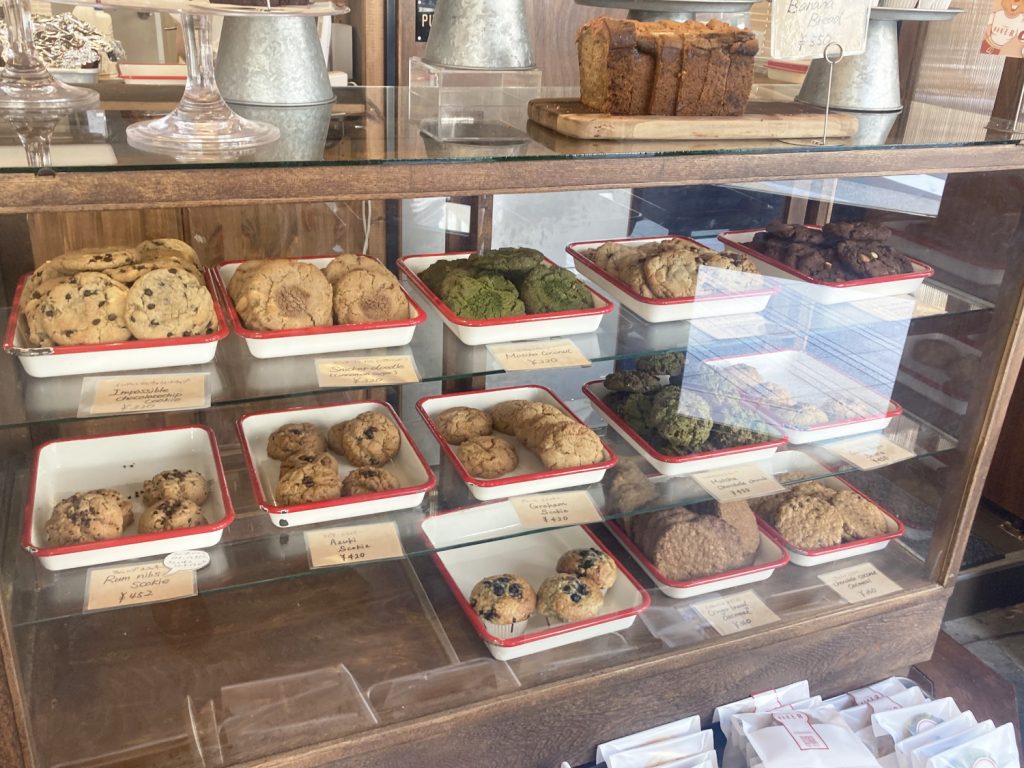 All look good!!
There was a eat-in area with a couple of seats as well and some customers had been enjoying the vegan sweets there.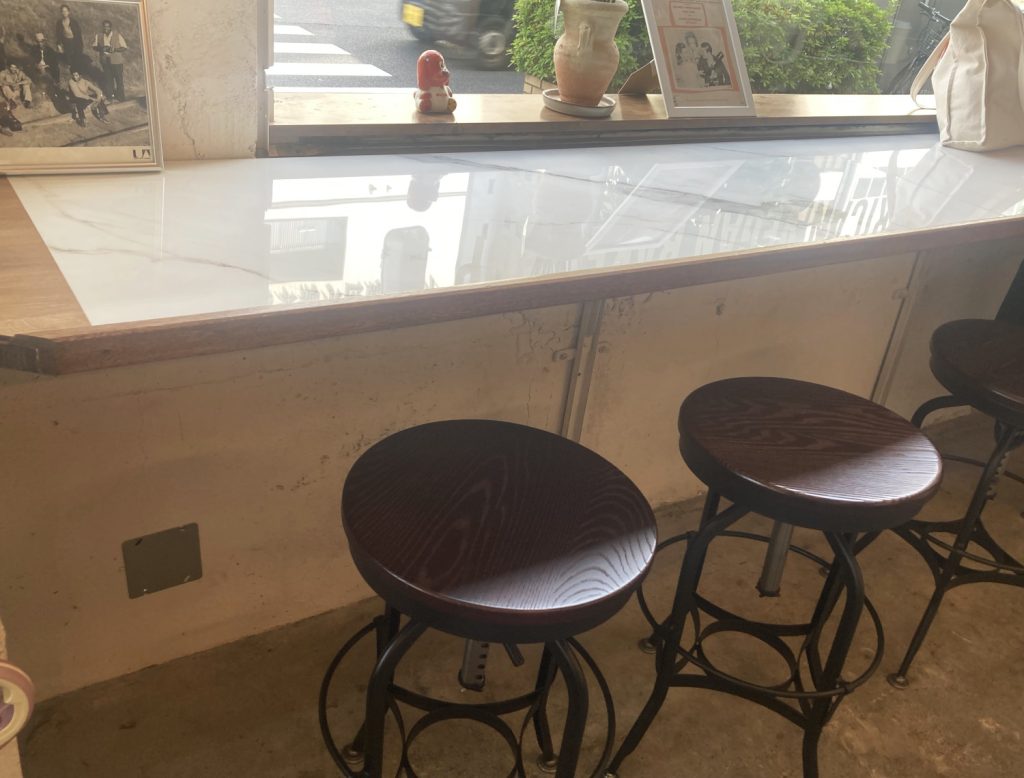 Some original goods of ovgo B.a.k.e.r were sold inside, too.
Folding silicon cup.
It's convenient when enjoying camping or outdoor activities outside, isn't it.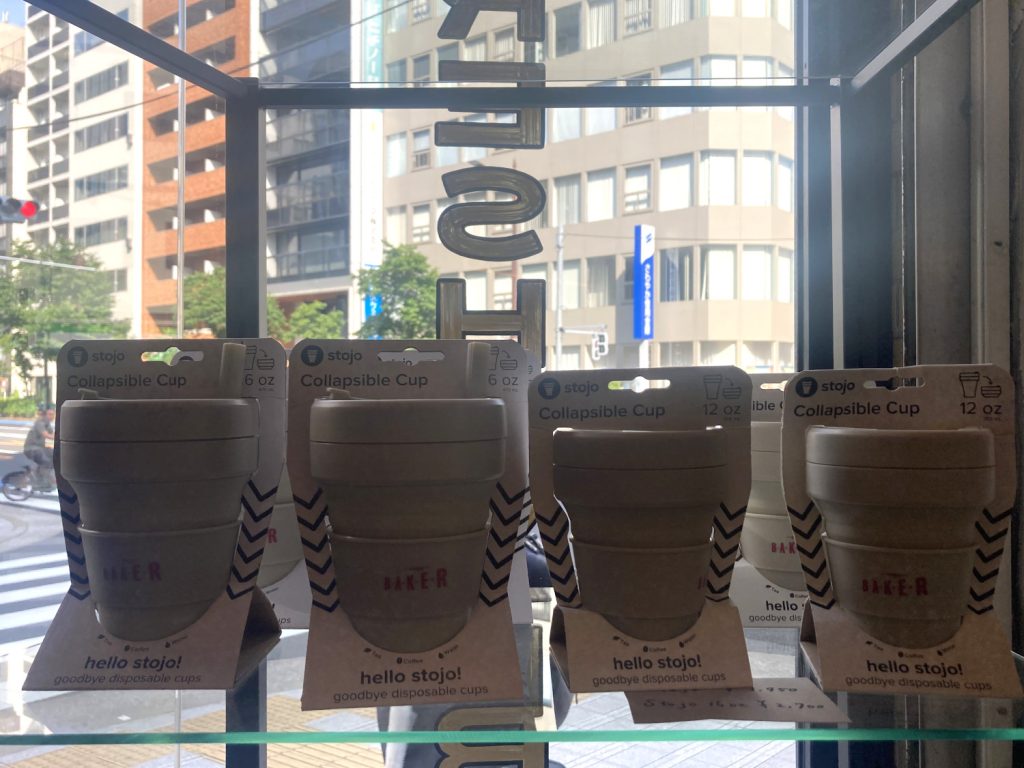 Sweatshirt of rabbit? looks like mascot character of the shop.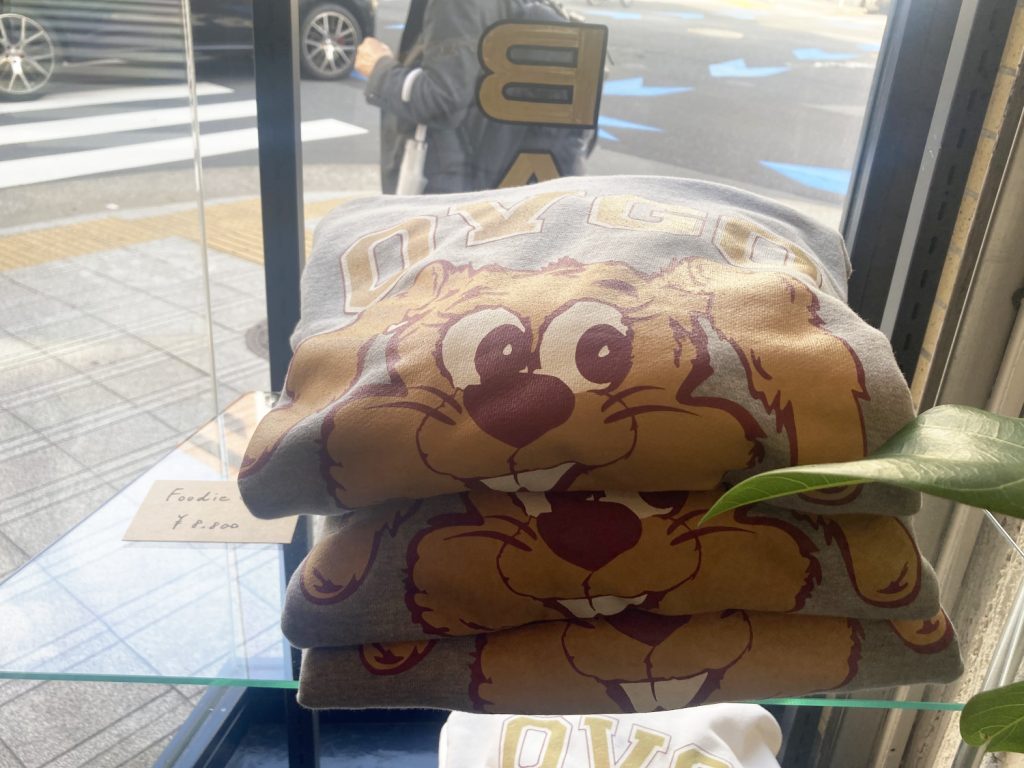 Long sleeve printed cookies of ovgo B.a.k.e.r. on it.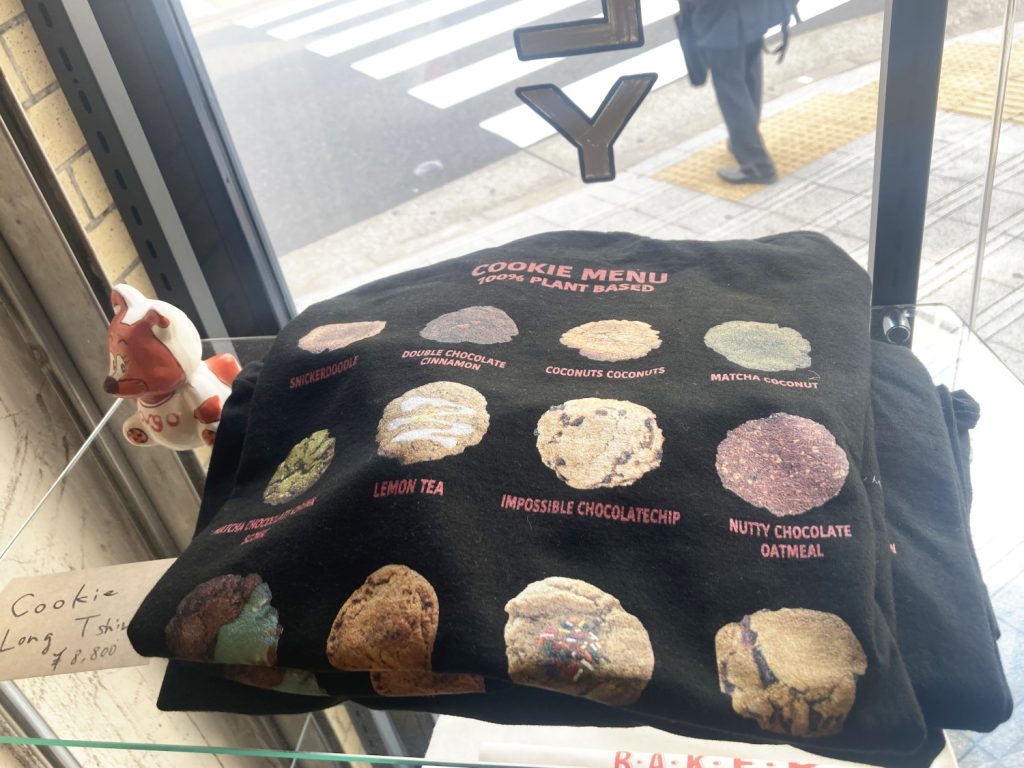 Eco-friendly bag also printed the cookies is stylish.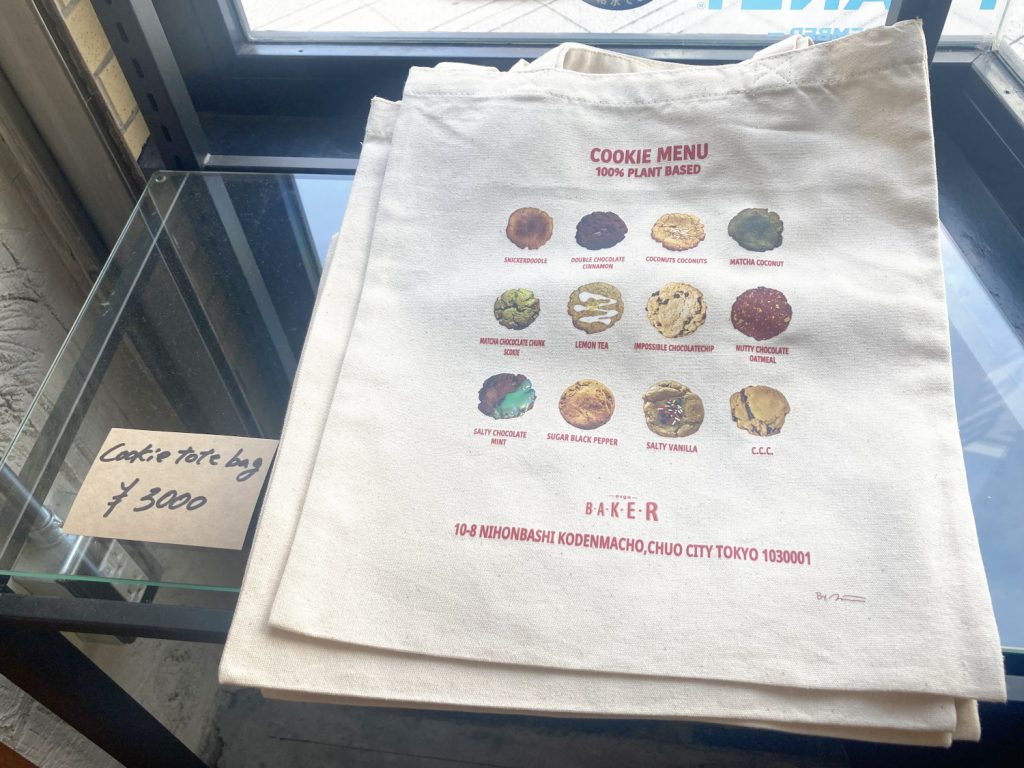 I ask the popular cookies and found that Impossible Chocolate Chip is popular.
"Other than cookies, Banana Bread is also popular"
The staff told me.
Staff is also friendly and easy to talk with.
I bought Matcha, Chocolate Chip and Banana Bread in the end.
"I also give you Impossible Chocolate Chip Cookie for free"
She gave me popular cookie.
One cookie here is about $2.5 to $3, so what a generosity, I thought.
Thank you very much!!
I decided to bring back the cookies and enjoy at home after all.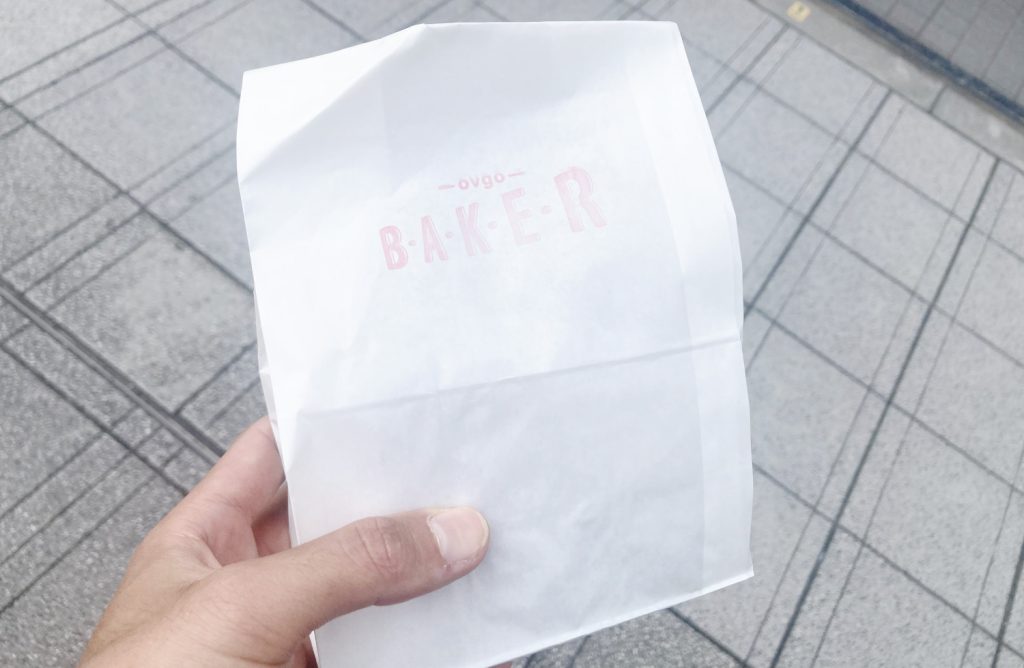 Review of Vegan Cookies of ovgo B.a.k.e.r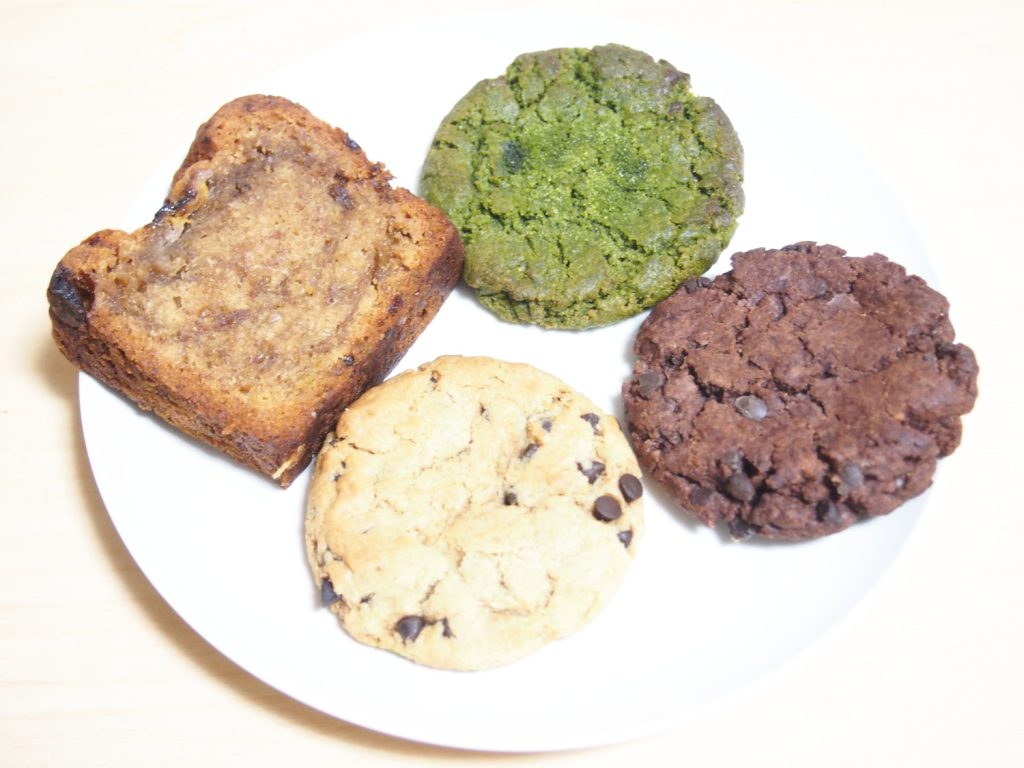 Impossible Chocolate Chip Cookie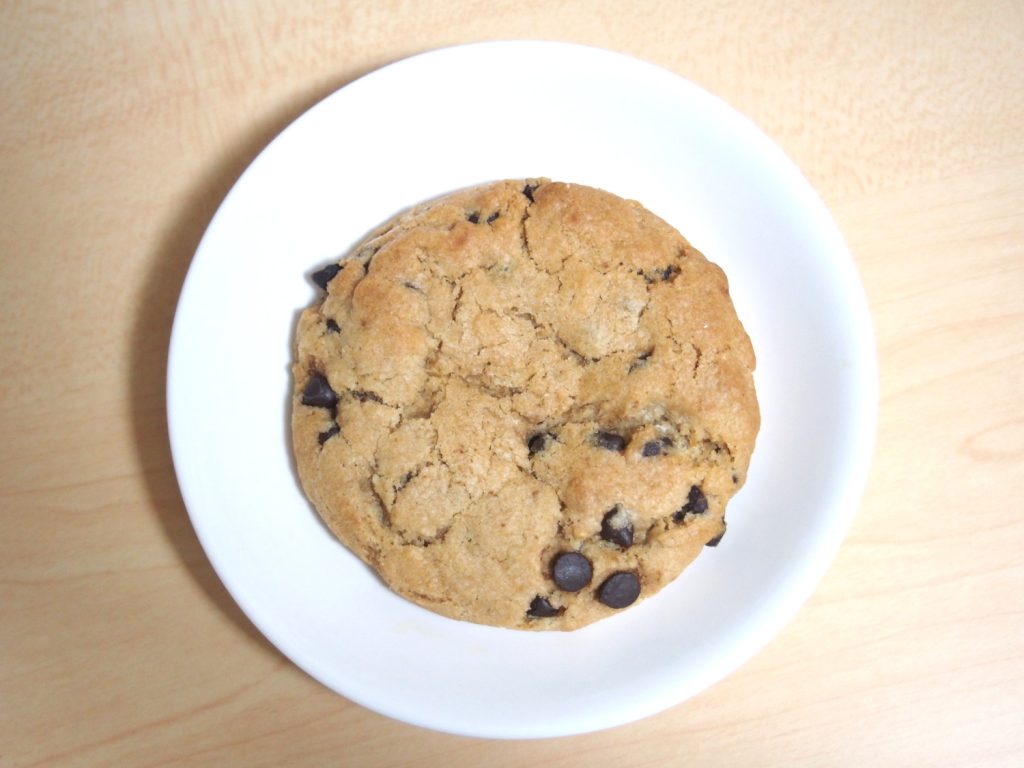 This is the most popular cookie Impossible Chocolate Chip!
Cookie the staff gave me for free!
I ate to find that it is sweet and substantial!
Savory and chewy and a bit moisty!
I felt like this is the cookie of home ground, strong taste and substantial although I haven't tried cookies in US
It's just surprising that it is made without butter or egg!
Price : About $2.3 (335 yen)
Calories : 260.6 Kcal
Choco Chip Cookie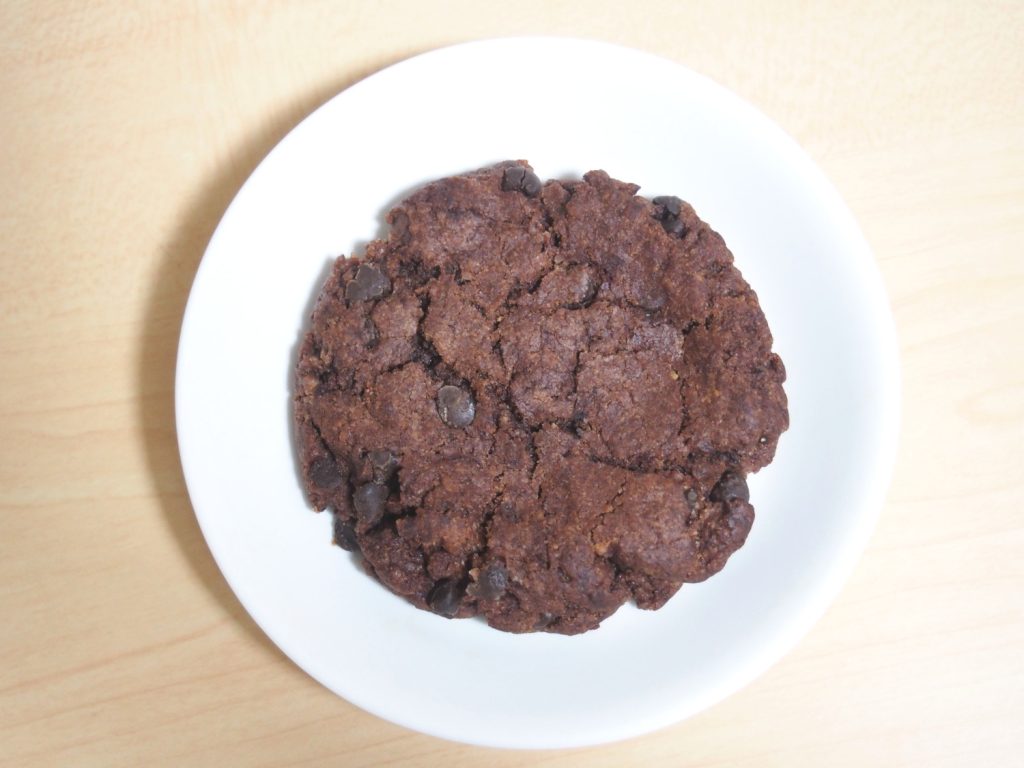 Personally, I like Choco Chip, so I bought this Cookie!
This cookie is also sweet and chewy!
That's good there were a lot of choco chips inside and each of them is big!
Like Impossible Chocolate Chip, this cookie was also American-style cookie!
Price : About $2.3 (335 yen)
Calories : No Information
Matcha Coconut Cookie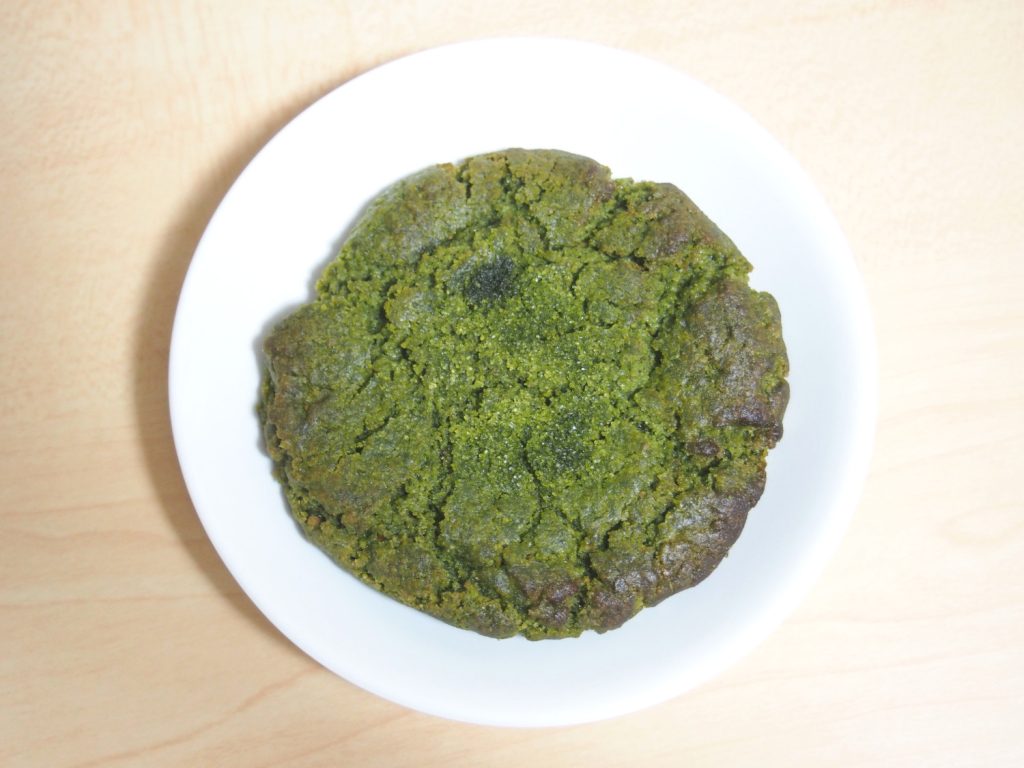 I also like Matcha flavor, personally that I bought this.
This is the Matcha cookie mixed with coconut milk.
I tasted Macha but not bitter than I first imagined.
I think the coconut milk helped to make the cookie mild.
Recommended for those Matcha fans!
Price : About $2.3 (335 yen)
Calories : 271.9 Kcal
Banana Bread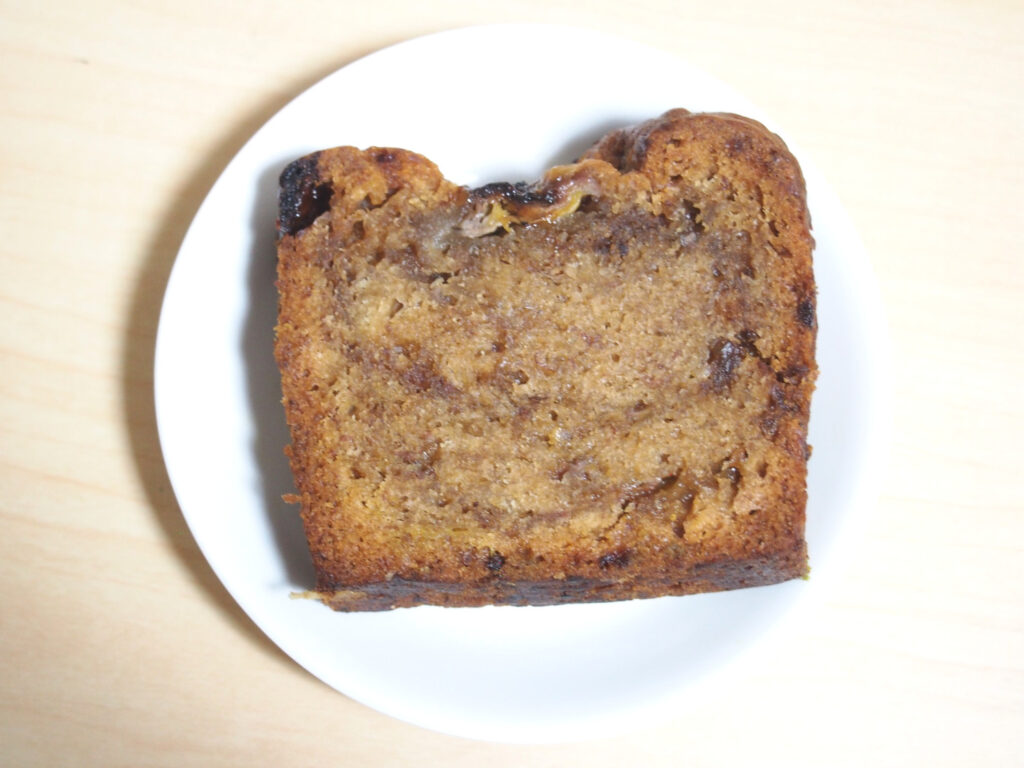 What I bought other than the cookies is this Banana Bread!
The staff recommended me, so I bought it!
The taste is really good!!
Dense and moist!
I could enjoy the taste of banana and the wheat itself.
I can understand the popularity!
Room temperature is good but warm it in the oven or cool it in the fridge must taste good, I think! it
Price : About $3.8 (550 yen)
Calories : No Information
Summary
Each cookies was savory and tasted very good!!
It's just surprising they can create such a taste without butter, egg and milk, etc.!
Substantial cookies, they were!
Not like crispy but moisty and I like moisty cookies, too.
Although they are also selling ordinary crispy cookies as well, I think.
As for banana bread, I'd like to visit the shop one more and buy it!
ovgo B.a.k.e.r has its store in Shinjuku and Harajuku, so drop in if you have a chance to visit those areas!