Vegan Menu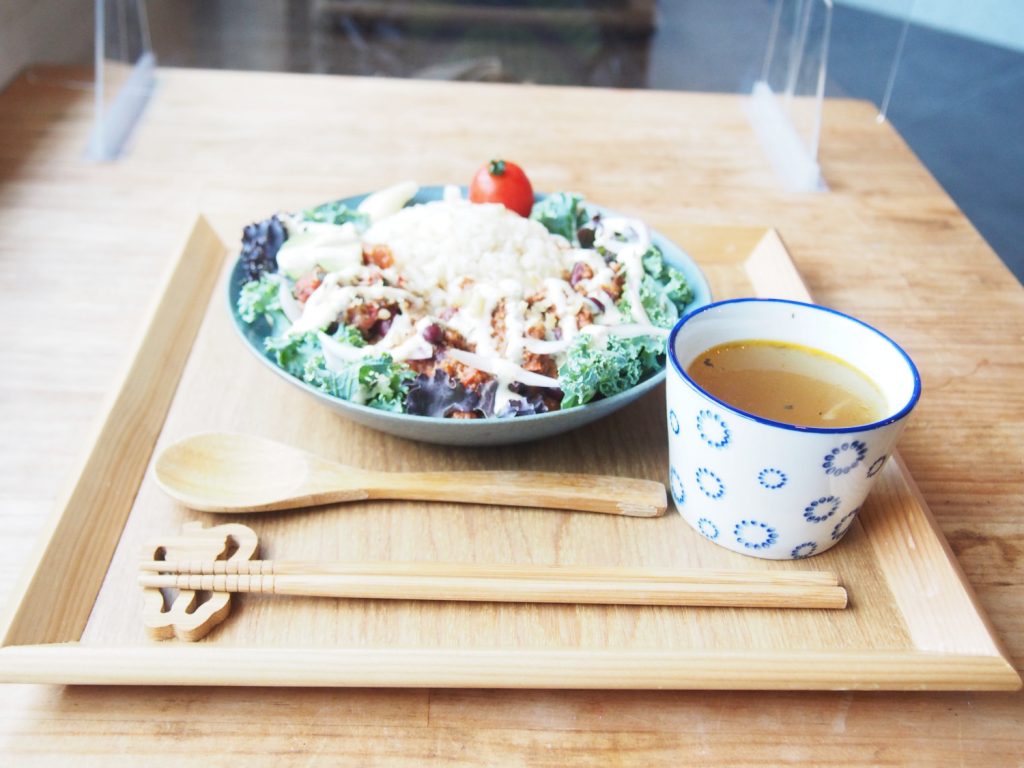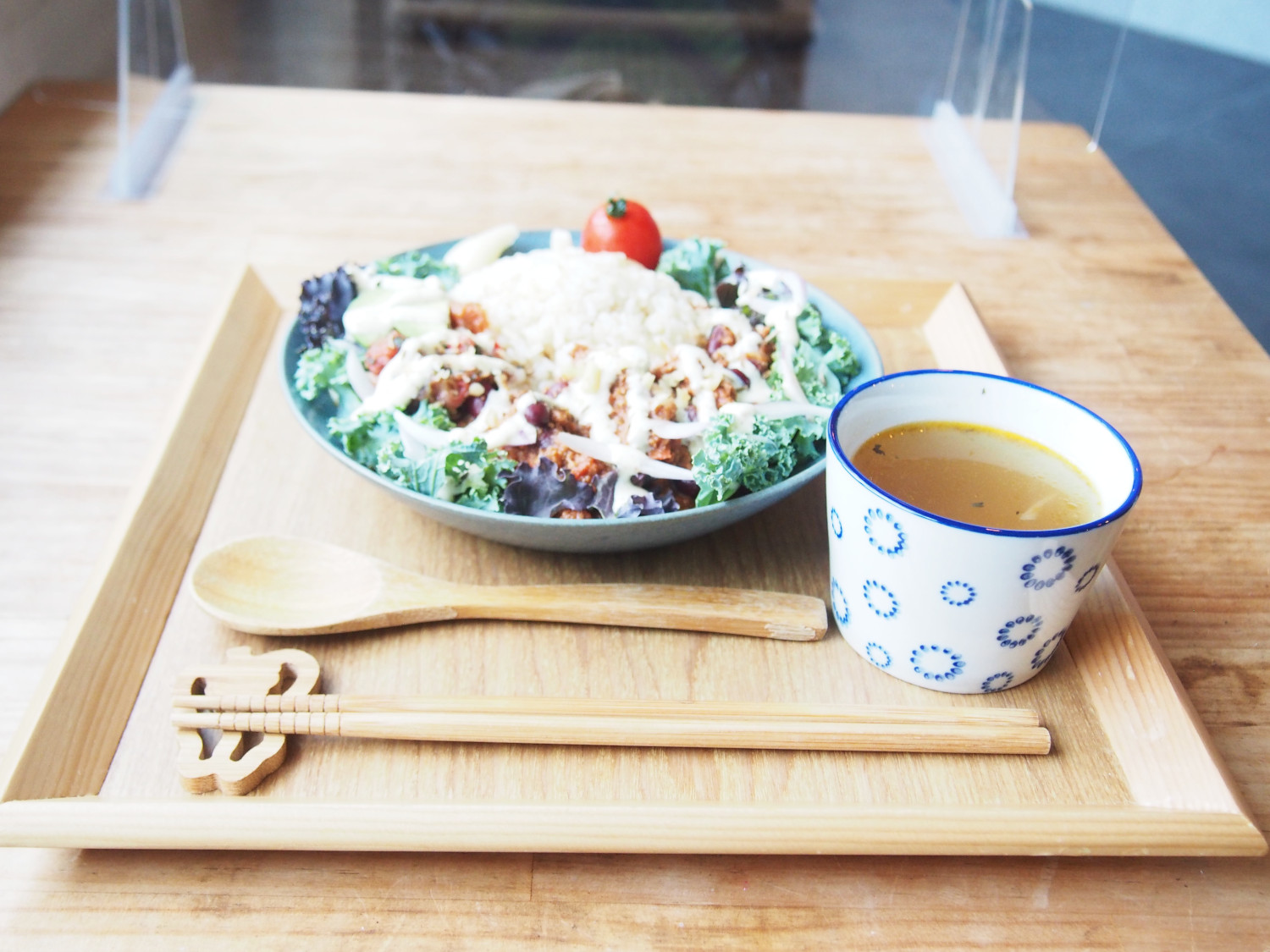 Address
4F, 2-5-8 Shinjuku, Shinjuku-ku Tokyo
Google Map: https://goo.gl/maps/Ju3qGRp7Un52
Access
Shinjuku-Sanchome Station (Tokyo Metro Marunouchi Line)
Shinjuku Station (JR Yamanote Line)
Tel
03-6380-1709 (+81-3-6380-1709)
Seats
22 Seats (6 Seats for Counter, 12 Seats for Table)
Opening Hours
18:00 – 23:00 (Last Order : 21:00)
Shop Holidays
Sunday, Monday, Tuesday
Website (Japanese)
https://kiboko.owst.jp/en/
As I had something to do in Shinjuku, I dropped by cafe and wine bar KiboKo at lunch time.
KiboKo is privately run cafe and bar and offers natural, organic vegan food, so I came to this time.
I could talk with the owner and I'll introduce a part of the talk, too in this article.
To slow food and wine KiboKo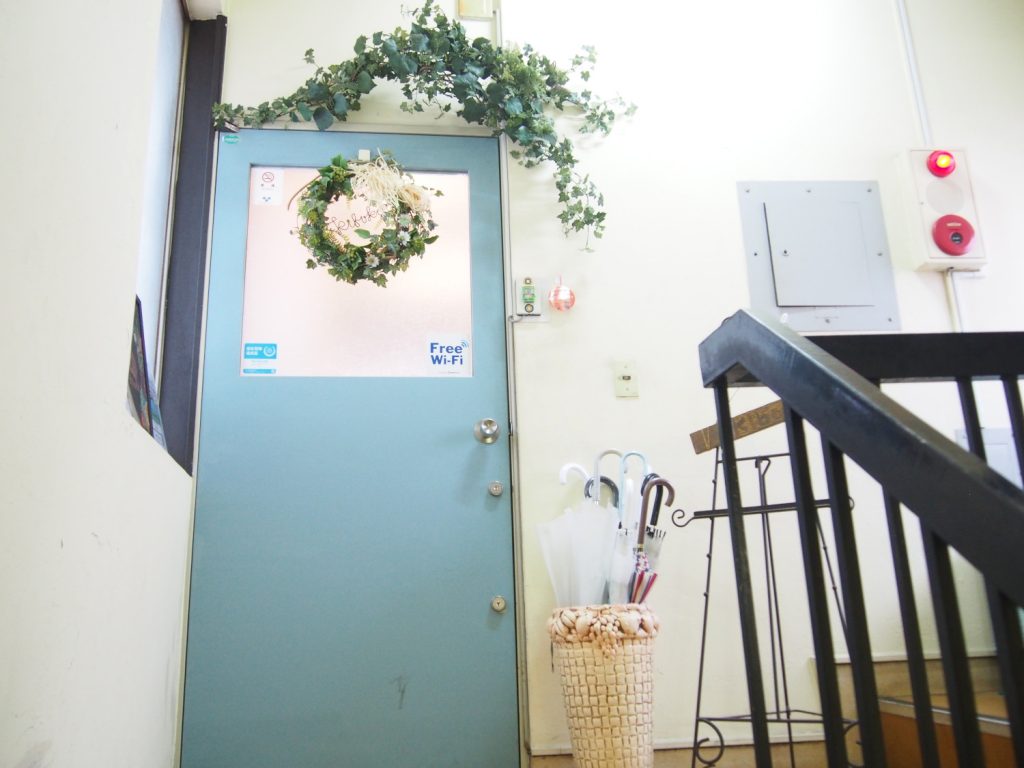 Although it was still in a state of emergency in Tokyo, I came to Shinjuku as I had an urgent thing to do there.
It was past noon and I wanted to try vegan foods, so I went to KiboKo.
From Shinjuku station, it was about a 5-minute walk on foot.
KiboKo was on the 4th floor of the building, which accommodates Doutor Coffee, in front of the intersection of Shinjuku 2 Chome.
The cafe & bar usually opens at night but I came at daytime.
Maybe not open now, I thought but I made a phone call just in case.
And found that it opened even at a lunch time today.
Great, I can visit!
Cozy and Comfortable Atmosphere Inside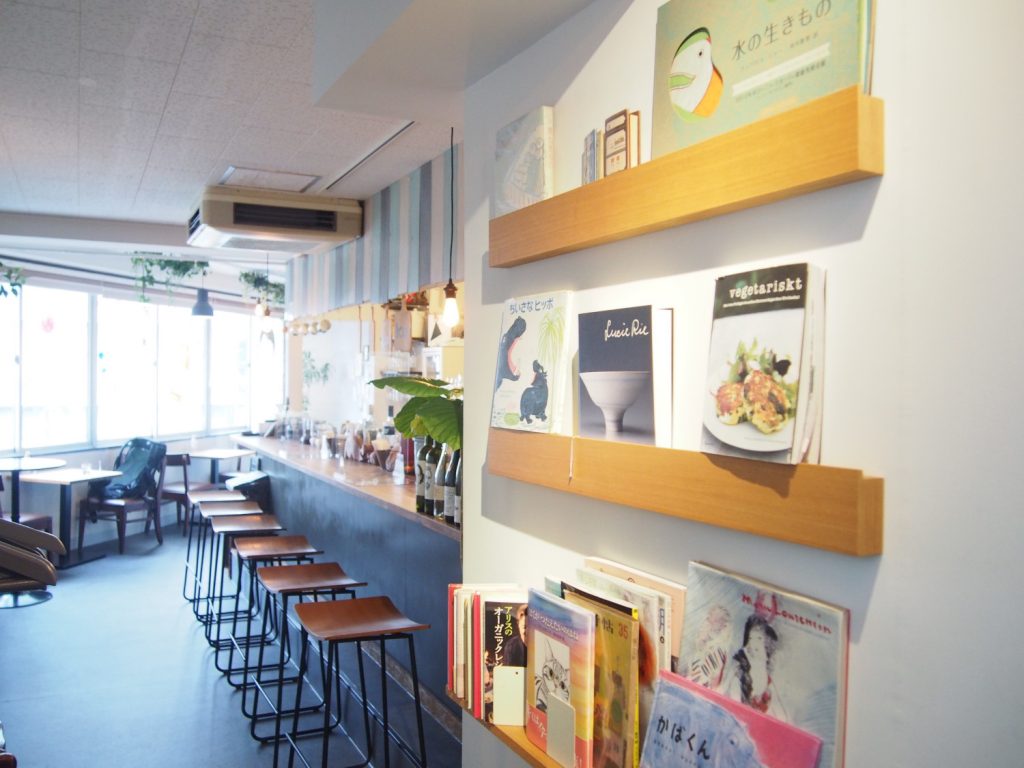 Walking up stairs to the 4th floor!
The door was locked, so I pushed the door bell on the wall and the owner opened the door to let me in.
Nice atmosphere inside and I felt a sense of openness.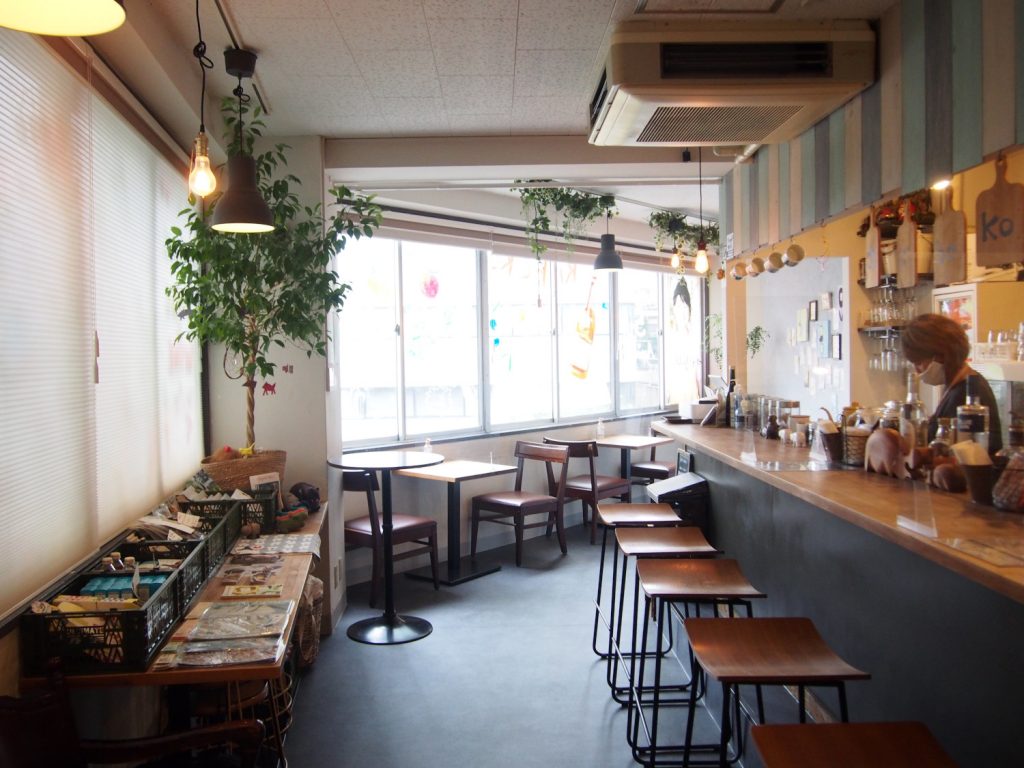 There were counter seats and table seats by the window.
I took a table seat as I could enjoy scenery outside through the window.
The atmosphere inside and the height, 4th floor makes me feel comfortable.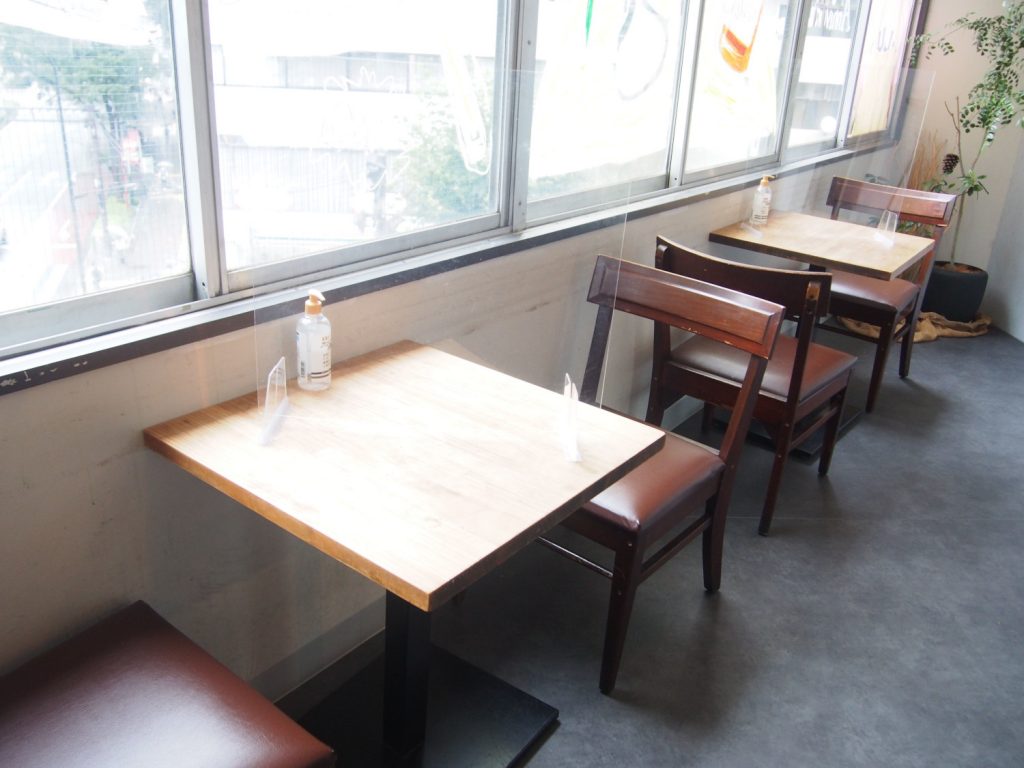 Bar seats also look comfortable.
You can enjoy alcoholic drinks at night here.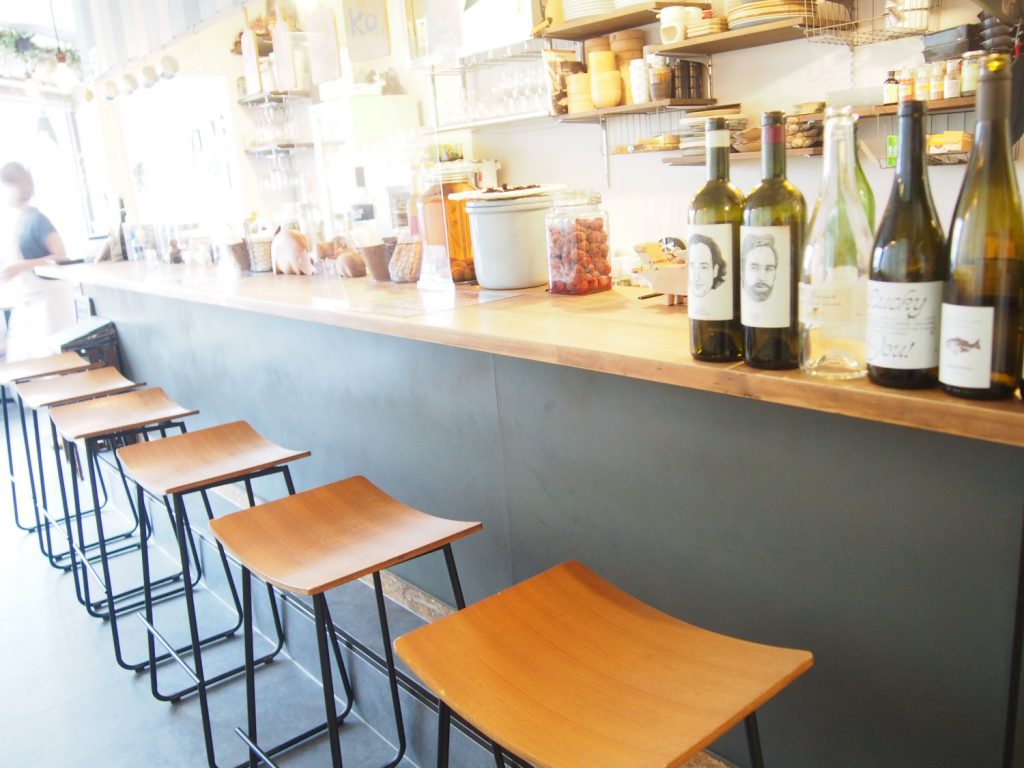 Having exhibition, it opens even at a lunch time now, the owner told me.
Looks like all most everyday, some kind of event is holding at daytime, too.
Drawings and illustrations on the wall.
They are works by illustrator Masamitsu Saito.
Warm illustrations, aren't they.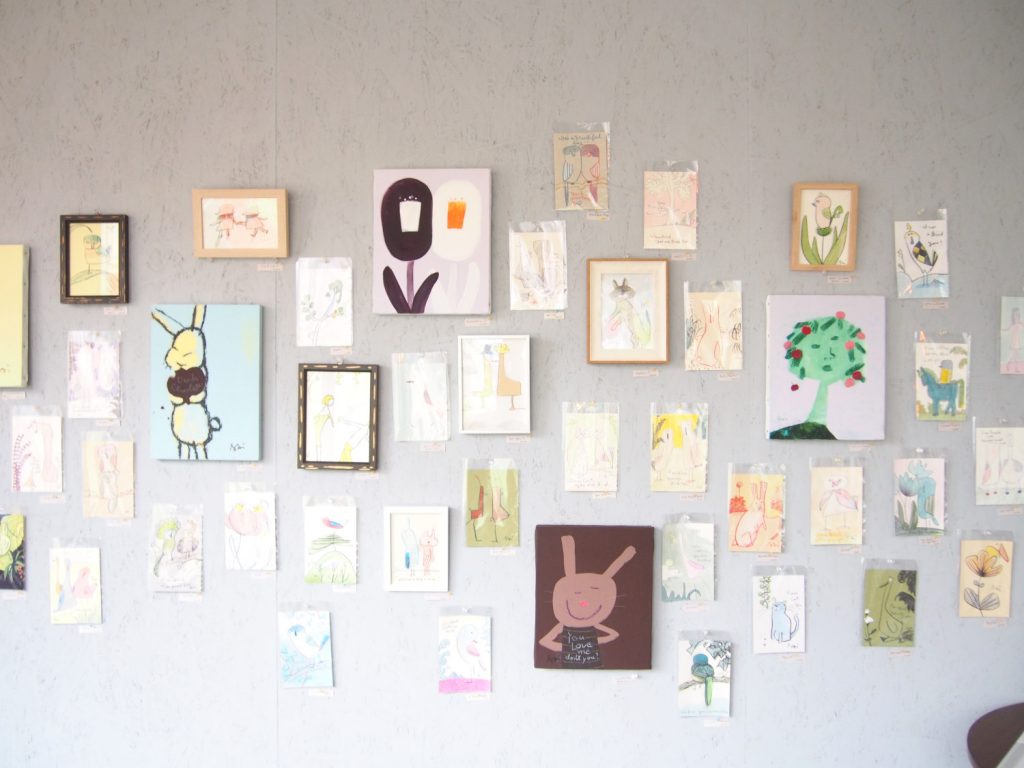 Tomato soup stock and dried mushrooms were sold.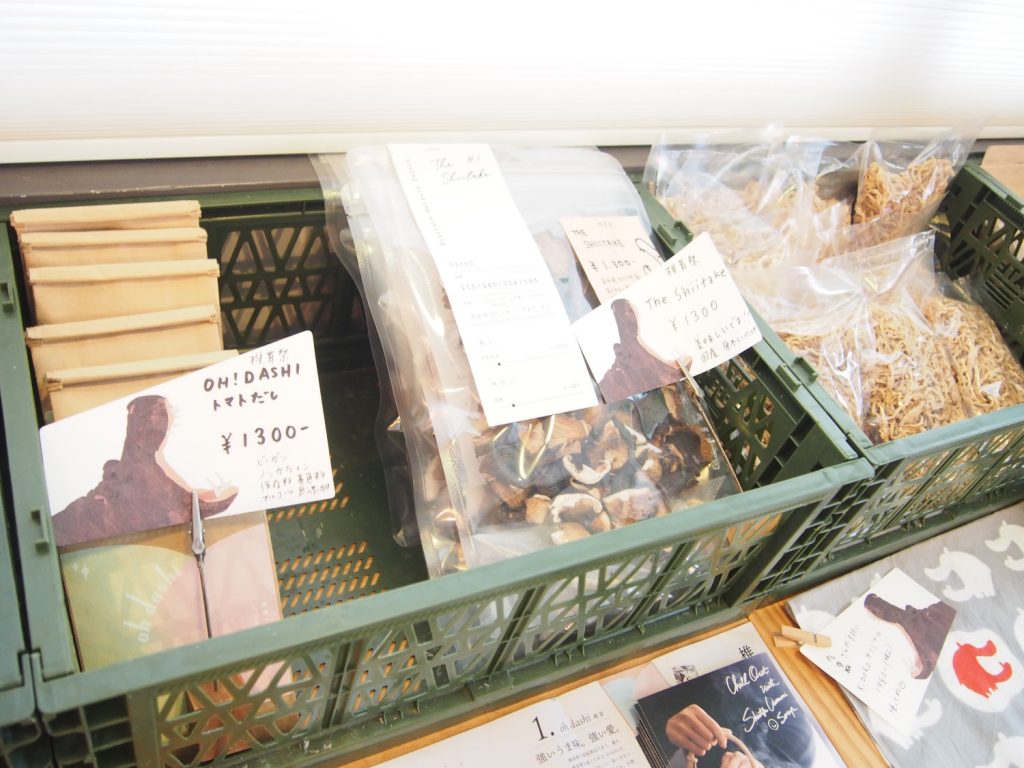 Hippopotamus look cute.

Later I found out that Kiboko meant hippopotamus in Swahili.
I see, that' why hippopotamus.
This is the entrance I came in.
I feel like I'm in the world of Moomin now.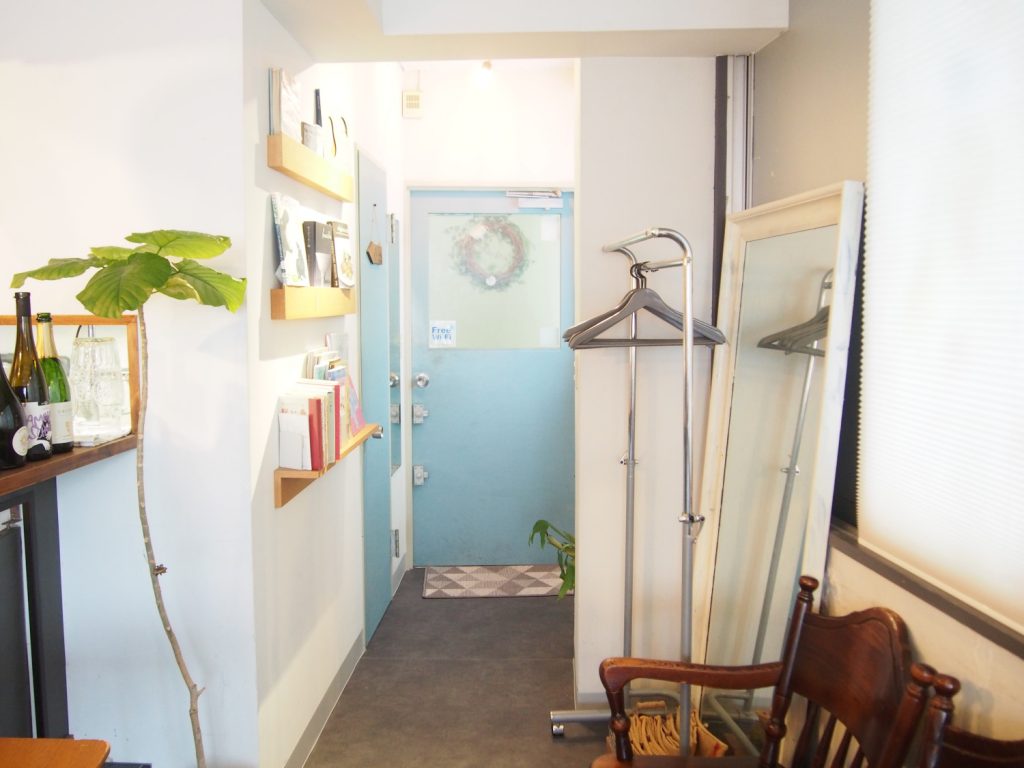 Order Taco Rice Style Vegan Chili Con Carne!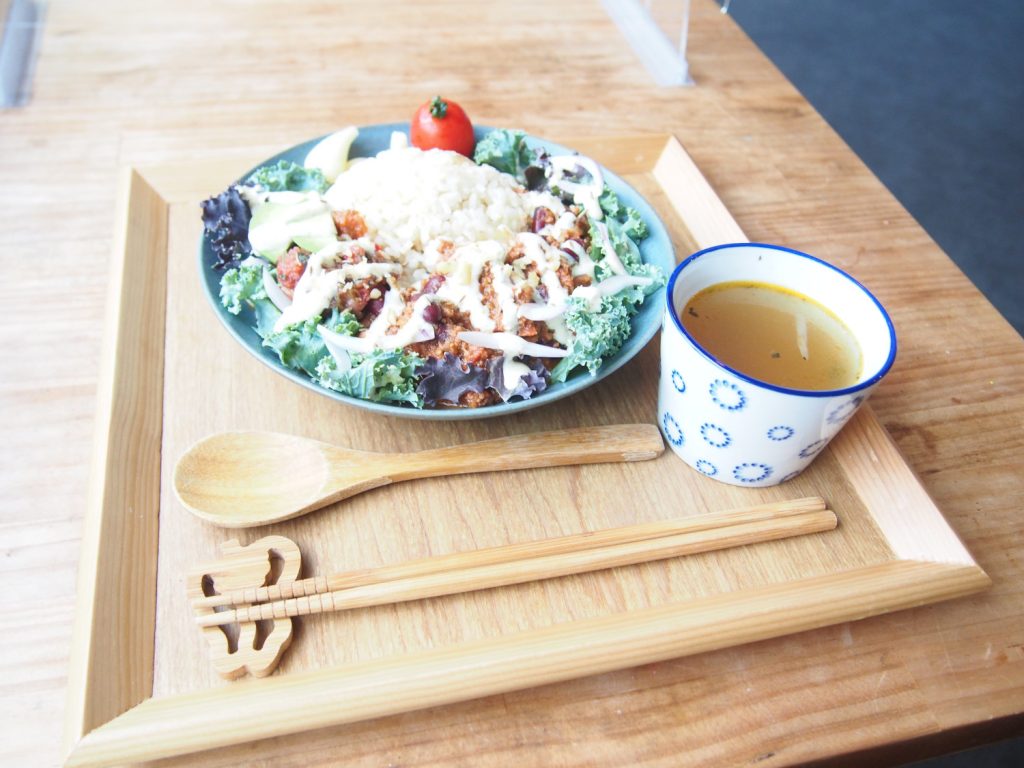 Today's lunch menu is Taco Rice Style Chili Con Carne.
So, I ordered it.
With soup, it was about $14 (1500 yen).
The owner told me lunch menu is not fixed but changes every week or month.
Waited for a while, here Taco Rice Style Chili Con Carne came.
From the looks, it is a stylish dish of modern cafe.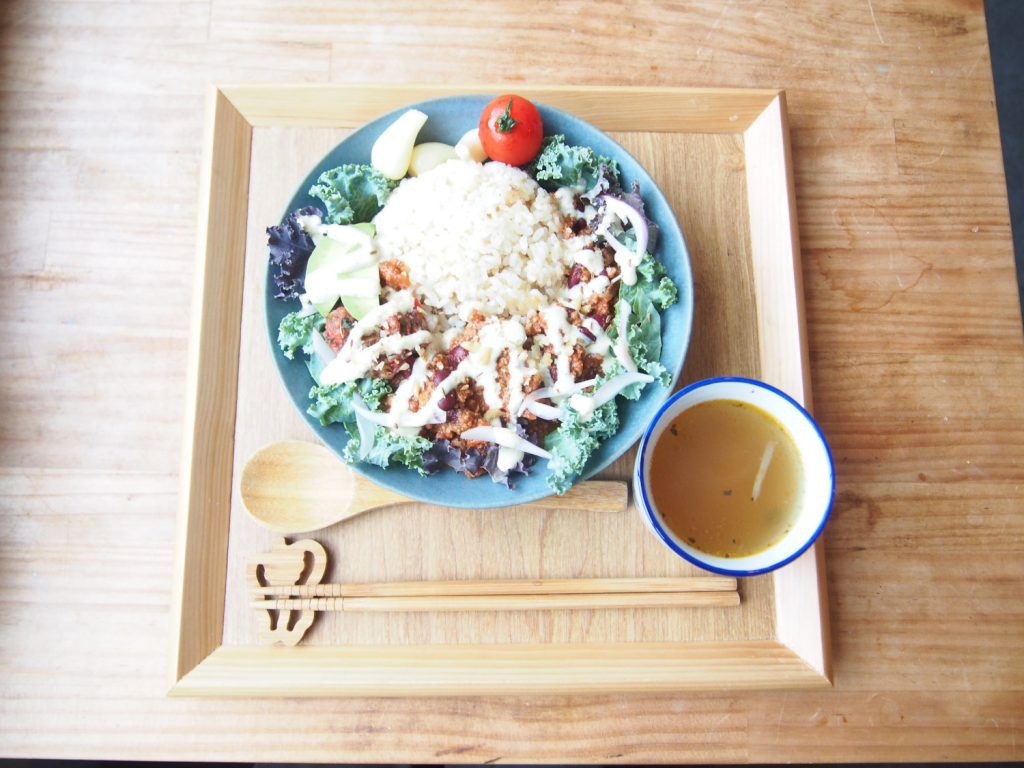 Itadakimasu!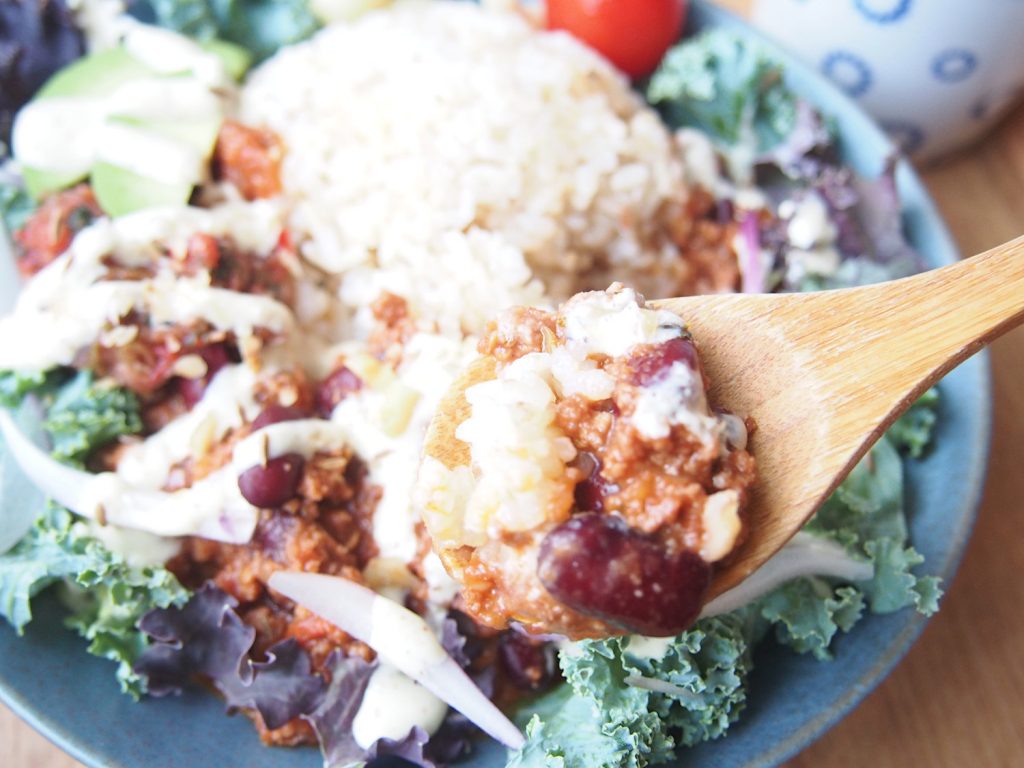 It's been a while to have Chili Con Carne but it was a tasty dish with a lots of beans.
White sauce on the top is maybe soy mayo?
Anyway, it went well!
Kale was fresh!
Kiboko uses natural, organic vegetables for the dishes.
It's been a while to have pickled scallion, too.
It was salt pickled scallions.
It was a substantial dish!
Gochisou Sama Deshita!
Talked with the Owner of KiboKo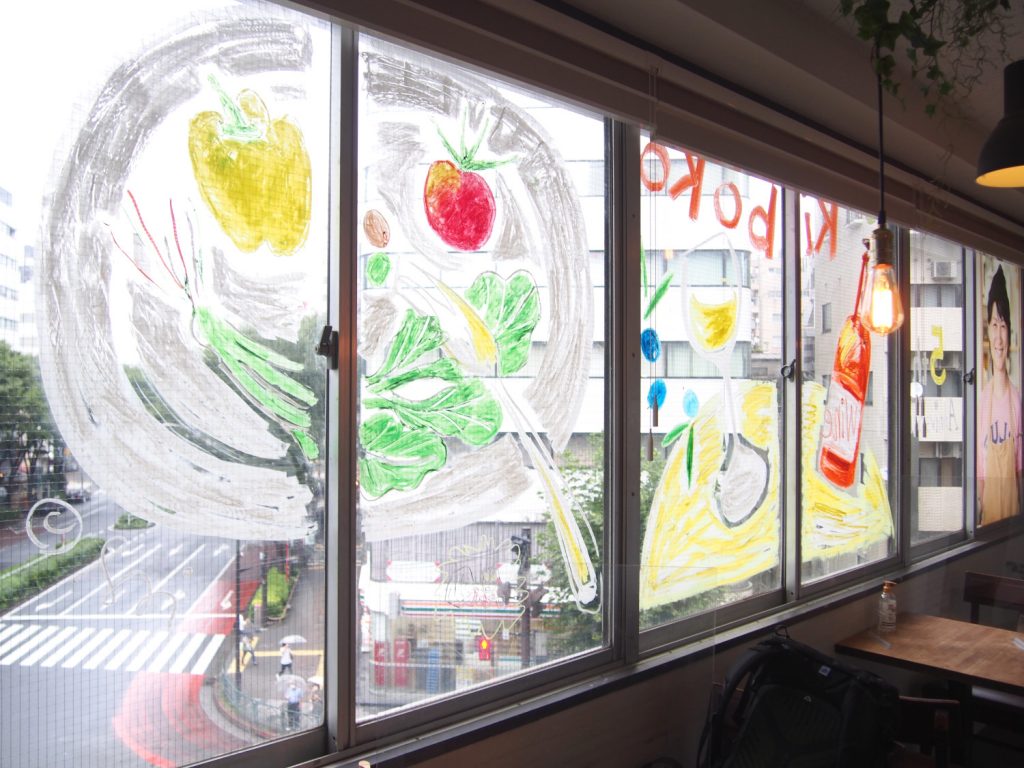 I could talk with the owner after meal.
She told me before COVID-19, 70 to 80% of the customers came to the cafe was people from overseas.
Now she runs the cafe alone.
She told me that there were staffs before COVID-19 but as the situation is like this, she runs this cafe alone now.
I asked her
"Don't you use Uver Eats?"
Then she replied
"I need to get special tools or machines, plus, I also need to handle customers who come to the cafe while preparing the foods for delivery if I use Uver Eats, so I don't use it".
Certainly, special tools, machines or menus depends on the case need to be prepared.
There are also customers to visit the cafe, so it must be tough to handle all of them at the same time.
"I used to deliver Gyoza to the neighborhood before"
She told.
I was very surprised to hear that she had been delivering Gyoza by herself.
"Gyoza is famous here"
She told me.
I did not know that.
I'm full today but I'll try it next time.
"For dinner time, I introduced a charge system before but now I prepare assorted dish plate for about $18 (2000 yen) per person"
I think this assorted dish plate with one or two drinks is good to spend time at night here.
For lunch time, you can enjoy drinks and lunch set like I had this time.
I talked with her a lot such as about Sake of Terada Honke in Chiba Prefecture, organic izakaya in Ikebukuro, etc.
I felt a sense of closeness.
I should have asked an official interview, later I thought.
Anyway, she was a person easy to talk to.
Summary of KiboKo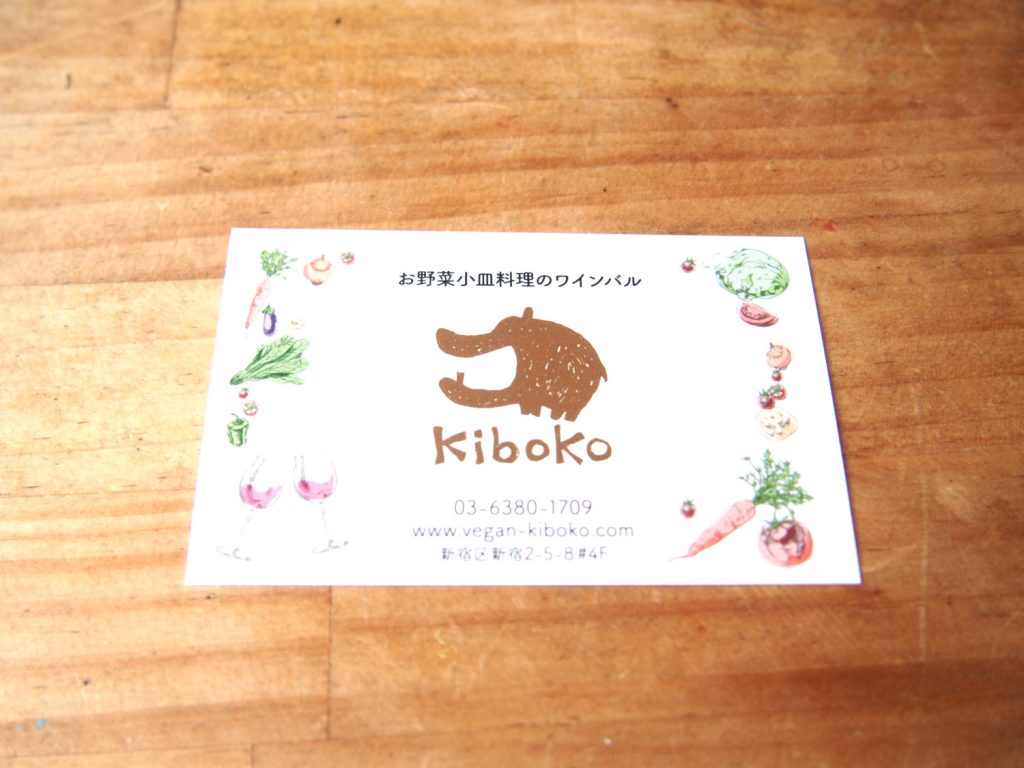 KiboKo was a cozy place to spend time.
The food was tasty and I'm curious about its Gyoza and organic wine as well although I can't drink alcoholic drinks.
The owner is also easy to talk and great person.
I feel there are many regular customers here.
"Vegan cake shop and SDGs Cafe opened near here recently"
She also told me about other shops.
That's nice thing shops connect each other like this, I thought.
If you visit KiboKo, I recommend you to make a phone call to check the opening hours before visiting as the business hours might change time to time under the situation.
I want to visit the cafe again when I go to Shinjuku!
Google Map of KiboKo