Non-Vegetarian Menu Vegan Noodle Vegan Menu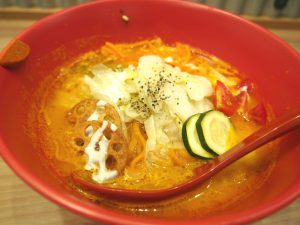 Address 
Tokyo Station, B1F, Ramen Street, 1-9-1 Marunouchi, Chiyoda Ward, Marunouchi, Tokyo
Link to Google Map: https://goo.gl/maps/4W9327BNXWm
Access
Tokyo Station (Yamanote, Keihin-Tohoku, Tokaido, Ginza, Asakusa lines)
Tel
03-3211-7555 (+81-3-3211-7555)
Seats
About 29 seats
Opening Hours
7:30 – 9:30 (Last Order : 9:45)
10:30 – 22:30 (Last Order : 23:00)
Shop Holidays
Irregular Holidays
Report
All the ramen here are not all vegetarian but it has some vegetarian and vegan Ramen on the menu, so I included this Ramen shop!
Vegetarian ramen is very rare in Japan as even if the topping is all vegetables without meat or fish, most of the Ramen shops use chicken, fish, etc. for its soup stock.
But here, what you can enjoy is all vegetables from the topping to the soup stock.
This Soranoiro Nippon is located inside Tokyo station but technically speaking, you need to get out of ticket gate of Tokyo station.
It is located at Ramen Street in Tokyo Station but it is outside ticket gate.
Yaesu South or Yaesu Central Exit is the closest to the Ramen Street.
I got to Rramen Street and I could see 8 Rramen Shops both sides of the street.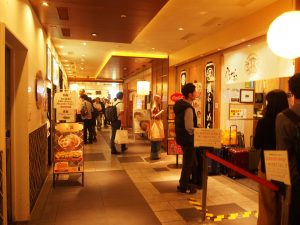 And I could find Soranoiro Nippon among them.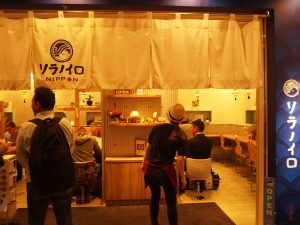 Found menu of vegan Ramen, too.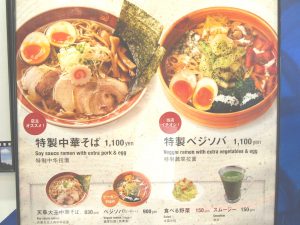 There was a special vegan noodle as well as standard vegan noodle.
I was also interested in special one but I went for standard vegan noodle.
It was 900 yen (About $8).
Here veggie Ramen came.
Looks good!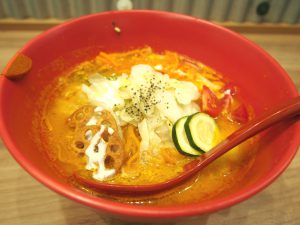 And the taste was, actually sweet.
It was surprising to me as I've never tried Ramen of sweet taste before.
But this sweetness is not from sugar but from vegetables.
I found later that the sweetness was from carrot.
Its noodles were also different.
They were light orange and thick.
These noodles were made mixed with paprika so the color was light orange
If you care about gluten, you can order brown rice noodles by extra 150 yen (About $1.3) instead of this paprika noodles.
That's great even people who worry about gluten can enjoy the ramen of gluten free.
I could see tomato, cabbage, zucchini, broccoli, etc. for the topping.
And you might thought what's that brown vegetables with holes on the top.
That's lotus roots.
They are sliced and deep-fried.
It was crispy and I liked it.
This time I did not order but they also offer even vegan rice porridge.
It's my first time to hear vegan rice porridge.
Now I know 2 vegan ramen shops inside Tokyo station.
The other one I recommend you is T's TanTan Tokyo Keiyo Street.
I really like vegan ramen of T's TanTan.
Google Map of Soranoiro Nippon