Indian Vegan Menu Vegan Menu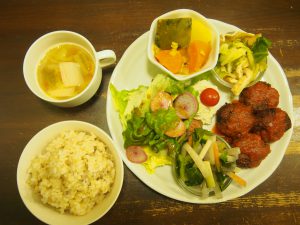 Address 
5-17-10 Nakano, Nakano-ku, Tokyo
Google Map: https://goo.gl/tejjk5
Access
Nakano Station (JR Chuo Line, JR Sobu Line, Tokyo Metro Tozai Line)
Tel
03-3387-8998 (+81-3-3387-8998)
Seats
9 Seats
Opening Hours
12:00 – 15:00 (Last Order : 14:30) (Lunch Time)
!8:00 – 21:00 (Last Order : 20:30) (Dinner Time) (Wednesday to Friday)
17:00 – 21:00 (Last Order : 20:30) (Dinner Time) (Saturday)
17:00 – 20:00 (Last Order : 20:00) (Dinner Time) (Sunday)
Shop Holidays
Monday and Tuesday
Review
Here is a vegan Indian style cafe.
All the foods are not using meat, fish and egg.
You can enjoy unique Indian food here such as Indian style fritter and spicy Pakora bowl.
It took about 10 minutes from Nakano station.
It was located in residential area and a bit hard to understand at first as it was a small cafe.
But I like the appearance of the shop.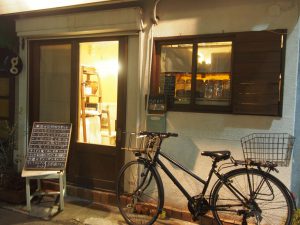 The owner opened the shop just when I arrived.
It was just around 6 pm and it was the start of dinner time.
No one was inside so I was the only one customer.
I took a bar counter seat.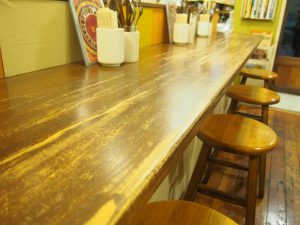 On the menu, I could see Today's Special, Pakora Bowl, Veggie Curry, Pakora, Papado, etc.
I was curious about Pakora Bowl but I went for Today's Special after all because I wanted to try set menu.
The owner was very quiet.
Actually I did not talk almost anything with her.
It was rare as usually if the customer is only one and seated at a bar counter seat, most owners talk.
But I thought maybe this is her style and after I came back and checked review I found that there was a customer who said she did not talk anything with owner like me.
I only asked her if it was OK to take a picture of the dish and atmosphere of the cafe.
She said "Yes, you can."
I was glad to hear that.
I enjoyed quiet time till the dish came.
After about 10 minutes, the dish came.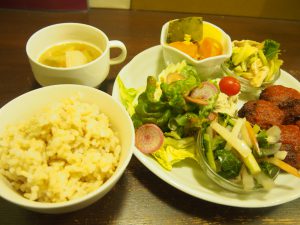 Looks good!
A lot of vegetables!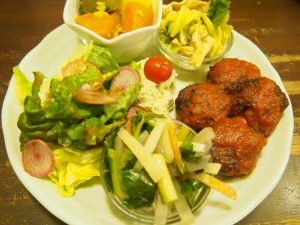 But what's this balls?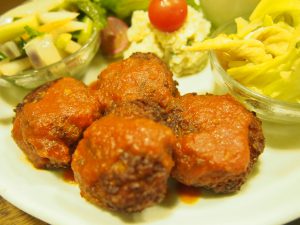 I tried them and found that this is made of soy beans.
So they were Soy Kofta Balls.
It went well with the tomato sauce and tasted very good!
Rice was sprouted rice and it was chewy.
And many vegetables!
They were radish, lettuce, Japanese spinach, carrot, etc.
The white thing with tomato on top is Okara Salad.
Okara is soya pulp and usually it has sweet taste.
But this Okara salad was sweet and a bit sour.
Looks like she seasoned with soya mayonnaise or something.
Soup was also tasted very good with subtle flavor.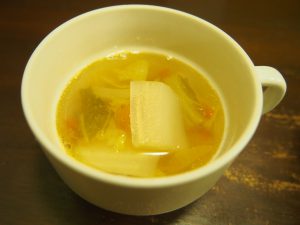 Actually all the things were seasoned with subtle flavors so I could enjoy original taste of vegetables.
I could feel her dedication to making best dishes.
I also like the atmosphere of the cafe!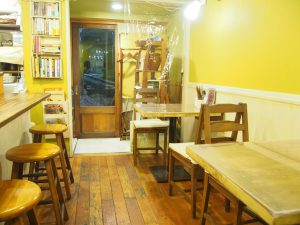 Here I could enjoy tasty substantial dish!
If you want to enjoy slow time and Indian style dish, I recommend you this cafe!
PS. It is a small cafe with 9 seats that it might be good to make a reservation before your visit depends on the day and time.
Google Map of Gopinatha