Raw Cold Pressed Juice Non-Vegetarian Menu Vegetarian Menu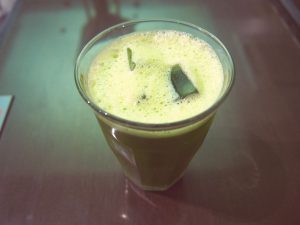 Address 
2-2-1 Shinjuku, Shinjuku-ku Tokyo
Google Map: https://goo.gl/maps/joD3MZ522612
Access
Shinjuku Station (JR Yamanote Line)
Shinjukugyoen-Mae Station (Tokyo Metro Marunouchi Line)
Tel
03-3341-9472 (+81-3-3341-9472)
Seats
26 Seats
Opening Hours
15:00 – 21:00 (Last Order : 20:30)
Shop Holidays
Thursday
Website (Japanese) (Facebook)  
Piman
Report
This is very famous restaurant where you can enjoy selected raw cold pressed juice.
It was featured on TV several times and actor & actress also visit this restaurant.
It is now 38th in 2017 since it had first opened here in Shinjuku.
It was surprising!
The juice they make do not use any sugar or water so 100% fresh juice.
You can also enjoy foods such as pasta, curry and rice, etc.
For the foods, they are not all vegetarian but all the dishes are vegetable-main dishes and there are menus for vegetarians as well.
I walked from Shinjuku Station and actually it was not close from the station as it took about 15 minutes.
Closest station is Shinjuku Gyoen Station and from there it is just a couple of minutes on foot.
Anyway I got to the restaurant.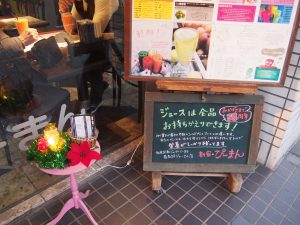 Went inside.
It was evening of weekday that the customers were only 3 except for me.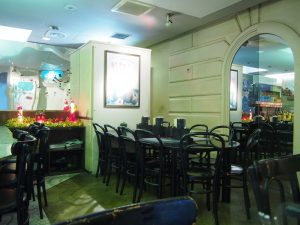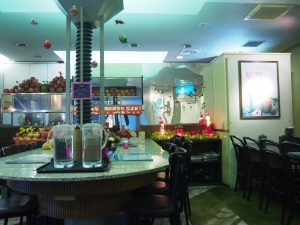 There were many types of juice I could choose.
I also wanted to have food but it was 4 pm, not lunch or dinner time so what I could choose was only drink.
Looks like dinner time starts at 18:00.
I was torn to choose Mix Jumbo Juice, which is 1150 yen (About $9.5) and 500ml or standard one.
After all I chose standard cold pressed juice of Aojiru (Green Juice).
It was 800 yen (About $7).
Good point of this restaurant is they make each juices after your order using slow juicer.
So it takes time even just an order of one drink but you can enjoy real fresh cold press juice.
It might took 5 or 10 minutes, Aojiru (Green juice) came.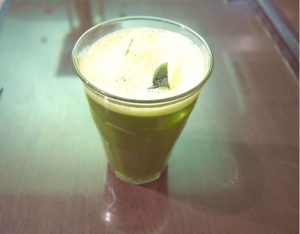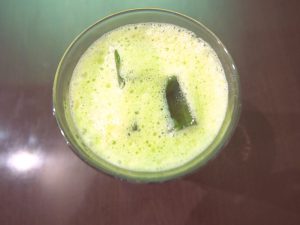 I often heard Aojiru is bitter but healthy so I imagined bitter taste.
But it was not bitter at all rather sweet and was really good taste.
They don't use any sugar so what's this sweetness I wondered.
Later I found that they use apples for the sweetness.
Now I understand why this restaurant is very popular.
It is very good taste and healthy.
Next time I want to challenge Mix Jumbo Juice and vegetarian food as well.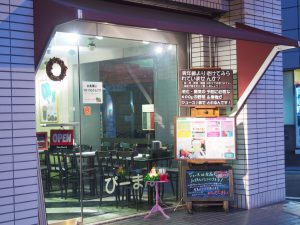 Google Map of Piman