Vegan Menu Raw Juice Menu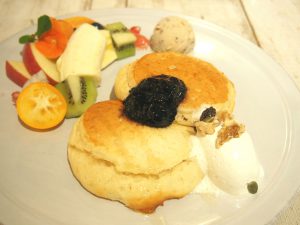 Address 
3-5-7 Higashiikeburo, Toshima-ku, Tokyo
Google Map : https://goo.gl/hKRTYF
Access
Ikebukuro Station (JR Yamanote line)
Tel
03-5944-9699 (+81-3-5944-9699)
Seats
60 seats
Opening Hours
11:30 – 16:00 (Last Order : 15:00) (Lunch Time of Weekday)
17:00 – 22:00 (Last Order : 21:00) (Dinner Time of Weekday)
11:00 – 16:00 (Last Order : 15:00) (Lunch Time of Saturday)
17:00 – 22:00 (Last Order : 21:00) (Dinner Time of Saturday)
11:00 – 15:00 (Lunch Time of Sunday and Holiday)
17:00 – 22:00 (Last Order : 21:00) (Dinner Time of Sunday and Holiday)
Shop Holidays
Please check website for irregular holidays
Website (Japanese)  
http://ain-soph.jp/soar/
AIN SOPH.soar is famous restaurant for its vegan pancake.
I had always been interested in this restaurant but had no chance to visit.
But, yes, this time, I could visit.
It was a fashionable restaurant both inside and outside of the shop.
Enjoy meal at AIN SOPH.soar Ikebukuro
Entrance
It took about 10 minutes to get to AIN SOPH.soar from Ikebukuro station.
It was past 13 o'clock.
I came this restaurant with my friends this time.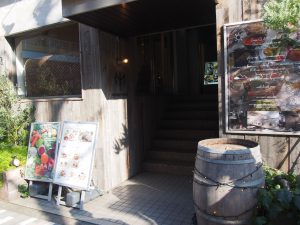 I like the entrance.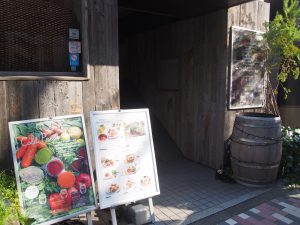 I thought this is entrance but not.
You need to go up the stairs and you can find real entrance on your left.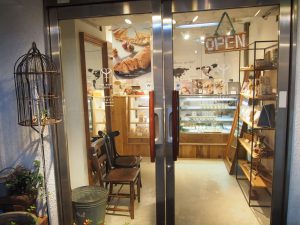 Vegan pudding and vegan tiramisu had been displayed in the glass showcase.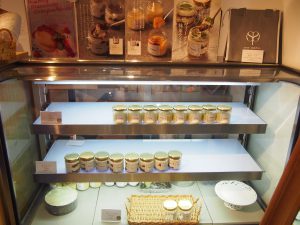 Vegan pudding and tiramisu?
I've not heard of pudding which does not include egg or milk.
I wonder what they use and to find that it uses "Kuzu".
Kuzu is arrowroot and it is sometimes used in Japanese sweets.
For tiramisu, they say soy cream cheese is used instead of standard cheese.
Interesting.
There are various recipes, aren't they.
I could also see sweets such as cookies next to showcase.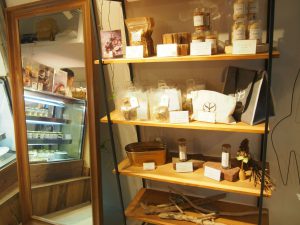 Inside
Went inside and got to the wooden table.
I could see comfortable seats, too in the back.
It looks like I can relax as if I were in my home.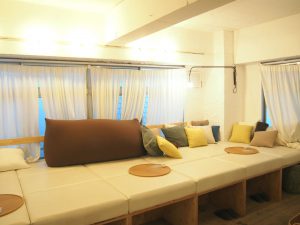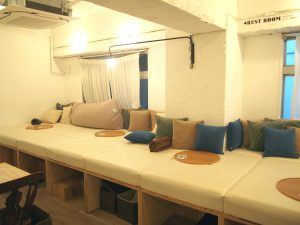 Table seat is like this.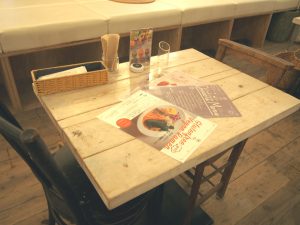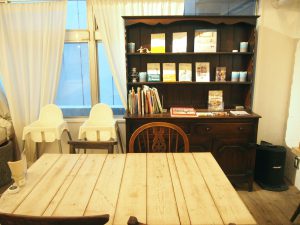 There was a bookshelf, too.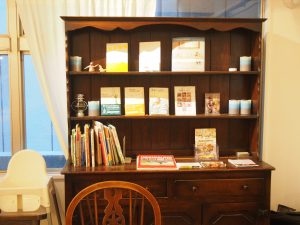 On my right, there was, well, maybe hearth.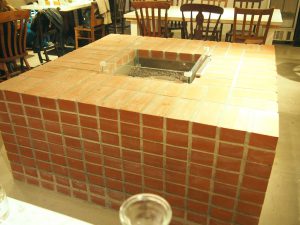 I remembered there was a signboard outside and it said they create atmosphere focusing on glamping.
Focusing on glamping, they take in the traits and attractions of camping, don't they.
So it may be a western style hearth.
I could see kitchen in the back.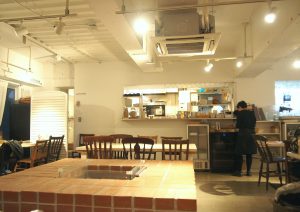 Vegan menu looks good!
Gluten-free Vegan Miso Ramen!
That's very rare.
I sometimes see vegan noodles nowadays here in Japan but plus gluten-free is first time to look.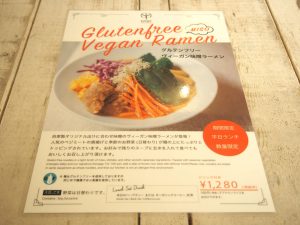 I wonder what is used instead of wheat.
For lunch, there are salad deli lunch, sandwich lunch, pasta lunch and hayashi rice lunch.
I think you never heard of hayashi rice.
It is Japanese style beef stew with tomato flavor but of course no beef for this lunch.
Only pasta lunch and sandwich lunch are daily menu so everyday they are different.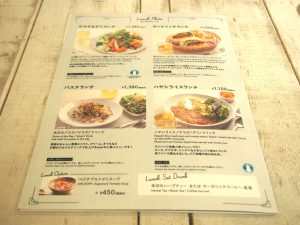 Order Heavenly Vegan Pancake
Before visiting here, I had already decided this menu, yes, that's Heavenly Vegan Pancake course.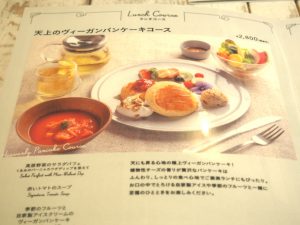 You can order just Heavenly Vegan Pancake but since I came all the way to this restaurant, I chose course set.
If you choose course, the price is $27 (3024 yen) including tax so it's a bit pricey but it comes with salad parfait, tomato soup and drink.
We ordered and in a little while, salad parfait and tomato soup came.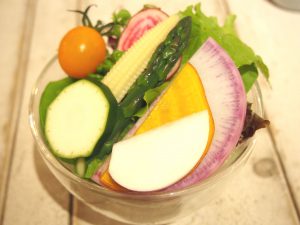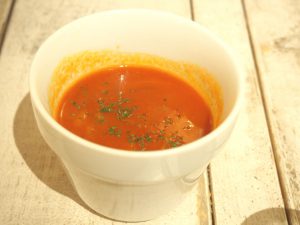 It's course set so the pancake comes later.
Bagna càuda and dressing came with salad parfait.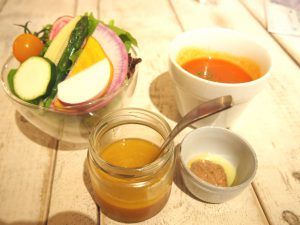 For vegetables, they are zucchini, young corn, tomato, asparagus, radish, lettuce, potato, etc.
All the vegetables are fresh and tasty.
After that, Heavenly Vegan Pancake came.
Looks really good!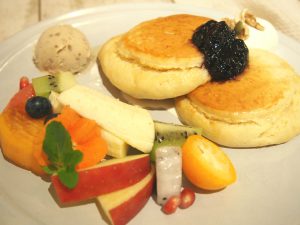 Other than pancake, I could see cream, ice cream and various fruits on the plate.
"You can eat skin of Kumquat, too" the waitress told me.
They cook without peeling skin of vegetables or fruits intentionally.
That means they do not waste even skin and we can also get whole nutrition.
I cut the pancake.
It is thick!
It is surprising they can make this pancake without using hotcake mix powder, egg or milk.
In Japan, if you make pancake, many people buy hotcake mix and you can make very thick pancake with it easily.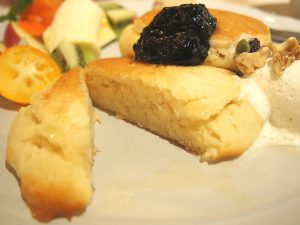 I tasted.
Yes, very good taste!
I imagined fluffy pancake but rather it was chewy inside.
And, what is this?
Rich and creamy, it is as if like cheese itself.
I checked later and found that, although it was written on the menu after all, they use vegetable cheese.
Vegetable cheese?
Maybe soy cheese or something?
Either way, thanks to this vegetable cheese, it was rich and creamy.
For the sweetness of the pancake, they say they use beet sugar from sugar beet.
Blueberry jam on the top and vegetable cheese became a good accent and go well with pancake.
Cream and ice cream garnished with pancake were also very good taste.
Cream looked like from milk but it was not.
It had more mild sweetness.
It was made from soy instead of milk.
Ice cream was also tasty.
It was ice cream of rum raisin.
I would not notice this was vegan ice cream if told.
It was such a good flavor.
Banana, kiwi fruit, apple, kiwi fruit, Kumquat , etc. which were garnished with pancake were also fresh and tasty.
I became full after having set course.
Just the first serve of vegetable parfait was substantial actually.
My friends ordered sandwich lunch and they said it was great.
Certainly it looked very big, oh, I should have taken the picture of it.
After the lunch coffee of the set menu came (I asked it to serve after lunch) and it was also good taste.
Out of focus but this class cup is unique and I like it.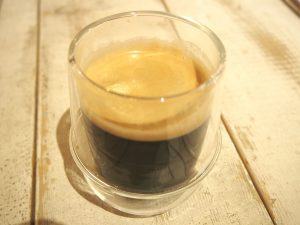 I'm very satisfied with both cuisine and atmosphere of this restaurant.
Summary
AIN SOPH. Soar is a chain restaurant so you can find its restaurant in Shinjuku and Ginza as well as here in Ikebukuro.
They have same menu of Heavenly Vegan Pancake at restaurant in Shinjuku and Ginza so try it out if you have sweet tooth like me!
Note that only AIN SOPH Ripple KABUKICYO, it does not have Heavenly Vegan Pancake as it is burger-centered cafe.
For those who have allergy to gluten, there is a gluten free pancake, too.
It is "limited menu" only here in Ikebukuro.
It was first time to have vegan pancake to me but it was great taste.
Google Map of AIN SOPH.Soar IKEBUKURO